What Is A Babymoon And Should You Try The Trend?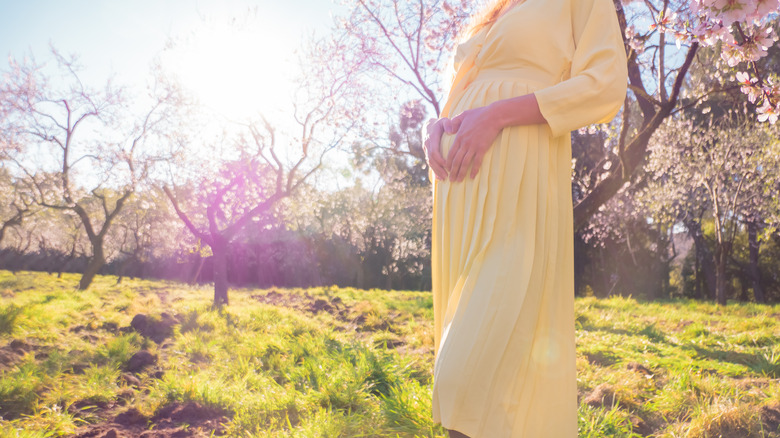 Vivvi Smak/Shutterstock
Many parents would agree that having children changes things. Daily life inevitably looks different when little ones arrive and free time is typically less readily available. While expanding your family can be exciting, the time leading up to the birth of a baby is also a unique moment to reflect on things to come.
The opportunity to enjoy a babymoon is appealing to expectant mothers and couples with good reason. Before life becomes laser-focused on raising a new child, a babymoon offers parents-to-be a chance to relax and unwind in preparation for the work ahead. A babymoon isn't a last-minute trip on a whim, but rather a purposeful and planned journey for those who are wanting some time to focus on self-care before the priority becomes a new baby.
For couples, a babymoon can also be a vital time set aside to focus on each other. Rekindling an appreciation for one another can help motivate couples through trying moments when having a newborn can be frustrating. This important time to reconnect can help parents-to-be savor the pregnancy experience together and spend quality time as a couple before their brood grows.
These amazing benefits make a babymoon well worth enjoying. It's an experience that puts expectant parents in good company too as an estimated 2 million babymoons are enjoyed each year in the U.S. As long as plenty of thought is put into the process, a babymoon promises to be as fun as it is refreshing.
When you travel and where you stay make all the difference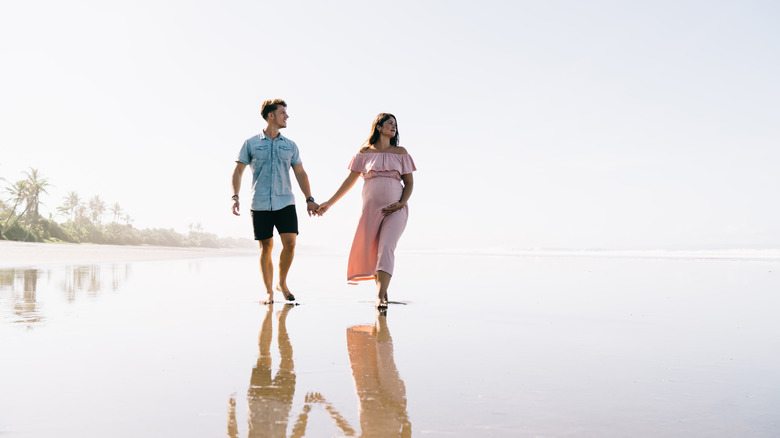 GaudiLab/Shutterstock
A babymoon is a good idea, but a successful getaway requires planning. Babymooners will want to carefully consider the logistics of their trip before setting out to make more of the experience. Safely traveling while pregnant begins with looking at the gestational timeline.
The American College of Obstetricians and Gynecologists recommends women plan to travel between weeks 14 and 28 of their pregnancy. This timeframe is ideal for a babymoon as many women still feel relatively energized. It's a time in the pregnancy when it remains easy to move around, and many women have bypassed frequent morning sickness too.
Once you've picked a time to travel that works well within the pregnancy, choosing a location that makes for a relaxing and refreshing stay is next. Tranquility and quality time together are the goals of this type of journey. Making sure your babymoon destination fits those criteria is key to success.
It's tempting to set your sights on a far-flung destination. However, it's also important to remember that pregnancy alters travel stamina. There's no need to put yourself through a multi-hour flight when you could just as easily enjoy a stay at an all-inclusive resort that's much closer. Staying closer to home can make a babymoon more relaxing simply by knowing your medical provider is within reach in the event you might need them during your getaway.
Customize your getaway for added relaxation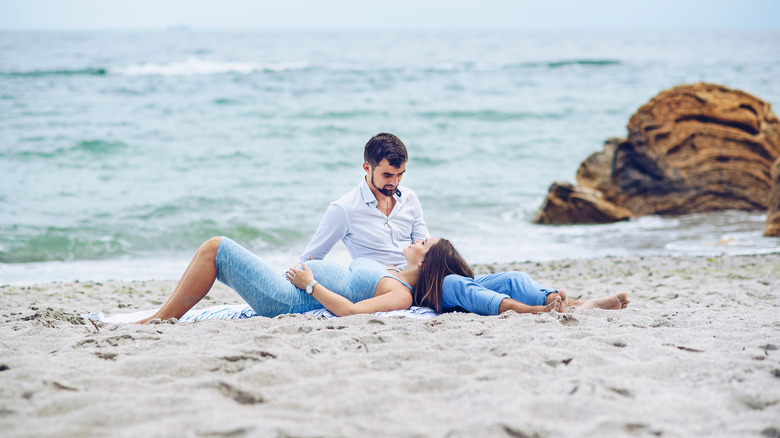 Gorynvd/Shutterstock
A traditional babymoon is often appealing on its own for parents-to-be. Couples looking for even more to savor on this type of trip will find that many resorts and hotels offer specialized babymoon packages upon request. Beyond the standard resort amenities and features, a babymoon package could include everything from a couples massage and prenatal fitness classes to custom spa treatments, skincare products, and walking tours.
Planning a cruise for your babymoon is another option when it's time to enjoy a relaxing getaway. The all-in-one setting a cruise provides can be a great way to elevate the number of restorative and stress-free moments to enjoy. That said, it's important to check with your cruise line before travel as many have strict policies regarding passenger pregnancy and sailing.
Whether you choose to enjoy your babymoon on land or at sea, the Center for Disease Control and Prevention recommends having a travel health kit prepared that's packed with everything from prescription medication and compression stockings to prenatal vitamins. Keeping your doctor informed of your travel plans before you depart is also a good idea as is looking up a local doctor and medical facility at your babymoon destination in case you need care while you're there.
Expanding your family is a huge milestone. How you prepare for the arrival of a new life is just as important. Enjoying a babymoon can be a great way to relax and feel ready for the incredible moments ahead.