Don't Rely On Cabs To Get Around NYC. Here's Why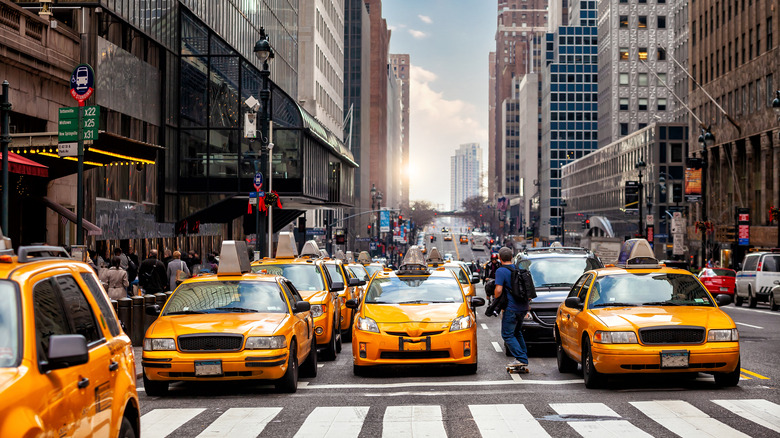 f11photo/Shutterstock
It would be an understatement to say that New York City is not budget-friendly. However, this doesn't stop travelers, dreamers, artists, and the career- and status-obsessed from taking on this amazing city and trying to "make it" in the Big Apple. Sky-high rent, food prices, and transportation options can be seen as a barrier, but as many come to find when they arrive in the city, when there's a will, there's a way. 
The quest to save some change is even becoming a popular trend on social media. Search "TikTok New York City on a budget," and you'll find clips of NYC urbanites showing how they live affordably in the city. If there's one tip you can glean from their guidance, it's that cabs — while convenient and good in a pinch when you've snoozed your alarm clock one too many times — are not a friend of the money-conscious. Yes, they'll get you from Point A to Point B the quickest, but they'll also burn a hole in your wallet. Here are some alternatives.
Do as the New Yorkers do -- take the subway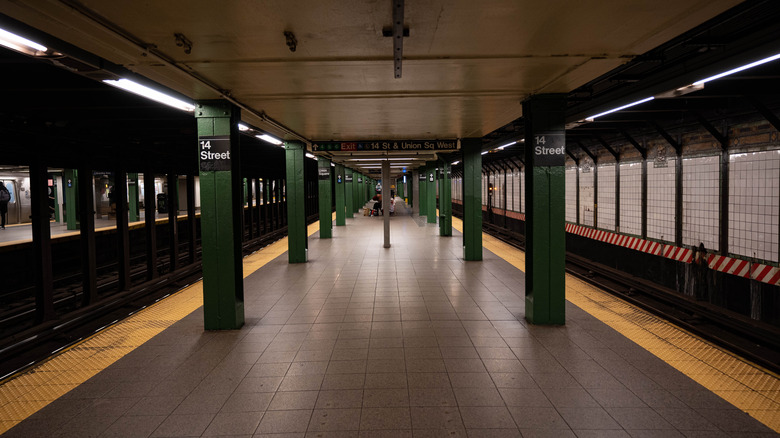 tetiana.photographer/Shutterstock
The MTA New York City transit system is one of the things that makes the city so unique. While it's true that you'll sometimes encounter some ... interesting situations, for the most part the buses and subway are a reliable way to get around the city for quite a bit less than you'd pay for your average taxi ride. 
For $2.75 per ride, you can take a single bus or subway across town with free transfers if you use the same device or card with the OMNY contactless payment system. You can also buy a 7- or 30-day unlimited Metro Card if you're planning to be in the city for a while which costs $33 or $127 U.S. dollars, respectively. If you plan to make 12 or more trips in a week or 46 trips in a month, the unlimited metro cards would make sense to purchase. However, even if you don't plan to use the subway that frequently, the cost of a single subway trip is still reasonable, especially compared to the average cost of a cab ride, which is around $10.
Other ways to get around NYC on a budget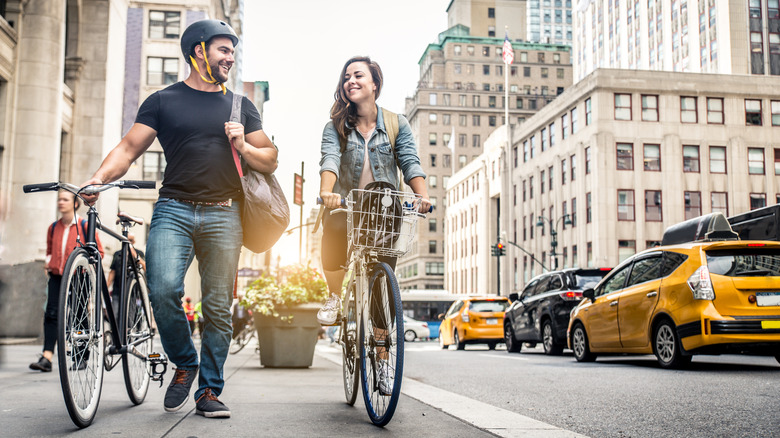 oneinchpunch/Shutterstock
Unless you're an endurance walker or bike rider, you will probably have to rely on the MTA or a car-sharing service for long distances if you want to avoid cabs. However, foot power is always ideal if you're going shorter distances. Not only is it good for your health, but it's also great for the environment. While the traffic in New York City might be a bit intimidating, most of the city is considered fairly bike friendly. You'll find lots of fellow peddlers in Central, Riverside, and Prospect Parks, and you'll also find bike paths along the rivers. Citi Bike stations are located throughout the city and can be accessed with either the Citi Bike or Lyft apps. Not only is this a convenient way to get around, but it's also a great way to see the city!
Now, for locations outside of Manhattan, you may hear of an unofficial service called "dollar vans". These vans and shuttles comprise an informal transportation system that serves areas of New York City that are low-income or on the periphery of the metropolitan area, with few public transport options available. In these areas, dollar vans make transit more accessible for immigrant and low-income communities.
Finally, to get around this waterfront city, you can also use the ferry system, which can transport you not just around Manhattan but also to the other boroughs of New York via the Staten Island Ferry, the NYC ferry, or the NY Waterway.