12 Best Places To Celebrate St. Patrick's Day In Ireland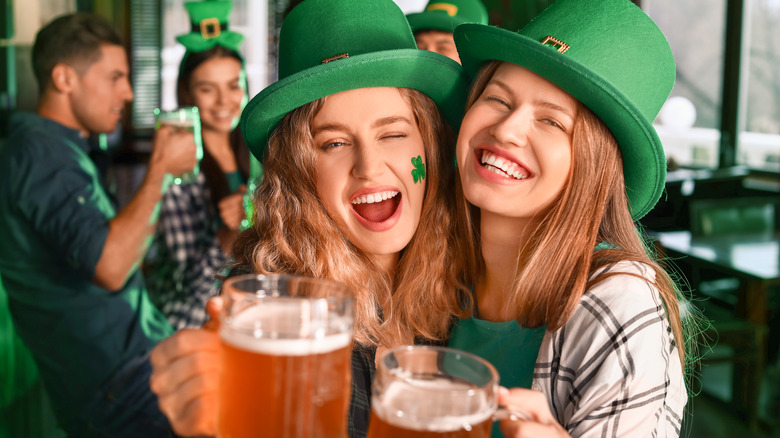 Pixel-Shot/Shutterstock
While traveling to desirable destinations during their off season has plenty of advantages, joining the hundreds of thousands of travelers who flock to Ireland for St. Patrick's Day just may be worth the crowds and increased prices of accommodations. The Irish know how to throw a good party, and there's really no better place to celebrate St. Patrick's Day than the homeland of the holiday's namesake.
If you are planning a trip to Ireland, it's wise to consider locking down your plane ticket for a date that will allow you to experience St. Patrick's Day in all its glory. There are a lot of cities that have week-long celebrations of the holiday, but spending March 17th in one of Ireland's many festive cities will give you the full Irish St. Patrick's Day treatment.
The Emerald Isle is larger than you may think, and locking down Ireland as a destination is just the tip of the iceberg. With 29 counties and five major cities, there are plenty of places to celebrate the holiday in style and all Irish cities have something special to offer. No matter where in Ireland you decide to join in with festivities, there will be an overload of green, drink, and merriment — but these 12 Irish cities should definitely not be counted out for a St. Patrick's Day celebration.
Dublin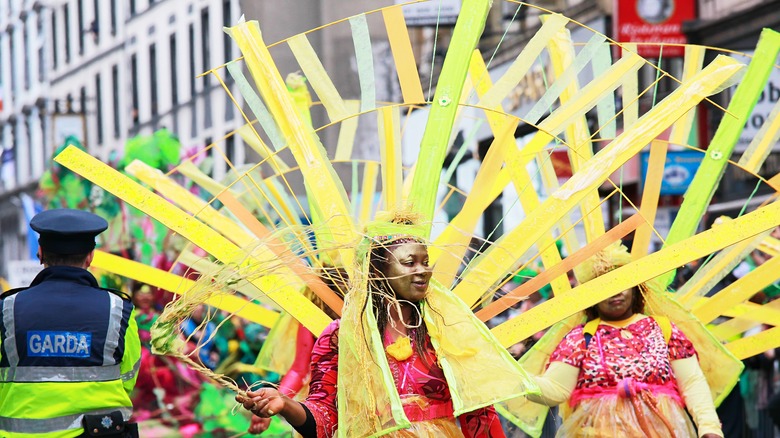 Wirestock Creators/Shutterstock
It only makes sense to start out this list with the largest city and the capital of Ireland, as Dublin has a history of really doing St. Patrick's Day right. Dublin celebrates its nation's favorite holiday with a five day festival, which includes a massive street carnival that will have extroverted travelers feeling hyper fulfilled.
Ireland has an extensive spoken history, and storytelling is a massive part of Irish culture. Naturally, a lot of literary figures have been from Dublin, like James Joyce, Williams Yeats, and Oscar Wilde. Not only does Dublin's massive street festival feature some stellar live music, but it also presents many forms of performance art, like spoken word poetry and storytelling, both of which showcase Ireland's love of verbal art.
In addition to days of stage entertainment in Dublin's Festival Quarter, the popular city puts on the biggest St. Patrick's Day parade in Ireland. The parade consists of a number of diverse performers, including more than a dozen marching bands, and participation from local businesses and groups. Dublin is an obvious, go-to choice for a great time in Ireland on St. Patrick's Day, especially if you are looking forward to an itinerary packed with talent and entertainment.
Downpatrick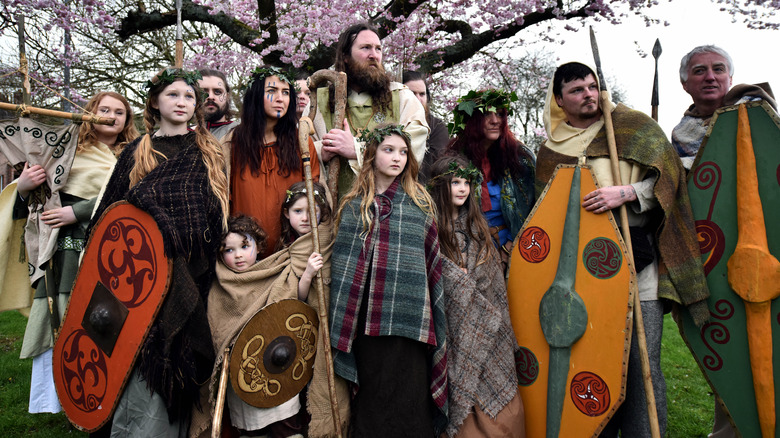 Charles Mcquillan/Getty Images
St. Patrick's Day is a celebration of Ireland's legendary patron saint who did a number of services for Ireland, including driving all the snakes out and introducing Christianity — allegedly. The holiday is named for him and takes place on the date of his death, though his death is said to have occurred in the late 5th century. Spending St. Patrick's Day around the city of Downpatrick is particularly festive and honorable, as it is allegedly the place that St. Patrick died and established his very first church.
Though somewhat of a small town, Downpatrick has a large spirit when it comes to St. Patrick's Day, which makes sense given its attached history with the saint. You'll find the typically bright colored costumes and decorations in the Downpatrick parade, but you will also see a good amount of more traditional looks in this town, as the parade is led by an actor portraying St. Patrick — and members of the town's local Magnus Viking Association usually show up in medieval garb.
While Downpatrick isn't going to give travelers the same type of St. Patrick's Day experience as one of the larger cities in Ireland, the historical town shouldn't be counted out. If you're looking for a meaningful and more laid back holiday without needing to fight tooth and nail with the crowds, Downpatrick just may be the place for you.
Killarney
The city of Killarney graciously welcomes visitors from all over the world year round, but their hospitality is especially prevalent during their celebrations of Ireland's most grand and renowned holiday. While the city certainly goes green on St. Patrick's Day, they put on a parade that is full of vibrant and colorful costumes.
When we say the city goes green on St. Patrick's Day, we mean that very literally. From March 10th to the 26th, buildings all throughout Killarney illuminate themselves green in honor of the holiday. If your plans are all tied up in another city on the actual holiday, you'll still be able to see the town in all its emerald glory.
If you are lucky enough to be in town on the actual holiday of St. Patrick's Day, you will be met with a day full of fun events and Killarney's annual parade. Joining in with locals will be a great time for the whole family, and Killarney has an all day fun zone for kids — as well as dancing, drinking, and a park run.
Waterford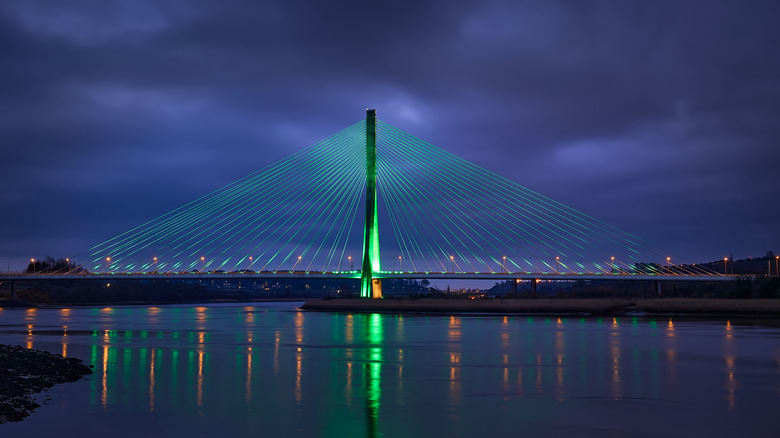 Jorge Corcuera/Getty Images
Travelers making their way through Ireland tend to make a trip to Waterford for the city's world famous House of Waterford Crystal, a factory of the namesake crystal that also doubles as a retail store. Travelers who will be in the city on St. Patrick's Day — or the following two days — will also be able to take part in the holiday festivities and see some of Waterford's absolutely stunning views.
Waterford is known as Ireland's oldest city and both the history and the landscape draws visitors. The city is located right on the coast and the view of the water is one that is unlike anything you can see outside of Ireland. Luckily, if you're wanting to experience the coast and get your St. Patrick's Day fix simultaneously, Waterford has two river cruises that will take you out on the water during the holiday, which will likely take you by plenty of celebrations and give you a unique view of the country.
Similar to Killarney, Waterford also participates in some green coating on St. Patrick's Day. Whether you see it via river cruise or by way of land, the Thomas Francis Meagher Bridge gets a lowly shade of green as the line bridge is illuminated for the holiday. No matter what you choose to train your eyes on in Waterford, it's bound to be awe-inspiring and a view worth having.
Cork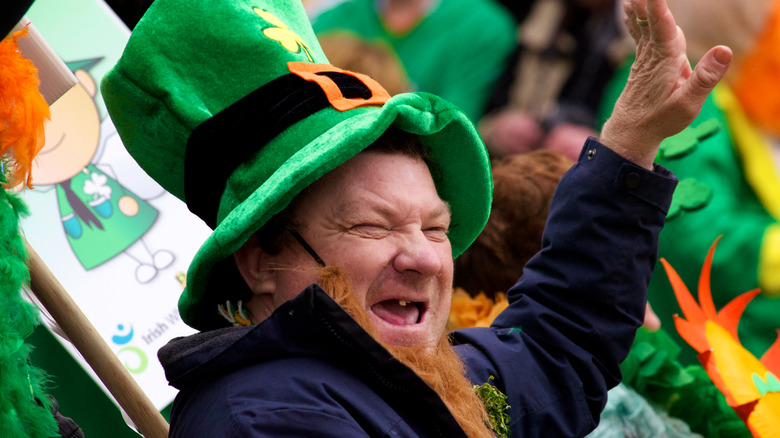 Peter OToole/Shutterstock
Not far behind Dublin in terms of both celebration and scale, Cork takes the honoring of St. Patrick very seriously by hosting a massive carnival as well as a parade. And 2023 is a great time to be celebrating St. Patrick's Day with the locals of Cork, because they are working to make their parade the biggest it's ever been. With groups from all over the local community participating in the parade, visitors will feel like they are actually a part of the city as they witness all types of programs — dancing, singing, and showing up in spectacular costumes for an event that the whole city looks forward to all year long.
The parade is just one part of the multi-day festival in the city of Cork, with fun and educational events throughout the weekend for the whole family. Walking tours, food trails, and a kid-centric Saints & Shamrock trail are all a part of the festival and will help visitors explore parts of the city while also joining in on the festivities.
Once the sun goes down, the city takes part in a seemingly country-wide tradition of illuminating buildings in a beautiful shade of green — one that matches the greenery the country blooms-in for the majority of the year. Whether you are just visiting during the day or stay to see the city at night, Cork is a great place to spend St. Patrick's Day.
Dripsey
Just outside of the city of Cork is Dripsey, which was once known for having the shortest St. Patrick's Day parade in Ireland. It was basically just a bar crawl, which perfectly emulates what the holiday means for a lot of people. All over the world people are heading to the pub for a green beer or to enjoy their favorite all-the-time drinks with their friends in celebration of St. Patrick's Day. If that sounds like your dream holiday, taking the party to the Emerald Isle just to enjoy a beer is one pretty epic way to elevate a tradition you already love.
Okay, so Dripsey's pub crawl was only about 100 feet in length, which was just the distance between the tiny (populated with just over 300 people) village's two bars. The shortest St. Patrick's Day Parade took place for just under a decade before one of the bars closed, but The Weigh Inn is still very much up and running in Dripsey, and is a great authentic Irish pub to enjoy a beer. While the iconicly tiny parade is no longer an attraction to the village, it's still a great spot to honor the locals and tradition, and Cork is just a half hour's drive away. If you're someone who enjoys the small, exquisite things in life, Dripsey is quite the quaint and classic dot on the Ireland map compared to its bigger neighboring city and its festivities.
Galway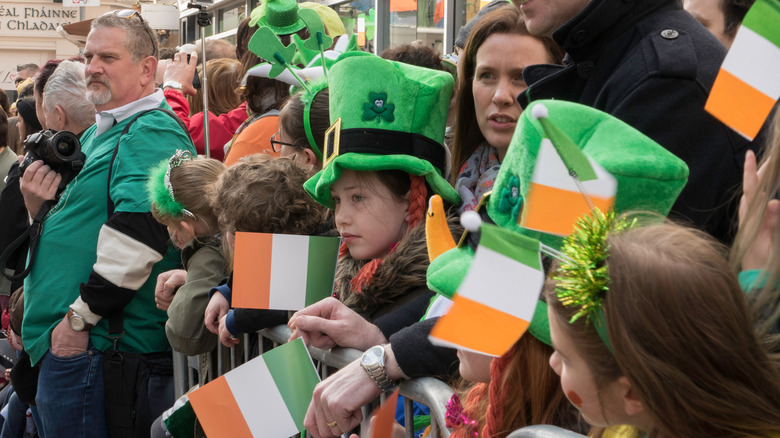 Luca_Makes_Stuff/Shutterstock
With just a fraction of the population of Ireland's top three largest cities, Galway is a great option for travelers who want a superb St. Patrick's Day experience in a more relaxed environment, but also want more going on than some of Ireland's small towns and villages. Galway seemingly checks all the boxes for an Irish getaway without being too crowded. It's on the coast, has bustling streets and businesses, and a stellar traditional music and food scene. All these traits remain on St. Paddy's Day, but the holiday brings with it a long weekend of celebrations that honor Irish culture and art.
Galway's large and colorful St. Patrick's Day parade kicks off an even larger event, as it follows the larger city's tradition of hosting a multi-day celebration for the holiday. Music plays a big part of the celebration, as each day of the weekend festival has a handful of live bands playing. Sports also have an influence on culture in Galway — a reflection of Ireland itself — and sports teams and organizations within the city participate in the parade. These organizations also have a specific sports program for the festival that is not only diverse in activities, but fun for the kids. Galways is a great city to visit for St. Patrick's Day if you want to explore the city while having plenty of excellent options to enjoy with both visitors and locals.
Dingle Peninsula
Located on the southwest coast of Ireland is Dingle, another small town that has plenty to offer both on and off St. Patrick's Day. Dingle's celebration starts bright and early at 6 a.m., when a fife and drum band wakes up the streets as a start to the festivities to come. The marching band brings anyone who will follow to St. Mary's Church in time for Mass. For travelers who are devout Catholics or who follow the St. Patrick's Day tradition of starting out the holiday with a Catholic Mass, this may be the perfect city to join in the festivities.
If you want to get the festivities started even earlier than 6 a.m., less than 20 minutes away on the other side of Dingle Peninsula is the small village of Ballydavid, where the earliest St. Patrick's Day parade in Ireland takes place. They take to the streets at midnight to celebrate with torches. If visiting the area for the holiday, there will be plenty of time to attend the two very different parades, and possibly time to hit another Irish town in the afternoon for their parade. If you are the type of traveler who likes a diverse experience, the Dingle Peninsula is a great way to spend Ireland's favorite holiday.
Kilkenny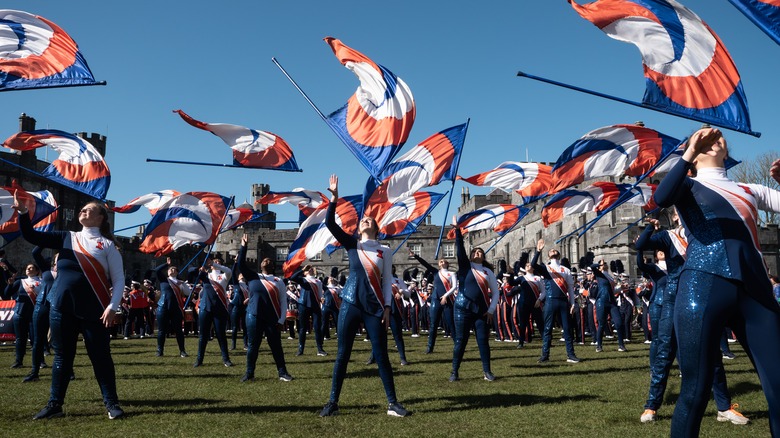 Abitofeverything.jpg/Shutterstock
Kilkenny is a smaller city that loves to celebrate St. Patrick's Day intimately. The city's defining feature is a medieval castle, which dates back more than 800 years and completes the cobblestone streets. With a castle centerpiece, it only makes sense that Kilkenny would be steeped in history and culture — their St. Patrick's Day parade and festival has a unique focus on its own heritage as well as that of Ireland as a whole.
In addition to marching bands, music, and street performers that participate in the colorful and cultural parade, the city puts on a type of carnival for St. Patrick's Day called Kilkenny Tradfest. The festival may focus on live music, but it even comes equipped with a vintage carousel that practically begs for families to ride it as well as a festival market.
Once the festival and parade is done for the day, locals and visitors alike take to the pubs, where the festivities continue into the night. Kilkenny seems to have something for everyone, but also everything for some. If you are the type of traveler who likes to party day and night, St. Patrick's Day in Kilkenny is a no-brainer.
Limerick
Limerick is, as the name would suggest, a creative city that has a pretty large St. Patrick's Day parade that changes theme each year. The 2023 theme is "Discover Limerick" with a focus on vikings — because it, along with a lot of larger Ireland cities, were established by them. With more than 1,500 people signed up to participate and countless others to spectate, the parade is a major Irish celebration to be at, and the follow day's street show offers entertainment to the whole family.
If you end up being one of the spectators, you may want to check out some of the other attractions the city has to offer. Limerick also has its own medieval castle — King John's Castle has a dramatic history that will have even those who bore at the idea of history rapt with attention. The castle has been named one of Ireland's top attractions in the entire country. If Limerick is already on your travel bucket list for visiting Ireland for its history, spending St. Patrick's Day will only add more excitement and educational value to your trip.
Armagh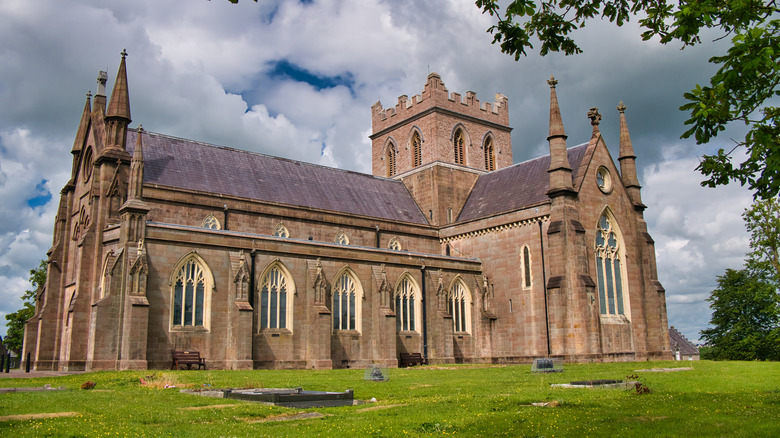 AlanMorris/Shutterstock
As St. Patrick is beloved for, among other things, introducing Christianity to Ireland, it would only make sense that the "City of Saints and Scholars" and the ecclesiastical capital of the country would have a pretty great St. Patrick's Day celebration. Armagh is not only one of Ireland's oldest cities, but the city in which the original St. Patrick started out his mission to spread Christianity to Ireland. Even though it's an old city, Armagh is lively and its eight day festival celebrates both the life and death of Ireland's patron saint and also appreciates the culture surrounding the country.
Armagh is home to the site of the very first church established by St. Patrick, and there are now two cathedrals named St. Patrick's Cathedral that are the capstones of the city's annual Vigil Walk. Even if you don't want to partake in the more religious aspects of the holiday that are put to the forefront in Armagh, the city's many family friendly activities are important for the celebration as well. Whether you are traveling with family or not, though, if you will miss St. Patrick's Day weekend while in Ireland but your trip falls on one of the other festival days, Armagh has a longer celebration period than most Irish cities and is a great place to experience the holiday in its home country.
Duncannon
Duncannon is another tiny town in Ireland that has made our list — for its creativity as much as its quaintness. The seaside village has added one St. Patrick's Day tradition that may just top all others, but not for its size. If you're not particularly into huge parades and crowds, the tiny town's beach parade is something intriguing for travelers and the experience that is a long cry from the typical parade every other town or city is throwing for the holiday.
While the east coast of Ireland boasts beaches that are both rocky and stunning with cliff views, the west side is sandy and enjoyable, which makes Duncannon's beach one that locals appreciate. In the past, visitors and locals have taken part in a sand castle festival, so there's no telling what you will encounter each year at Duncannon Beach. Though it may be too cold to actually venture into the water without a wetsuit, the beach is clean and rarely has many people on it, making it a great semi-private getaway ripe for celebrating St. Patrick's Day with locals.