This Remote Island Off The Coast Of Ireland Is A Must-Visit For Star Wars Fans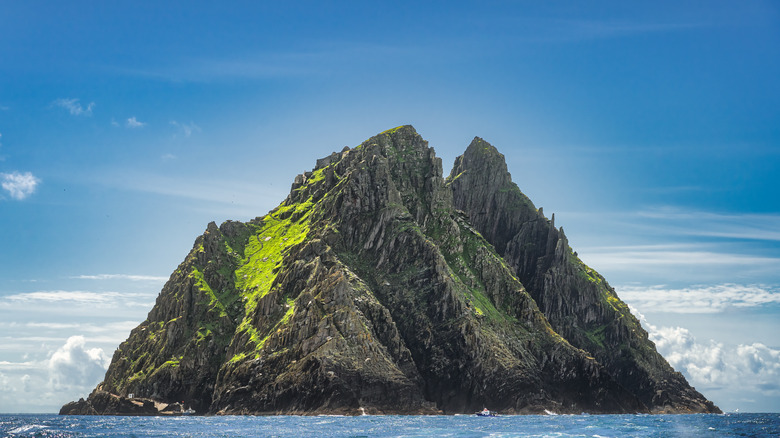 Dawid K Photography/Shutterstock
Whether you're a hardcore "Star Wars" fan or new to the epic saga, we can all agree that when watching the final scene sequence of Episode VII "The Force Awakens," gasps could be heard worldwide as the film camera swiftly approached two massive, rock formations rising out of the turbulent ocean that appeared extra-terrestrial in nature. The appearance of these mammoth, fantasy-like, sharp-pointed crags against the dark, blue waters of the North Atlantic Ocean, was so perfect in every way, that dare we say, thoughts of masterful CGI came quickly to mind.
However, fans swiftly took to the internet to find out how and where the jaw-dropping ending scene was filmed, and soon realized that this breathtaking location — which exuded both mystical and unearthly qualities — was actually a stunning remote island off the southern coast of Ireland, as reported by Business Insider. And if you're a "Star Wars" fan or a novice, it's a must-visit location to satisfy your fandom curiosities and obsessions: Exuding mystery, beauty, wildlife, and ancient history.
A prehistoric tale of two islands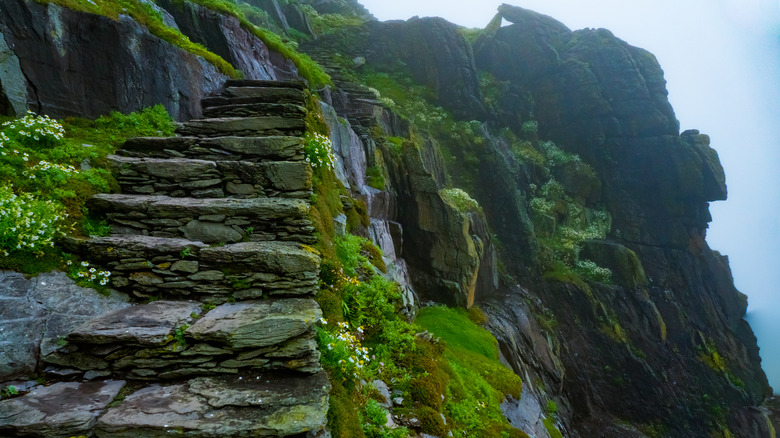 Andreas Zulauf/Shutterstock
While "The Force Awakens," hit the theaters in 2015, the islands of Little Skellig and Great Skellig (Skellig Michael) have been around far longer: Their origins date back approximately 360 million years. The smaller (440-foot), yet formidable, uninhabitable, pyramid-shaped rock known as Little Skellig is home to over 30,000 wild seabirds known as Gannets, and is a protected area under EU law, according to Irish Examiner, making it inaccessible to tourists. 
Its neighboring brother, the larger of the rock formations that was cast as the predominant star, and filming location used in both the 7th and 8th episode of the saga series — Sceilg Mhichíl (Skellig Michael) — was officially designated a UNESCO World Heritage Site in 1996 for its extreme beauty, vast biodiversity, and the ancient remains of a 6th-century Christian monastery perched high atop its jagged summit: Accessible only by climbing the 618 rough, stone steps up its 715-foot steep terrain. Named after the archangel Michael, this extraordinary wild landscape of nature, geology, and unique birds can be found just 7 miles off the coast of County Kerry, Ireland. 
How to get to Skellig Michael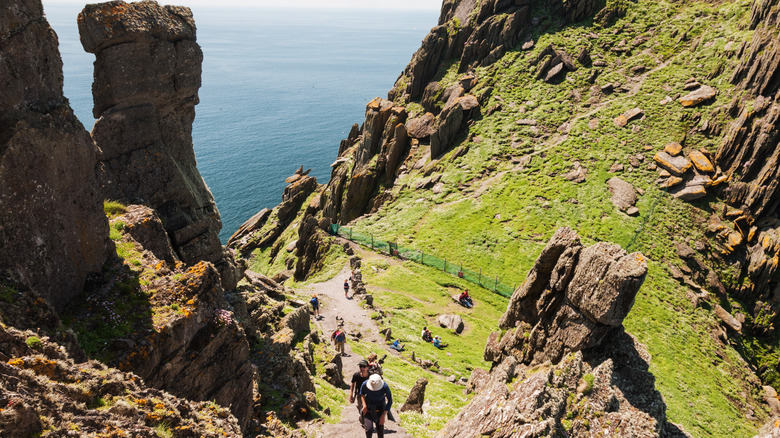 shutterupeire/Shutterstock
There are two options available to visit Skellig Michael: By boat/land tours or by helicopter. Should you choose to opt for the water or water-to-land tours, choosing the latter means you'll actually be taking a boat to the island, docking, and touring the island by foot. Plan for several hours away from the mainland, according to one boat tour service, Skellig Boat. If you don't do well on boats, or just fancy a more adventurous trip, you can visit the island by helicopter, but be prepared to pay a higher price to enjoy this luxury tour option. According to Aerial Adventure, they provide three tours to Skellig Michael for their clientele, each unique in its own way. 
While the "Star Wars" movies have had a positive impact on the economy in the County of Kerry, mass tourism to the island soon after the movies were released, and careless tourists caused significant damage to the well-preserved monastery that has been there for centuries unscathed, according to The Irish Times. If you do decide to venture off to the Emerald Isle and experience Skellig Michael Island, keep several things in mind while you're there: Great Skellig is a UNESCO World Heritage Site, filled with precious wildlife, its landscape and ancient monastery are both historic and timeless. That means it should be treated with a great deal of respect when visiting it. So tread lightly fellow "Star Wars" fans. And, may the force be with you.