5 Must-Download Apps For Your Next Trip To NYC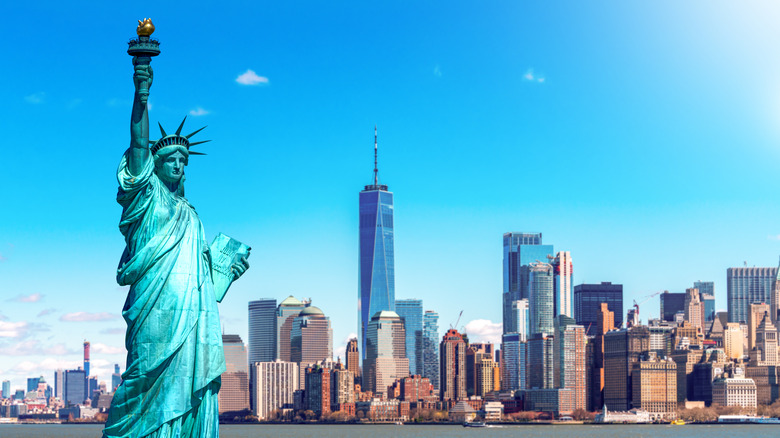 Chaay_Tee/Shutterstock
New York City is a bucket-list destination for visitors from all over the world. From Midtown's museums and Broadway's plays to Brooklyn's pizzerias and the city's sprawling green spaces, New York City is world-renowned for its attractions, cuisine, and metropolitan charm. However, doing and seeing everything the city has to offer in one trip (or 50 trips) is pretty impossible, so optimizing your time is important. 
Planning a trip to New York City can be overwhelming, especially if it's your first visit. Obviously, it's important to do some pre-arrival research and create a must-do list. But in such a dynamic city, you may need to constantly tweak your best-laid plans.
Once you arrive in NYC, you'll need help navigating the city, turning your dream itinerary into a reality, and making the most of your day-to-day experience. Before taking a bite out of the Big Apple, check out this list of five must-download apps. These apps can help you experience the city stress-free, whether it's your first or 50th visit to New York City.
Plan and save at top attractions
TTstudio/Shutterstock
With so much to see and do in New York City, the sheer size of your itinerary may be overwhelming. However, our first must-download app is designed to help visitors manage their sightseeing schedule. The New York Pass by Go City is a free app that provides information on over 100 of NYC's most popular attractions and activities, including the Empire State Building Observatory, Top of the Rock Observation Deck, the American Museum of Natural History, and Big Bus Hop on Hop off tours.
Along with offering practical tips on popular attractions, The New York Pass app allows you to make reservations, helping you to organize your time. If sightseeing is a major reason for visiting NYC, then The New York Pass is a great app for both organizing and budgeting your time and expenses. In addition, most of the app's features are available offline, which can help international visitors avoid roaming charges.
Plan an NYC dinner and Broadway show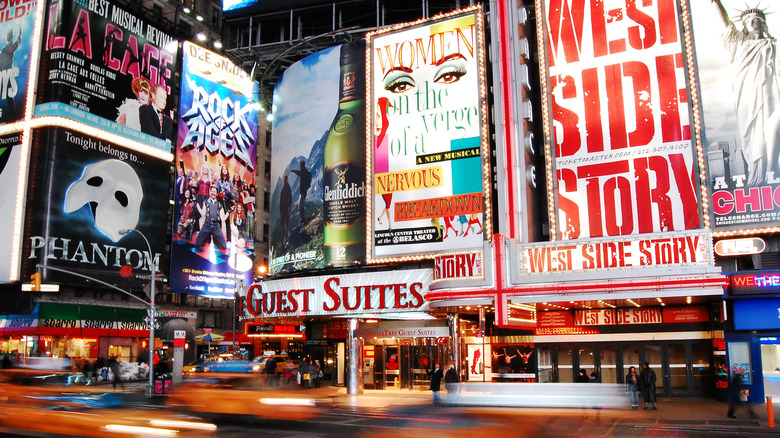 Sociopath987/Shutterstock
After a full day of sightseeing, there's nothing like a dinner followed by a show in New York City. Boasting thousands of restaurants throughout its five boroughs, NYC is a true culinary Mecca. From Michelin-starred restaurants to local favorites and pop-up eateries, you'll have no issue finding a memorable meal in the city.
To help you explore all that NYC serves up, we recommend downloading the OpenTable app. While not an app specific to New York City, the app will help you reserve seats at sought-after restaurants and show table availability near your location. While there's no shortage of restaurants in NYC, it can be tricky to make reservations for popular restaurants without OpenTable, an app many restaurants now rely on for bookings.
After dinner, there may be no better post-meal activity for first-time visitors than catching a Broadway show. To save on Broadway tickets and keep your itinerary flexible, we recommend downloading TodayTix. An app created by theater producers, TodayTix allows you to purchase Broadway tickets on short notice. Not only can TodayTix provide discounted tickets, but an app-associated concierge service allows you to skip the line upon arrival.
Navigate the NYC subway like a local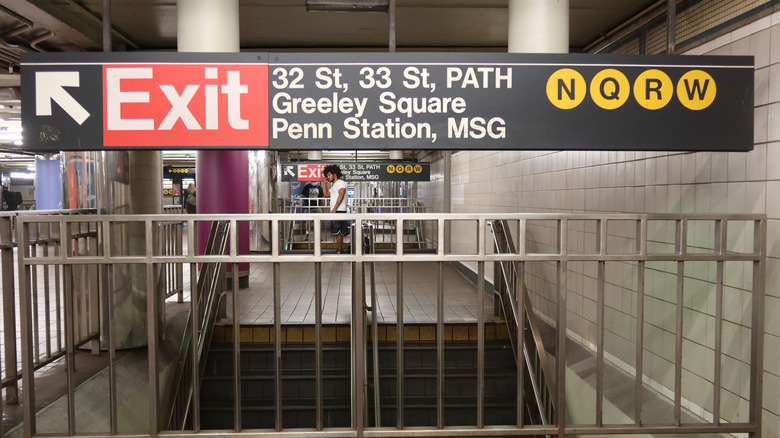 Gary Hershorn/Getty Images
While we've recommended apps to help you better experience your must-do activities, we haven't chosen an app to help you get around. It's one thing to explore New York City; it's another thing to explore NYC without getting lost. Although NYC boasts an excellent public transit system, first-time visitors will appreciate a little assistance, especially when tackling NYC's subway system.
Citymapper is a mapping and public transit app that helps you navigate the city, whether you're walking, cycling, taking a scooter, or using public transportation. While there are a few navigation and public transit apps to choose from, Citymapper is particularly useful.
Through the Citymapper app, you'll learn the best entrance and exit for your station's platform, receive notifications on delays, and even get recommendations on where to board the train for a quicker exit. For first-time NYC visitors, the subway system can be intimidating, but the Citymapper app is really comprehensive, making riding the subway a breeze. The app also saves your trips offline, allowing you to revisit your routes later.
Take a self-guided tour of Central Park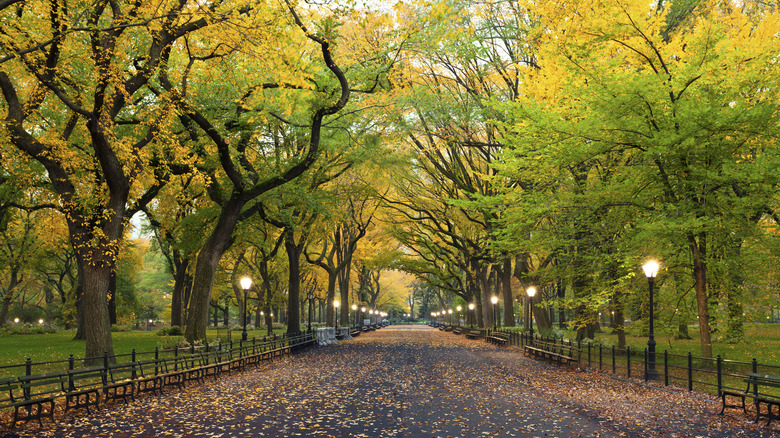 Rudybalasko/Getty Images
No trip to New York City is complete without visiting Central Park. The Central Park Conservancy offers a free app to help visitors make the most of their time exploring the 843-acre urban oasis. By downloading the Central Park app, you can learn about the park's history, its past restorations, landscaping projects, and more.
The park is expansive, with lots of highlights to discover, but for first-time visitors, the app can help you easily locate park attractions. It lists over 200 highlights and activities within the park. You can learn about the history of Belvedere Castle, the landscaping at Seneca Village, and more. 
The Central Park app also offers various self-guided tour options. Depending on your interests, you can choose your own adventure by listening to narrations from architects, historians, and other park insiders. For something a bit different, you can also choose a celebrity audio guide.
Consider downloading attraction-specific apps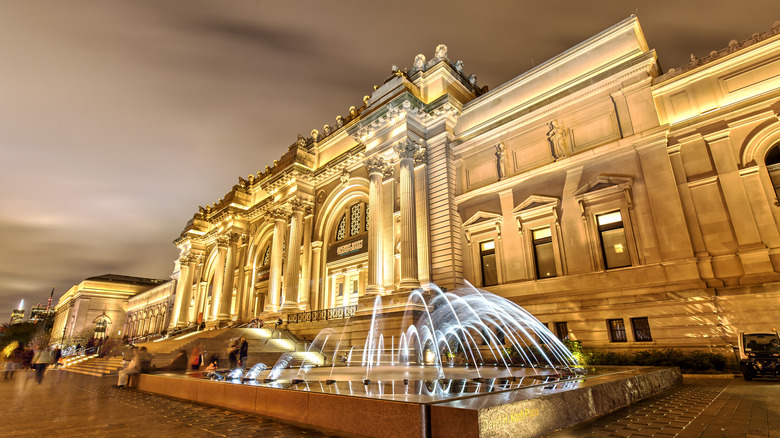 Susanne Pommer/Shutterstock
By downloading these five apps, you'll be ready to successfully navigate the city on your way to eating delicious meals, exploring top attractions, attending a Broadway show, and relaxing in Central Park. While this isn't an extensive list, these handy apps can definitely help both first-time and frequent NYC visitors.
Depending on where you're staying (and your preferences), there are a few other more specialized apps to consider. If you're staying in Manhattan, check out the Downtown NYC app. Created by the Downtown Alliance, the app is an excellent way to find deals, events, and popular attractions in lower Manhattan.
If you do visit the Metropolitan Museum of Art, the American Museum of Natural History, or other New York City museums, we highly suggest downloading the apps dedicated to museums when available. Although you won't have time to do everything NYC has to offer, you can take a more satisfying bite of the Big Apple with apps that optimize specific experiences.