Disney World Hacks To Save On Parking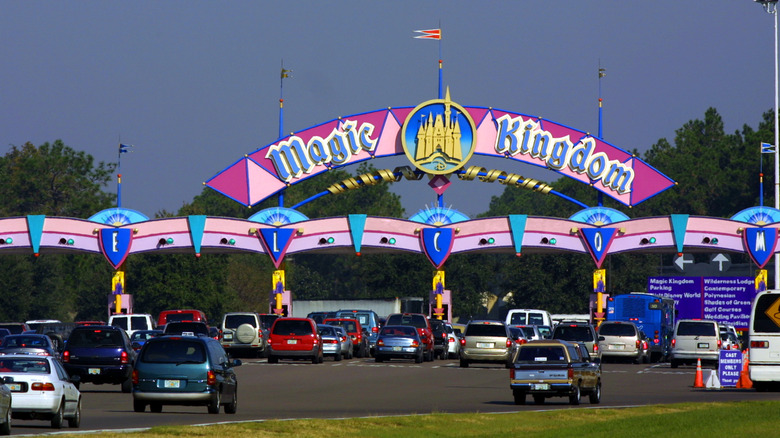 Joe Raedle/Getty Images
Travelers looking to infuse some magic into their getaway often set their sights on Disney World. A trip here is filled with thrilling rides and attractions as well as exciting entertainment and fantastic flavors. While the fun is always within reach, a trip to Disney World isn't necessarily a cost-effective experience.
Disney World welcomes over 58 million guests each year. As visitor numbers, attractions, and entertainment options have inevitably increased over the years, so has the cost of enjoying time at Disney World. Since opening to the public in 1971, the price point to enjoy entrance to the parks has risen by nearly 500%.
In addition to admission, a portion of the significant cost to visit Disney World is on-site parking. It can be tempting to consider paid parking options at Disney World in the name of convenient theme park access. Unfortunately, the final price tag isn't always worth the visitor's while.
Disney World parking prices vary depending on the type of vehicle in question. While a single parking fee provides options at four theme parks, space is limited and never guaranteed. Prices also fluctuate depending on the season.
This means that ultimately, Disney World guests can end up paying more than they ever planned on parking alone. The good news is there are options out there for saving on parking if you know where to go. When you'd rather put your money towards other Disney fun moments, having a few parking hacks in place is always a good idea.
Alternatives that keep money in your wallet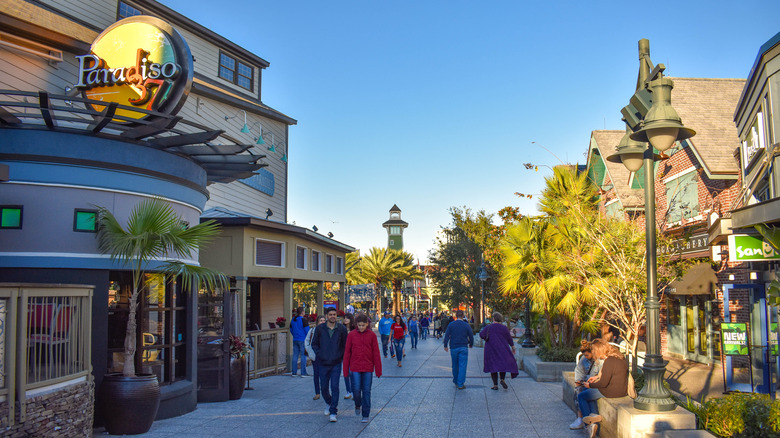 VIAVAL TOURS/Shutterstock
Mention Disney World and it's likely that Magic Kingdom, Animal Kingdom, Epcot, or Hollywood Studios comes to mind. While these destinations top many itineraries, visiting doesn't automatically mean paying for parking. Instead, consider the cost-saving benefits of parking at Disney Springs, an outdoor shopping complex located on the grounds.
Disney World visitors will find parking is completely free at Disney Springs. Once parked, guests can hop on the Walt Disney World complimentary bus which takes passengers to nearby Disney World resorts. These resorts are within easy reach of the theme parks. Buses conveniently run from Disney Springs from opening time until one hour after closing.
Another option for saving on parking costs is to choose to park at the airport instead of at the theme parks. From here, booking a rideshare to Disney World is a simple and convenient solution. Compared to daily parking prices at Disney World, daily parking rates at the Orlando International Airport are often a fraction of the cost.
Booking a hotel off-site in Orlando that offers shuttle services to the Disney World theme parks is another great choice when you're looking to save on parking. Depending on the hotel you select, you might even find that free shuttle service to and from the park is paired with additional Disney perks. While this option might mean setting aside a bit more travel time to get where you're going, saving on parking equals more funds available to spend on theme park fun when you arrive.
Where you stay and how you visit matters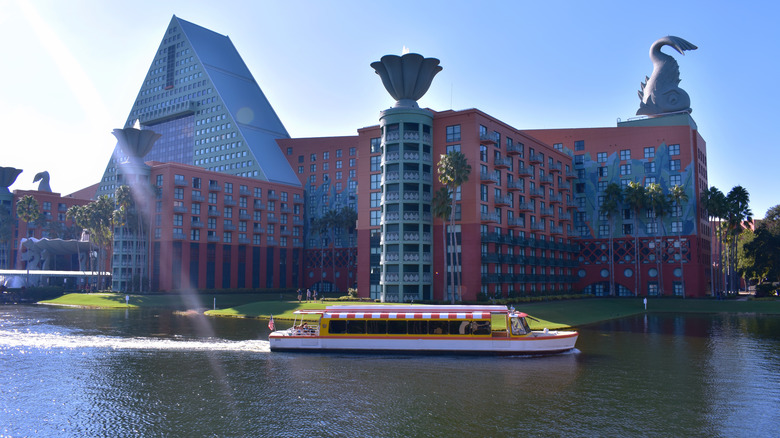 VIAVAL TOURS/Shutterstock
A direct route to saving on parking at Disney World is to book a Disney Resort hotel. When you reserve a stay on-site, free self-parking is always included in the experience. Additionally, Disney Resort hotel guests can count on enjoying complimentary standard parking at the parks and could even get access to daily early entry depending on the hotel. Looking for complimentary bus, monorail, and Disney Skyliner transportation? That's part of the package deal too.
For travelers that visit Disney World multiple times a year, the final cost of parking on-site at the theme parks could prove to be astronomical. A good way to avoid overspending on parking when multiple visits are in your plans is to invest in becoming an annual passholder. Annual passholders enjoy a long lineup of ever-changing perks ranging from discounts on merchandise and food to exclusive park experiences too.
One of the long-standing perks of being an annual passholder at Disney World is free standard parking included at all of the Disney theme parks. If you happen to be enjoying a reservation at one of the resort restaurants, free parking at the resort is often a benefit to being an annual passholder too. Either way, you'll enjoy significant and exciting savings.
There's no need to spend time agonizing over costly parking at Disney World. Some strategic planning is all it takes to save. Once you decide on your budget-friendly option, you can start focusing on the fun.