Take The Metro To The Last Stop To See A Different Side Of Rome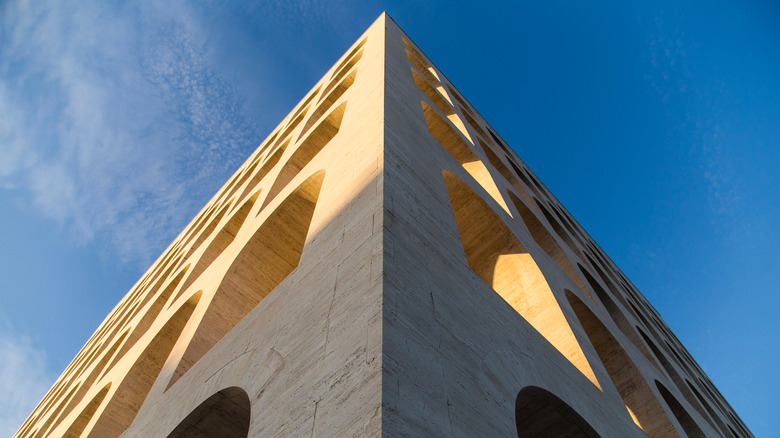 andrea federici/Shutterstock
The Eternal City of Rome, a living, breathing cultural and historical monument, and arguably home to Europe's tastiest cuisine — can you truly name a dish that's better than a carbonara? But as most come to learn when they spend some time in the city, it isn't all cobblestone streets and ancient Roman architecture. With a city as old as Rome, it should come as no surprise that its history is a long and varied one, full of unbelievable highs and terrible lows. While most who visit Rome mainly learn about the city's golden era during the height of the Holy Roman Empire, history buffs know there's more to it than that. The architectural splendor of the Roman forum and brutality of the Colosseum were not all left in the past. If you want to see a truly unique side of the city where you can learn about its more recent history, hop on the blue Metro B line, toward Laurentina and stay on until the last stop.
When you arrive, you'll find yourself in EUR, a strange part of Rome that is often overlooked for its more conventionally appealing quartieri (quarters or neighborhoods). This area won't necessarily be a highlight for everyone who visits but for those who have an interest in history and unique architecture, this is a must-do if you have some extra time.
A brief history of EUR, Rome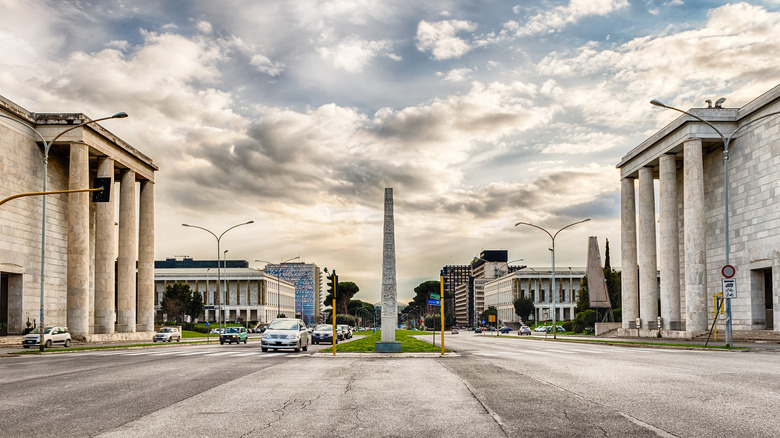 Marco Rubino/Shutterstock
EUR stands for Esposizione Universale Roma or Rome's Universal Exposition. This sheds some light on why Rome has this oddly modern part of the city. In 1937, Mussolini commissioned Rome's EUR district as a showpiece for his fascist rule that was to be unveiled at the World Expo Fair in 1942. The area was meant to be grand and all-encompassing in scale, an artistic, architectural, and politically motivated choice. The area became a stark example of Fascist and Rationalist urban planning and architecture meant to express the might of Mussolini's party, the inevitability of modernity, and make its inhabitants feel minimized and powerless. One of the core philosophies of fascism in Italy at that time was also anti-individualism, which EUR's architecture was also meant to invoke.
While this might sound grim, the resulting structures today are more impressive than anything. It's also a comfort to know that, ultimately, Mussolini's plans fell through due to World War II and the project's full potential was never realized. The area was eventually revived in the 1950s and 60s and today it's known as Rome's business district. If you're a movie buff, you may recognize some of EUR's spaces "La Dolce Vita" (1960) and "Boccaccio '70" (1962), movies made by the famous Italian director, Federico Fellini. The 1960 Olympic Games were also held in EUR at the Palazzo dello Sport (Sport Palace).
What to see in EUR, Rome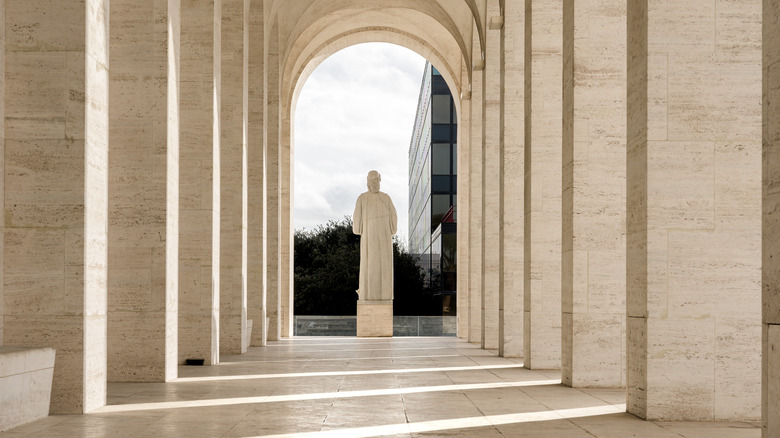 Em Campos/Shutterstock
When you get off Line B at Laurentina, start walking toward the Museo della Civiltà Romana which also sits next to the Planetario di Roma (Planetarium of Rome), the oldest planetarium in the world outside of Germany. This humongous building is supported by massive columns that tower over you as you make your way up the stairs and wander around the complex. Though the museum inside is currently closed for renovation, this is one of the best examples in EUR of the imposing architecture Mussolini's architects were going for.
You'll then want to walk toward the Obelisk of Marconi. A giant white marble obelisk dedicated to Guglielmo Marconi, an Italian inventor and engineer. From there you can turn left and walk southwest to what can be considered the center of EUR. Here you'll find the huge artificial lakes, the grand waterfall, and beautiful green spaces. Take some time to wander around the gardens do some people watching.
Lastly, you should head to the highlight of the EUR district, the Palazzo della Cività Italiana — better known as the Square Colosseum and the home of Fendi in Rome. This grand structure is clad in stunning white marble and is an icon of the EUR area. Snap a couple pictures here before you head over to one of the cafes nearby, AllEUR or Caffe Palombini, and get a bite to eat and an espresso before you hop on the metro and head back to the city.