12 Of America's Most Instagrammable Flower Fields To Visit This Spring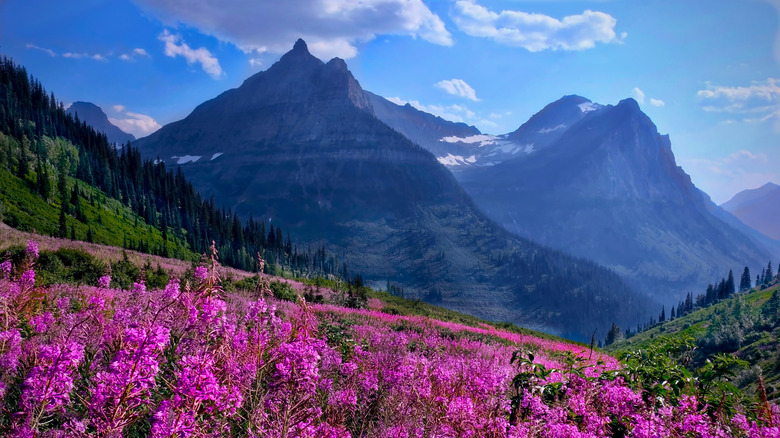 Marina_poushkina/Getty Images
From sea to shining sea, America is indeed beautiful. While we may envision images of the Grand Canyon's crimson canyons or Yellowstone's snow-white peaks, America's beauty goes far beyond its most iconic landmarks. As frost melts in much of the country, the U.S. quickly transforms into a spectacle of colors.
Whether you're traveling through the Texas Hill Country, California deserts, or the meadows of Colorado, you'll be treated to the springtime bloom of America's flowers, so take time to smell the roses. On your next springtime road trip, check out 12 of the most colorful, fragrant-filled farms and fields in America.
Wooden Shoe Tulip Farm in Woodburn, Oregon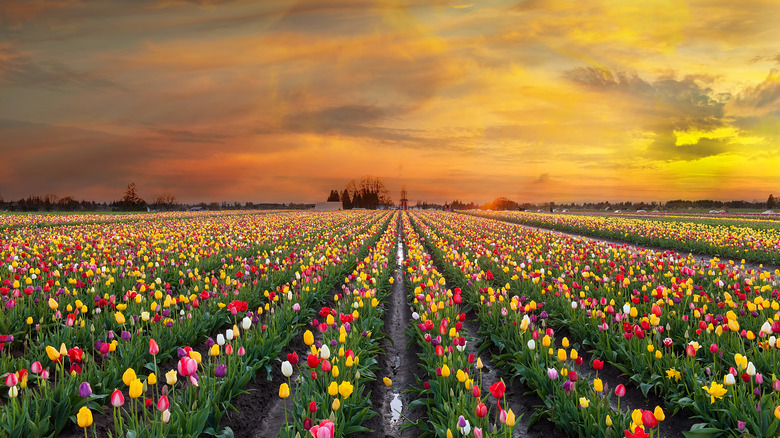 Thyegn/Getty Images
To start our list on the right foot, Wooden Shoe Tulip Farm presents a multicolor bouquet of tulips for visitors each spring. Located in Woodburn, Oregon, about 30 miles south of Portland, Wooden Shoe hosts a tulip festival from the last week of March through April.
During the festival, visitors can explore over 100 varieties of tulips that cover 40 acres of farmland. For a different vantage point, you can also take a hot air balloon ride over the tulip farms for incredibly Insta-worthy photo opportunities.
Anza-Borrego Desert State Park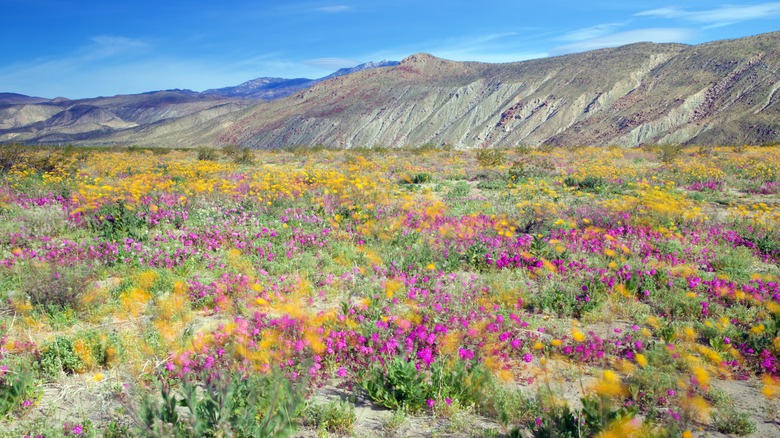 Vince Barnes/Getty Images
Although you may not associate flowering fields with deserts, Anza-Borrego Desert State Park will change your preconceived petal prejudices. The area's ideal temperature, combined with spring rains, create optimal conditions for an array of wildflowers in California's largest state park.
Only two hours east of San Diego's famed beaches, Anza-Borrego Desert State Park makes for an awesome day trip for flower fanatics. During spring months, you'll find desert sunflowers, desert lilies, lupine, sand verbena, and more.
Carlsbad Ranch in Carlsbad, California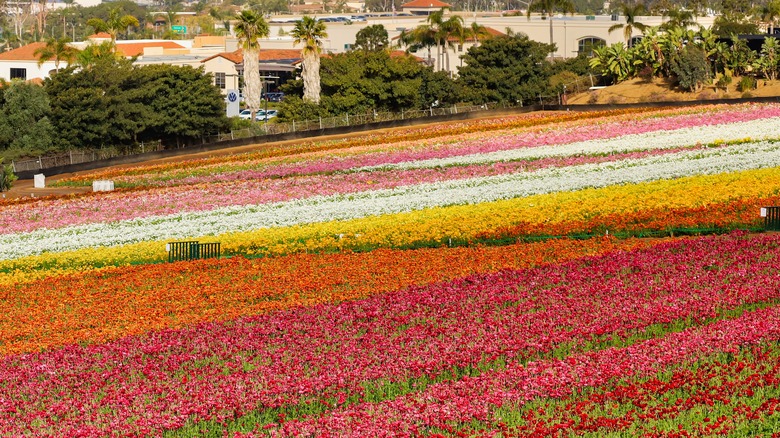 Rosamar/Shutterstock
Carlsbad Ranch in California is one of the most popular and Instagrammable destinations for West Coast flower lovers. Known for its giant Tecolote ranunculus, the ranch welcomes throngs of visitors each spring. Blooming from March through May, the ranunculus transform the ranch's 50 acres into a colorful array of white, yellow, orange, red, and pink.
Visitors can stroll through the fields, take an antique wagon ride, or find inspiration in the artist's garden. Either way, after a springtime trip to Carlsbad Ranch, you'll have plenty of shareable images of the prized flowers.
Wildseed Farms in Fredricksburg, Texas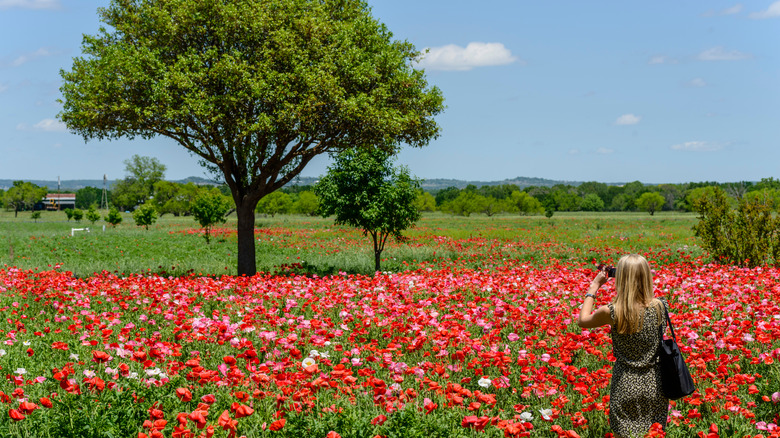 Malachi Jacobs/Shutterstock
West of Austin lies the wonderful world of Wildseed Farms. Located outside the town of Fredricksburg, Wildseed Farms helps maintain over 200 acres of wildflowers, including wild daisies, poppies, and cosmos. But in Texas, springtime also means blooming bluebonnets.
On the farm, you can walk a half-mile trail through flowering Texas Hill Country, as well as purchase local and adaptive plants from its nursery. Wildseed Farms is also an award-winning winery. After a stroll through Texas wildflowers, what's better than sampling locally sourced wines?
Veldheer Tulip Garden in Holland, Michigan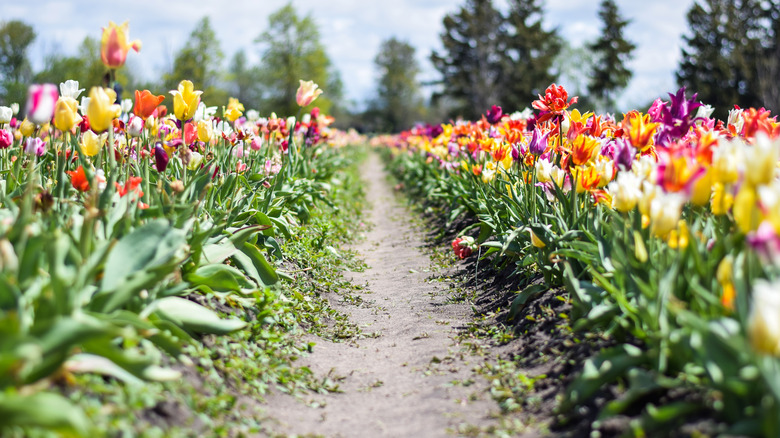 Rachael Martin/Shutterstock
You don't need to travel to The Netherlands to find world-class tulips. In Michigan, the U.S. boasts its own Holland-grown flowers. While Veldheer Tulip Gardens in Holland, Michigan isn't the only place to view tulips in town, the gardens may be the most impressive.
Each year, after planting millions of bulbs in parks, private fields, and gardens, the small Michigan town explodes into vibrant colors during the months of April and May. But make sure to stop by Veldheer Tulip Gardens on a self-guided tulip tour. Veldheer plants a staggering five million tulip bulbs each year.
Crested Butte, Colorado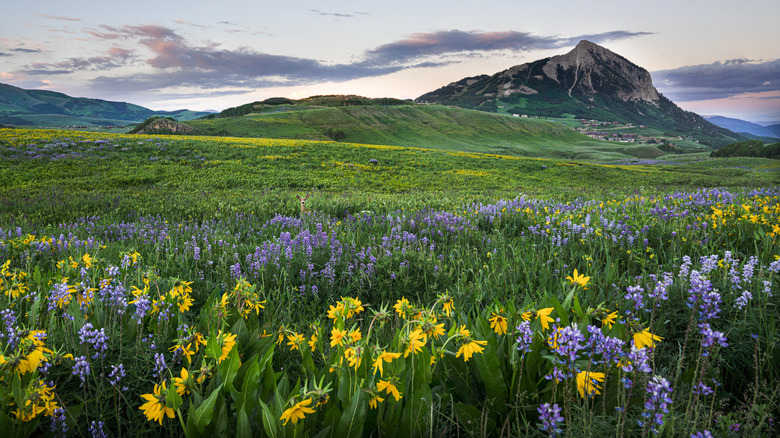 Mary K Schmidt/Getty Images
Crested Butte holds the official title of Wildflower Capital of Colorado, and after a walk through its wildflower-filled meadows, you'll certainly agree. Located within the Gunnison National Forest, Crested Butte blooms with colorful displays of cool blue columbine, magenta elephantella, and delphiniums just to name a few.
To assist visitors, Crested Butte provides a comprehensive wildflower guide, and you can explore six trails that highlight various flowers. With the mountains in the backdrop, the landscape views are simply astonishing. However, as with most public lands, take Instagrammable pictures but leave the wildflowers undisturbed for others to enjoy.
Antelope Valley California Poppy Reserve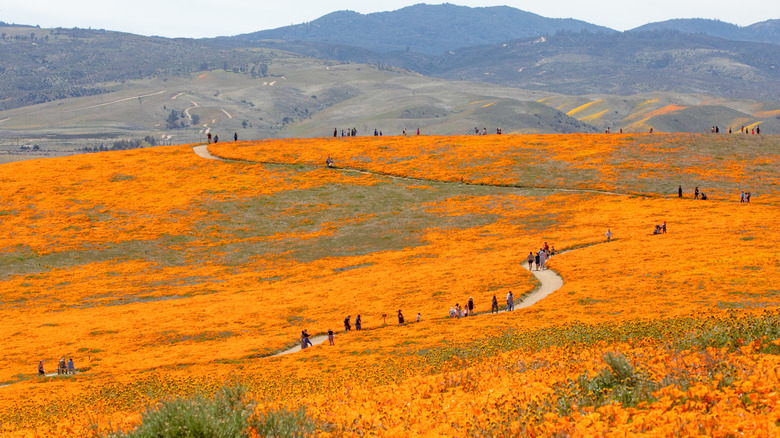 Rcview_cinematography/Getty Images
Each spring, Antelope Valley California Poppy Reserve transforms the Mojave Desert Grasslands into fields of fiery color. From mid-February to May, the rolling hills of Antelope Valley bloom into golds and bright oranges of California poppies.
From sunrise to sunset (both times offer incredible photo opportunities), you can walk eight miles of trails through the reserve's sea of color. However, visitors must stay on the trails. As a reserve, the area maintains conditions for the poppies to bloom. Walking in the fields compacts the soil, making it impossible for poppies to grow the following year.
Pelindaba Lavender Farm in Friday Harbor, Washington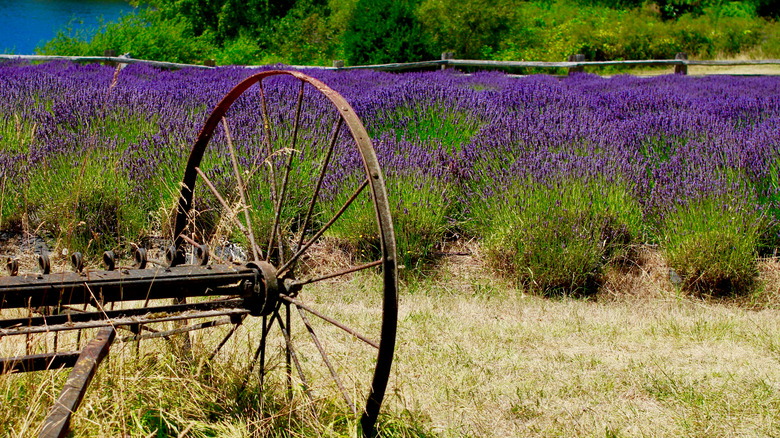 Jennifer Reeson-Ho/Shutterstock
Lavender is celebrated for its ability to calm the body and ease the mind. After an afternoon stroll through Pelindaba Lavender Farm in Friday Harbor, Washington, you should feel recharged and rejuvenated. Visitors can explore the farm's acres of fragrant, purple blossoms and harvest their own bouquet from the cutting fields. 
While peak purple season isn't until the summer, the farm opens to the public in May. After your immersion in lavender bliss, you can shop the farm's popular lavender products, including essential oils, chocolates, soaps, and more, and learn how to utilize your lavender at home. 
Mount Rainier National Park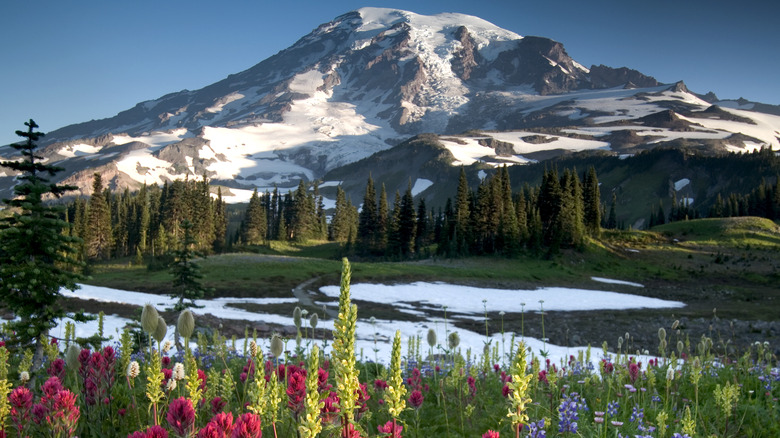 Jamcgraw/Getty Images
Although our list includes many flowering farms (and for good reason), it's always hard to compete with Mother Nature's own blossoming displays. Each spring and summer, Mount Rainier National Park shakes off its wintry frost and rouses with a spectacle of native wildflowers, reminding visitors of nature's beauty.
Featuring names like Paradise Meadow and Sunrise Meadow, the national park offers plenty of natural settings for flower-filled photos. In fact, the park boasts over 100 types of wildflower varieties, turning these lush meadows into mosaics of colors.
Ennis Bluebonnet Trails, Texas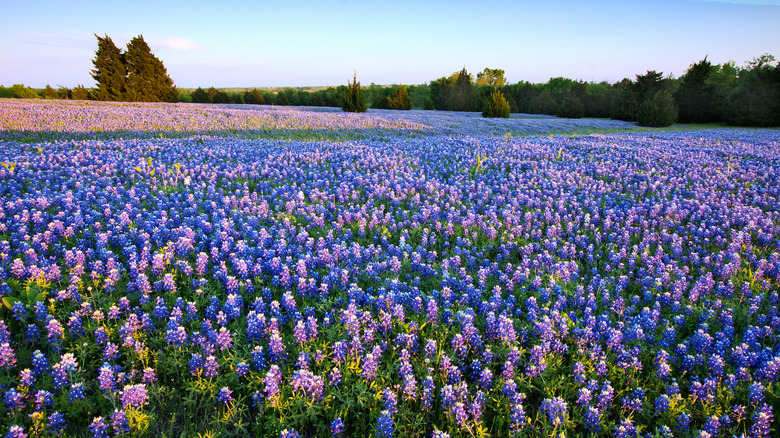 Brent Coulter/Shutterstock
In 1997, the town of Ennis, Texas was named the Official Bluebonnet City of Texas. If you know anything about bluebonnets and Texas, this is a brisket-level accolade. Located 35 miles south of Dallas, Ennis maintains the Bluebonnet Trails, which are 40 drivable miles of blue-blooming beauty.
Typically peaking around the third week of April, bluebonnets are a variation of the Texas-native lupine. To coincide with blue Texas fields, Ennis holds its Bluebonnet Trail Festival in the third week of April, but the Bluebonnet Trails are open to visitors throughout the month.
Skagit Valley, Washington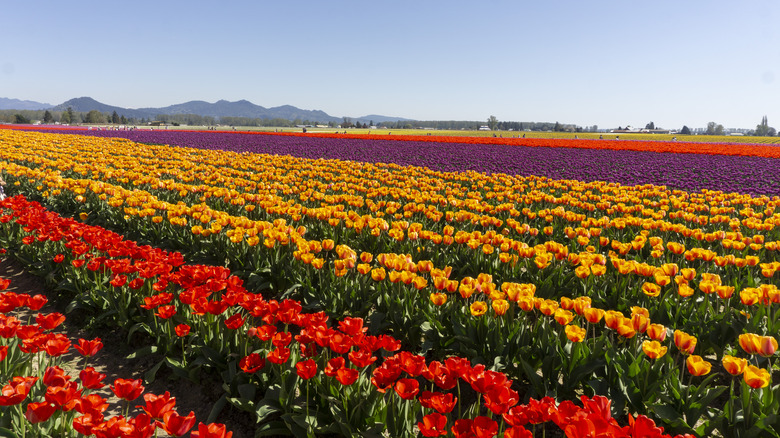 Tushar Gupta/Getty Images
Earning the nickname Magic Skagit, Skagit Valley in Washington is considered one of the most fertile areas in the U.S., and its annual tulip festival does produce an almost unbelievable array of colors. Farmers have grown tulips in the valley for over 70 years, and today, Skagit Valley holds the second-largest tulip festival in the U.S.
During the month of April, farmers invite visitors to explore their technicolored fields, and various events are held throughout the month. If tulips are your thing, then a spring visit to Skagit Valley should indeed be a magical experience. 
Great Smoky Mountains National Park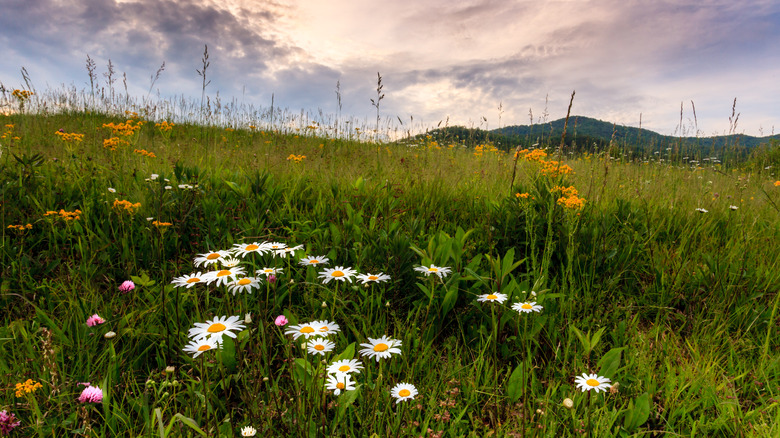 kurdistan/Shutterstock
While we've mostly highlighted flowering destinations in the West and Midwest, we'd be remiss not to mention the Great Smoky Mountains National Park in Tennessee and North Carolina. Also known as "Wildflower National Park," the Great Smoky Mountains are home to over 1,500 types of flowering plants.
In spring, the park's unique spring ephemerals begin to bloom, which includes various types of trilliums, lady slipper orchids, fire pink, and violets. During this time, the park hosts an annual Spring Wildflower Pilgrimage for visitors who'd like to experience the park's springtime bloom.
Find your own Instagrammable flower fields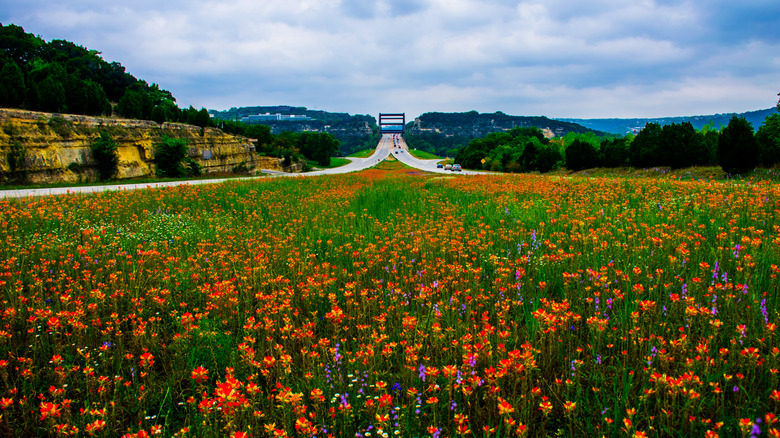 Roschetzkyistockphoto/Getty Images
Whether you prefer farm-to-table flower finding or meandering through the blooming meadows of national parks, springtime in America produces plenty of incredible photo opportunities. From lavender farms of Washington to tulip festivals in Michigan, fragrant fields in a cacophony of colors seem to be around every bend. 
If you're looking for photogenic destinations this spring, there's no place too far in America to find a natural flower arrangement. And if you're already on a road trip, there's always time to stop and smell the roses. Just make sure to grab your camera.