The Bribri Waterfalls Are A Magical Addition To Your Costa Rican Itinerary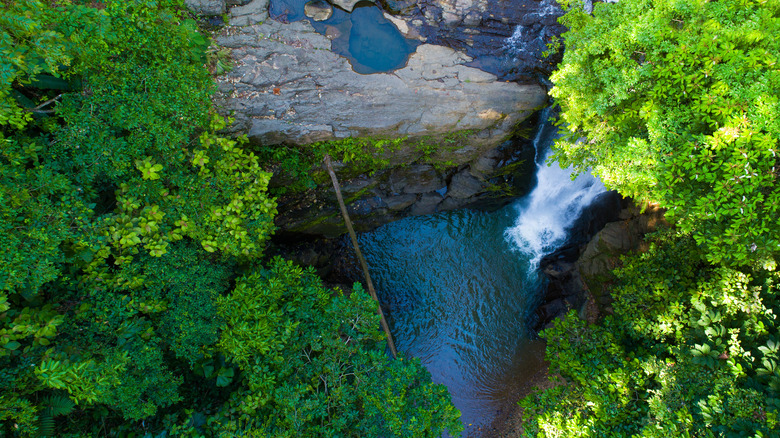 Cris Young/Shutterstock
There's something energizing and captivating about waterfalls. Their powerful yet graceful fall from jagged or smooth rocks, with the rushing sound of water thundering down the cliffsides before they meet the body of open water below, quite literally takes your breath away. And, with 9 million recorded waterfalls interspersed around the globe, finding one or more can be quite easy to locate when walking through rainforests, woodland, and mountainous terrain just by listening for the gentle or roaring sound of water cascading nearby.
The country of Costa Rica contributes to that impressive total; its tropical landscape brimming with dramatic waterfalls and lush greenery, beckoning visitors to admire them. One such area can be found on Indigenous land in the province of Limón. The Bribri waterfalls consist of three stunning flowing specimens of water, each revealing natural pools to swim in at their aqueous feet, making them a magical addition to your itinerary when visiting Costa Rica.
The three waterfalls of Bribri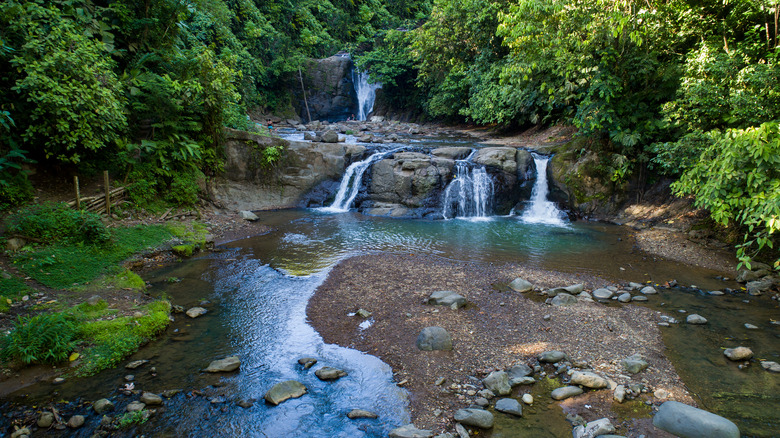 Cris Young/Shutterstock
Approximately 10 minutes inland from the coastal town of Puerto Viejo de Talamanca, the Bribri waterfalls offer tourists a peaceful break from the crowds, while enjoying the breathtaking views of nature at its best. The first, and smallest of the Bribri water family, is Two Waterfalls. Surrounded by the dense rainforest, and a terrace of large, flattened rocks, this petite waterfall gently spills into a delightful and calm swimming area of natural, serene beauty.
The second, Volio Waterfall, looks like something out of a movie. Giant and varied rock formations create a narrow split opening where visitors can stand beneath the rushing water before immersing themselves in a tranquil pool of blue-green water that is both enticing and beautiful. And, finally, Bribri Sparkling Waterfall rounds off the trio with its heightened cascade of water shimmering down the sides of the smooth, yet jagged rocks into an expansive area for swimming and enjoying the breathtaking views.
Important insight before you go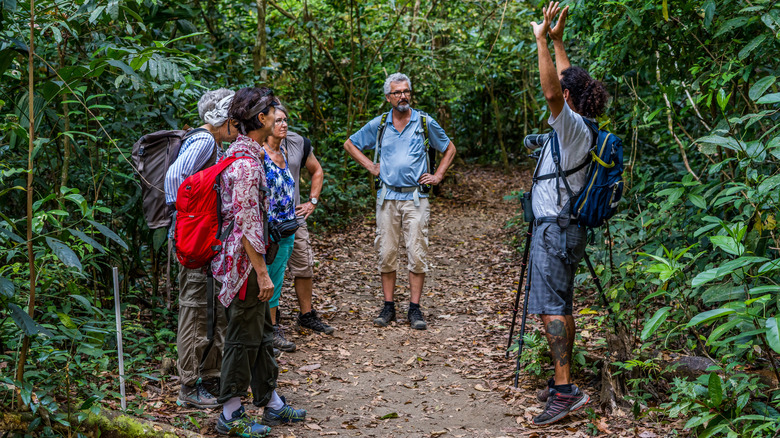 Margus Vilbas Photography/Shutterstock
While you can reach all three of the Bribri waterfalls on your own or with friends, it's highly recommended that you hire a trustworthy guide to take you on an individual or group tour for a few reasons. The Indigenous community of Bribri is deeply, and spiritually connected with the rainforest they call home, honoring every inch of its natural landscape, and wish for it to remain a respected and sacred place. That being said, it's important that visitors entrust the services of a guide that will provide insight into the best route to take when visiting the waterfalls so as not to disturb, nor disrespect their community.
Having a guide with you will also provide you with that extra amount of security. Rainforests can be tricky to maneuver through and without proper knowledge of how to get to the waterfalls accurately, one could get lost among the tall plantain trees and lush greenery quite easily even with signage posted. And, while you think being out in the jungle alone is not risky, think again. From wild animals to poisonous snakes and dare we say, even humans who keep a robbing eye out for tourists and their gadgets, trekking solo within the Bribri rainforest area can be unsafe, and having a guide with you that knows the landscape like the back of their hand provides visitors with safe passage and watchful company while visiting the Bribri waterfalls.