The Best Museums To Visit If You're In Washington DC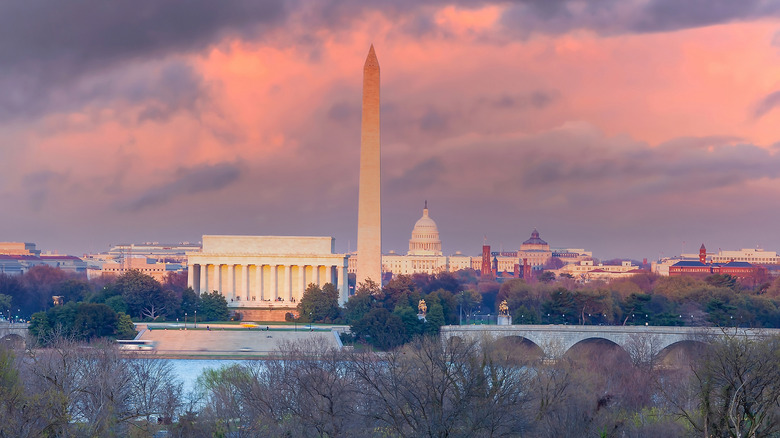 f11photo/Shutterstock
Washington D.C. might be the political center of the United States — it is, after all, the nation's capital, and home to the White House, the U.S. Capitol, and scores of government agencies — but this stateless city sandwiched between Maryland and Virginia is not just about administrative deal-making. This is where travelers will find a handsome cache of museums, places of education and excitement that showcase artists, inventors, engineers, and the weird and wonderful quirks of this planet we call Earth. 
Washington D.C. is a small city, less than a quarter of the size of New York City, and many of the museums here are close to each other along the National Mall, allowing visitors the chance to drop by multiple institutions on the same day (assuming they have the stamina!). And as even more of an enticement, most of the museums listed below are free — one thing that's not going up in price! — though some require timed and ticketed entry. While D.C. is a fabulous place to visit all year round, spring and fall are especially nice, promising temperatures that are pleasant for walking, and stunning foliage, either from vibrant cherry blossoms or from leaves transforming to an autumnal glow.
National Air and Space Museum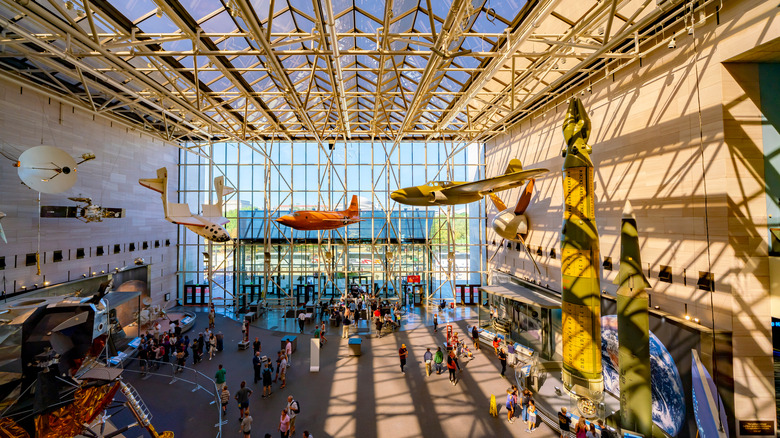 ItzaVU/Shutterstock
It's not just wannabe pilots or astronauts that will marvel at this reliable old favorite situated a couple of blocks from the U.S. Capitol. While it's true that the National Air and Space Museum is currently going through an upgrade, with many galleries debuting over the next couple of years, there is still so much for visitors to see. Few museums elicit the kind of child-like awe from the public that this place all but guarantees. 
Currently, open galleries include "The Wright Brothers & The Invention of the Aerial Age," with its focal point as the 1903 Wright Flyer, notable as being the first powered aircraft with a pilot on board. Another iconic piece of aeronautic history is displayed in the "Destination Moon" exhibit, which features Neil Armstrong's spacesuit from the Apollo mission, as well as a module from that lunar trip. Other parts of the museum look at our unquenchable thirst for speed, the intricacies of the solar system, and more. Free, timed entry tickets are required.
National Museum of the American Indian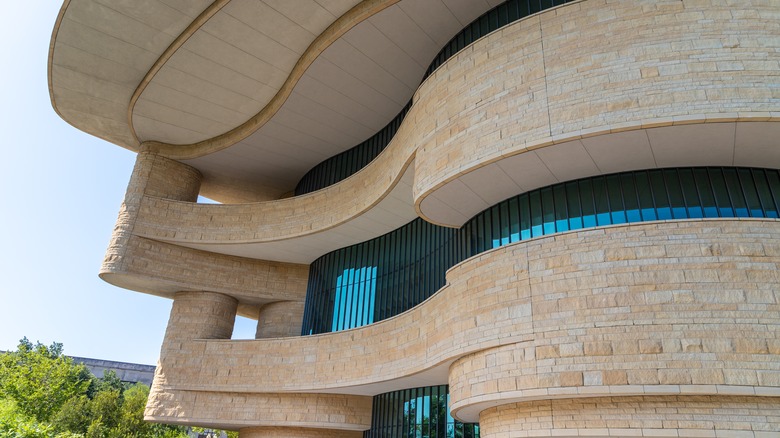 Sergii Figurnyi/Shutterstock
American Indians crossed over to the continent of North America many centuries before the European explorers first came here. The culture of these indigenous peoples is broadly explored in the fantastic National Museum of the American Indian, an institution that sits on the edge of the National Mall and that also has a branch in New York City. Ongoing exhibitions look at many facets of the American Indian experience, following subjects such as the importance of the leaders of these tribal groups, with displays of their bags, peace medals, clothing, and weaving.
"Our Universes" is a fascinating journey into the spiritual beliefs of tribes across North, Central, and South America, with galleries detailing insights on communities as far apart as Alaska and Peru. A show beginning in May 2023, and running for just over one year, showcases the vibrant contemporary art of Robert Houle, a First Nation artist from Manitoba, Canada.
National Archives Museum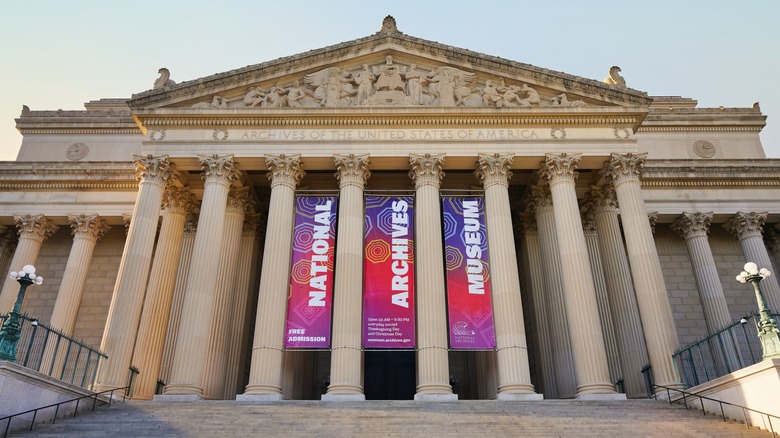 K I Photography/Shutterstock
The Declaration of Independence and the Constitution of the United States — these are both lofty, weighty proclamations that have played a central role in shaping the soul of the good old U.S. of A. But these two pieces of historical gravity are also physical documents, (long!) pieces of paper with original writing and signatures on them. Both of them are on display at the National Archives Museum, which sits on the northern flank of the National Mall. 
Along with the Bill of Rights, the two documents are housed in a circular chamber called the Rotunda for the Charters of Freedom. A stunning visual treat in itself, this space has large curved murals by the late New Hampshire artist Barry Faulkner, and shimmering marble floors. Elsewhere, the public vaults give visitors a glimpse into the daily workings of political life in the capital, with items such as telegrams from Abraham Lincoln available for viewing. Entry is free, but timed tickets are required.
National Museum of Natural History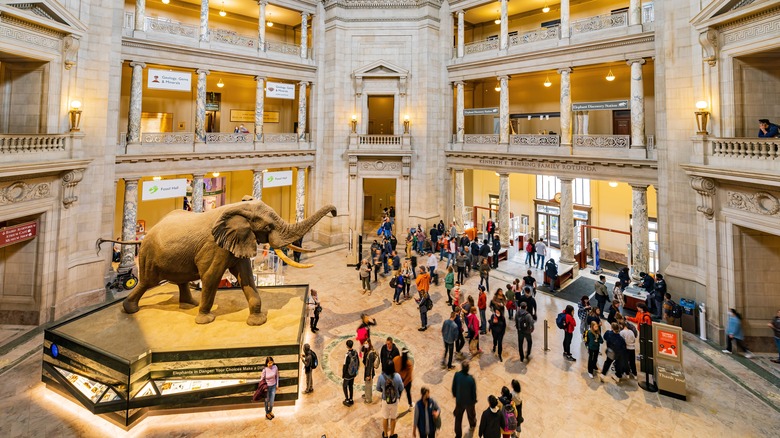 Kit Leong/Shutterstock
Also located on the National Mall, and part of the Smithsonian group of museums, the National Museum of Natural History explores the story of Earth and things that live and grow on it. Without a doubt, this is the best museum to visit with children, no matter their interest — the range and depth of topics examined here is mind-boggling in scope, from fossils to the science and artistry behind making books, and pretty much everything imaginable in between. 
For some visitors, it's the life-size models of creatures that really make an impression, from the 11-ton elephant in the main first-floor entry hall and the gray whale skeleton in an area exhibiting bones to the echidna in an exhibit on mammals. For a truly dazzling — literally — experience, set aside a couple of hours to wander the Janet Annenberg Hooker Hall of Geology, Gems, and Minerals, where the sparkle and range of colors of these natural stones defy belief. The gift shop is also equally unmissable.
National Museum of African American History & Culture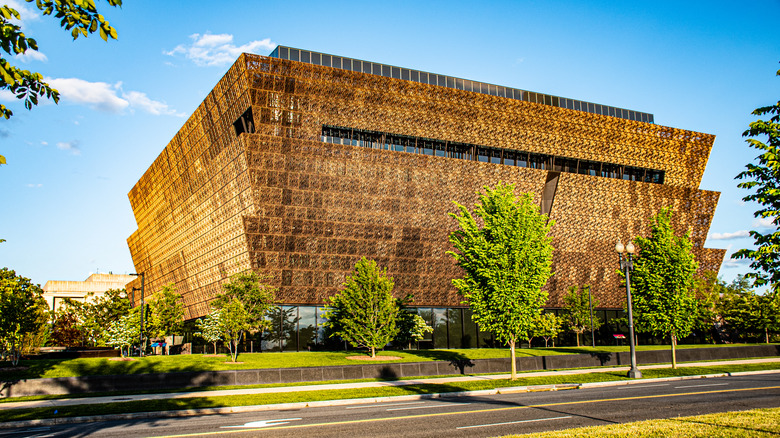 Alan Ochieng/Shutterstock
Close to the Washington Monument, this haven is housed in a building that is itself a work of art — a three-tiered structure with bronze panels that takes its cues from decorative columns found among the Yoruba tribe of West Africa. The broad-ranging subject matters at the National Museum of African American History & Culture delve into the past, present, and future, spanning such topics as slavery and freedom, racial massacres, Black Lives Matters, and sport. 
The arts also come under the microscope, with the influence and contributions of African Americans in the fields of music, photography, and literature impossible to overstate. An exhibit on visual art looks at the role of African American artists here, with a multimedia approach using various platforms to contextualize and appreciate their body of work. The never-ending struggle for civil rights is also analyzed, tracing how activism has helped to further the discussion on this fundamental liberty. Entry is free, but timed passes are required.
United States Holocaust Memorial Museum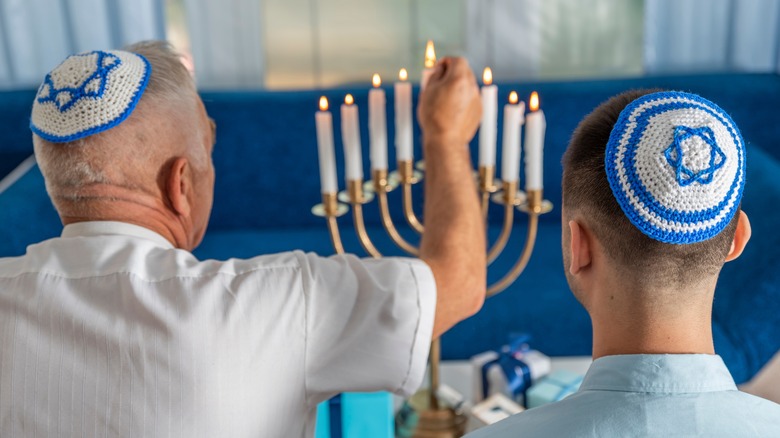 TSViPhoto/Shutterstock
A horrific tragedy that is one of the defining chapters of World War II, the Holocaust led to the death of six million Jews. People today might wonder how something like this could ever happen — a very valid question — and the United States Holocaust Memorial Museum places a spotlight on this senseless part of history. A visit here is deeply moving, and frequently harrowing, with exhibits that include historical items, video footage, and testimonies from those that managed to somehow survive the devastation. 
One part of the museum explores the limited role that America played in halting the genocide, caused by issues such as the Great Depression and xenophobia. Yet the museum doesn't solely focus on the horrors of the last century. The current exhibition "Burma's Path to Genocide" casts a spotlight on how the systematic killing of people based on their race or religion is very much an issue in the modern day. Free timed-entry tickets are needed to visit the museum.
National Bonsai and Penjing Museum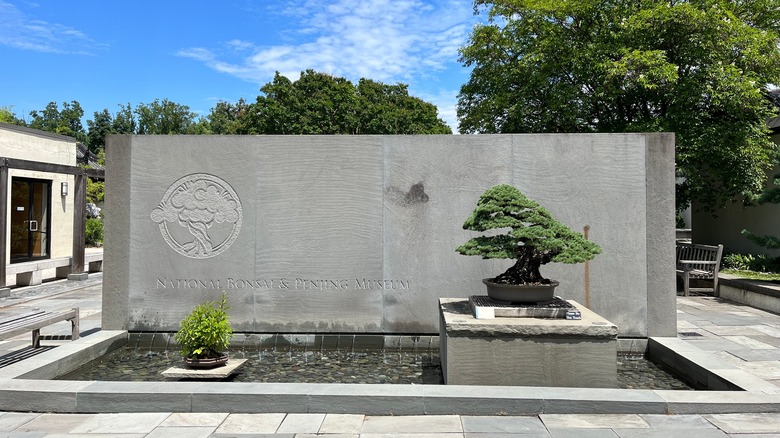 Chung-Hao Lee/Shutterstock
A gorgeous expanse of greenery in the northeast of Washington DC, and bordering the Anacostia River, the U.S. National Arboretum is a beautiful place to escape and get a dose of nature. What makes this 450-acre site, with more than nine miles of paved walkways, even more enticing is that it's also home to the National Bonsai and Penjing Museum. Bonsai is the Japanese art of training trees to remain small and penjing is the Chinese equivalent; and while the miniature trees are truly stunning to behold, the buildings where they are staged are equally impressive. 
Some appear in open-air pavilions with bamboo screening, others sit in planters in a building with sweeping rooflines and traditional Chinese moon gates. The huge collection of bonsais and penjing are of course the star attraction, with fiery trident maples, delicate Chinese elms, and tufty Japanese black pines among the hundreds of trees that are tiny in stature, but huge in appeal.
International Spy Museum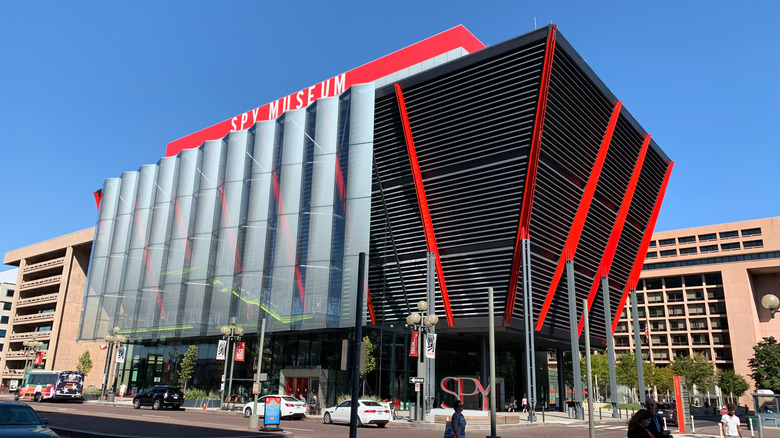 010110010101101/Shutterstock
What kid — or adult for that matter — hasn't fantasized about being a spy, infiltrating enemy organizations or governments, filtering secrets through illicit channels, and helping to save the world three seconds before it's about to end? For a more realistic take on the ins and outs of espionage, the International Spy Museum allows visitors to test their spying acumen at interactive exhibits. It's a wildly fun place, with the chance to undertake an undercover mission that starts at the fifth-floor briefing center and that tests your skills of observation and recollection. Also on the same floor, an exhibition brings to light some of the tricks and gadgets that spies have used to recover information. 
For fans of popular and historical culture, a number of items here stand out — the ice pick used to bludgeon Leon Trotsky in 1940, an Aston Martin DB5 used in the filming of the James Bond movie "Goldfinger", and a letter scribed by General George Washington asking for espionage assistance. An entry fee is charged.
Smithsonian American Art Museum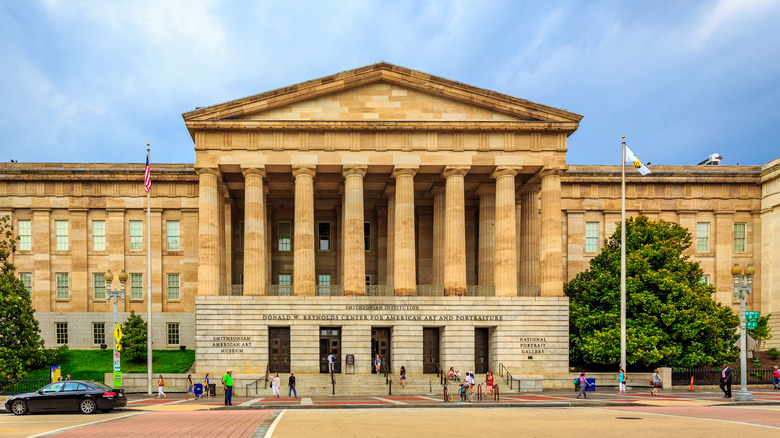 Png Studio Photography/Shutterstock
Four centuries of American art is celebrated at this institution housed in a stately pile close to the city's Chinatown. The building itself was once a government Patent Office, a Greek Revival structure designed by architect Robert Mills, among others, and that took more than three decades to construct, finally opening in 1868. It was used by other government departments in the intervening years, and the building became home to the Smithsonian American Art Museum in 1968, a tenant that has resided here ever since. 
Today, this visually pleasing spread is included on the National Register of Historic Places. While the collection here probes the full sweep of American art, from folk art to Latino works to impressionist to crafts, contemporary works are truly the forte, with new commissions often gracing the walls and floors of exhibition spaces. One recent show looked at the important, impressive oeuvre of self-taught artists.
DEA Museum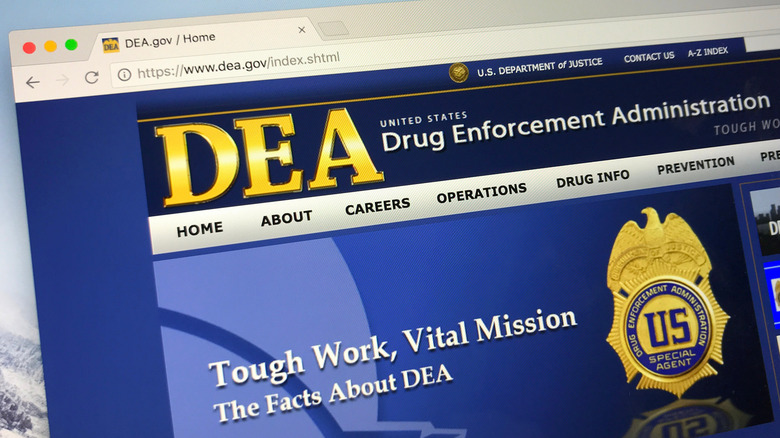 Jarretera/Shutterstock
You don't have to only be a fan of "Narcos" or "Breaking Bad" to appreciate a visit to the DEA Museum. Located in Arlington, Virginia, across the Potomac River from Washington D.C., and south of The Pentagon and the snaking lanes of I-395, this engaging spot peruses the United States' efforts to tackle issues directly related to the drug trade. The collection would certainly make an impressive seizure — thousands of objects and photographs, pictures of an early government training class, and video footage that recreates key moments of drug enforcement. 
There is much to educate and entertain any guest, items that will get you thinking about the business of narcotics in a whole new light. Visitors will see a pair of green, thick-heeled shoes worn by an undercover agent during an investigation (presumably the agent had to get into character), a model of a Thai village made of wood and used to smuggle heroin, and a mask of former Colombian honcho Pablo Escobar (fan of "Narcos" will love that last one!).
National Museum of Health and Medicine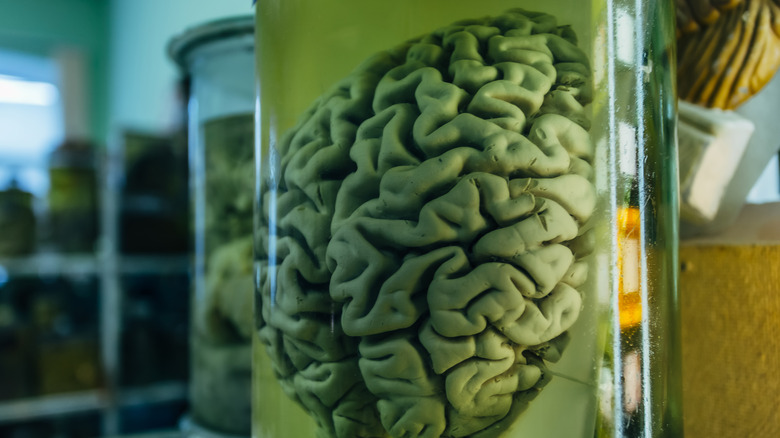 Vladimir Mulder/Shutterstock
This gripping collection of specimens and documents traces the evolution of medicine. The National Museum of Health and Medicine is located in Silver Spring, Maryland, due north of Washington D.C., in an angular concrete building that looks a little like a three-dimensional puzzle that's been pulled apart. With a mission to perpetuate the role of medicine as it relates to military conflict, as well as civilian medical matters, the museum began its existence as the Army Medical Museum during the Civil War. 
Today, it houses objects that date as far back as 150 years ago, with exhibits that look at the various disciplines within medicine that are critical during and after the battle. Innovations in things like rehabilitation and surgical reconstruction are examined through displays, while a specimen of a brain with the spinal cord attached helps visitors to understand the complexities behind our mind and basic motor functions. History buffs take note: The bullet that killed Abraham Lincoln is exhibited here.
National Museum of Asian Art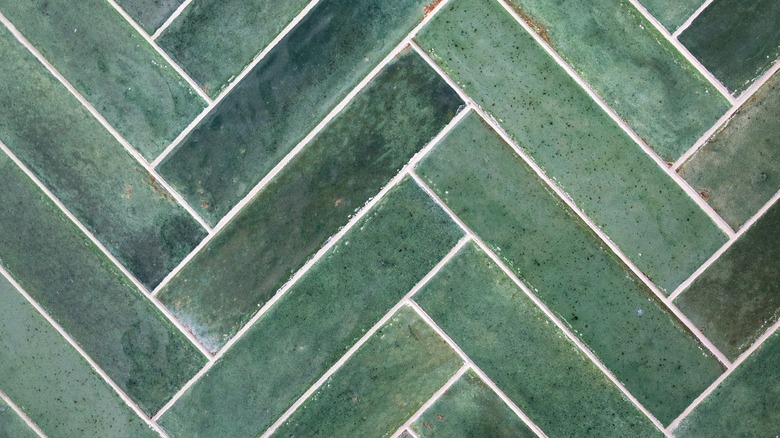 Studio Cobalt/Shutterstock
Comprising two sections — the Freer Gallery of Art and the Arthur M. Sackler Gallery — the National Museum of Asian Art supplies visitors with a huge stock of art and objects from across Asia, placing them in the context of the greater world at large. To call the collection massive would be an understatement, with more than 40,000 objects spanning millennia, from both western and eastern Asia. Exhibitions are varied in their media and might include finely detailed paintings of cityscapes from northwest India or sculptures that showcase representations of the body, both of gods and humans. 
A section on Chinese jade highlights magnificent pieces from old cemeteries, some with jade that is thousands of years old. An exhibit that launched in January 2023 showcases the colorful expressionism of Egyptian art, through glass vessels, pieces of jewelry, and sets of amulets. Bright Rinpa screens from Japan are the subject of a show launching in late February 2023, some revealing vibrant foliage that recalls D.C.'s very own cherry blossoms.
National Museum of American History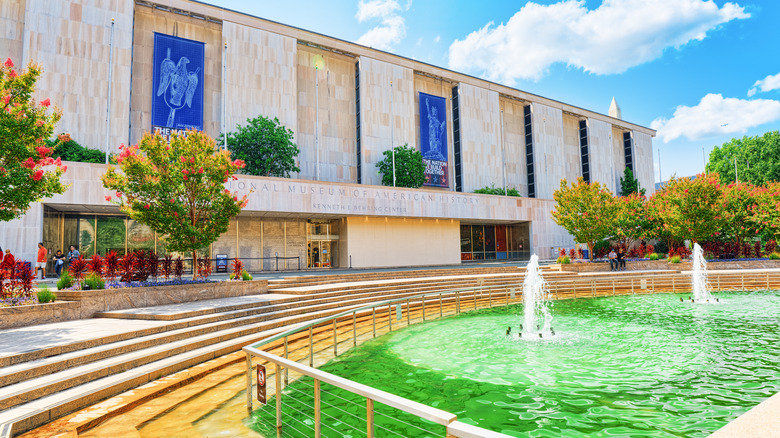 V_E/Shutterstock
Born in Kentucky, Abraham Lincoln passed away in Washington DC, a towering man noted for his coarse beard and soaring top hat. That hat is one of the items on show at the National Museum of American History, set next door to the Museum of Natural History, along with Judy Garland's sparkling shoes from the "Wizard of Oz." Clearly, the collection here is varied and eclectic, an appropriate facsimile of the country and its history. One area studies developments in America's transportation industry, with a steam-powered train from the 1800s on display. 
Lincoln's hat, as well as a microphone used by Franklin D. Roosevelt, are a couple of the draws to "The American Presidency: A Glorious Burden" exhibit. Elsewhere, museum-goers will encounter presentations on a doll house, a hydraulically enhanced Ford car, clothing worn by various First Ladies, the evolution of America's food industry, great inventors of the past, and images by photographer extraordinaire Richard Avedon.
National Gallery of Art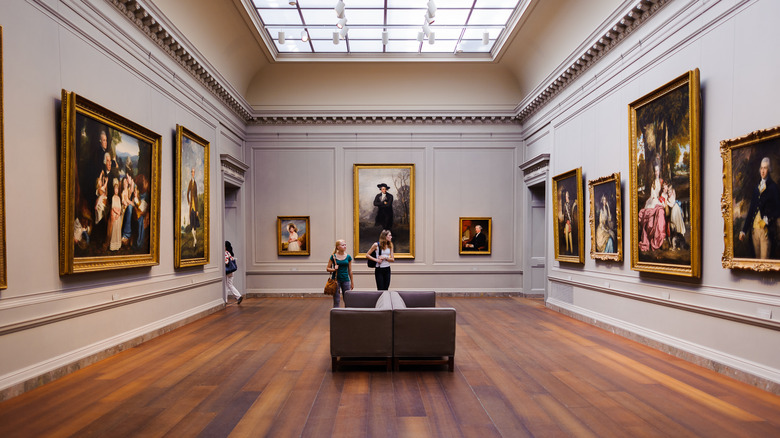 Anton_Ivanov/Shutterstock
There's something for everyone at this traditional art museum, with the gallery's permanent collection numbering more than 150,000 items. The footprint of the National Gallery of Art is huge, exhibitions are split between east and west wings, and the mediums range from photographs to paintings to sculptures. Renovations in the West Building mean that some exhibits are sporadically shut, but there is enough to enjoy irrespective of any remodeling interruptions. 
This is where to see a cubist representation of a farm in a painting by Joan Miró, a hung panel of wood flooring by contemporary Chicago artist Theaster Gates, a stoic portrait of the daughter of an Italian banker by Leonardo da Vinci, and the jazzy, symmetry driven lines of Piet Mondrian. Rolling exhibitions are similarly diverse and include photos of Britain from the 1970s, a study of a Venetian Renaissance painter, and a look at Black artists from the American South.
Stable Leadbetter Apothecary Museum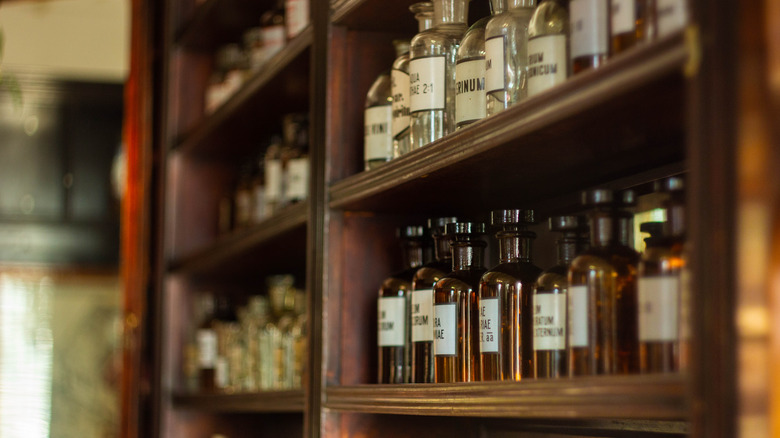 ds.p.h.o.t.o/Shutterstock
Just south of Washington DC, in Alexandria, this former apothecary is like a capsule frozen in time. The Stable Leadbetter Apothecary Museum isn't so much an exhibit shoe-horned into a space that seems right for its collection, but rather an actual, fully functioning drug store that ceased operation in 1933, after more than 120 years of filling scrips. Inside the museum, you'll certainly feel like you've stepped into another era, with shelves and counters populated by glass bottles filled with medicines and tinctures, large stone pestles and mortars used to create powders, and documents like prescription books and invoice slips. 
The second floor of the museum is the workshop, where potions were mixed and matched to send to other pharmacies and medical practices in the area. What's more amazing is that most of what you'll see are original items that were used in the working pharmacy, and also that the museum was made a National Historic Landmark in 2021.
National Portrait Gallery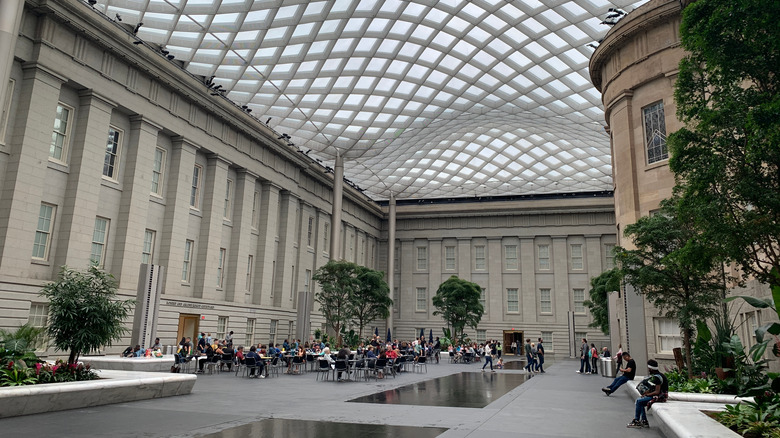 010110010101101/Shutterstock
As a land of immigrants, America is a nation that prides itself on its diversity. This National Portrait Gallery celebrates this heterogeneity with its assortment of portraits of, and by, people that have molded this great country. Across the road from the Capital One Arena, where the Washington Wizards and Washington Capitals play, the gallery feels very personal, with intimate, close-up renditions of varying subjects. There are a number of paintings of U.S. presidents, from a hall filled with pictures of George Washington, James Monroe, and Woodrow Wilson, and also a bright oil painting of Barack Obama seated in front of a green bush punctuated with flowering blooms. 
The exhibit "Bravo!" zeroes in on household name performers like Duke Ellington, Elvis Presley, and Martha Graham, represented in paintings and sculptures. And other exhibits are extremely personal, like "Kinship," where eight modern artists offer visitors a window into their relationships through painting, sculpture, and performance.
George Washington University Museum and Textile Museum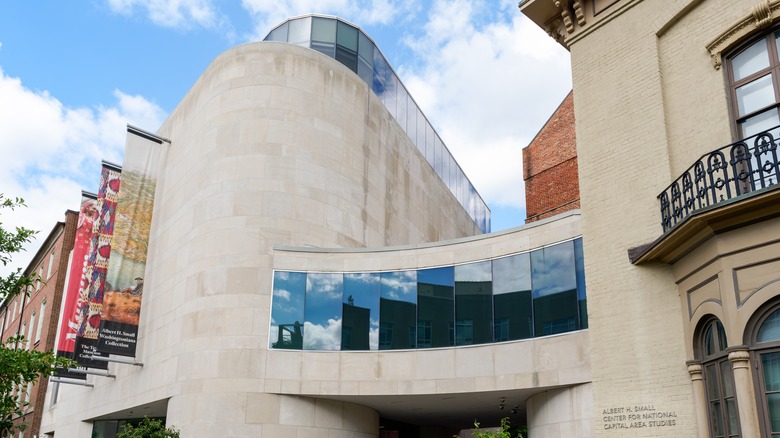 Rosemarie Mosteller/Shutterstock
Located in the campus of George Washington University, this institution is open for anyone to drop by. The lures here are the roster of paintings, a deep dive into textiles from around the world, and celebrations of the city that the space calls home. George Washington University Museum and Textile Museum isn't a huge destination, and won't take up multiple hours of your day. But it's an interesting spot, west of the White House in a part of the city called Foggy Bottom. 
The textiles are a marvel, and those on show are rotated from the museum's collection — 21,000 items from around the world, some dating back thousands of years. You might see a Yemeni turban from the 10th century, or a feather headdress made in the wilds of Cameroon. Other exhibitions look at daily life in Washington DC, from hundreds of years earlier, or more recently, images that will bestow on you a renewed appreciation for this incredible, museum-filled city.