Here's Why You Should Request A Vegetarian Meal On Your Long-Haul Flight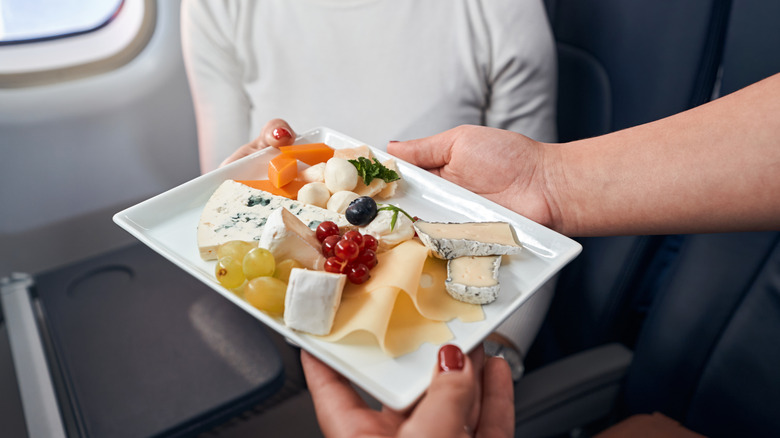 Yacobchuk/Getty Images
The number of passengers flying across the globe has steadily increased since 2004 according to Statista. Before the pandemic, the global airline industry was reporting nearly 5 billion people a year taking to the skies. The Federal Aviation Administration reports handling 45,000 of those flights daily.
As the number of flights has increased, so has the distance traveled. Long-haul flights, defined by MCG Group as those lasting longer than six hours, have taken a turn for the extreme in the modern world of aviation. A Business Insider article recently announced that Qantas Airlines is planning to launch a 20-hour flight from Sydney to London in 2025. This would become the world's longest passenger flight route to date.
Whether they're booked for work or pleasure, long-haul flights can certainly be stressful. The good news is there are simple steps passengers can take in advance to reduce travel stress and make things a little easier overall. One option is to request a vegetarian meal before departure day.
Even those who consider themselves dedicated meat-eaters will find requesting a vegetarian meal for a long-haul flight can make the travel experience more efficient. According to Simply Flying, specialty meals are served first on these extended routes. That means no waiting around for traditional cabin service. It also means access to fresher options that haven't been stored as long, and more time to enjoy your fare at a leisurely pace.
Enjoy more variety with a vegetarian meal selection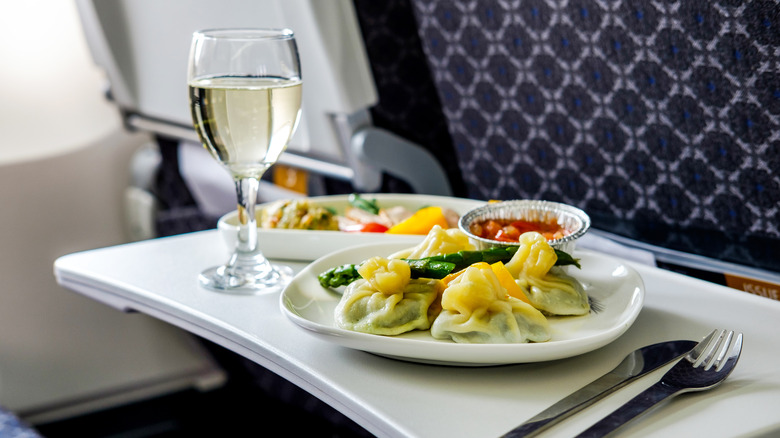 Aureliy/Getty Images
In-flight meals have come a long way since they were first introduced to passengers. According to Guinness World Records, the first in-flight meal was served in 1919 on a flight from London to Paris. It included sandwiches and fruit available to passengers for three shillings.
These days, airlines are taking steps to offer more variety to passengers booked on long-haul flights. Requesting a vegetarian meal could potentially mean more customizable selections to enjoy. A Nerd Wallet article recently highlighted Delta's new partnership with plant-based meat alternative brands including Impossible Foods. This is a prime example of increased onboard choices for passengers who opt for vegetarian meals.
On these flights, passengers are no longer limited to standard chicken and beef dinner options. Instead, long-haul flight passengers who request a vegetarian meal can choose plant-based meals. Booking a long-haul flight with Alaska Airlines comes with options to switch things up and savor a full fruit and cheese plate when passengers opt for the vegetarian selection.
When timely meals are a priority for long-haul flight passengers, requesting a vegetarian meal is the way to go. For those who value more options, freshness, and flavor in the air, vegetarian dishes meet every requirement. Even if meat would be a first choice, selecting a vegetarian dish on a long-haul flight could be an easy way to make the experience more enjoyable.