Mount Everest Then And Now: Remembering The First Few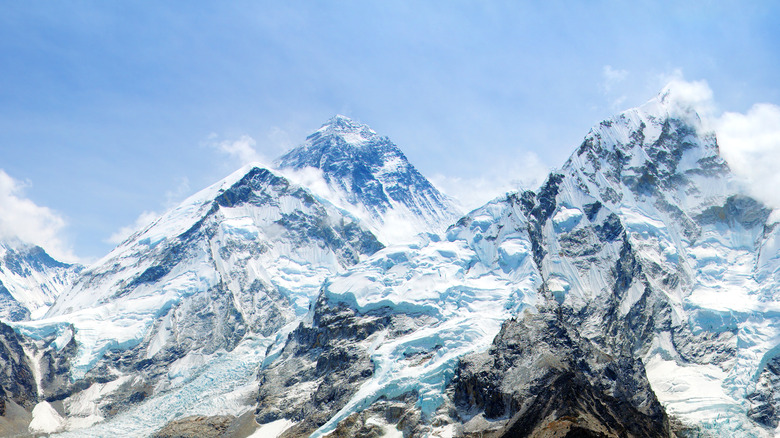 Daniel Prudek/Shutterstock
May marks the 50th anniversary of the first American expedition to summit Mount Everest. Each year, climbers from across the globe trek to the Himalayan monarch to test their mettle against more than five and a half vertical miles of mountain. While alpinism is better understood and relatively safer than half a century ago, its coldest realities remain.
On May 1st, 1963, Jim Whittaker became the first American to summit Everest. With the help of his Sherpa guide Nawang Gombu— who, two years later, would go on to be the first man to summit Everest twice— Whittaker made history. His achievement came a decade after New Zealander Edmund Hillary and Sherpa Tenzing Norgay claimed first summit. Back then the Nepalese government allowed only one expedition a year.
Just three weeks after Whittaker stood atop Everest, four other Americans from his team followed suit. Barry Bishop and Lute Jerstad took the summit from the South Col, the last camp on the Southeastern ridge of Everest, as Whittaker had. Tom Horbein and Willi Unsoeld met Bishop and Jerstad at the top after breaking the first, treacherous ascent of the Western ridge. In less than a month, the American expedition, led by Swiss transplant Norman Dyhrenfurth, put five men on the summit—as many as during the entire decade before them.
The resources poured into this undertaking were enormous. Every climber on the team was a highly experienced alpinist, trained and disciplined for the arduous attempt. The expedition left Kathmandu in a snaking caravan of 32 sherpas and 909 porters hauling over 27 tons of medical supplies, gear, oxygen, and food. It was 183 miles and a month on foot just to reach Base Camp.
Nowadays, mountaineers fly into Lukla airport— renamed Hillary-Tenzing Airport—and hike for two days to reach the South Base Camp on the Nepalese side, stopping in increments to adjust to the thinning altitude. The road is lined with guest houses, warm beds and meals. 
The expedition industry has become an income stream all its own. Between the guides, sherpas, equipment, oxygen, permits, fees, and Base Camp support—not including the funds for helicopter evacuation should things go wrong—the price tag for ascent can run up to $75,000 per person. The numbers reflect a safer, better understood Everest. But numbers only go so far.
One could look at, say May 10, 1993—the month is no coincidence, as late spring is the best time to try for the top—when a record 40 people summited, and find that the sport of mountaineering has come a long way. Or one could point out that 3,500 different climbers have summited—not including repeats—and say that the mountain has become routine.
On the other hand, Sagarmatha, "Head of the Sky," as the Nepalese refer to Everest, all 29,035 feet of her, has claimed more than 200 known climbers, preserved in her frozen flanks. Last year alone, she took ten.
Even in our era of dependable insulation, storm forecasts, durable shells, plumed layers, mega-lumen headlamps, high-altitude rescue helicopters, GPS devices and rescue beacons, on Everest the "Death Zone," above 26,000 feet, is the great equalizer. Only 14 mountains on earth are tall enough to have such a fearsome place, where the air is a third thinner than sea level and brutal temperatures take frostbitten toes and fingers as penance for their owners' daring.
Today, records of all shapes, colors, and sizes have been made of Mount Everest. Most repeated ascents (Apa Sherpa, 21 times), first woman (Junko Tabei, May 1975), first black man (Sibusisio Vilane, July 2012), youngest (Jordan Romero, USA, 13), oldest (Min Bahadur Shcerchan, 76), fastest (Pemba Dorjee, 8 hrs. 10 min.). 
Surely new firsts will be made. But let's also remember the first few to do it. As narrator Orson Welles sums it up:
"This is Everest. Summit of the world. A world above the world. High, savage, frozen. The mountain is huge. And man is small. But man is here. Man the seeker, the challenger. These will be the first Americans to climb the greatest of mountains." 
Via Gadling.