Build Your Bespoke Australia Adventure By Taking The Great Ocean Road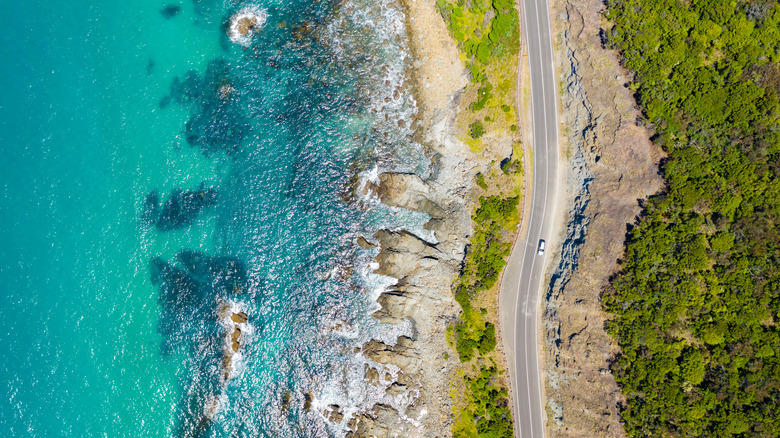 ymgerman/Shutterstock
Australia is an amazing place to visit, with its stunning beaches, unique wildlife, and diverse culture. From the bustling cities of Sydney and Melbourne to the rugged outback and beautiful Great Barrier Reef, Australia has something for everyone. But if you really want to get a true sense of Australia's beauty, then a road trip down Victoria's Great Ocean Road is your best bet. Y Travel writes that the Great Ocean Road stretches for about 250 kilometers (155 miles) along Australia's southern coast from Torquay all the way to Warrnambool.
Along this route, you'll find plenty of opportunities for whale watching in the winter and surfing in the summer! The best part of road-tripping down the Great Ocean Road though is that you can completely take it at your own pace and build the trip of your dreams. So why not plan your own bespoke Australian adventure today by taking on the iconic Great Ocean Road?
Best things to see and do on the Great Ocean Road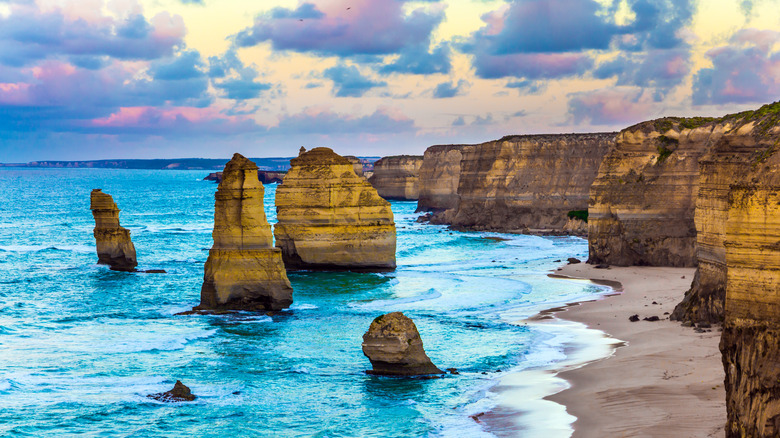 kavram/Shutterstock
The Great Ocean Road is Australia's most iconic road trip, and it offers plenty of opportunities to soak up the beauty of Australia's southern coast. Along the way, you can take in stunning coastal cliffs, lush rainforests, and picturesque beach towns. There are so many amazing things to see and do on this incredible journey!
One location you can't miss on your road trip is the Twelve Apostles, located just off the Great Ocean Road near Port Campbell National Park. These majestic limestone formations rise up out of the sea and offer some of Australia's most stunning coastal views. Y Travel encourages travelers to explore other majestic parts of the park, such as Gibson Steps, Loch Ard Gorge, London Arch, The Grotto, and The Arch. These iconic sites are sure to be a highlight of your trip!
Another great area to explore is Apollo Bay and the Otways. Great Ocean Road writes that Apollo Bay is a fantastic place to stay for a night or two to enjoy the fresh seafood and head out on the water to meet some of the local marine life. From Apollo Bay, you can take a trip to the Otways to hike, see some waterfalls, and get a glimpse of Australia's beautiful wildlife in their natural habitat. Want to see some itineraries to help you build your own? Australia.com has curated some incredible trips for you to choose from!
When to go on a trip along the Great Ocean Road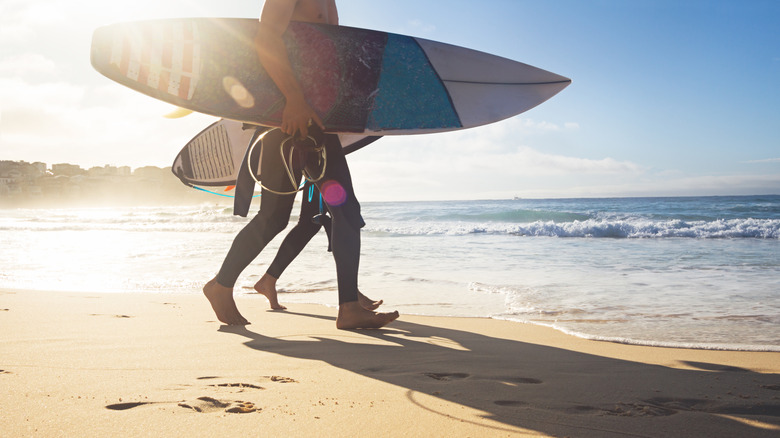 Jodie Johnson/Shutterstock
Visiting Australia's iconic Great Ocean Road is a great experience no matter what season you visit. Whether you choose to go in the peak or off-season, this stunning stretch of coastline has something special to offer all year round. The off-season on the Great Ocean Road generally begins when it starts to cool down in March. By September, it starts to warm up (per Sightseeing Tours). This is an ideal time for those who want to take their time exploring without having to battle large crowds. Additionally, many hotels and restaurants offer discounts so travelers can save money on their accommodation, too! Furthermore, Great Ocean Road Australia writes that there are also several whale-watching tours available near Warrnambool which run from June through September.
Sightseeing Tours also writes that the warmer period from September to March is the ideal time for visitors who want to get the most out of all the outdoor activities available. During this time of year, the weather is more conducive to outdoor activities such as surfing or mountain biking which can be enjoyed along the route. During this period you will also get the chance to experience several special annual events including the Falls Music & Arts Festival. So no matter when you decide to take a road trip down Australia's iconic Great Ocean Road, you're sure to have an unforgettable experience!