Why Croatia's Mljet Island Is A Surprisingly Great Snorkeling Spot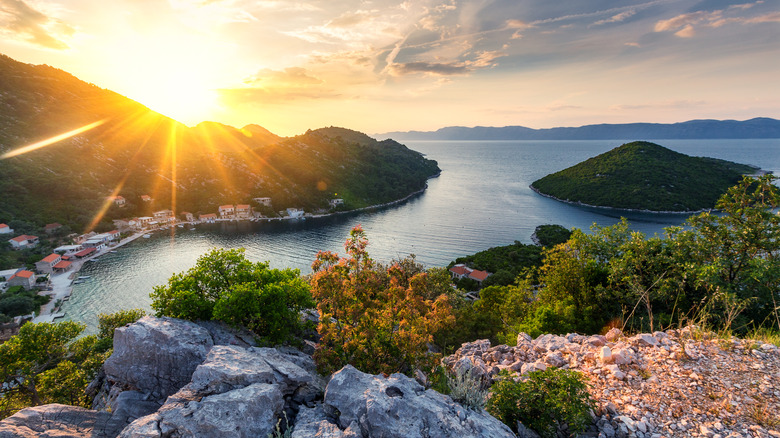 novak.elcic/Shutterstock
According to Croatia (and Homer), the wayward hero Odysseus spent seven years on Mljet Island, though the Odyssey referred to the southern Adriatic island as Ogygia. After crashing near the island in a torrential storm, Odysseus found safety inside a sea cave on Mljet Island.
Unbeknownst to Odysseus, the island was home to the nymph Calypso, who enchanted Odysseus nightly for seven years. Zeus himself finally interceded, demanding Calypso release Odysseus, who finally returned to his home in Ithica. While a nymph's spell is certainly one reason you'd find Mljet Island so appealing, the island's turquoise waters, swaying-to-scent pine trees, and peaceful atmosphere all make the island an intoxicating destination.
Founded in 1960, Mljet National Park is one of only a few national parks located on Croatian islands, per CroatiaSpots. Due to marine protection, two saltwater lakes, sandy beaches, (and enchanted caves), Mljet National Park is a premier destination for snorkeling enthusiasts.
Snorkel salt lakes, coral reef, caves, and bays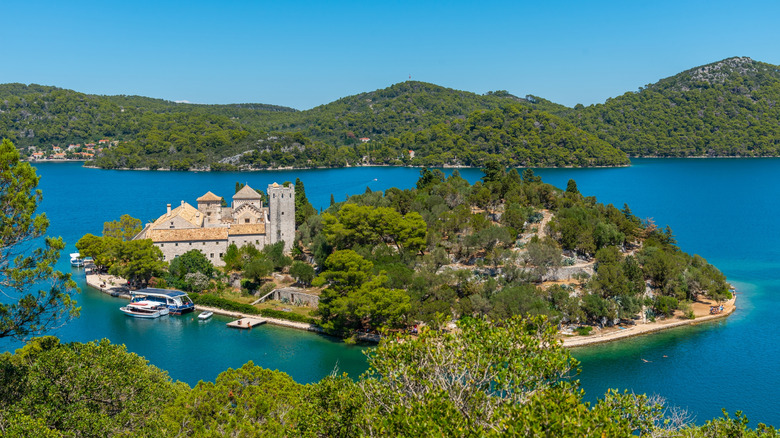 trabantos/Shutterstock
The snorkeling highlights of Mljet National Park are its two saltwater lakes. Named Veliko and Malo Jezero (Large and Small Lake), per Mljet Travel, the lakes are connected to the sea, and each other, by small canals. With the lakes' protected marine life and calm waters, snorkelers enjoy excellent underwater visibility with incredible surrounding scenery.
Snorkeling around Islet Melita in the larger lake, you'll be in the shadow of an impressive 12th-century former Benedictine monastery. Per Chasing the Donkey, Large Lake also features the Mljet Coral Reef, which is home to an abundance of protected sea life.
Outside of the lakes, Mljet Island features plenty of sandy beaches, coves, and bays to discover. For more experienced snorkelers, you can also make the same swim as Odysseus did 3,000 years ago to explore Odysseus' Cave. According to Snorkel Around the World, the water here is extremely deep, with cliffs extending to the seafloor, making a cave excursion better reserved for experienced snorkelers or with a guide.
Short trip from Dubrovnik for enchanted exploring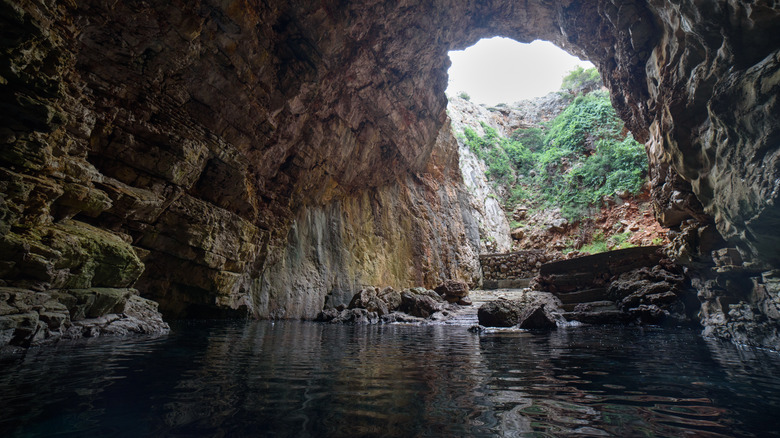 Tiglat/Shutterstock
According to CroatiaSpots, Mljet Island is located roughly 14.5 nautical miles (about 27 kilometers) from Dubrovnik. Daily boat ferries run from Dubrovnik, and car ferries run from the Croatian mainland. Once you arrive, public transportation services are available for exploring the island. If snorkeling the two lakes, Mljet National Park operates solar-powered boats, which are included with a nominal fee to enter the park.
There's also plenty to do on Mljet Island in between dives. For instance, after snorkeling on the Mljet Coral Reef, you can take the solar ferry to the Benedictine monastery, which is now a popular restaurant and café. Or, you can hike through the national park, see the Roman ruins around the villages, rent a kayak, or sunbathe on one of the island's sandy beaches.
For those who prefer to stay in the water, you can take a scuba diving trip from Pomena village, per CroatiaSpots. You'll travel to a few diving spots, which include wrecks from World War II and Roman antiquity. While you may not dive the shipwreck of Odysseus, exploring the hard-to-let-go haven Odysseus found is still an enchanting experience.