Žižkov Is The Best Neighborhood In Prague For Travelers On A Budget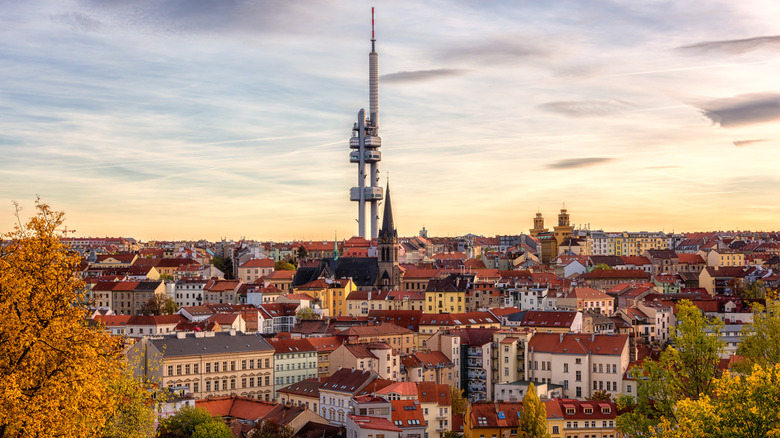 Uhryn Larysa/Shutterstock
Situated in Central Europe, Prague is the scenic capital city of the Czech Republic. It's a destination that flourishes along the Vltava River and has earned its nickname as the "city of 100 spires" thanks to its many castles, towers, chapels, and palaces. According to a conference report by EuroSTAR, the actual number of spires here is much closer to 500.
Home to just over 1 million residents according to the World Population Review, Prague is a city that hosts a rich history of social and cultural change. Each transition has left a legacy on the city, often in the form of fascinating architecture for visitors to enjoy. Tourism Review reports that in 2018, Prague welcomed an average of 8 million tourists.
Visitors are drawn to Prague for many reasons. Some come to enjoy a closer look at Gothic cathedrals while others arrive excited to stroll over historic bridges. The city is bursting with gardens and parks as well as ornate churches. These are frequently situated alongside art nouveau buildings and plenty of surrounding restaurants to top it all off on a savory note.
Prague is an alluring destination with exciting landmarks and attractions that can be added to any itinerary year-round. It's also a city that can be refreshingly affordable for visitors who know where to go. Those budget travelers looking to make the most of their time in Prague without overspending will want to consider focusing their attention on the neighborhood of Žižkov.
Look beyond the Historic Center to save in Prague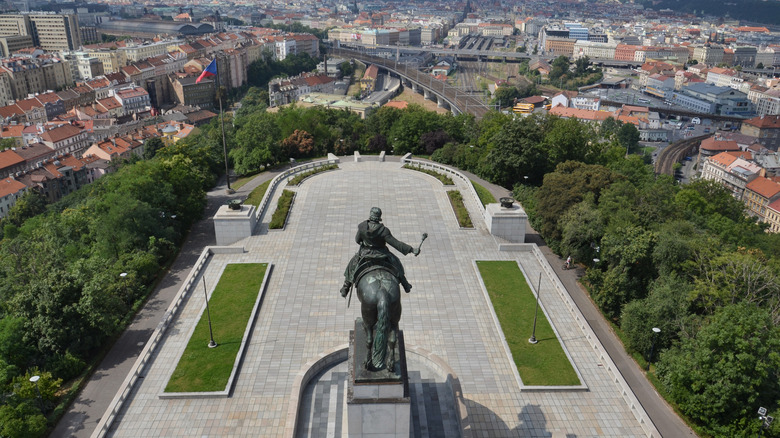 Josefkubes/Getty Images
Travelers often focus their time in Prague around the city's Historic Center. UNESCO first deemed it a World Heritage site in 1992. Iconic landmarks here like the Charles Bridge and St. Vitus Cathedral inspire admirers while Prague Castle holds the Guinness World Record as the largest ancient castle of its kind.
The popularity of the Historic Center increases local prices. Moving away from this area helps visitor funds go further. The neighborhood of Žižkov stands out as one of the best to explore when travelers are on a budget.
According to Prague City Line, Žižkov was recognized as a part of Prague on January 1, 1922. Previously, the neighborhood functioned as an independent, working-class city. Today, it continues to maintain its reputation as a slightly rebellious and eclectic destination appealing to creative and artistic minds alike. Žižkov also remains an affordable place to explore, stay, and dine in Prague. Cost of Living ranks Žižkov within the top 38% of the least expensive places to live in the world.
Travelers worried about missing out on Historic Center experiences by staying in Žižkov can breathe easy. Rome2Rio lists a subway trip from Žižkov to Old Town Hall as no more than 11 minutes. A taxi can take travelers from Žižkov to the Historic Center in even less time.
Stay, explore, and keep more money in your wallet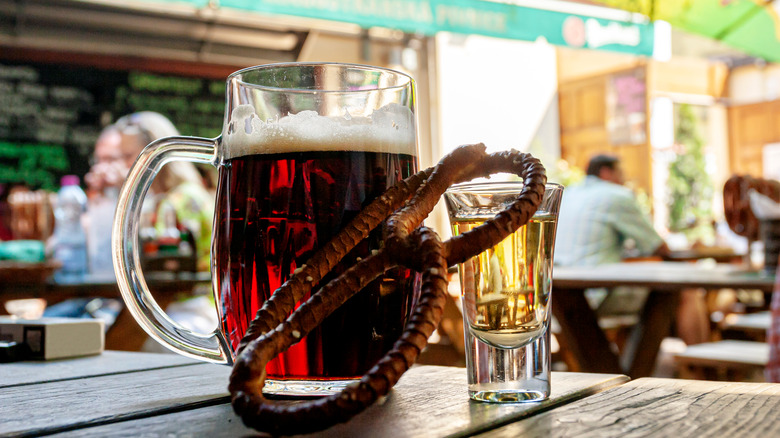 Hippo1947/Shutterstock
Žižkov is a neighborhood where travelers spend less while enjoying more. Within neighborhood boundaries, there is plenty to see and savor. It's a welcoming area defined by cobblestone streets, 19th-century architecture, and exciting landmarks as well.
A top destination here is the Žižkov Television Tower where visitors can enjoy panoramic views from over 700 feet up. Exploring Vítkov Hill is always free and comes with access to stunning vistas. Pairing this trek with a visit to the National Memorial (aka National Monument) infuses history into a stay.
If it's affordable beverages visitors are after, Žižkov is the place to find them. Prague Beer Garden lists Žižkov as "Prague's most (in)famous pub neighborhood." Local pubs like U Slovanské Lípy have become synonymous with traditional Czech beer culture and vibrant flavors.
While Žižkov hosts a variety of mid-range hotels, there are also plenty of hostels for backpackers and travelers looking to spend less on lodging. Hostel Elf Prague is notorious for colorful decorations and a free barbecue dinner three times a week. The Clown and Bard Hostel has been welcoming guests to come and enjoy an affordable stay in Žižkov since 1995.
Whether it's street art, history, or rich brews that brings travelers to Žižkov, it's a place that pairs fun with affordability. Time here makes spending less in Prague simple. Knowing where to go to budget effectively opens up the possibilities for enhancing an itinerary with every visit.