Grand Junction, Colorado Is The Perfect Wine-Tasting Destination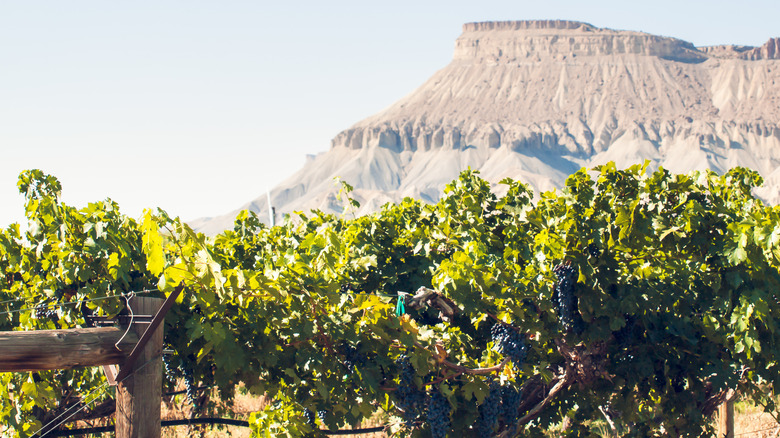 Arina P Habich/Shutterstock
Grand Junction, Colorado is a stunning city located in the western part of the state. It's known for its remarkable natural beauty and outdoor recreation opportunities. From its majestic red rock canyons to the picturesque Grand Mesa, there's no shortage of breathtaking views, making it one of Colorado's most beloved tourist destinations. The city is also home to many cultural attractions, including museums and art galleries that showcase local talent. With plenty of outdoor activities available such as hiking, biking, and kayaking, Grand Junction offers something for everyone who visits this beautiful town.
Colorado's reputation as a microbrewery mecca shows no signs of slowing down. However, it's also becoming well-known for another adult beverage: wine! Grand Junction, Colorado is quickly making a name for itself as a top-shelf wine-growing region. Visit Grand Junction writes that there are over 30 wineries where you can explore the region's diverse selection of wines, take part in guided tastings, and enjoy winery tours. Additionally, if you're looking for wine experiences closer to the city, there are a multitude of tasting rooms to try downtown, too.
What makes Grand Junction's wine country so great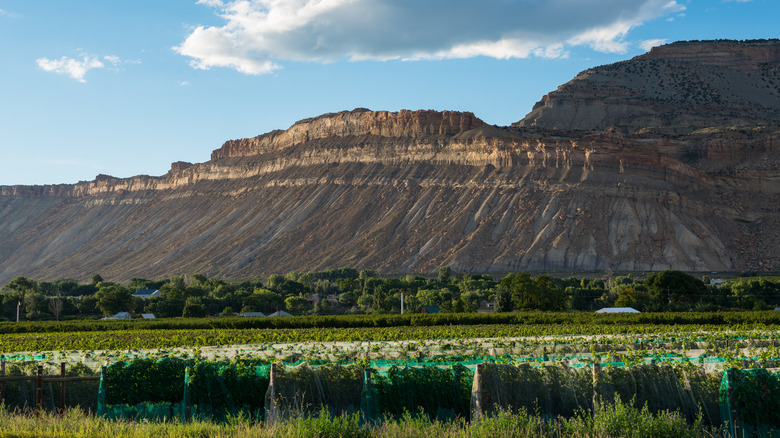 Phillip Rubino/Shutterstock
Food & Wine writes that Colorado is becoming "the new Sonoma." A pretty bold statement! However, there is plenty of evidence to back that up. Carpe Travel writes that Grand Junction is part of the Grand Valley American Viticultural Area (AVA) and is home to some of the world's highest-elevation vineyards. Along with the area's warm days and cool nights, this combination creates the perfect climate and conditions for amazing wines that thrive in high-altitude climates such as Viognier, Riesling, and Mourvèdre (per Food & Wine). Best of all, if you're seeking out more unpretentious settings to learn about and enjoy wine, Savor Each Glass — which provides wine classes in Colorado — writes that Grand Junction is a fantastic place to scratch that itch without judgment.
The best part about wine tasting in such a beautiful place as Grand Junction is that you will often find plenty of activities that can pair well with a wine-tasting experience. Take a personalized wine-tasting tour with Grand Junction Tours or hop on a horse with Rhyne Horses and enjoy a ride before you head to your tasting.
Best places to go wine tasting in Grand Junction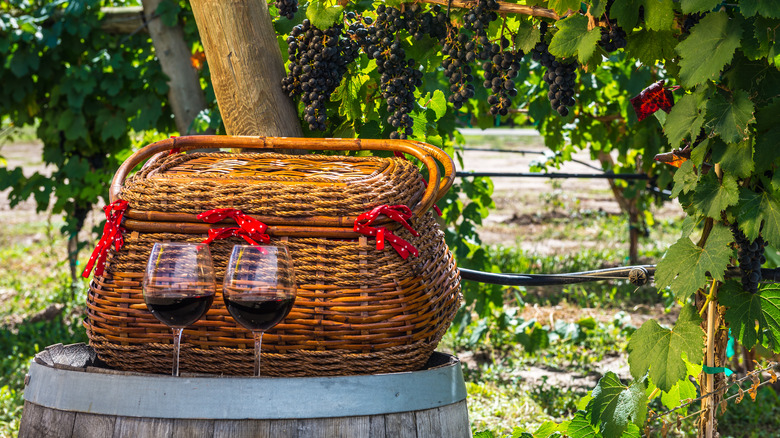 Phillip Rubino/Shutterstock
If you're thinking about going wine tasting in a new area you've never visited, one of the first things you will want to do is make a list of wineries you want to visit based on your needs. Are you looking for the best wine or the best wine-tasting experience? Sometimes you can find wineries that fulfill both. However, you'll definitely want to consider the venue(s) if you're, for example, going for a romantic experience with your new partner versus a girls' weekend with ten of your best friends.
If you have an idea of what you want, consider Wine Enthusiast's report that the Two Rivers Winery and Chateau provides the best of both worlds: a fantastic location with great wine. Since launching in 1999, Two Rivers has won over 60 awards, and today, they mainly produce Chardonnay, Merlot, Cabernet Sauvignon, Riesling, Syrah, and Port. Their beautiful chateau also offers an upscale venue for weddings, parties, and business events.
According to Tripadvisor, Whitewater Hill Vineyards is one of the top ten things to do in Grand Junction. Whitewater Hill is home to rows and rows of beautiful green vineyards that are used to create handcrafted wines that are bottled on the estate. One Tripadvisor reviewer from Los Angeles left a raving review, writing that Whitewater Hill produces wine that is "just as good, if not better," than California wine.