Get Lost In The Bizarre History Of The Winchester Mystery House In San Jose, California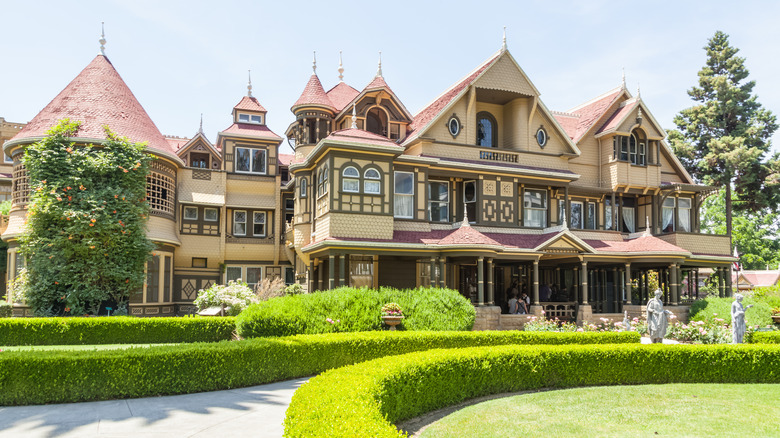 Dragan Jovanovic/Shutterstock
When one mentions San Jose, most people probably instantly think of Silicon Valley: filled with tech bros and the hustle and bustle of modern life. However, there is a spooky attraction that some don't even realize exists in this city, and it's called the Winchester Mystery House. Atlas Obscura writes that the Winchester Mystery House was continually in construction for 36 years — between 1886 and 1922 — by Winchester rifle heiress Sarah Winchester. The real reason why Sarah demanded the constant renovations is not known. However, one theory is that she believed the spirits of people killed by Winchester rifles were haunting her and she thought she could appease them by building a giant house with many strange features, including secret passageways and staircases that lead to nowhere.
When you visit the Winchester Mystery House, you'll get more than just your typical haunted house experience. Per the Winchester Mystery House website, this bizarre mansion includes 160 rooms, 10,000 windows, dozens of stairways and fireplaces, and even a séance room. The Winchester Mystery House is open to visitors who want an eerie experience they won't soon forget.
The spooky history of the Winchester Mystery House
Per the Winchester Mystery House, Sarah Lockwood Pardee was born in 1839 in New Haven, Connecticut, and married William Winchester in 1862. When her husband died, Sarah became heiress to part of the Winchester Repeating Arms fortune. After the death of her young daughter and her husband, it is believed that Sarah became obsessed with superstition and the afterlife, leading her to travel West. Sarah began construction of the Winchester Mystery House in 1886 and never stopped until her death in September 1922. She hired carpenters and laborers and spent $5.5 million to turn the original eight-room farmhouse into an irregular seven-story mansion (per Legends of America).
Séances were also a big part of Sarah Winchester's odd lifestyle. Fitting In Adventure writes that Sarah allegedly visited her séance room nightly where she would reportedly receive instructions for the designs of the house. Legends of America writes that Sarah also had an obsession with the number 13, so when you visit, you will see most of the windows have 13 panes of glass, a lot of the staircases have 13 steps, and there are 13 bathrooms in the house. Today, the house is full of other strange features, including doors and staircases that lead to nowhere, as well as curious hallways, secret passageways, and windows and skylights in unexpected places.
What to expect when you plan your visit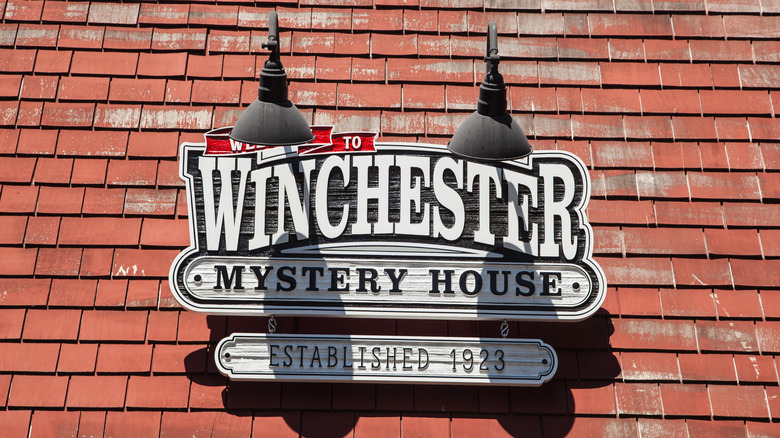 Dragan Jovanovic/Shutterstock
Visiting the Winchester Mystery House is an experience like no other. With its seemingly infinite winding hallways, secret passageways, and peculiar rooms, the Winchester Mystery House is a one-of-a-kind example of a so-called haunted house.
Unlike navigating the house, planning your visit to the Winchester Mystery House is easy. Tours are available every day and prices vary depending on the type of tour you'd like to take. There are several ticket options available; however, the main tour options are the Guided Mansion Tour and the Walk with Spirits Tour. The Guided Mansion Tour is a 65-minute journey through the house, beginning in the reception area and taking guests on an exploration of 110 of 160 rooms in the house. The Walk With Spirits Tour moves things up a notch as visitors are taken on a tour of the house as a guide explains the alleged hauntings through the lens of the Spiritualism movement.
No matter what type of tour you decide to take, you're sure to leave with a spooky feeling, as there have been many reported hauntings at the estate, including the eerie sounds of footsteps coming from nowhere and shadowy figures in empty hallways. Are you ready to experience the bizarre and spooky Winchester Mystery House?