Zermatt Should Be On Your Bucket-List Ski Trip To Switzerland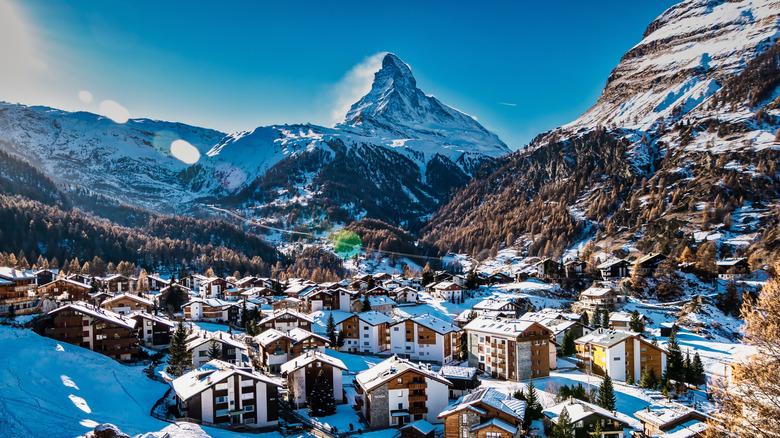 Pritesh R Patel/Shutterstock
Located in southern Switzerland's Valais canton, close to the Italian border, Zermatt is a picturesque mountain resort village with posh markets, boutique galleries, and a celebrated après-ski scene. Settled under the iconic Matterhorn peak, Zermatt is an idyllic village base for winter recreation immersed in the natural beauty of the Alps.
For many, Zermatt is the pinnacle of Alps skiing — and for good reason. According to Snow-Wise, Zermatt is flanked by three main mountains, each with its own character, terrain, and diversity. With Zermatt as a base, skiers of all skill levels can enjoy slopes that accommodate their abilities and preferences. Also, the area offers a longer ski season than most other resorts in the Alps.
While the surrounding slopes provide plenty of action, Zermatt's charm and non-skiing activities provide an excellent atmosphere for both relaxation and celebration. With its vibrant nightlife, world-class restaurants, and boutique shopping, Zermatt is a bucket-list ski destination that may beckon you to return for one more run each year.
Heaven for both expert and novice skiers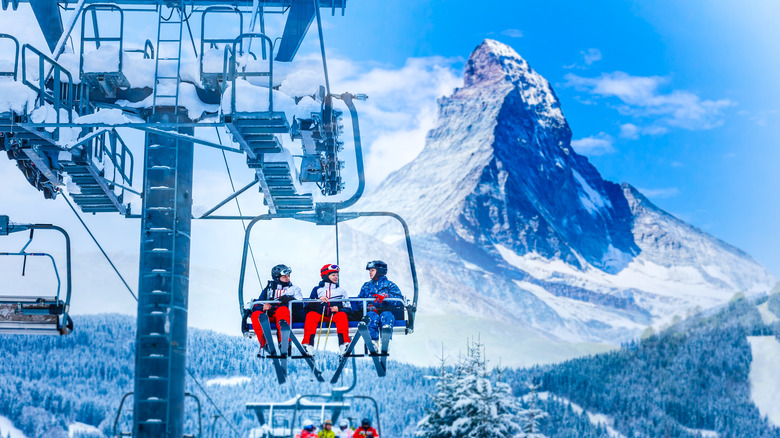 Andrew Angelov/Shutterstock
According to Zermatt Matterhorn, Zermatt is the highest ski resort in Europe. The village gives visitors access to the Matterhorn Ski Paradise, which is located between Zermatt and Breuil-Cervinia. At an altitude of 3883 meters (12,739 feet), the Matterhorn Ski Paradise is the highest skiing area in Switzerland. As such, you'll enjoy a very big planning window to hit the slopes. In fact, certain slopes stay open year-round.
Along with the area's long season, you'll also experience an incredible amount of skiing diversity. In peak season, the resort offers skiers access to 360 kilometers (224 miles) of varied runs, offering slopes to entertain the most expert skier to the most novice beginner.
Per Snow-Wise, the Sunnegga-Rothorn area provides the most classic views of the Matterhorn while you ski. Expert-level mogul maniacs should head to the Triftji area, while intermediate skiers will enjoy the Gornergrat sector. Schwarzsee-Klein Matterhorn is the largest area of Zermatt skiing. You can ski all the way down to Zermatt in one run from the top of Klein Matterhorn. The descent of 2200 meters (7217 feet) is the longest vertical ski drop in the Alps.
The good life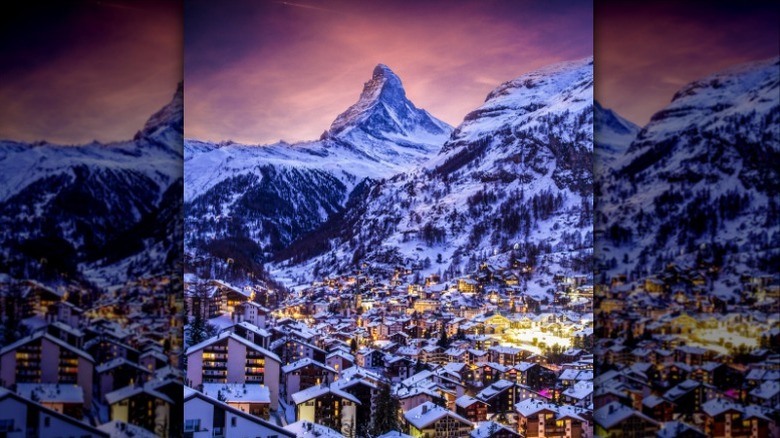 Yuelan/Getty Images
For intrepid skiers, the Zermatt Matterhorn resort also leads backcountry ski safaris, free-skiing expeditions, and heli-skiing trips, while snowboarders can venture to the Zermatt Snowpark. For beginners, there's plenty of professional instruction available, helping to ensure everyone has a chance to enjoy the slopes.
However, as far as winter recreation, Zermatt isn't confined to only skiing and snowboarding. Visitors can hike, sled, and take mountaineering tours. For stunning (almost surreal) views, you can also simply ride cable cars and mountain trains around the Alps and up to the Matterhorn. With one trip to Zermatt, your Alps bucket list can be checked off pretty quickly.
While the "air up there" is indeed magical, the village of Zermatt is also an experience. According to My Switzerland, the resort town is completely car-free to maintain its mountain charm. And after a day on the slopes, you'll be treated to restaurants, shopping, and nightlife that celebrates the peak of good-life living.