Ben & Jerry's Factory Tour In Vermont Will Satisfy Your Appetite For Ice Cream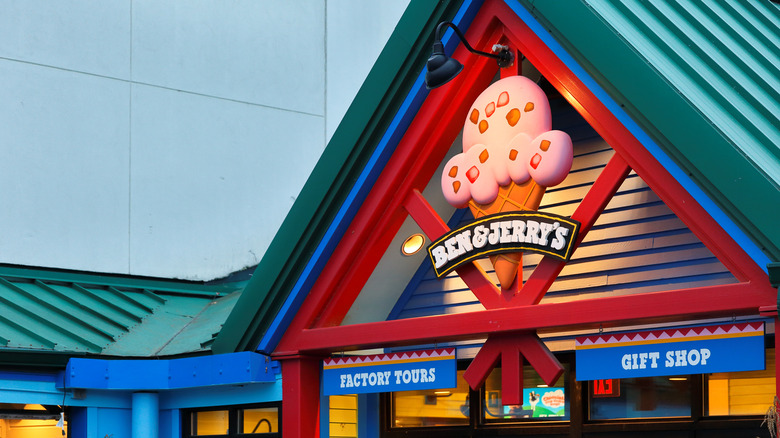 Jay Yuan/Shutterstock
If you find yourself in New England, specifically Vermont, with a craving for some ice cream, there's really only one place to go. And if you're an avid ice cream lover to begin with, this attraction may have brought you to Vermont in the first place. The state is home to the must-visit Ben & Jerry's Factory in Waterbury, where you can take a tour and grab a scoop — or two, or three, or more. The famous ice cream company, known for its quirky flavor names, also has what the company calls a Flavor Graveyard behind the factory that pays homage to retired concoctions that no longer made the cut.
Some of the most unique flavors the company has made over the years include Miz Jelena's Sweet Potato Pie, Wavy Gravy (a caramel and mixed nuts ice cream), Boston Cream Pie, and the limited-edition "Peanuts! Popcorn!" — a movie theater-inspired creation. Some of its most popular flavors include Half Baked, Cherry Garcia, and Chocolate Chip Cookie Dough (per Ben & Jerry's official website).
What to expect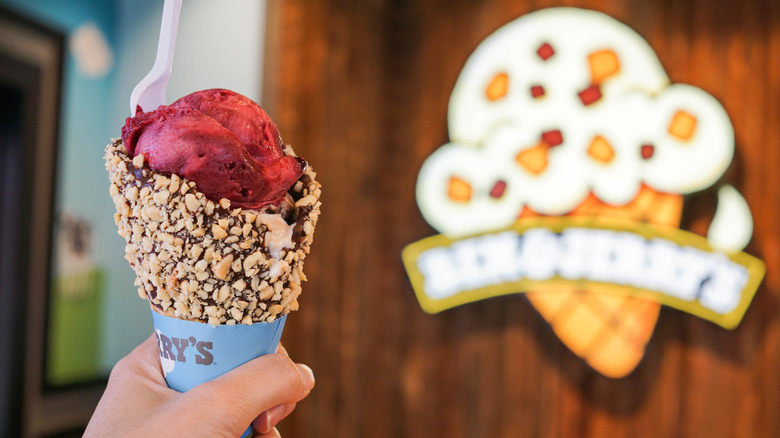 Kate33/Shutterstock
Ben & Jerry's website states that admission to its factory includes a 30-minute guided tour with a view of the manufacturing floor, an explanation of the production process, and an ice cream sample. Additional ice cream, of course, can be purchased before or after from its Scoop Shop.
For ice cream historians, it's quite the treasure trove of a building. It's the company's very first factory, built in 1985 (per the official website for the factory tour). The following year, Ben & Jerry's began doing tours to show the evolution and growth of what began as a small ice cream shop. According to Time, founders Ben Cohen and Jerry Greenfield opened their first Scoop Shop location on May 5, 1978, having converted an old gas station in Burlington, Vermont, into their now world-renowned Ben & Jerry's. Today, the company has shops all over the world and produce pints upon pints for retail sales. In fact, the factory you'll tour makes an astounding 350,000 pints per day (per the official website for the factory tour).
When to go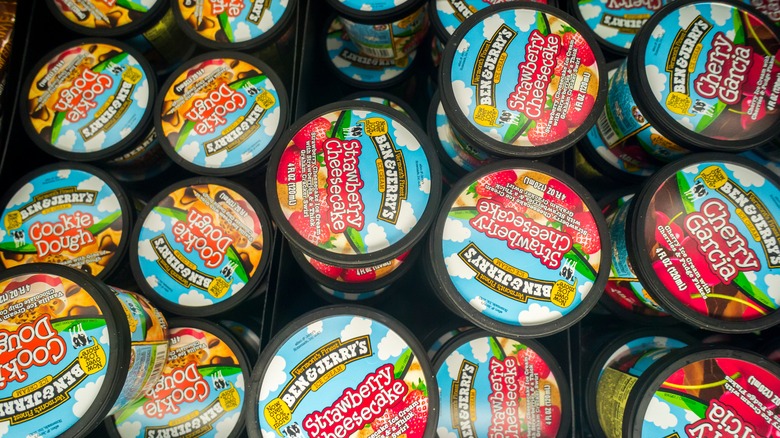 rblfmr/Shutterstock
Due to limited capacity, the company suggests pre-purchasing tickets online to tour the factory, though walk-ins may be accommodated. Tickets are available on its website two weeks in advance. The plant is open Tuesday through Saturday from 11 a.m. – 6 p.m. and closed on Sundays and Mondays. It's also closed on most holidays, too, so make sure to check the website ahead of time for up-to-date details.
If you're a last-minute traveler and the tour is sold out, you can still grab a cone or sundae at the Scoop Shop. You can also visit the Flavor Graveyard, which Ben & Jerry's also publishes online, asking customers which flavor they'd most like to see resurrected. You never know if or when one might rise from the dead! Keeping in line with their fun attitude, there's even a playground area for kids near the parking lots. Just be sure they haven't had too much ice cream.