The Best Time Of Year To Book Your Destination Wedding If You Have A Small Budget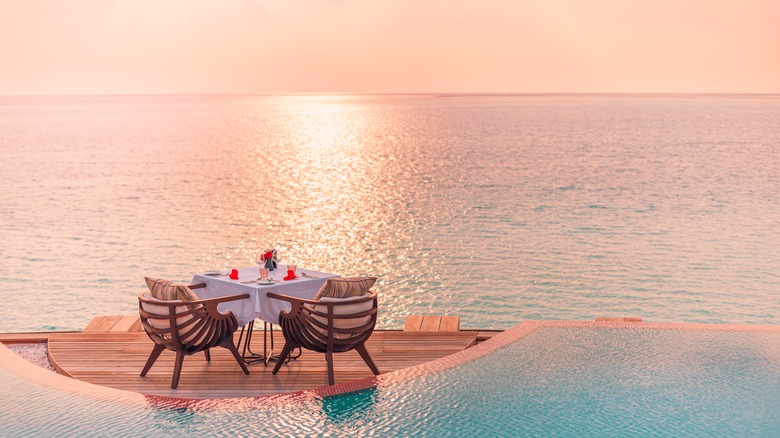 icemanphotos/Shutterstock
Planning a wedding can be exciting, and also daunting. Your special day can get expensive, and if you are already working with a small budget, the pressure can feel insurmountable. Destination weddings, which take place outside of where you usually reside, are ideal for many reasons, but even with all-inclusive spots, you might need to make your money stretch as much as possible. If you're planning on getting married "destination style," there are actually better times than others to book. While the "where" is the first step in preparing your "I do's," the "when" is just as relevant and important.
You might be paying the majority of the costs, either as partners or with the help of family, but it is good to keep the guests in mind too. Many destination wedding locales have times when their prices dip, and this is when you want to consider reserving if you're working with a slimmer budget. Getting married is about spending your life with the one you love, so the time of year is only a small detail in the grand scheme of things. If you're looking to save a little while still getting the benefits of saying your vows in another town, city, or country, this is the best time to book!
Look at the low season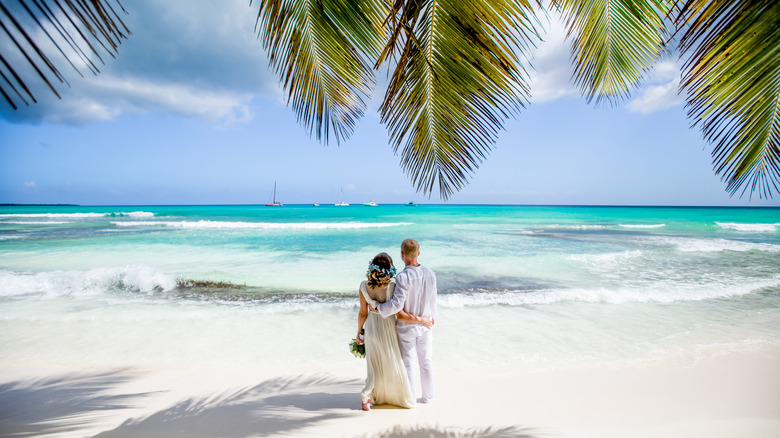 Irina Montero/Shutterstock
For destination weddings, there are several different options or "seasons." These range from high season (or the peak time) to low season. The latter is going to be the ideal time to book anything. During these lulls, resorts, vendors, and companies usually drop their prices. Whenever a locale sees a dip in tourism, many places will try to sweeten their deals or offerings to entice people to come visit — despite the weather or other components that put off most travelers. You might not find that every vendor or company is discounting their services, but a lot will in order to ensure they are still bringing in money during slower times.
Low season can vary depending on your destination. However, most places experience a drag in November, January through February, and sometimes July. According to Love, Maggie, places that boast extremely hot summers can be off-putting for some couples, especially if they plan on being outdoors for the entire ceremony or just the reception. Even if you're hoping to get married in a tropical region, it could be worth looking during July, as some venues could be offering discounted bookings to offset the warm weather. The beginning of the year is a busy time, and some locations can have the coldest temperatures during January and February, which makes them good months to check for deals.
Other budgeting tips for low season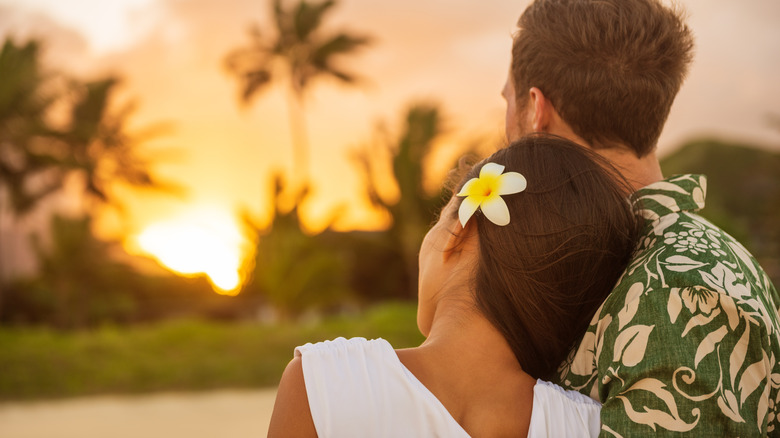 Maridav/Shutterstock
Once you find a venue that is offering discounts or deals, you can determine the other items that you'll need to book. Many restaurants, hotels, lodges, gardens, parks, and music halls include certain elements for weddings, and those will be included in your lower rate. Exploring the area where you plan to get married could result in finding everything from flowers to food for less than high season prices, too. Many destination wedding locales rely on the peak months to make their income, but will work with couples who have decided to opt for off-peak times. Nerd Wallet backs up the theory that you can save by booking in the "off" seasons, and recommends having plans for inclement weather that could affect the festivities to avoid stress down the line.
DJs, wedding planners, and even stylists might be willing to work with you to book everything on a budget, but it's important to be clear with one another what is to be expected. Some vendors could keep their prices high to make up for the slow season, which means negotiations might not result in success. Because you're getting hitched away from your usual salons, shops, and day-to-day businesses, it could be a good time to shop around in the place you've picked. Price comparing is the best way to get a good deal, and could end up saving you even more!