The Best Time Of Year To Visit New Zealand If You're An Avid Hiker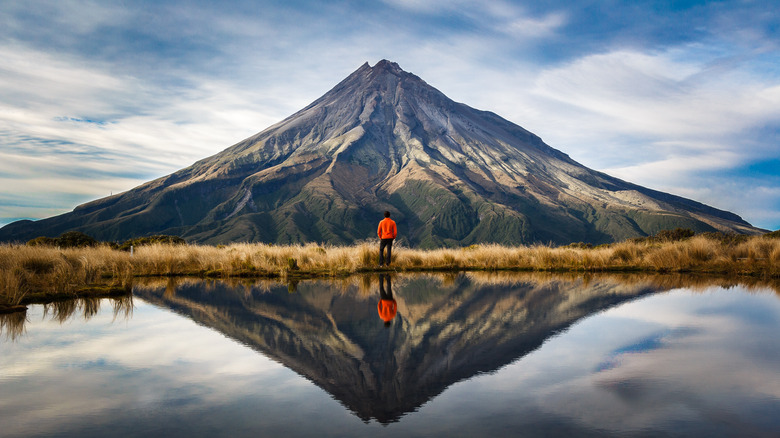 gregorioa/Shutterstock
New Zealand is the edge of the world for many. So, naturally, for adventure travelers and avid hikers, the country is the ideal destination for intrepid exploration. Featuring dramatic waterfalls, snow-peaked mountains, emerald forests, sweeping meadows, and surreal coastlines, the island nation's ecology is extreme in both its diversity and beauty. For many hikers, exploring this natural splendor by foot is a lifelong dream. And for good reason.
According to New Zealand's Department of Conservation, the country offers 10 "Great Walks." Located on both the North Island and South Island of New Zealand, these Great Walks include hiking trails that exemplify the nation's natural diversity.
Whether it's hiking the golden coastal trails through manuka groves in Abel Tasman National Park or tackling steep climbs past dramatic waterfalls in Fiordland National Park, the 10 Great Walks welcome avid hikers from around the world to explore New Zealand's beautiful yet challenging terrain. However, while these Great Walks are indeed great, hiking these trails during sustained not-so-great weather can dampen an otherwise once-in-a-lifetime experience. 
Autumn offers ideally predictable weather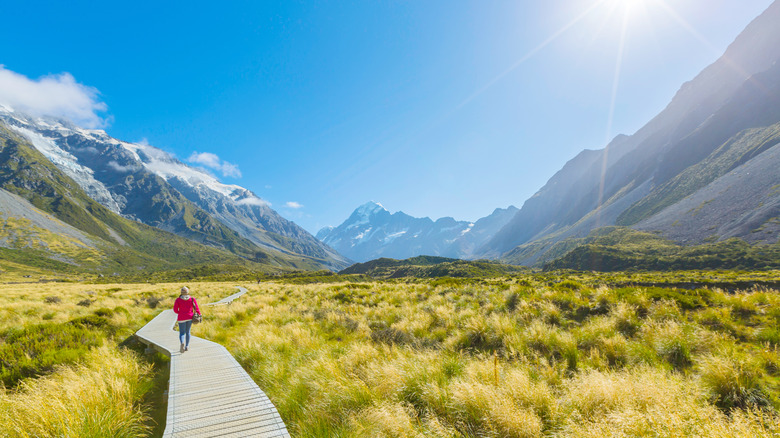 Kuntalee Rangnoi/Getty Images
While choosing the best time to hike in New Zealand is subjective, we'll focus on two things that can affect hiking experiences: unpredictable weather and crowds. If you speak with any experienced hiker, they'll acknowledge that you can rarely avoid both. However, the goal is to minimize hiking around or through trail-clogging crowds and (at least) try to avoid weather extremes.
New Zealand has four distinct seasons, per New Zealand. But remember, the seasonal timeline is the complete opposite of countries with temperate weather in the Northern Hemisphere. With this in mind, many agree that autumn, which runs between the months of March and May, can be the ideal time to hike in New Zealand.
According to Hiking New Zealand, the weather in March can still be warm during the day but tends to cool off at night. You'll also still enjoy long days of summer daylight. In April, while you'll lose an hour for the seasonal "fall back" clock change, the weather is mild and mostly predictable. And while May could bring in the first dustings of snow, especially in mountainous regions, you can usually avoid extreme weather conditions — and most crowds.
Hike during month of (mostly) settled weather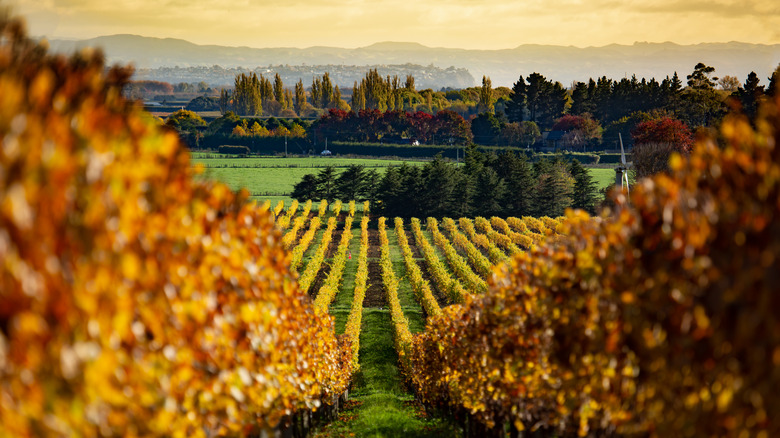 S Watson/Shutterstock
As mentioned above, New Zealand's terrain and ecological diversity make the country a world-class destination for hikers. Given this diversity, the weather can be somewhat unpredictable no matter when you go, as it may also depend on where you hike in New Zealand.
However, according to New Zealand Trails, autumn offers the most "settled weather" of the year, which describes overall weather predictability throughout the country. This is especially true during the months of March and April, which typically experiences long spells of sunny days, infrequent rain, and low wind. In such a diverse country, hiking during a season with a high rate of "settled weather" can help you to avoid weather extremes. Also, the autumn months bring beautiful fall colors to the trails, which are still less crowded than during peak summer months.
Finally, after you've completed your world-class hiking excursion, wine harvesting season in New Zealand is also during autumn, per Wine Folly. What's better than a great glass of local wine after experiencing a Great Walk in New Zealand?