A Cruise Ship Perched Atop A Cliff Is One Of South Korea's Most Popular Attractions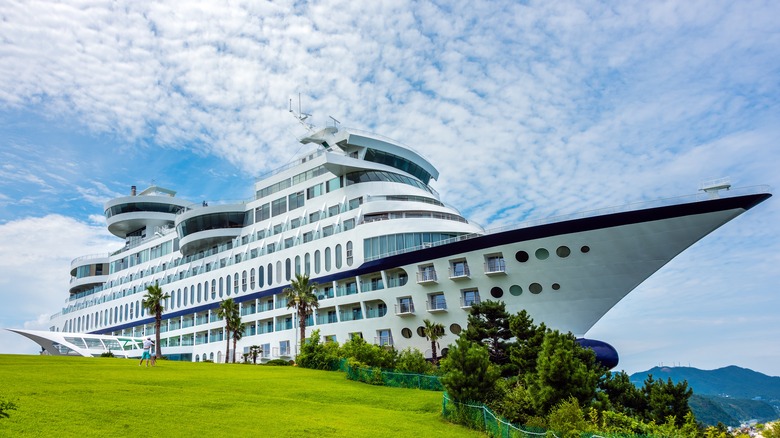 Sobeautiful/Shutterstock
Cruise ships are not an uncommon sight on the eastern coast of South Korea, especially in Sokcho-si where one of the country's cruise ports is located. However, travel several hours south and you'll find a different kind of cruise ship – one that's totally unexpected.
In Gangneung in the province of Gangwon-do, which is known for its mountainous terrain and coastline, there's a cruise ship that's making waves on land. You can't miss it, as it's perched atop a cliff, an imposing yet attractive image that will leave a mark on any visitor's memories.
It is considered to be the first on-land cruise ship worldwide, according to The Calm Chronicle, promising guests the cruise ship experience in a convenient seaside resort package. The Sun Cruise Resort offers visitors of the Adventure Province of Korea a different type of thrill — one of a cruise ship experience minus the waves and the seasickness.
What makes Sun Cruise Resort so famous?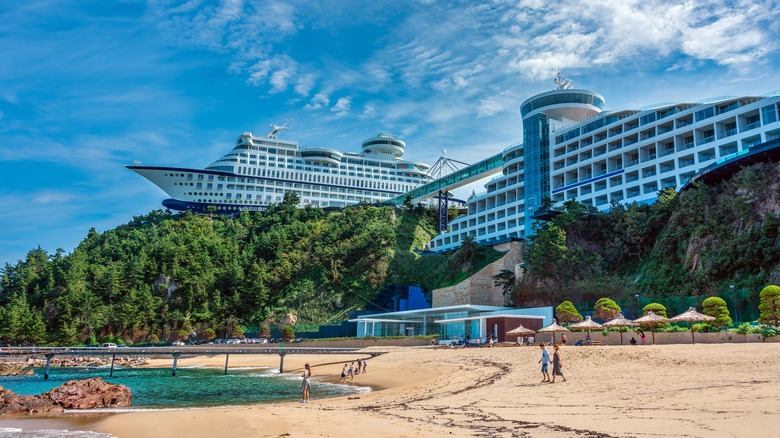 Sobeautiful/Shutterstock
There are at least a couple of reasons why you'd want to book a room at this popular hotel. First, it is situated in the tourist town of Jeongdongjin, along Jeongdongjin Beach, which makes it a very attractive option to spend your summer holidays. Second, it's near other tourist attractions, such as Sandglass Park, Sculpture Park, and the Jeongdongjin Railbike Station.
However, the no. 1 reason visitors are making reservations at Sun Cruise Resort is its prime location for watching the best view of the sunrise in South Korea. You catch the beautiful golden glow of the early morning sun from your room. The rotating bar is another good venue for sunrise or sunset panoramic viewing. The Sun Cruise general manager, however, recommends the trail along the beach as the best location to catch a glimpse of the rising sun. In any case, make sure to wake up in time for sunrise or, according to a TripAdvisor reviewer, when the hotel's sunrise alarm rings about 20 minutes beforehand.
Sun Cruise Resort rooms and amenities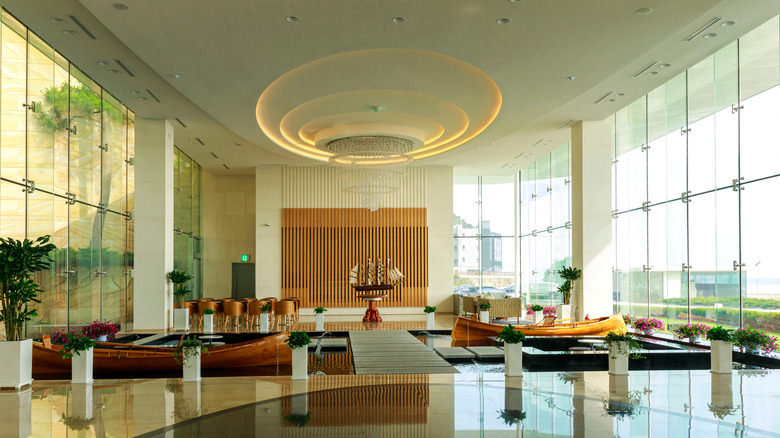 Stock for you/Shutterstock
Measuring more than 500 feet long and with a height of almost 150 feet, the Sun Cruise Resort boasts 211 rooms, according to Atlas Obscura. The rooms are classified under three categories: hotel, condo, and premium. The Hotel rooms range from 495 square feet (Luxury) to 850 square feet (Junior Suite), and both come with a Nespresso machine, mini bar, 55-inch TV, Bluetooth speaker, shoehorn, clothes brush, and complimentary bottles of water. The second category is Condo with rooms ranging from 334 square feet to 850 square feet. Deluxe and Junior Suite can accommodate four people and come with a refrigerator, microwave, 55-inch TV, Bluetooth speaker, kitchen utensils, induction range, and free Wi-Fi. The third room category is Premium, which comes in either the 969-square-foot Corner Suite or the 2,153-square-foot Sun Cruise Suite. Both room types come with a welcome tea service, minibar, a luxurious duck-feather pillow, shower gown, hairdryer, telephone, work desk, electric kettle, free Wi-Fi, air conditioner, 55-inch TV, and bottles of drinking water.
On the first floor, there's a kids' room with a jungle gym and ball pool, karaoke, and a CU convenience store. On the second floor, a bakery churns out fresh bread and pastries, and a sushi restaurant is capable of seating 170 people. The banquet halls are on the fifth floor, the Horizon restaurant serving Korean and Western dishes is on the eighth floor, and the gift shop is on the ninth floor.