The Pristine North Carolina Beach You Can't Get To By Car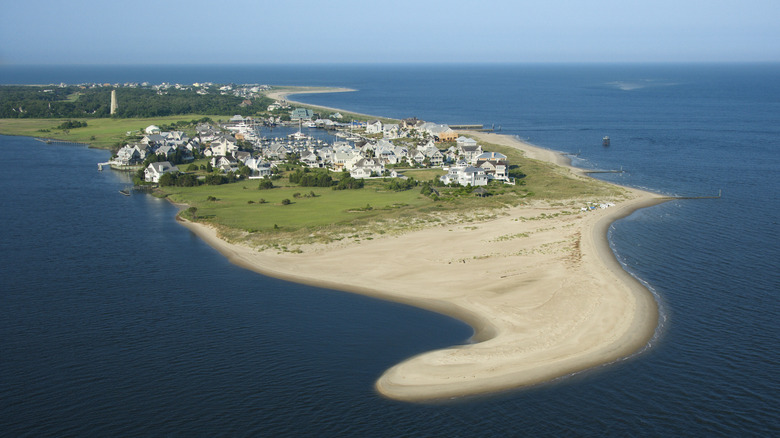 iofoto/Shutterstock
Finding unusual destinations to travel to can sometimes be like finding a needle in a haystack. If you're someone who prefers jet-setting across the world, you might have your entire vacation planned with a tour company. But if you're someone who prefers something more local and laid-back, away from the hustle and bustle of tourists and cities, there are a host of unique experiences at your fingertips that don't require you to travel far or make a mad dash to the airport.
One such location has pristine, sandy beaches, miles of unspoiled coastline, an abundance of wildlife, and its very own golf course. That place is Bald Head Island in North Carolina, and what makes this destination so special is that you can't travel by car to this remote village located on the east side of Cape Fear River — your only mode of transportation to and from the island is by passenger ferry, as mentioned by the Visit N.C. website.
A history buff and stargazer's paradise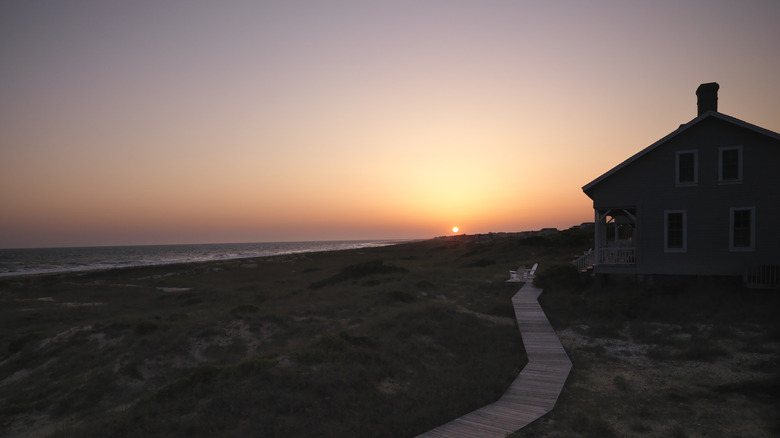 iofoto/Shutterstock
According to U.S. News & World Report, this hidden gem ranks No. 2 for best North Carolina beaches and for travelers it's the perfect getaway for those seeking a laid back vacation. From family activities, outdoor adventures, nature programs, historic walking tours, ghost tours, shopping, dining, and sports — as listed on the Bald Head Island tourism website — there's something for everyone to do. And, if maritime history fascinates you, head over to North Carolina's oldest standing lighthouse dating back to 1817, Old Baldy, and the Smith Island Museum of History for a self-guided tour.
In addition, The Bald Head Island Conservancy has taken great initiatives towards strengthening environmental sustainability for this unique island, and thanks to the lack of pollution from gas-powered vehicles, as well as their remote location, being able to see the night sky there is a stargazer's gateway to the heavens — placing Bald Head Island as one of the six best beaches for stargazing and epic views of the Milky Way in North Carolina's Brunswick Islands.
Timeless and simplistic living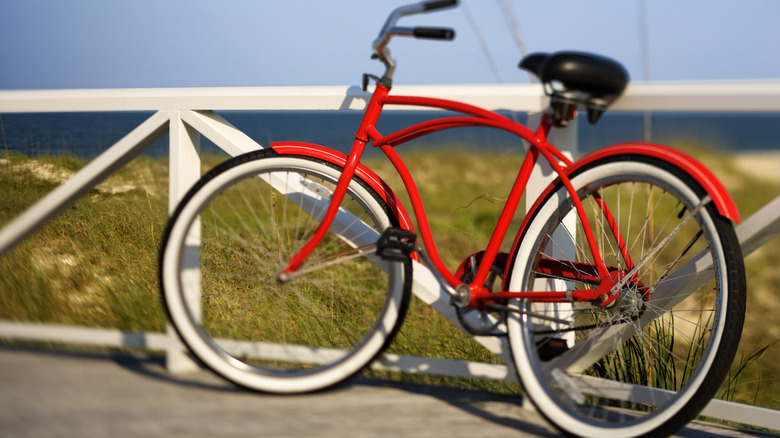 iofoto/Shutterstock
With no vehicles permitted on Bald Head Island, you may wonder how you get around this magical place that seems to have stepped back in time. Not to worry. Southern Living has reported two fun options available to you the minute you step off the ferry — bicycle and electric golf car rentals by the hour or day. And, for the more adventurous, there's also good, old-fashioned walking around the island.
Whatever method you opt for, you can't go wrong with any of them. Whether you're day-tripping to this serene island, or need a well-deserved week-long break from the chaos of everyday life, there's something very special about taking in nature and its surroundings in the calm of peace and tranquility. Who knows. Bald Head Island's simplistic way of living may just inspire you to put down your mobile devices, turn off your computer, and really immerse yourself fully in what it has to offer: Timelessness.