Why Countries Typically Choose Dark-Colored Passports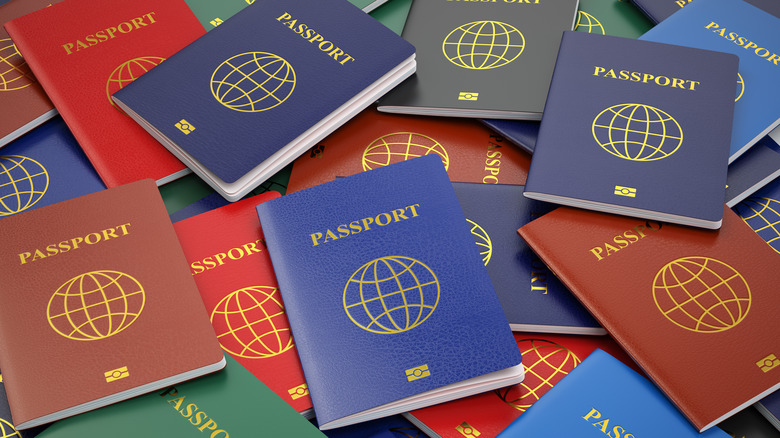 Bet_noire/Getty Images
Whether you're walking onto a cruise ship, heading through an airport terminal, or standing in line at immigration at a train station, the one thing everyone has in hand is a passport. It can be impossible not to notice just how many there are and how different they all seem.
There's a certain undeniable appeal in admiring official documentation from across the globe. While they're seemingly finished in a variety of colors, passports are typically only designed in shades of blue, red, black, or green. A closer look reveals that many of these hues are selected in darker shades too.
There are certain countries that opt for a unique take on these standard four colors. Destinations like Indonesia and Switzerland stand out from the crowd boasting teal and vibrant scarlet respectively. However, taking a moment to compare and contrast passports collectively at Visa Index shows that the majority stick to the four color standards in darker hues. With so many other options to choose from, the question then is, why?
Resistance and durability matter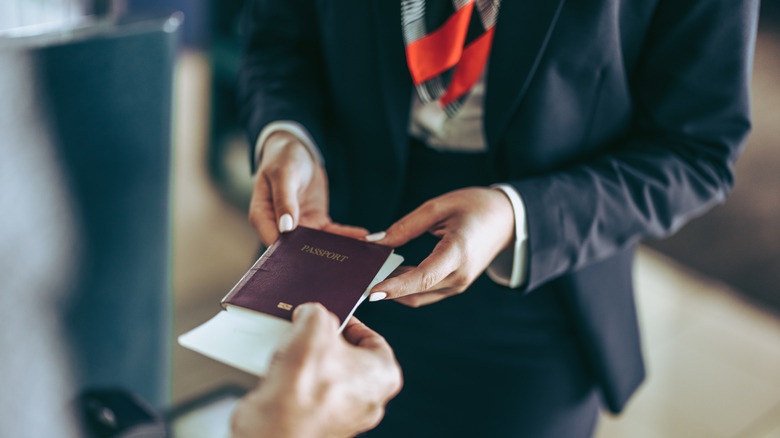 Jacoblund/Getty Images
Many travelers are surprised to find out that when their passport was created, it was under very few aesthetic guidelines. The focus for passport production typically leans towards resistance and durability factors instead.
The guiding regulations used by most countries when creating passport covers start with the International Civil Aviation Organization (ICAO). The only real rules to follow are set out in Document 9303 which speaks to a passport's ability to hold up under pressure. As long as a passport is resistant to chemicals, doesn't deform, and remains readable despite challenging temperatures and humidity, it's considered acceptable.
This leaves cover color options entirely up to the country's governing body. Many countries go with dark shades of red, green, black, and blue as a way of aligning with the few durable design standards they have to work with. Darker colors typically hide blemishes and help official documents remain sleek and official looking despite wear and tear. These colors keep passports looking their best despite the many scanners, hotel safes, and suitcases they're sure to encounter during their travel lifecycle.
Color reflects a country's unique traits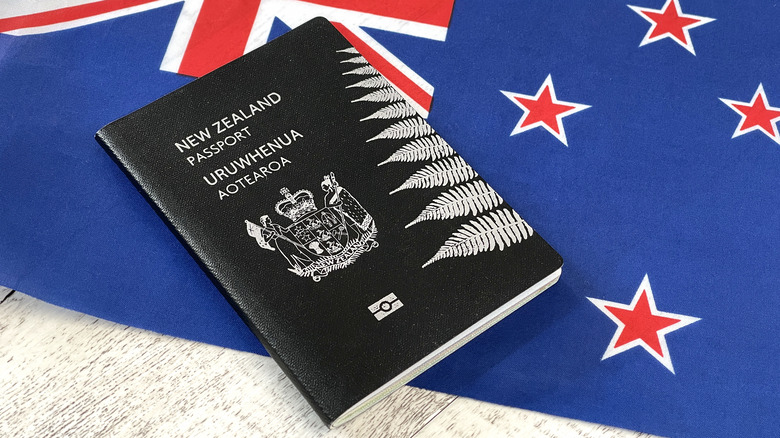 Kanyakits/Getty Images
Religion can play a role in why a country might select a dark-colored passport. This is especially true for countries that host a primarily Muslim population. According to the World Population Review, an estimated 50 countries across the globe are classified as Muslim-majority destinations. Within the religion of Islam, the Holy Quran frequently refers to the color green as a symbol of positivity. Muslim countries often use dark green on their passport covers to pair religious significance with aesthetic durability.
The darker color choice of a country's passport can also reflect the country's national symbols. According to WorldAtlas, 75 countries currently use blue in their flag. Additionally, the World Population Review finds that as of 2022, the red, white, and blue combination is seen in flags spanning at least 50 countries and territories across the globe.
The dark shade of a passport cover might also represent a country's unique people. Countries like New Zealand use a black cover which is closely linked to Māori culture. The dark color also reflects the design of the Māori flag.
Color is symbolic and those seen on passports are no exception. The next time you're traveling, take a look at nearby passports through a new color lens. You might just be surprised at the darker shades of significance you find.