The Country That All Game Of Thrones Fans Should Visit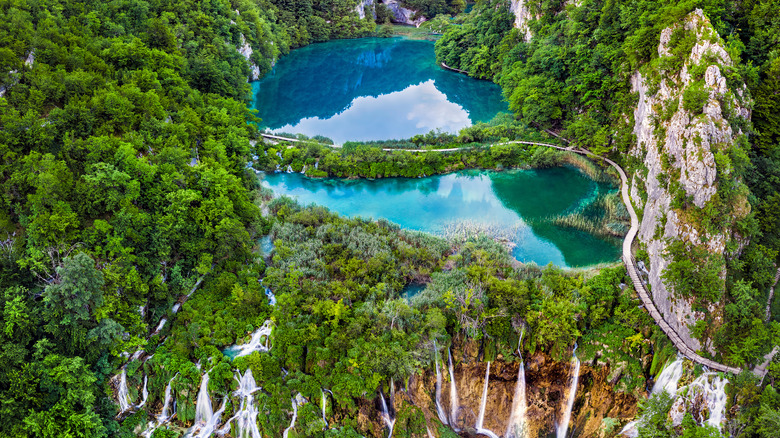 ZGPhotography/Shutterstock
Medieval architecture, stunning coastal landscapes, ancient castles, and impenetrable fortresses. Combine all that with jaw-dropping filming locations from one of the most-watched and most-popular TV series in the world — "Game of Thrones" — the country of Croatia is a must-see place to visit and should be on every "GoT" fan's bucket list of travel destinations.
According to BBC Travel, the best time to visit Croatia and see many of "GoT's" famous locations is during off-peak season. That's right, during the winter season. And, what could be better than visiting the site of King's Landing while sightseeing through one of Europe's most beautiful countries?
How about making your way to Croatia's oldest, largest, and most picturesque national park — Plitvice Lakes? Found within central Croatia,  this national park boasts 16 stunning turquoise lakes that cascade onto one another, 90+ waterfalls, canyons, and hiking trails with views that will take your breath away. Plitvice Lakes is a magical place of serene and tranquil beauty year-round — each season affording a different awe-inspiring experience.
Or, if you're a fan of ancient sites, and mysterious caves and caverns, you'll love visiting the epic Roman amphitheater in Pula, the luminous Blue Cave on Bisevo Island by boat, or hiking up to the spectacular Odysseus Cave in Mlijet — diving off it's rocky cliffs into the refreshing blue water afterward.
Croatia transformed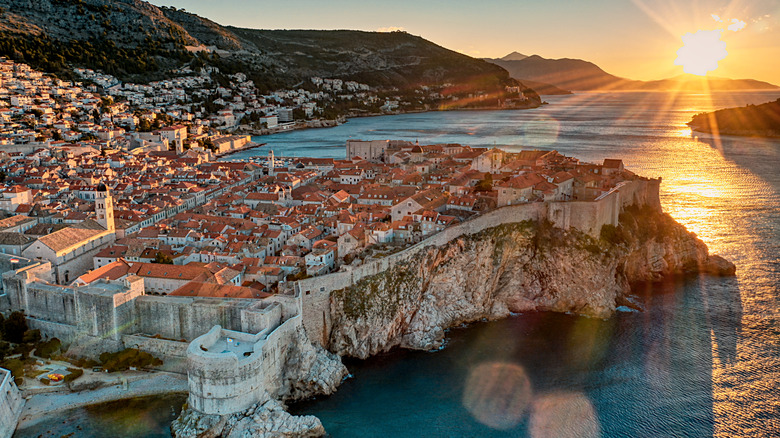 Esc Leo/Shutterstock
Ask anyone who has visited Croatia what the most beautiful city to visit is, and hands down, it's Dubrovnik. And, according to Forbes, Croatia has grown increasingly popular, thanks to "Game of Thrones."
Located in southern Croatia, the backdrop of Dubrovnik is the sparkling, clear, and enticing blue waters of the Adriatic Sea. With stonewalled fortresses dating back to the 13th century, the Old Town is an artist's paradise of Baroque, Renaissance, and Gothic designs that will leave you breathless and captivated.
Recognized as a UNESCO World Heritage Site, the history of Dubrovnik, as told by Absolute Dubrovnik, is timeless and intriguing. Beginning in the 7th century, this fortified town fell under several sovereign rulers for centuries, including the Venetian empire until 1358 when it became liberated from Venice, finally falling under the Croatian-Hungarian state.
Dubrovnik is also the main filming location for King's Landing, Blackwater Bay, the Red Keep, the House of the Undying, and varying scenes filmed throughout Westeros as King's Landing Dubrovnik boasts. Dubrovnik's ancient walls and old-world, stone faꞔades made it the perfect setting for filming the capital of the Seven Kingdoms, and many of the most popular scenes in "Game of Thrones" throughout the series.
Croatia's future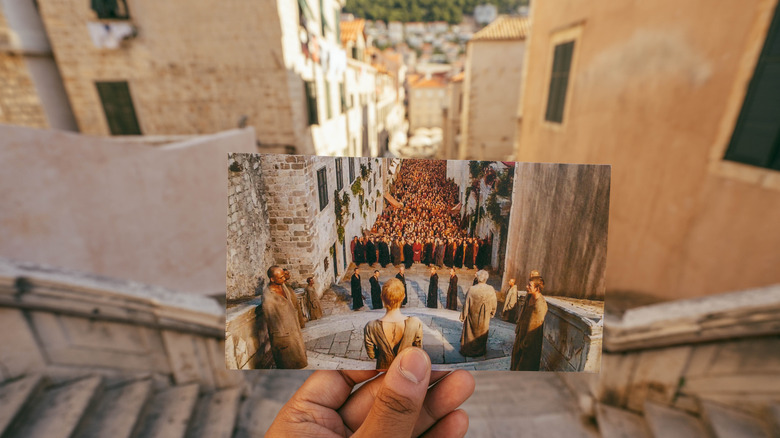 Dave Z/Shutterstock
While "Game of Thrones" may have put Croatia on the map of must-see countries for die-hard "GoT" fans, there is even more to this beautiful country than the House of Targaryen, Lannister, and Tyrell can offer for all to see.
Croatia is brimming with magical and stunning scenery, picturesque towns, and fortified cities making it a cultural hotspot for festivals, events, seafood, and tourism throughout the year. 
According to Times of Malta, HBO decided to take its filming of "Game of Thrones" from Malta to Croatia. Thanks to that decision, tourism has increased significantly in Croatia, bringing in a whopping $200 million to this European country's economy, as stated by Winter is Coming. And, with 21 "Game of Thrones" filming locations in Croatia alone, as mentioned by We Seek Travel, Croatia's economic future continues to look bright.
So if you want to experience all things "Game of Thrones," make your way to the intriguing country of Croatia. Walk the same streets Daenerys Targaryen made her way through, and be enthralled by the mysticism and magic this country has to offer. And, while you're there, make sure to take in the real beauty and history of Croatia, and all it has to offer — you won't regret it for one second.