These Are The Best Hotel Chains In America For Fitness Fanatics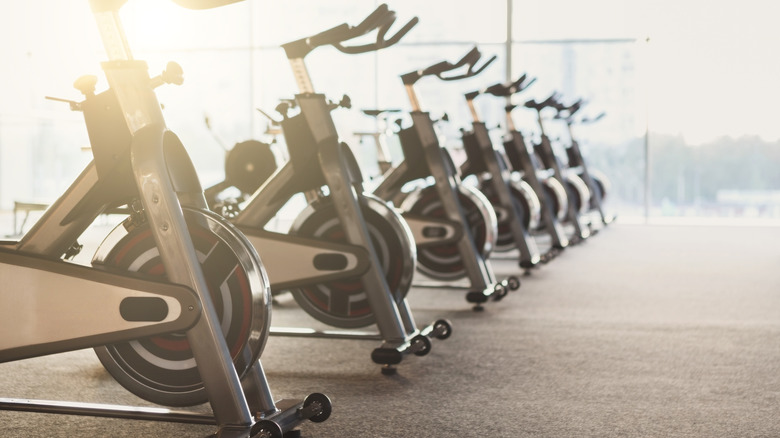 Prostock-studio/Shutterstock
For those committed to fitness who literally take no days off, traveling can pose a problem to their dedication to working out. Both work trips and vacations can threaten the routines that fitness enthusiasts have put into place. However, keeping up with your workout routines when you are traveling is the only way to make long-lasting fitness changes, according to Will Henke, a head coach for WanderFit. "Having some kind of workout routine while you travel is the only way you'll stick to it," Henke told Popular Science. "When I travel, I get up at 8 a.m. every day and work out. I'm done by 9:30 a.m. and have the rest of the day free."
That's why it is vital to choose a hotel with facilities that make sticking to your fitness routine as easy as possible. Luckily, plenty of hotel chains have well-furnished and impressive workout spaces and gyms to help you stay on top of your fitness goals while you're away from home.
Hotels with the best gyms and workout classes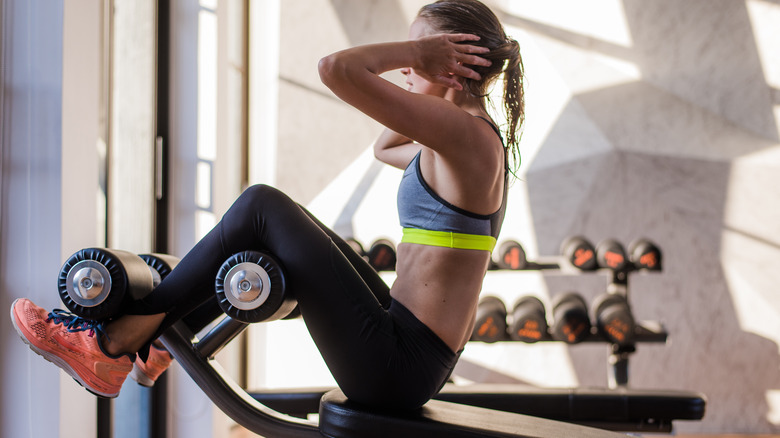 Roman Kosolapov/Shutterstock
Most hotel chains have stuck with the traditional fitness set-up for guests, offering some iteration of an exercise gym, with at least a couple of machines and weights for any traveling fitness buffs staying there. However, some hotels have gone above and beyond when it comes to stocking their gyms.
According to Men's Health, EVEN Hotels by InterContinental Hotels Groups has set a new standard for wellness on the road. EVEN's Athletic Studios offer a space to work out and partake in group classes, according to its website. Additionally, the hotel keeps its menus stacked with healthy options so you can eat well while away from home, too.
But the Westin Wellness program from Westin Hotels seems to have more options for on-the-road fitness than we could have imagined. Clad with state-of-the-art equipment, including TRX functional training equipment and Peloton bikes, Westin has plenty of options for making the most of your travel workout. The hotels even offer RunWESTIN, a program that helps travelers navigate three- or five-mile runs around the city. You can also check if your hotel has a Run Concierge, which is someone that is knowledgeable about the city and will run with you and any other runners staying at the hotel. It's a program for a unique and communal group run to break up your travel or vacation itinerary. 
Hotels that offer in-room workout gear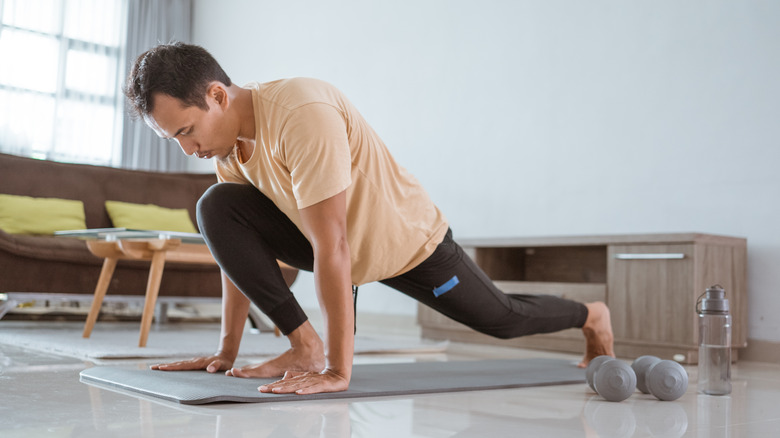 Odua Images/Shutterstock
Some hotel chains have opted for a more private approach to provide their guests with what they need to get a good workout in. TRYP by Wyndham offers a slew of room choices for guests to request for their trips, including a fitness room. This room selection comes with equipment you would usually see in a crowded hotel gym. You can sweat it out on either an elliptical, treadmill, or exercise bike in the comfort of your own hotel room. The hotel also offers an exercise mat and complimentary workout clothes, according to USA Today, making for a convenient and luxurious fitness experience.
Kimpton Hotels takes its dedication to guests' fitness a step further. All you have to do is request their free "roll-out" service, USA Today reported, and an employee will come to your room with some healthy snacks, set up the yoga mat included in each room, and turn on the 24-hour yoga channel for you. There are also complimentary bikes available for rides around town and group fitness classes at select locations.