The Top Natural Wonder In Your State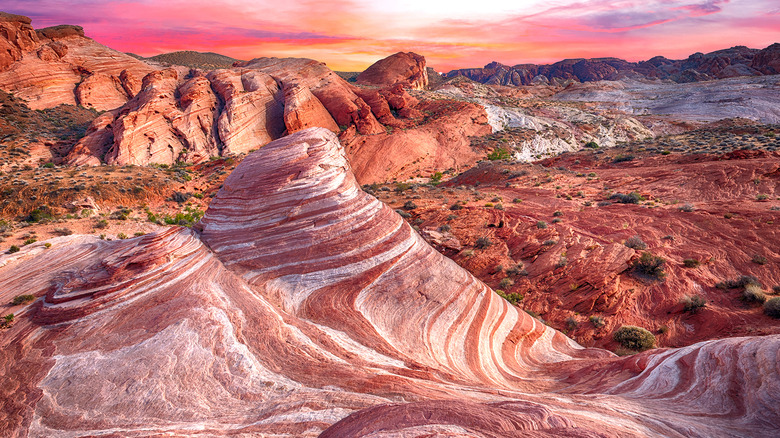 KYPhua/Shutterstock
Nature continues to surprise and inspire people in many ways. Some of the most visually magnificent spots are quite strange, and it's even stranger to think that humans had no role in their creation whatsoever. Fortunately, you don't have to go far to discover some of earth's marvels. Breathtaking settings and awe-inspiring formations are all around you, and each one of the 50 states is home to a natural site that will stop you dead in your tracks.
Alabama: Stephens Gap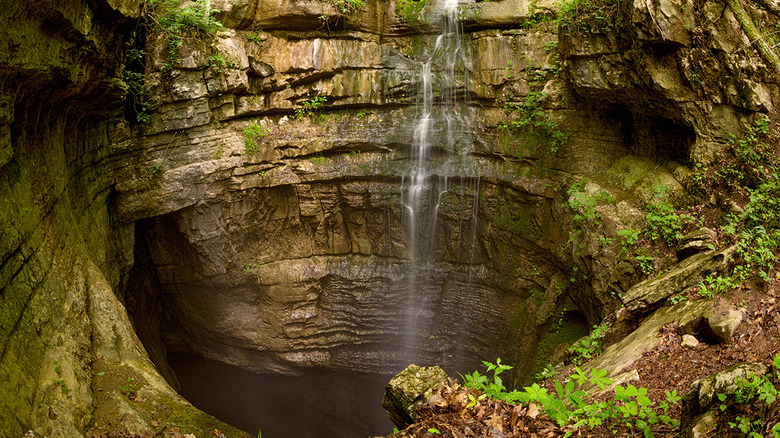 iStock.com/Jens_Lambert_Photography
One of the most-photographed caves in the country, Stephens Gap has a 143-foot pit, the bottom of which can only be reached with proper equipment for vertical caving (and a whole lot of skill). But don't worry, even without the right equipment and skills, you can still visit and hike to the short walk-in passage, although caution should still be taken on the steep trail.
Alaska: Northern Lights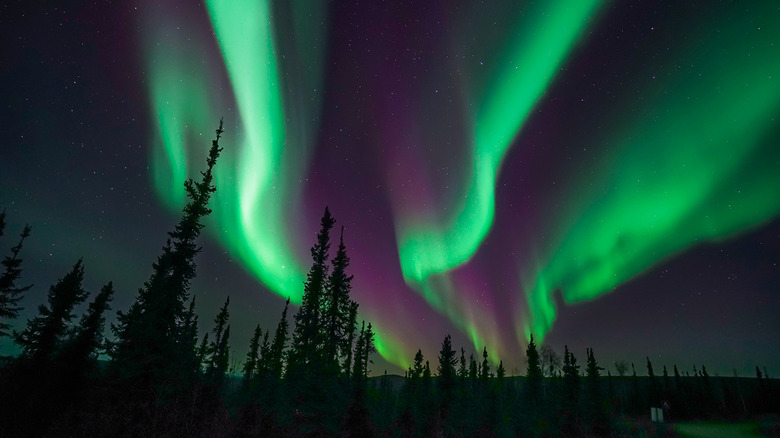 iStock.com/Mike Beauchamp
It may seem like a cliché but Alaska really is the perfect place to witness the northern lights, or aurora borealis. Head to Fairbanks, where the phenomenon can occasionally be witnessed between August 21 and April 21 because of the city's location under the "auroral oval" and its consistently clear skies. Bright green, teal and white lights swirl around the sky, sometimes with a purple or magenta edge, taking on different shapes and lighting up the night.
Arizona: The Wave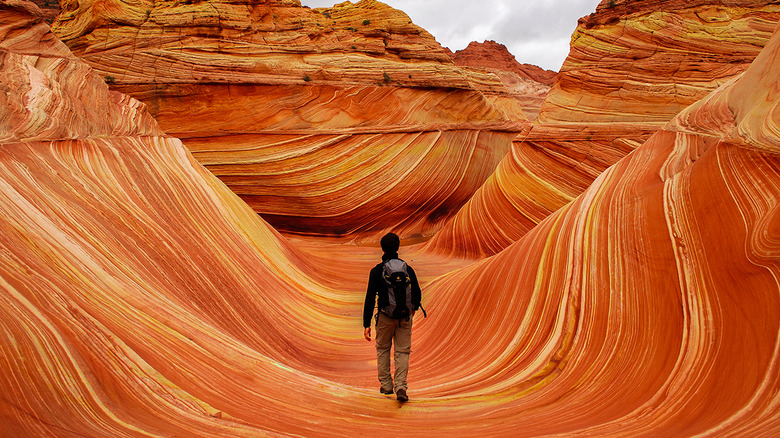 iStock.com/Avi_Cohen_Nehemia
The Wave is a sight you have to see to believe, and only 20 people are allowed to visit it every day. To be included among the 20, visitors need a permit, which can be acquired either by applying for one in advance via lottery or obtaining a walk-in permit the day before. Located in northern Arizona's Coyote Buttes, a section of the Paria Canyon-Vermilion Cliffs, the Wave is made up of Navajo sandstone dating back to the Jurassic age. The 190 million-year-old sand dunes calcified into vertical and horizontal layers of rock after centuries of runoff and wind wore them down, resulting in a mesmerizing landscape of reds, yellows, browns, oranges and purples.
Arkansas: Whitaker Point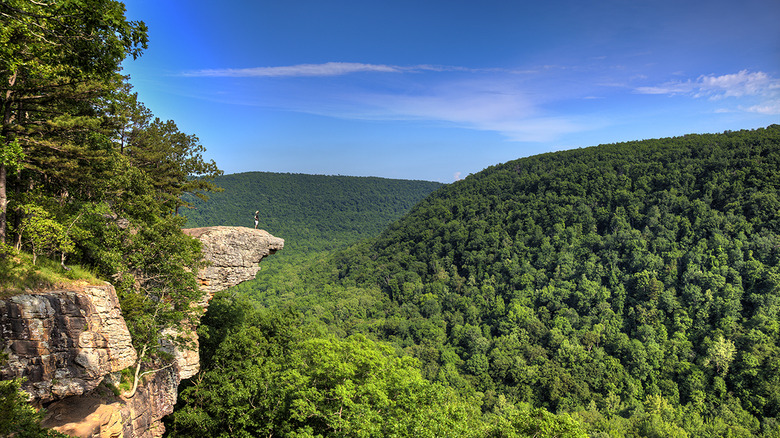 Brandon Alms/Shutterstock
Also known as Hawksbill Crag, Whitaker Point offers utterly breathtaking views of the surrounding Ozarks at an elevation of 400 feet. Hike three miles there and back on a trail that's not too difficult to trek, and you'll be surrounded by beauty, with wildflowers in the spring and gorgeous foliage in the fall.
California: Racetrack Playa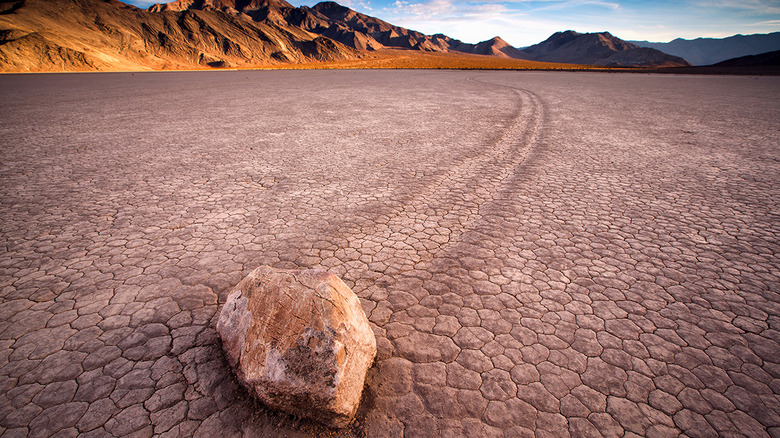 Bill45/Shutterstock
Racetrack Playa is a dry lakebed located in a valley situated between the Cottonwood and Last Chance mountain ranges within Death Valley National Park. This mysterious spot is known for its "sailing stones" — rocks made up of dolomite and syenite that weigh anywhere from a few ounces to hundreds of pounds and, up until recently, seemed to have moved on their own, leaving visible tracks behind them. In 2014, scientists finally solved the mystery using time-lapse photography that showed that a specific balance of water, wind and ice caused the stones to be pushed around.
Colorado: Hanging Lake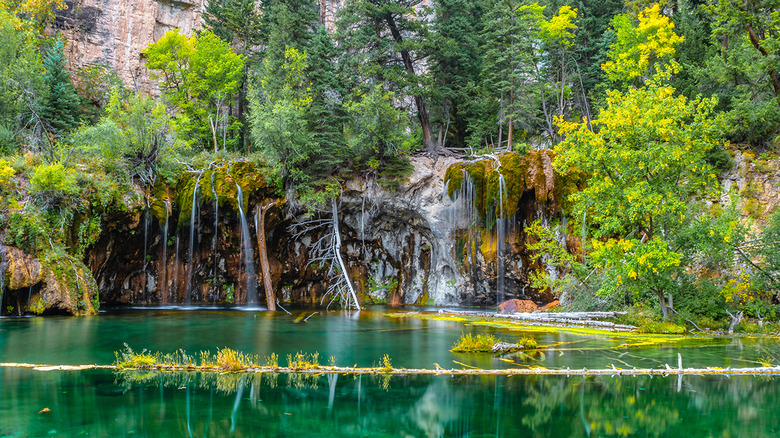 Jeremy Janus Photography/Shutterstock
Located in the romantic retreat of Glenwood Springs, Hanging Lake is a popular hiking destination, with a permit required to access the mile-long trail that leads there. Surrounded by serene scenery and waterfalls, the stunning lake is a rare geological formation of travertine — a type of limestone deposited by mineral springs — and supports one of the largest examples of a hanging plant garden.
Connecticut: Thimble Islands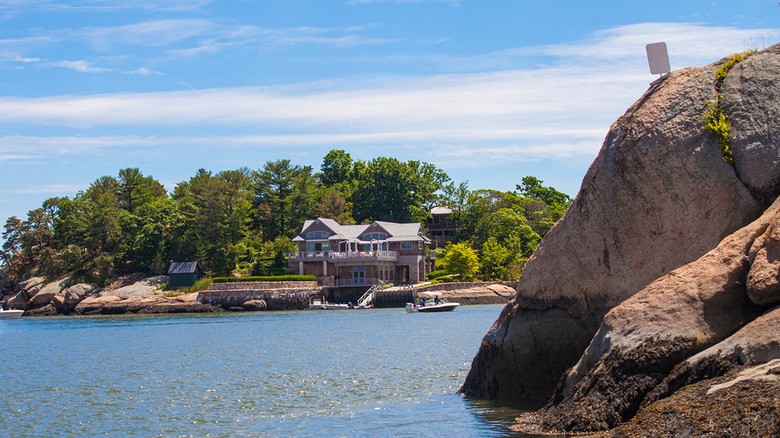 phucTechnology/Shutterstock
An archipelago within the Long Island Sound, the Thimble Islands is made up of pink granite bedrock and was formed after the last ice age. Of its 365 islands, just 23 are inhabited and only six are wired for electricity. These islands are primarily residential, but Horse Island is owned by Yale University and serves as part of Yale's Peabody Museum of Natural History's Ecological Laboratory. Bear Island, meanwhile, is home to a granite quarry that has exported stone for the building of the Lincoln Memorial and the base of the Statue of Liberty, among other landmarks.
Delaware: Great Cypress Swamp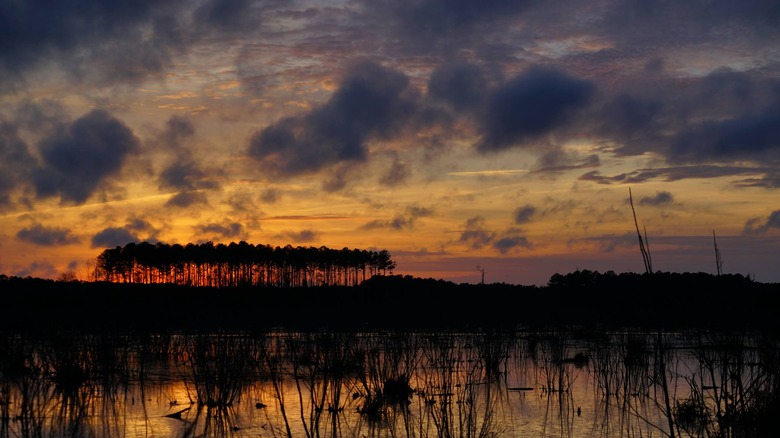 Andrew Martin, DWL Field Ecologist, Courtesy of Delaware Wild Lands
Also known as simply "The Swamp" by locals, the Great Cypress Swamp is the largest freshwater wetland and contiguous area of forestland in Delaware, with some parts spilling over into southeastern Maryland. Swamp cottonwood, black tupelo and Atlantic white cedar trees can be found throughout the swamp, but it's the bald cypress trees that dominate and stand as an iconic sight.
Florida: Florida Reef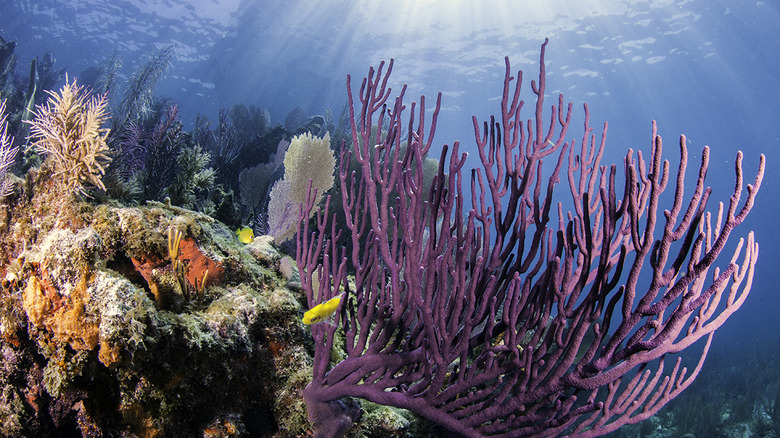 Off Axis Production/Shutterstock
Stretching from Martin County in South Florida to the Dry Tortugas that lie about 70 miles west of Key West, the Florida Reef is the third-largest coral barrier reef system on the planet. Also the only living coral barrier reef in North America, it has about 6,000 coral reefs and is home to about one-third of Florida's endangered species for at least some part of their life.
Georgia: Tallulah Gorge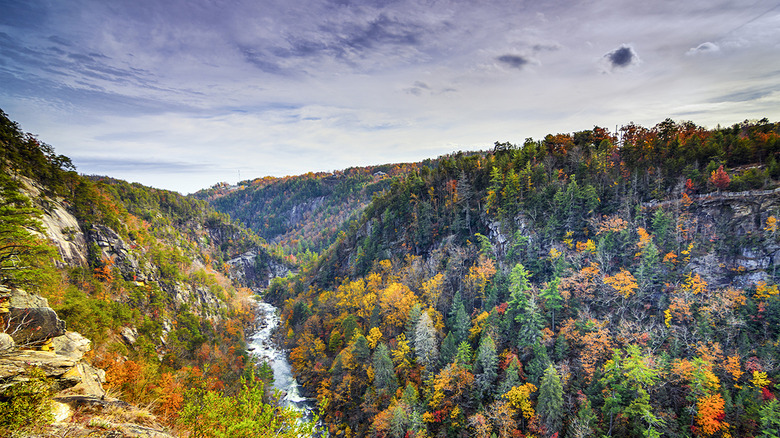 ESB Professional/Shutterstock
Considered one of the Seven Natural Wonders of Georgia, the Tallulah Gorge is a canyon in northeast Georgia that runs two miles long and nearly 1,000 feet deep. A gorgeous series of six falls (the Tallulah Falls) runs through it, and the Tallulah River is a popular spot for sports such as kayaking and whitewater rafting.
Hawaii: Kīlauea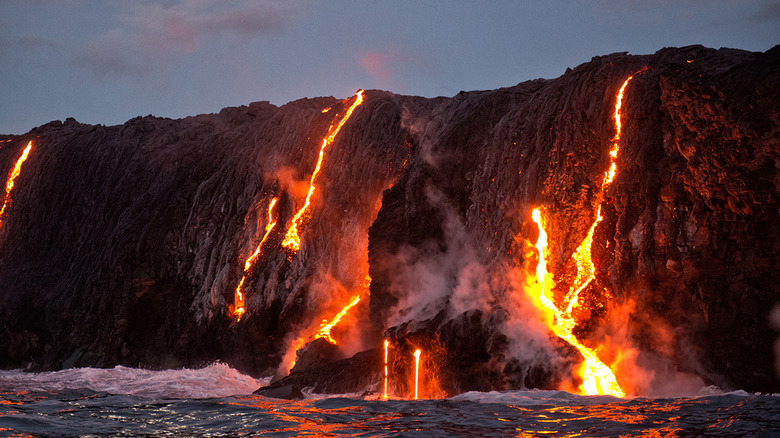 iStock.com/theartist312
The United States is one of many places you may not realize have active volcanoes, but the entire state of Hawaii was formed by them. The island of Hawaii itself, also known as the Big Island, was formed by five volcanoes, the most active of which is Kīlauea. Standing at 4,091 feet, Kīlauea is one of the most active volcanoes in the world, erupting 34 times since 1952 and nearly continuously from 1983 to 2018.
Idaho: Shoshone Falls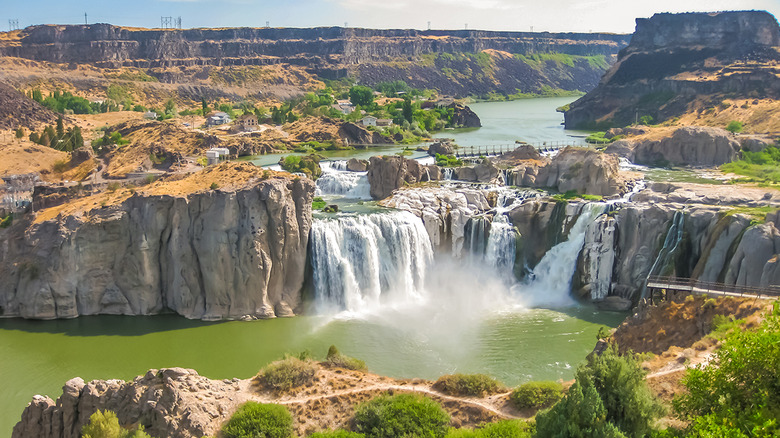 Benny Marty/Shutterstock
Idaho's Shoshone Falls has been referred to as "the Niagara of the West," standing 212 feet tall and 900 feet wide as one of the largest natural waterfalls in the country. Situated on the Snake River as it flows through southern Idaho, it's a sight best seen in the spring, when the weather is beautiful and the water is at its heaviest flow.
Illinois: Saint Louis Canyon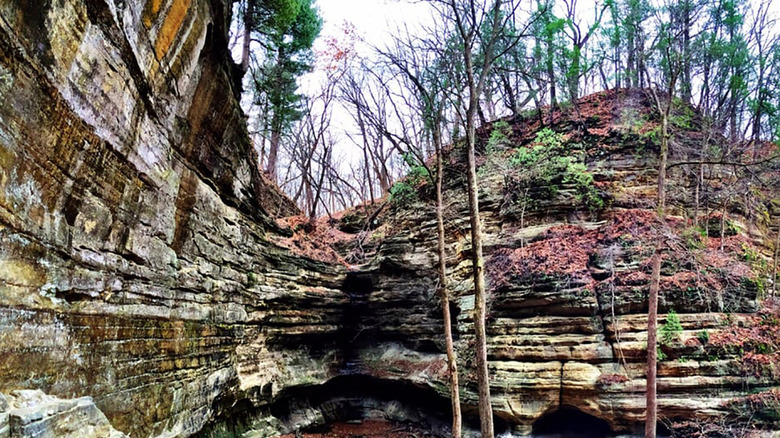 Rose D./Yelp
Starved Rock State Park is a super-photogenic destination with some of the best hikes in Illinois, and the roughly two-mile trail to and from the park's Saint Louis Canyon is perfect for hikers of any skill level. The trail leads explorers to a particularly beautiful waterfall cascading down to a shallow pool with a rocky backdrop that's quite bright and verdant in the warmer months.
Indiana: Indiana Dunes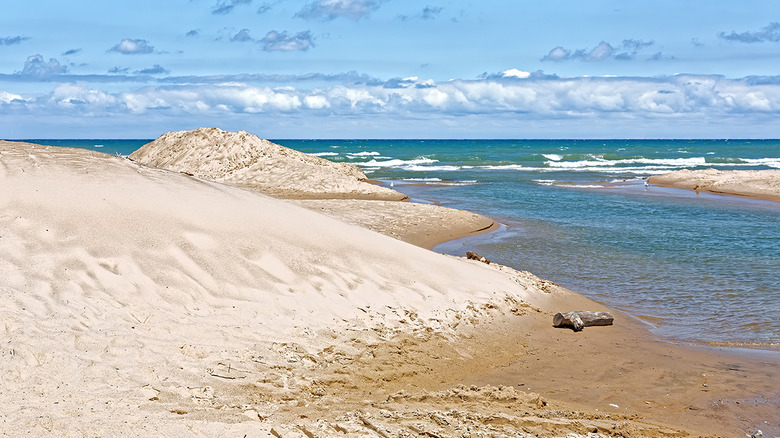 Delmas Lehman/Shutterstock
In February 2019, Indiana Dunes National Lakeshore was officially designated a national park, becoming the state's first. The park has more than 2,000 acres of beautiful landscape, as well as more than three miles of beach. Its sand dunes, however, are the true wonder. Forming over thousands of years, they stand nearly 200 feet high above Lake Michigan.
Iowa: Crystal Lake Cave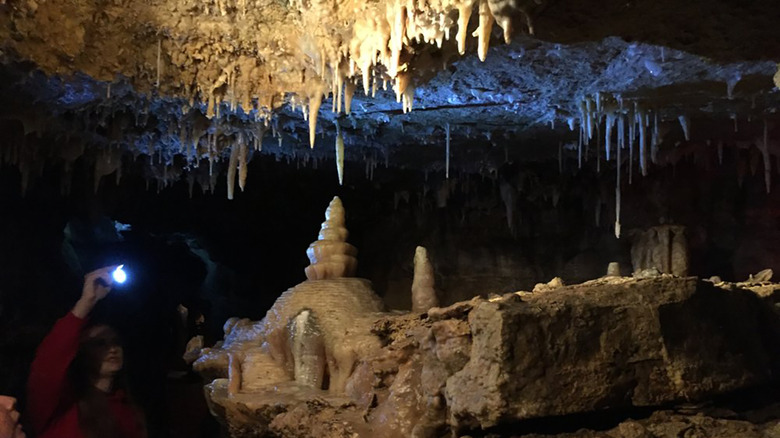 Lawrence T./Yelp
Dubuque, Iowa is an under-the-radar city with quite a bit to offer, including the family favorite Crystal Lake Cave. In addition to discovering amazing crystals and formations while exploring three-quarters of a mile of cave tunnels via guided tour, guests can also hunt for gems to take home, stop for a meal on the picnic grounds or even make a stay out of it at Crystal Lake Cave's RV parking grounds.
Kansas: Monument Rocks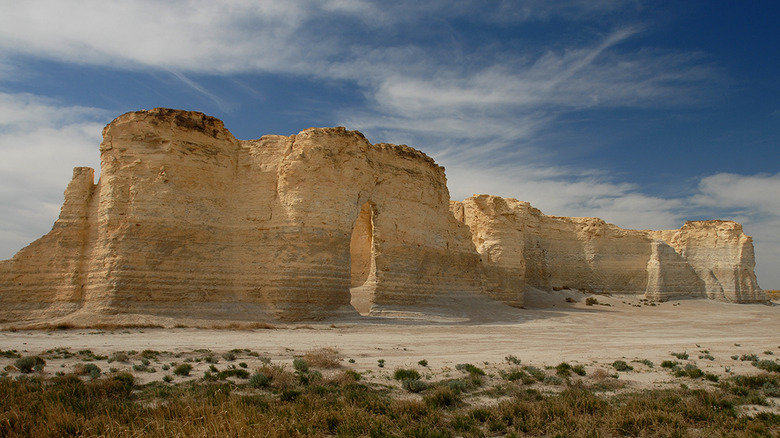 Rusty Dodson/Shutterstock
Also known as the Chalk Pyramids, Monument Rocks is a series of chalk formations up to 70 feet tall that have been designated one of the Eight Wonders of Kansas by the Kansas Sampler Foundation. Located in western Kansas near US-83, Monument Rocks is the result of the erosion of a sea bed that formed during the Cretaceous Period about 80 million years ago. Though it sits on a private land, the site is open to the public before sunset and includes awe-inspiring formations, as well as shells and fossils.
Kentucky: Cumberland Falls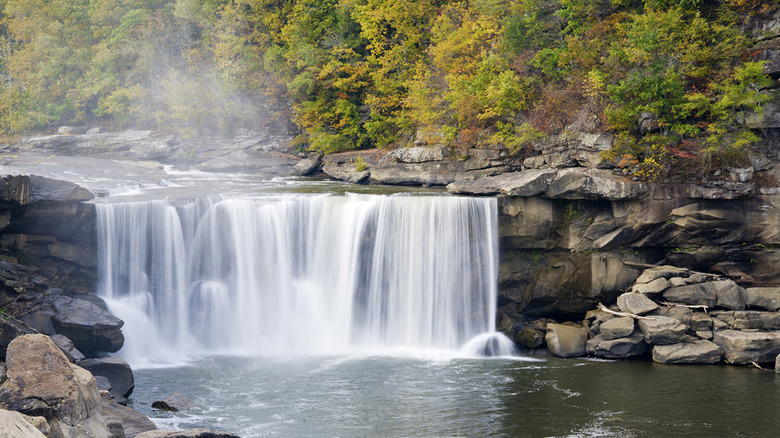 iStock.com/alexeys
One of many beautiful spots within our country's state parks, Cumberland Falls, located in southern Kentucky, is a 125-foot-wide waterfall known as "the Niagara of the South." Visit during a full moon to spot the only regularly visible moonbow in the Western Hemisphere.
Louisiana: Atchafalaya Basin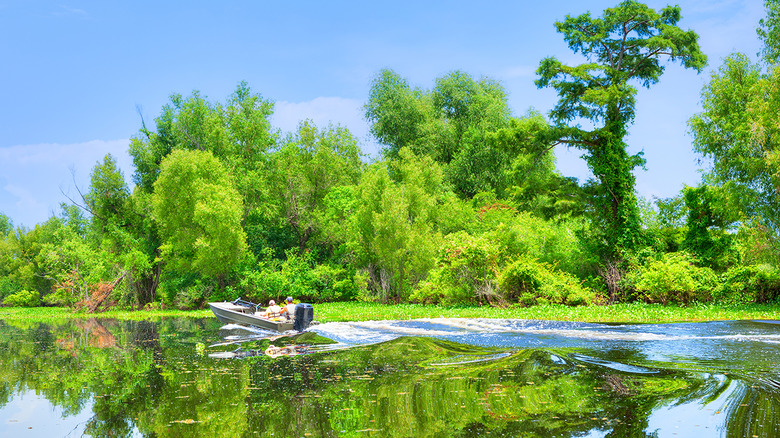 Anton Foltin/Shutterstock
The largest river swamp in America, the Atchafalaya Basin in south-central Louisiana spans 140 miles from near the town of Simmesport to the Gulf of Mexico and is larger than the Florida Everglades. Five times more productive than any other North American river basin, it's home to more than 100 species of aquatic life and 65 species of reptiles and amphibians, while more than 250 bird species have been spotted there as well. Nearly 22 million pounds of crawfish are harvested annually in the Atchafalaya Basin, which is also home to the Breaux Bridge Crawfish Festival every May.
Maine: Thunder Hole in Acadia National Park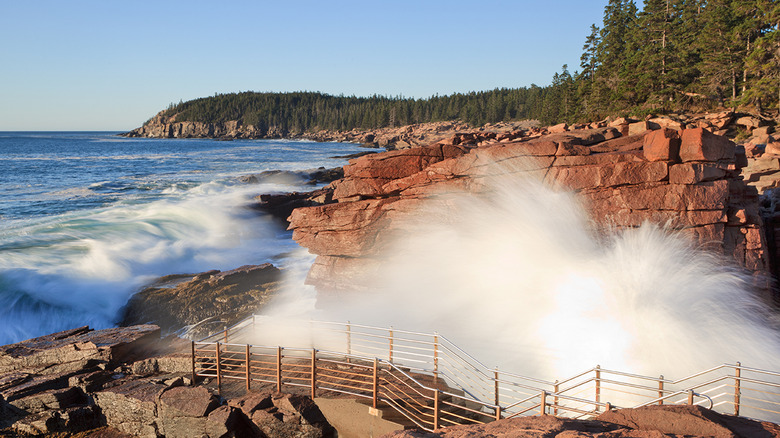 kurdistan/Shutterstock
A small, rocky inlet within Acadia National Park, Thunder Hole is a mesmerizing spot when the waves are in full force. Colliding with the entrance of a small cavern just beneath the surface of the water, the waves create a thunderous sound while splashing as high as 40 feet, making for an equally striking view.
Maryland: Muddy Creek Falls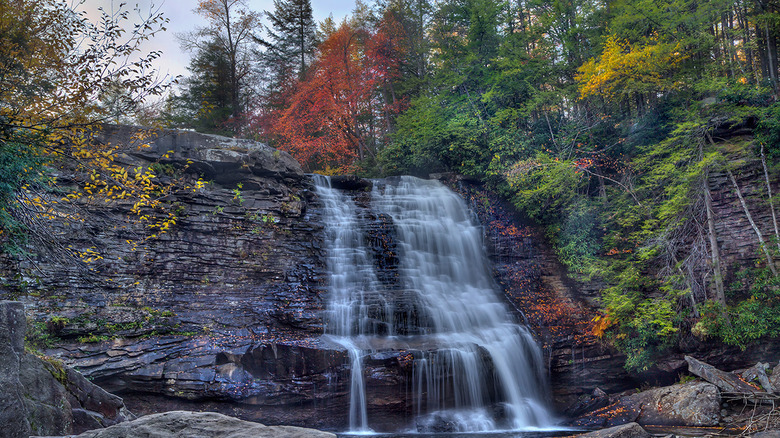 KhanIM/Shutterstock
The highest free-falling waterfall in Maryland, Muddy Creek Falls is located in Swallow Falls State Park. Standing at about 60 feet, the falls are part of the Pottsville Formation, which is made up of eroded siltstones and shales, as well as cross-bedded sandstones that date back about 300 million years.
Massachusetts: Aquinnah Cliffs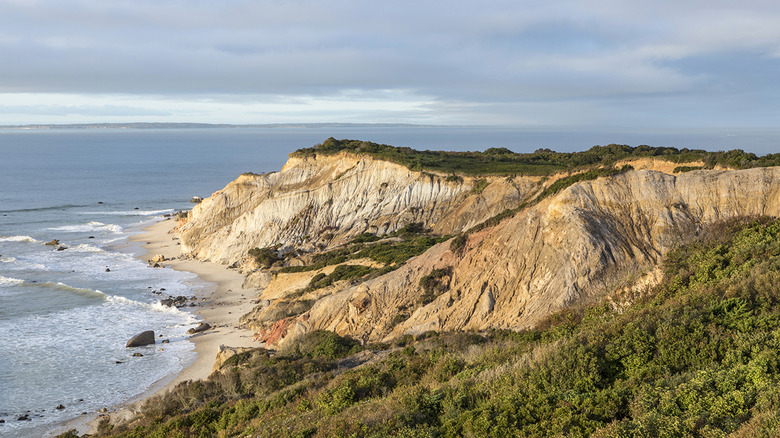 iStock.com/travelview
Located on the island of Martha's Vineyard, the tiny town of Aquinnah (formerly known as Gay Head) is most well-known for its colorful clay cliffs. Ecologically protected, the cliffs can't be climbed or touched, but you can enjoy the scenery and surrounding waters, or go below the cliffs (where you'll find an unofficial nude beach).
Michigan: Pictured Rocks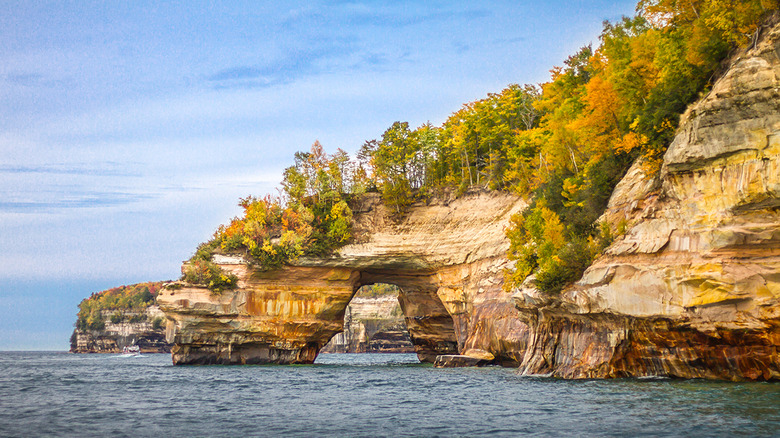 Lattasit Laohasiriwong/Shutterstock
Pictured Rocks National Lakeshore is a romantic spot named for its colorful cliffs that overlook pristine beaches and are surrounded by charming woodlands with 100 miles of hiking trails. Located on the southern shores of Lake Superior in Michigan's Upper Peninsula, the Pictured Rocks tower 20 to 500 feet above the water and stretch for about 15 miles, with red, orange, blue, green, brown, black and white showing up among the minerals that make up the rock.
Minnesota: Devil's Kettle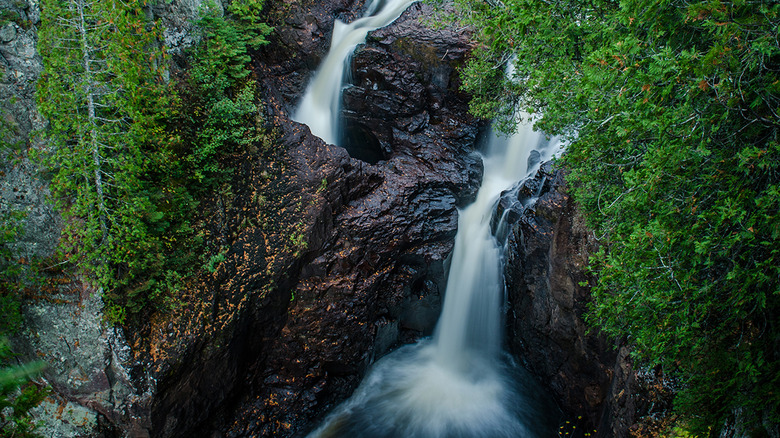 Ramesh Pavvluri Veera/Shutterstock
Devil's Kettle is a waterfall and rock formation within Judge C.R. Magney State Park on the North Shore of Lake Superior that, until relatively recently, was a bit of a mystery. At Devil's Kettle, half of the Brule River seems to disappear into a deep, dark hole in a manner that baffled tourists and researchers alike. In 2017, however, hydrologists concluded that the site is somewhat of an optical illusion and the water merely reappears further downstream.
Mississippi: Red Bluff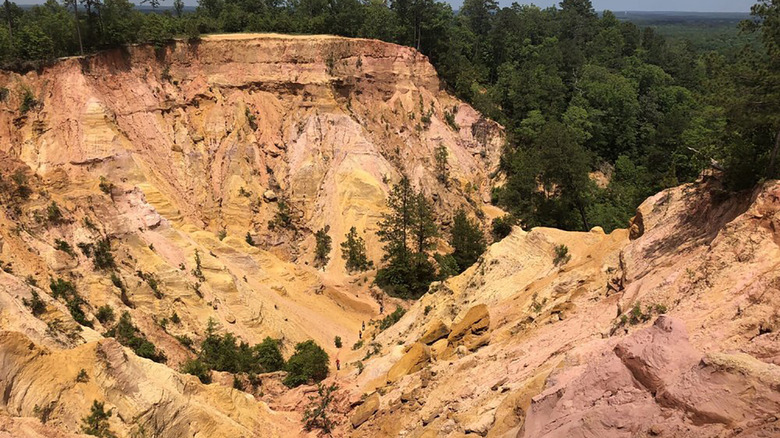 Lacey C./Yelp
Known as the "Little Grand Canyon," Red Bluff is a vivid red, orange and purple canyon located in southern Mississippi. The canyon is still eroding — so much so that Highway 587 had to be rerouted — and is nearly a mile long and a half mile wide. A walk along the bluffs will give you breathtaking views of the surrounding greenery and the Pearl River that runs below it.
Missouri: Onondaga Cave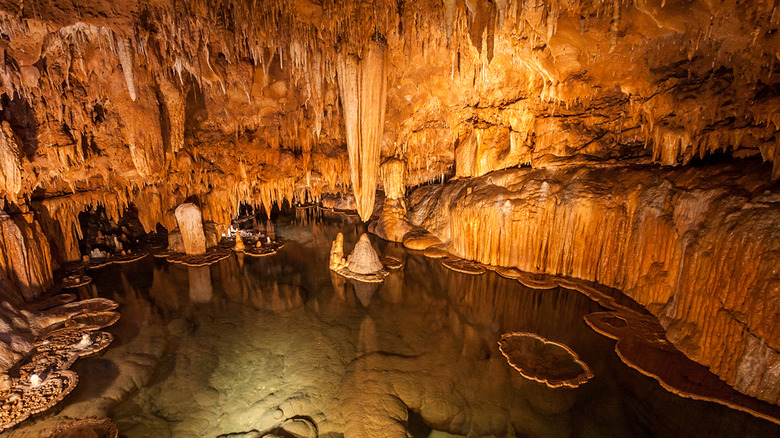 Aneta Waberska/Shutterstock
The central feature of Onondaga Cave State Park on Missouri's Meramec River, Onondaga Cave was discovered in 1886 and remains known to this day for the incredible formations within. Explore amazing stalagmites and stalactites with a mile-long guided tour lasting about an hour and 15 minutes, and don't forget to bring a jacket; the cave holds a temperature of 57 degrees Fahrenheit all year.
Montana: Gates of the Mountains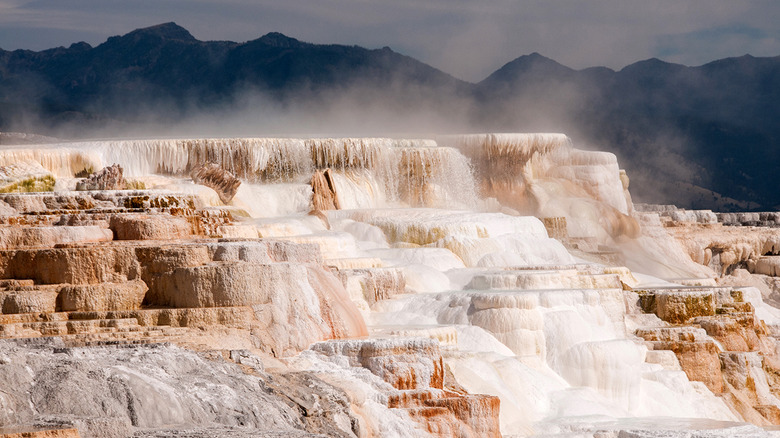 iStock.com/scgerding
Part of a designated wilderness area, the Gates of the Mountains are limestone cliffs that tower up to 1,200 feet over the Missouri River and were so named by American explorer Meriwether Lewis as he traversed the area with his partner William Clark. Best experienced by boat, the area can also be explored through various hiking trails through the surrounding forests.
Nebraska: Ashfall Fossil Beds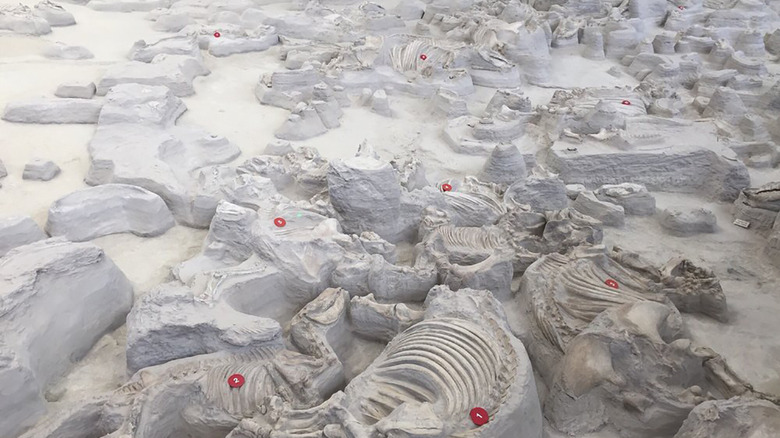 Rena N./Yelp
Open from May through early October, Ashfall Fossil Beds Historical Park preserves the site of 12 million-year-old fossils of prehistoric mammals, turtles and birds, as well as plant seeds. The fossilized skeletons of the animals, which were killed by volcanic ash, include evidence of the animals' last steps and even their last meals, and visitors of the park can not only explore these fossil beds but also check out interpretive displays and a fossil preparation laboratory. Educational programs and talks with paleontologists allow guests to learn even more about these fossilized parcels, although it should be noted that taking anything home is strictly prohibited.
Nevada: Fire Wave at Valley of Fire State Park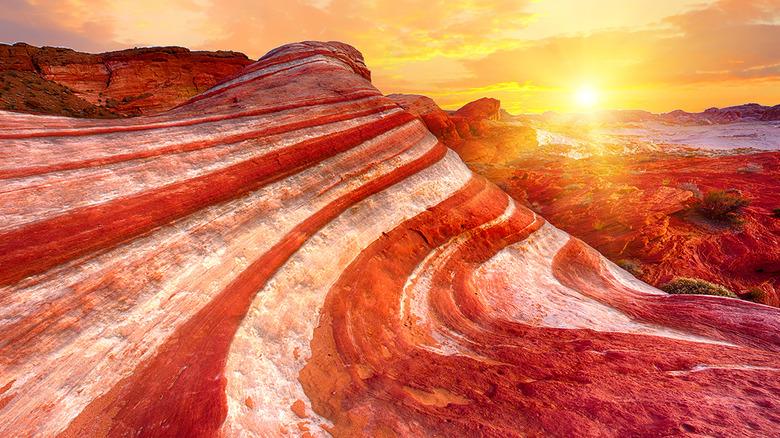 Filip Fuxa/Shutterstock
Valley of Fire State Park is known for its stunningly bright red Aztec sandstone formations, as well as the petrified trees and petroglyphs that date back more than 2,000 years. It is the Fire Wave trail, however, that is particularly picturesque, with reds, oranges and browns making striking stripes in a bowl-shaped depression of sandstone that makes the area look as though it's on fire when the sunshine hits it just right.
New Hampshire: Flume Gorge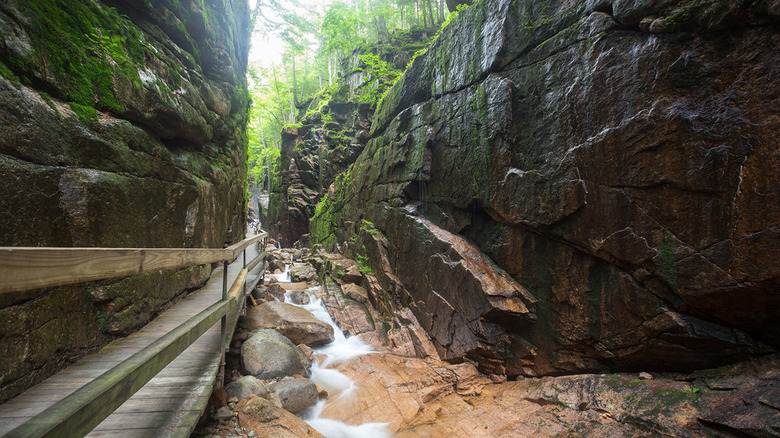 iStock.com/littleny
New Hampshire's Franconia Notch State Park is a very scenic spot, and its Flume Gorge, located at the base of Mount Liberty, is practically made for a photo op. Extending 800 feet, the natural gorge has Conway granite walls 12 to 20 feet apart and reaching a height of 70 to 90 feet. Walk through the gorge or hike a two-mile loop, exploring the spectacular plant life and natural scenery around you.
New Jersey: Great Falls of the Passaic River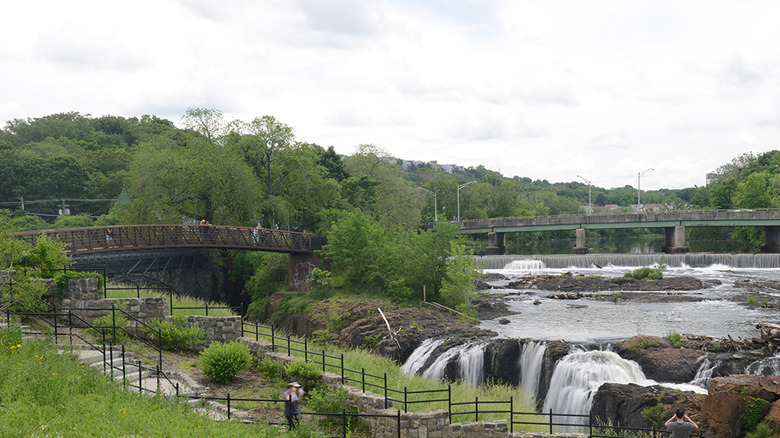 iStock.com/aimintang
The Great Falls of the Passaic River hold a great amount of significance in regards to both New Jersey history as well as the history of the nation. Having visited the falls previously and been struck by their potential for supporting industrialization, America's first Secretary of Treasury, Alexander Hamilton, chose the site to become the country's first planned industrial city: Paterson. Thus, the city and its falls went on to play a huge role in the early industrial development of both New Jersey and the United States, and the Great Falls' raceway and power system was officially designated a Historic Civil Engineering Landmark in 1977. Also known as Paterson Falls, it is one of the largest waterfalls in America and the subject of a five-volume epic poem by legendary Puerto-Rican American poet and New Jersey native William Carlos Williams.
New Mexico: White Sands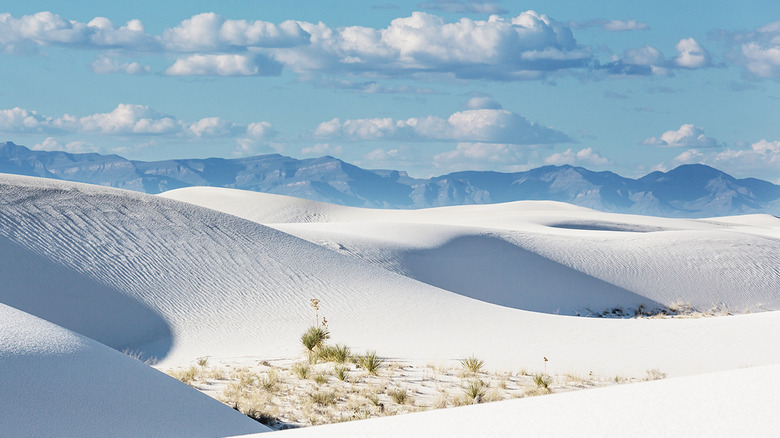 Galyna Andrushko/Shutterstock
Partially preserved by the White Sands National Monument, the 275-square-mile field of white sand in the heart of New Mexico's Tularosa Basin is made up of gypsum crystals. This is quite remarkable, given the fact that gypsum is a mineral that is rarely found in the form of sand, as water usually dissolves it. The Tularosa Basin, however, has no outlets into the sea, trapping the rain and turning the gypsum crystals into sand over time and creating the largest gypsum dune field on Earth, perfect for hiking, landscape photography and even sledding.
New York: Niagara Falls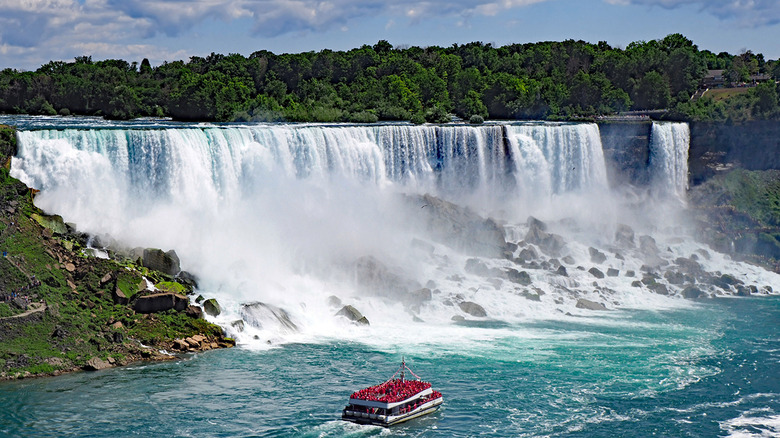 iStock.com/peterspiro
Niagara Falls is actually made up of three falls; the largest, Horseshoe Falls, straddles the U.S.-Canadian border, while the smaller Bridal Veil Falls and American Falls sit entirely within New York. Located at the southern end of the Niagara Gorge on the Niagara River, the falls have the highest flow rate among all North American waterfalls with a drop of more than 160 feet, while Horseshoe Falls itself is the most powerful waterfall on the continent. Known as a valuable source of hydroelectric power, as well as a famously picturesque spot with gorgeous rainbows, the Niagara Falls have long served as a popular weekend destination surrounded by plenty of resorts, shopping and activities such as boat rides and hiking.
North Carolina: Upper Whitewater Falls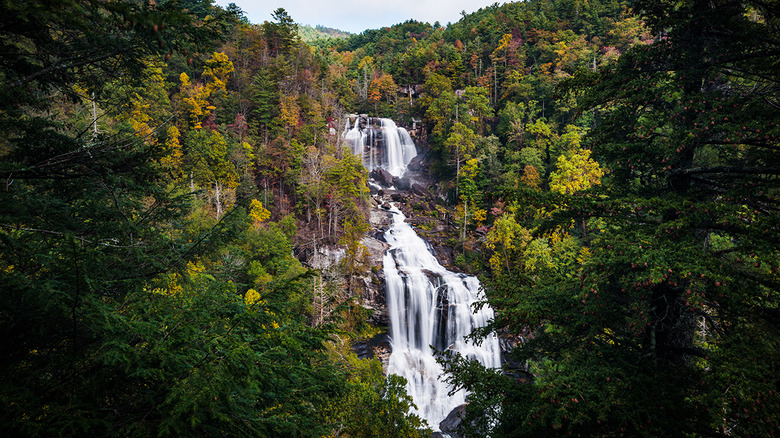 Scott Alan Ritchie/Shutterstock
With a drop of 411 feet, the Upper Whitewater Falls are the highest falls east of the Rocky Mountains and are surrounded by rough, undeveloped terrain featuring steep slopes, rock cliffs and all kinds of moss, ferns, fungi and wildflowers. Located on the Whitewater River in the Blue Ridge Mountains, the falls are surrounded by foliage that serves as a jaw-dropping backdrop, particularly during autumn.
North Dakota: White Butte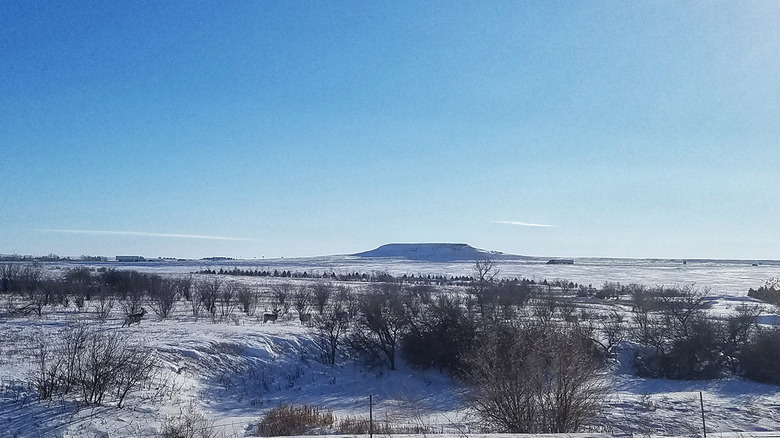 Smpalmero/Shutterstock
Located in the Badlands of southwestern North Dakota, White Butte is the highest natural point in the state, with an altitude of 3,506 feet. The result of hundreds of thousands of years of erosion, the butte is made up of bentonite clay and is located on private property, with visitors asked to call ahead as well as make a donation.
Ohio: Old Man's Cave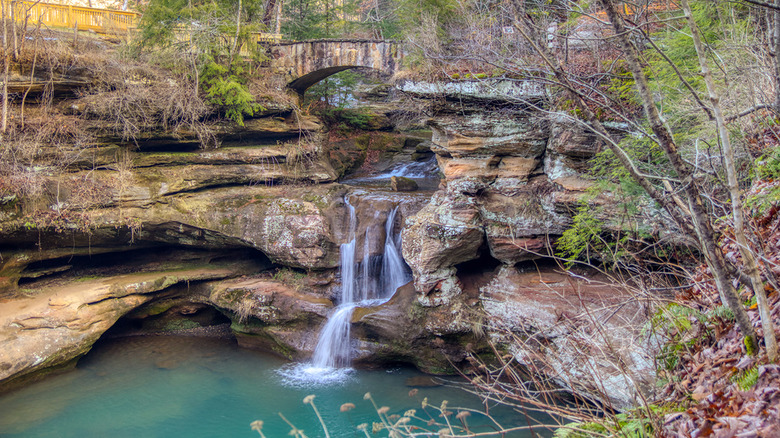 iStock.com/ehrlif
Hocking Hills State Park is a must-see destination in the American heartland, particularly because of Old Man's Cave, an enchanting site that includes a mile-long hike, rocky gorges shaded by hemlock trees, unique natural bridges and charming waterfalls. Old Man's Cave takes about an hour to hike, and you can even bring along your dog, provided it's on a leash.
Oklahoma: Great Salt Plains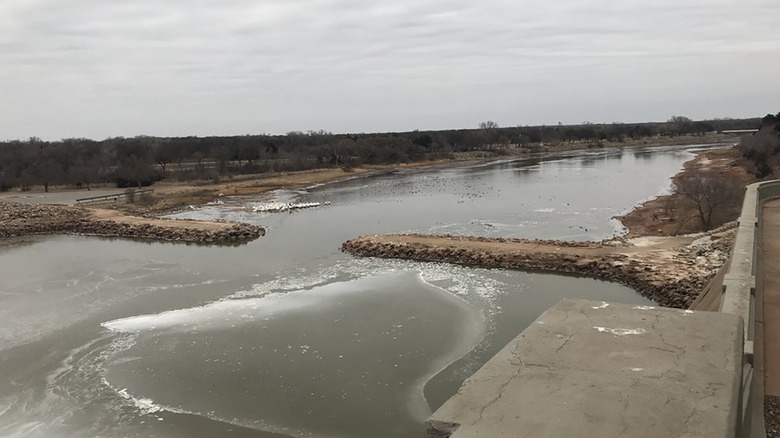 Phoebe S./Yelp
North-central Oklahoma's Alfalfa County is home to the Great Salt Plains, an 11,000-acre stretch of land covered with a thin layer of salt that scientists believe is the result of water levels rising repeatedly over millions of years ago, with saline groundwater just a few feet below keeping the salt supply in place. The Great Salt Plains are also known for their hourglass-shaped selenite crystals, which many people come to collect along the shoreline.
Oregon: Thor's Well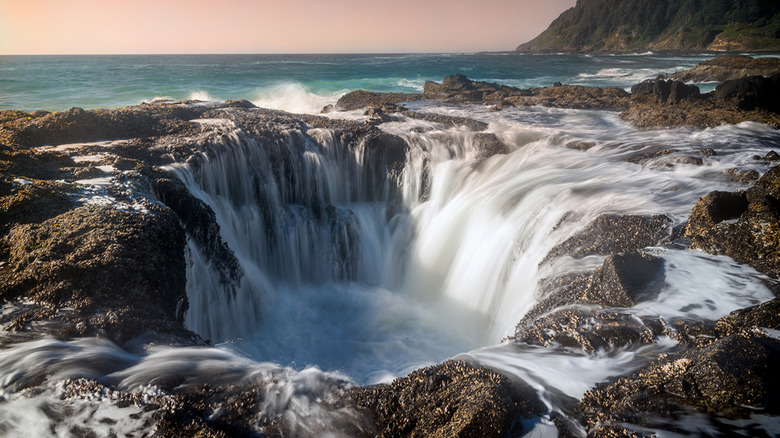 iStock.com/Morgan Somers
A bowl-shaped hole that's just 20 feet deep and located on a rough basalt shoreline, Thor's Well is essentially a saltwater fountain that looks like a terrifying sinkhole. Come between about an hour before and an hour after high tide to see it in full force, when the waves repeatedly roll underneath and fill the hole from the bottom until it bubbles or sprays up out of the top.
Pennsylvania: Bushkill Falls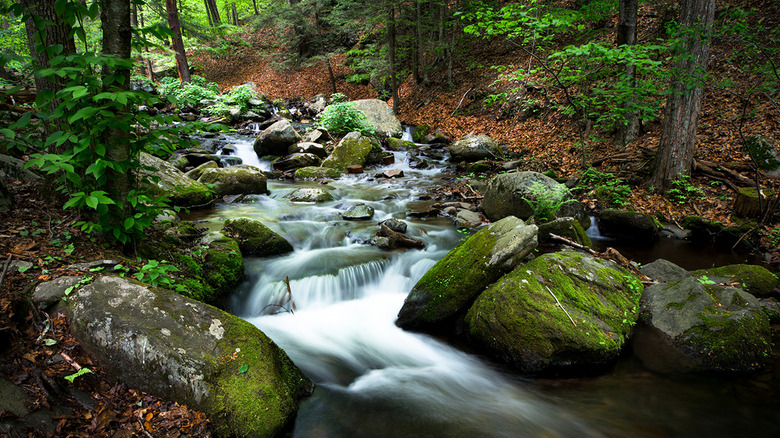 iStock.com/HaizhanZheng
The Poconos are a top RV destination and weekend getaway, as well as home to Bushkill Falls, a series of eight privately owned falls known as "the Niagara of Pennsylvania." Surrounding the falls are more than two miles of trails, bridges and walkways, perfect for an active hike or a romantic moment, as well as fishing, birdwatching and other outdoor adventures.
Rhode Island: Mohegan Bluffs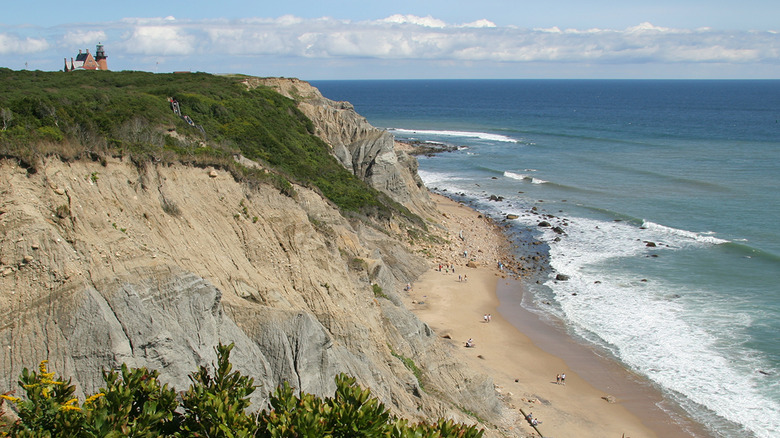 iStock.com/randydellinger
Located on Block Island, an underrated beach destination 12 miles off the coast of Rhode Island, the Mohegan Bluffs are 200-foot-tall clay cliffs that provide amazing views as far as Montauk, Long Island. Located on the island's southern shore, the cliffs have 141 steps leading down to a secluded beach perfect for avoiding crowds.
South Carolina: Angel Oak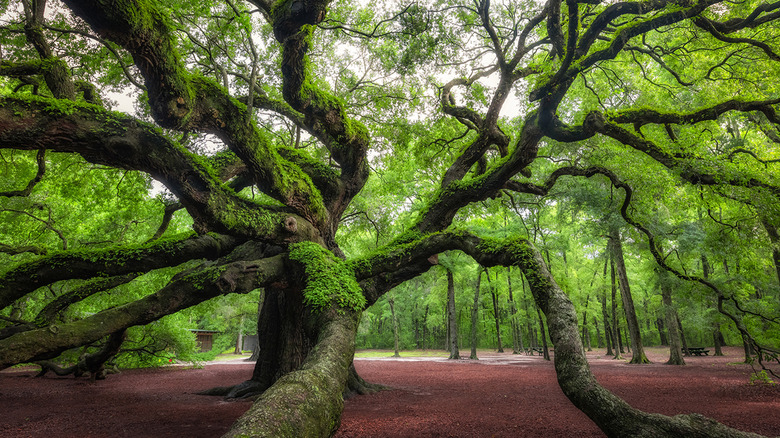 iStock.com/Michael Ver Sprill
Johns Island, one-third of which falls within the city limits of Charleston, is the largest island in South Carolina and most famously known for being the home of Angel Oak, popularly believed to be the largest live oak tree east of the Mississippi. With a height of 65 feet and a circumference of 25.5 feet, Angel Oak is estimated to be 300 to 400 years old, having survived countless floods, hurricanes, earthquakes and other natural disasters.
South Dakota: Black Elk Peak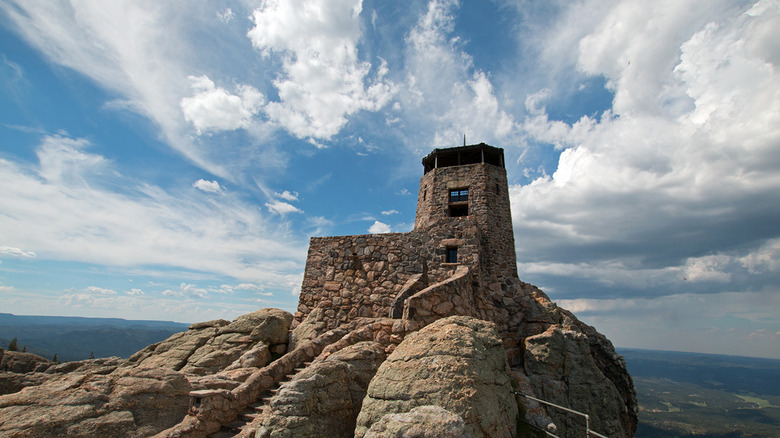 iStock.com/htrnr
Called Harney Peak for more than 150 years before being renamed Black Elk Peak in 2016, the highest point in South Dakota is named for famous Lakota Sioux medicine man Nicholas Black Elk and recognized for its sacred significance to local indigenous people. Located in the Black Hills, Black Elk Peak stands at 7,242 feet and is topped by an abandoned stone fire lookout tower.
Tennessee: Synchronous fireflies in the Great Smoky Mountains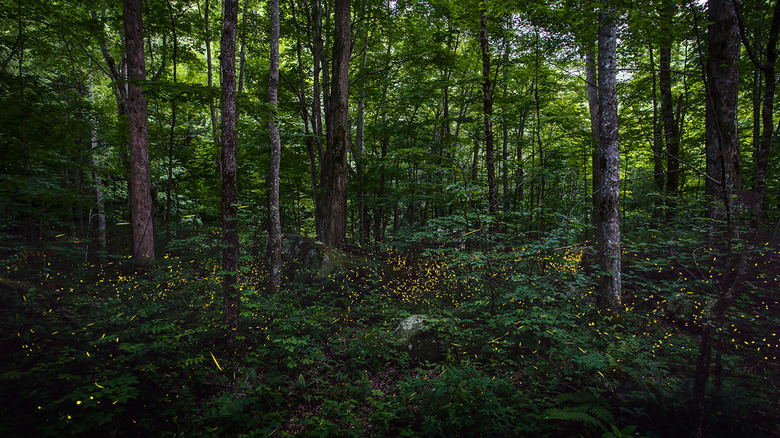 Royalty-free/Getty Images
There are at least 19 species of fireflies that call Great Smoky Mountains National Park home, but perhaps none are as mesmerizing as the synchronous fireflies, or Photinus carolinus. The only American firefly species that can synchronize its flashing light patterns, these fireflies (or lightning bugs, as you may call them depending on where you're from) flash their lights as part of a mating display that peaks during a two-week period from late May to mid-June.
Texas: Hamilton Pool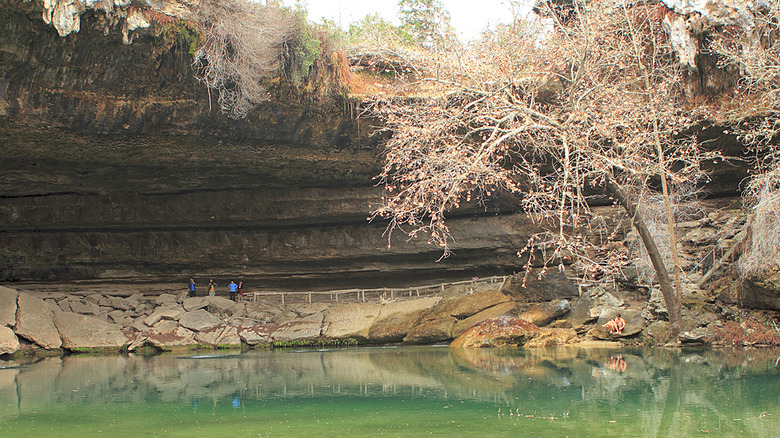 iStock.com/Faina Gurevich
Hamilton Pool is a natural pool surrounded by a collapsed grotto and canyon that formed as the result of thousands of years of water erosion. Sitting on 232 acres of protected land, the stunning swimming hole is located about 30 miles west of Austin and its most striking feature is the 50-foot waterfall that comes down over the limestone croppings from Hamilton Creek.
Utah: Bryce Amphitheater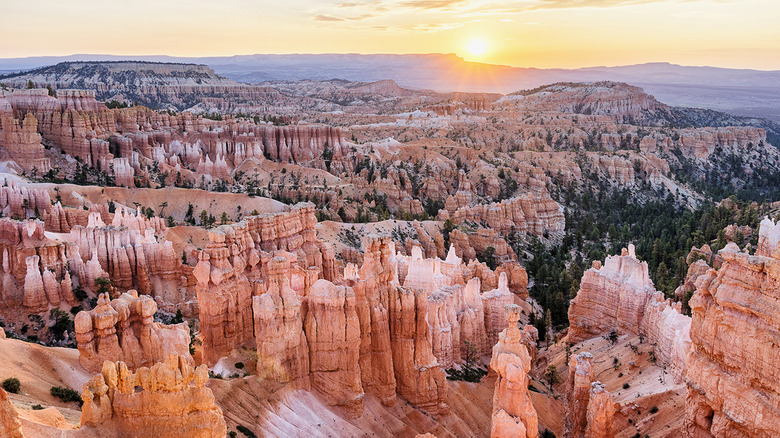 iStock.com/FilippoBacci
Southwestern Utah's Bryce Canyon is, despite its name, not a canyon but rather a collection of 14 natural amphitheaters, the largest of which is known as simply Bryce Amphitheater. The most visited section of Bryce Canyon National Park, it's 12 miles long, three miles wide and 800 feet deep and is made up of layers of sandstone and shale that formed over millennia to create various shades of pinks, reds and whites.
Vermont: Moss Glen Falls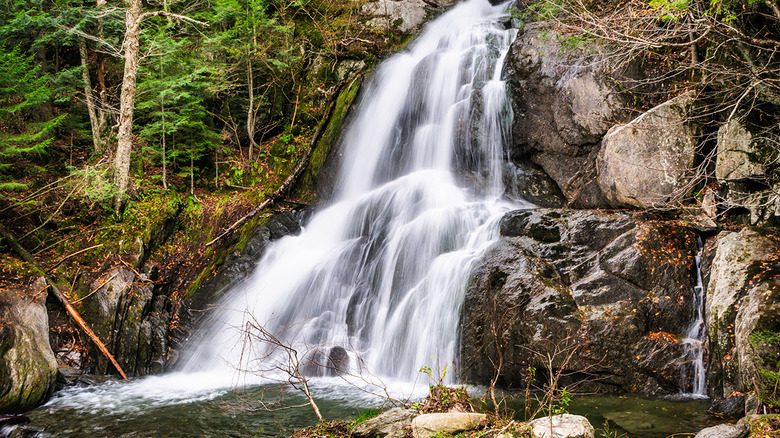 iStock.com/KenWiedemann
With a total drop of 125 feet, Moss Glen Falls is an impressive example of New England's natural beauty. Multiple drops and sudden turns take the stream in dramatic directions, and much of the cascades within the narrow gorge are difficult to access without rappelling gear and a lot of experience. There are multiple viewpoints, however, from which to appreciate the pleasant scene from a safe distance.
Virginia: Luray Caverns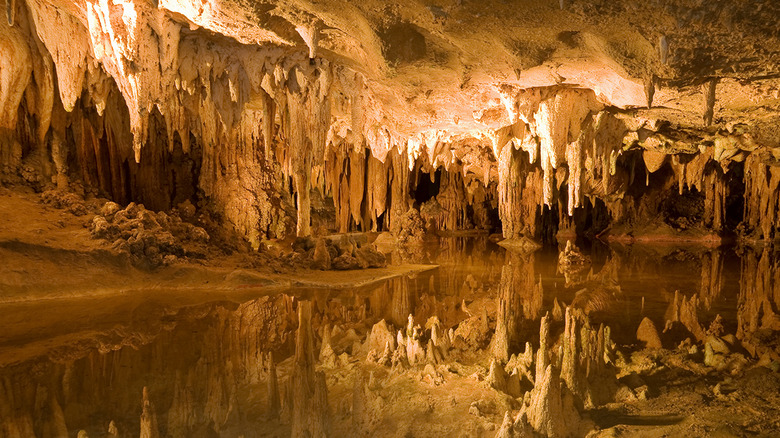 iStock.com/JacobH
The largest and most popular caverns in the eastern United States, Luray Caverns is home to a vastly impressive collection of cave formations, from stalagmites and stalactites to mudflows, flowstone, columns and mirrored pools. Explore rooms with 10-story-high ceilings and spectacular limestone formations, and check out the Great Stalacpipe Organ, the world's largest musical instrument, which produces music with the tapping of ancient stalactites of different sizes.
Washington: Hoh Rainforest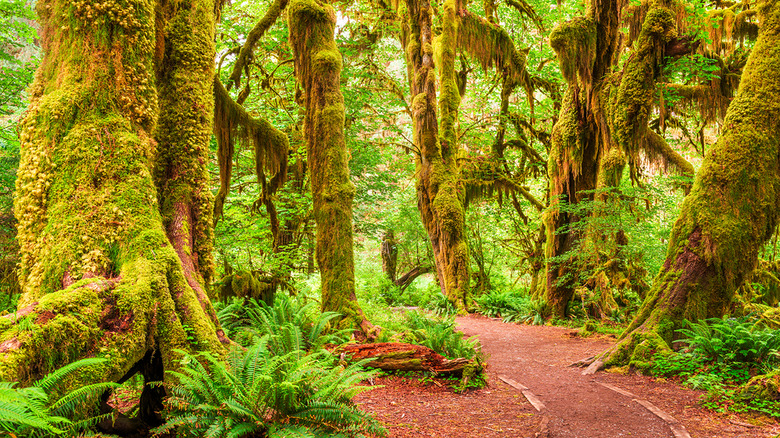 iStock.com/Sean Pavone
The Hoh Rainforest is an enchanting place located on Washington state's Olympic Peninsula, characterized by unique mosses and lichens on its trees. Receiving 140 to 170 inches of rain every year, it's also home to amazing wildlife such as the northern spotted owl, Pacific tree frog, banana slug and the Olympic black bear.
West Virginia: Blackwater Falls State Park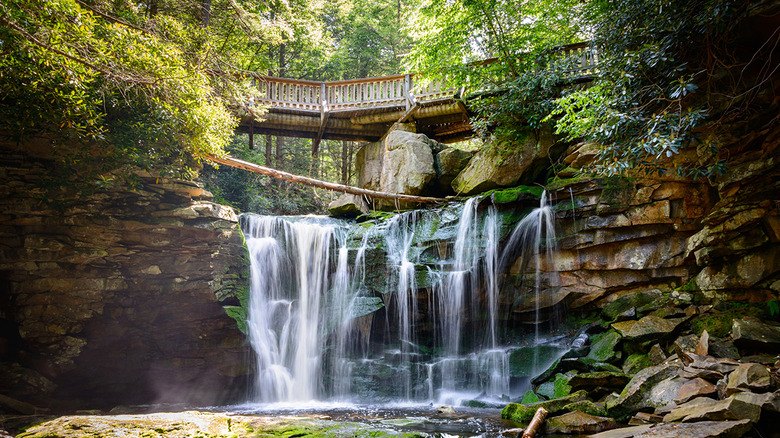 iStock.com/zrfphoto
West Virginia's Allegheny Mountains are home to beautiful Blackwater Falls State Park. The feature that it's named after is a 57-foot cascade with a dark amber tint thanks to the tannic acid of needles fallen off of hemlock and red spruce trees. The crown jewel of Blackwater Falls State Park, the falls are one of the most-photographed spots in the entire state and have appeared on many calendars, advertisements and other media, but Elakala Falls, also in the park, is quite beautiful as well. Talk about a two-for-one deal.
Wisconsin: Cave of the Mounds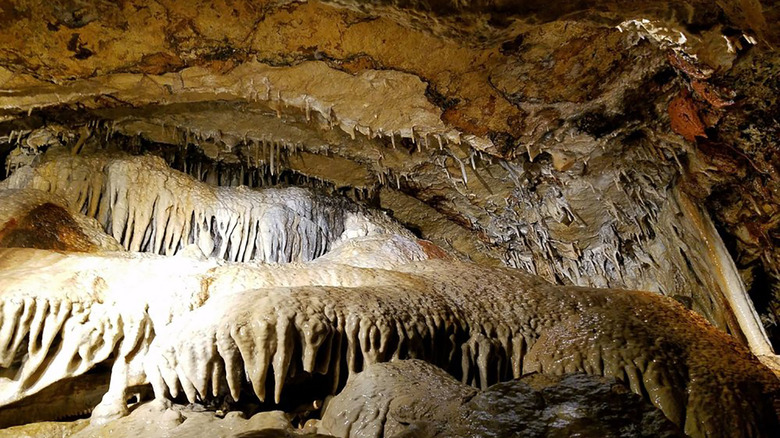 Bridget W./Yelp
A natural limestone cave in southern Wisconsin, Cave of the Mounds is more than a million years old. Made from a type of limestone called galena dolomite, it's known for the beauty and variety of the many different colored minerals found within.
Wyoming: Lower Yellowstone Falls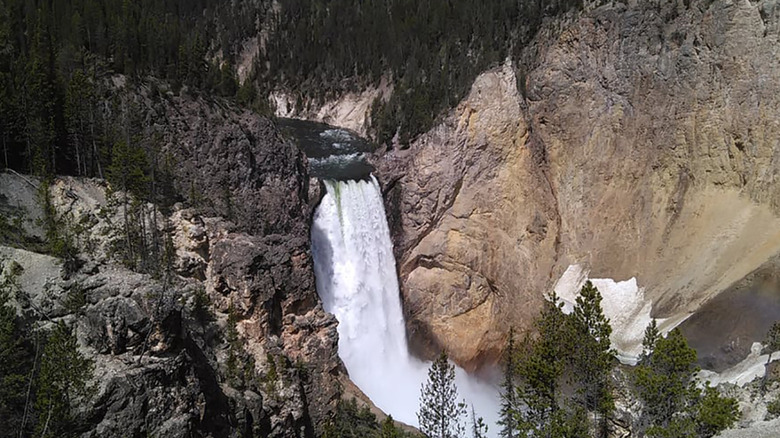 Robert C./Yelp
Yellowstone's biggest waterfall, the Lower Yellowstone Falls stands 308 feet tall and is probably the second-most-photographed spot in the park after Old Faithful. Many different trails throughout the surrounding canyon offer great vantage points of the falls, as does a one-way loop drive from which you can easily enjoy one of the most mesmerizing places on Earth.