Punta Cana's Nickelodeon Resort Will Have Kids Hungry For Krabby Patties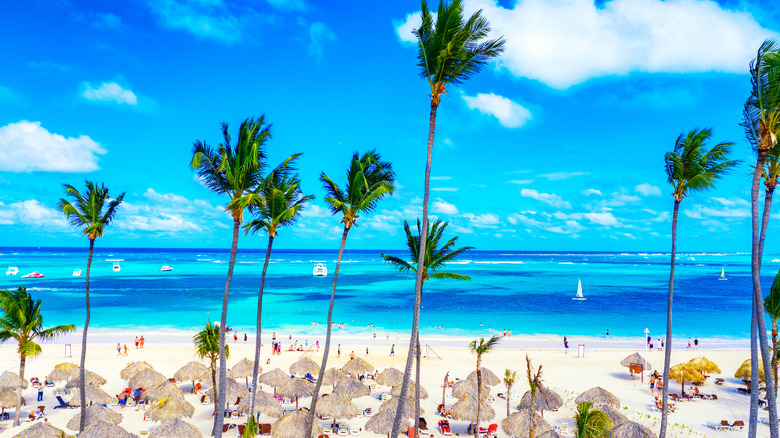 Nick N A/Shutterstock
Located on Dominican Republic's easternmost tip, Punta Cana is a resort destination known for its golden sands, towering coconut palms, and turquoise waters. The idyllic stretch of coastline also features plenty of all-inclusive resorts, boasting over 24,000 hotel rooms to accommodate the influx of annual paradise-seekers. In fact, Punta Cana welcomed over 3 million international vacationers in 2022, with most jet-setting from the U.S.
From romantic beachside hideaways to opulent five-star resorts, Punta Cana offers vacationers a range of excellent accommodation options. However, if you're looking for the unquestionably most pro-slime place to stay, then Nickelodeon Hotels & Resorts Punta Cana is by and far your best beachside bet. However, with luxurious, all-inclusive amenities and five-star accommodations, the hotel is bit more upscale than a pineapple under the sea.
Although the orange color scheme and family-focused activities are quintessential Nickelodeon, the hotel's elegance and world-class amenities can satisfy the most discerning guests. In other words, a week in Bikini Bottom doesn't necessarily mean you'll transform into a Squidward.
The resort is favorite hangout for Nickelodeon characters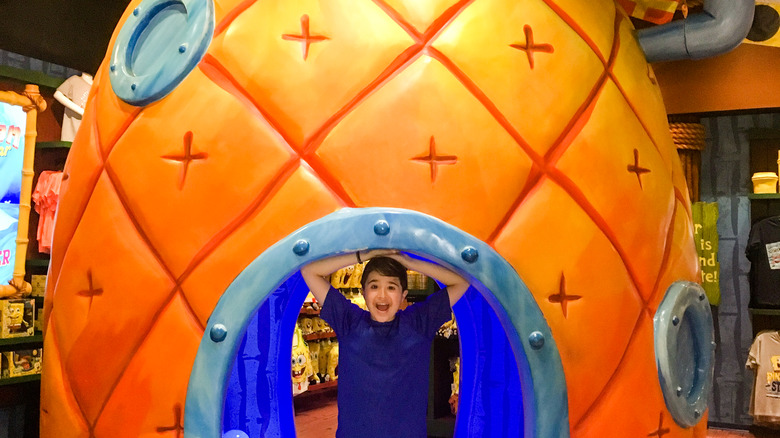 Shawn Goldberg/Shutterstock
Although the Nickelodeon Hotels & Resorts Punta Cana can definitely enhance your Dominican Republic beach vacation, your kids will still be traveling into the kid-centric world of Nickelodeon, with no shortage of Nick-themed experiences. The resort's family-fun centerpiece, Aqua Nick, is a splashy wonderland of waterslides, lazy rivers, splash pads, drench buckets, and more. You'll have access to Aqua Nick each day of your stay. And don't worry, the all-day waterpark also provides free group slimings, a memorable and gooey family-bonding experience.
After drying off or de-sliming, the family can visit Nickelodeon Place, where you'll meet SpongeBob SquarePants, Patrick Star, the Teenage Mutant Ninja Turtles, the Paw Patrol, Cosmo and Wanda, and other beloved Nickelodeon characters. Kids can also join SpongeBob, Patrick, and Dora at a Character Breakfast, a popular activity for younger guests. Kids can also walk the Orange Carpet with their favorite character, who may even call their hotel suite later just to say hello.
Adults can still enjoy all-inclusive luxury and relaxation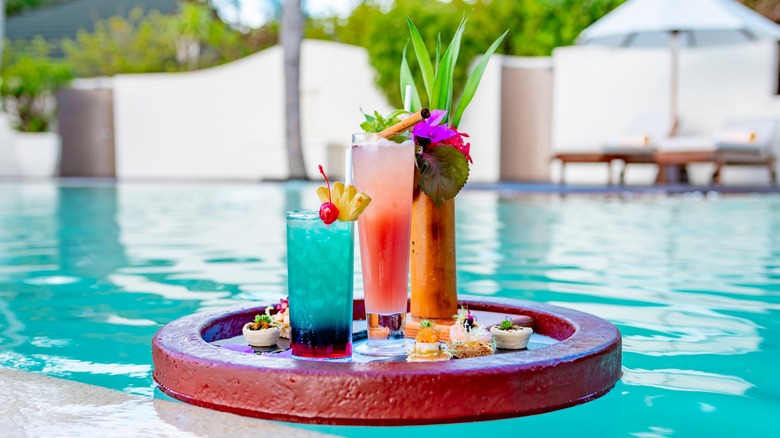 KlavdiyaV/Shutterstock
"The resort didn't feel overly geared to kids unless you went looking for it," writes Scott Mayerowitz, the executive editor of The Points Guy. "For a weeklong trip with my family, that was good for my sanity." In his review, Mayerowitz acknowledged the kid-centered aspects of the resort (it's Nickelodeon after all), but he didn't find the kitsch and playfulness too grating. Indeed, Nickelodeon Hotels & Resorts Punta Cana offers plenty of upscale amenities to satisfy the adults. 
While the resort features a kid-friendly waterpark, the hotel still boasts a less-splashy infinity pool, 14,000 square-foot spa, and modern accommodations with thoughtful appointments. Since the resort does offer childcare services, adults are also free to partake in vacation-worthy activities, such as yoga classes, scuba clinics, and cooking classes. Or, you could simply sunbathe worry-free by the crystal-clear Caribbean, knowing the kids are safely attending a supervised slime-making class. 
With the resort's all-inclusive package, you'll also enjoy unlimited fresh juices and vacation cocktails, which you can grab at the swim-up bar or while lounging in one of the hotel's inviting lounges. For dining, the resort features an expansive Gourmet Cuisine Village, home to numerous high-end restaurants. Or, you can grab a quick bite lounging poolside. With nine restaurants in total, the resort succeeds in appealing to both Krabby Patty cravings and more adult-friendly appetites.