The Best Airbnbs In Miami With A Pool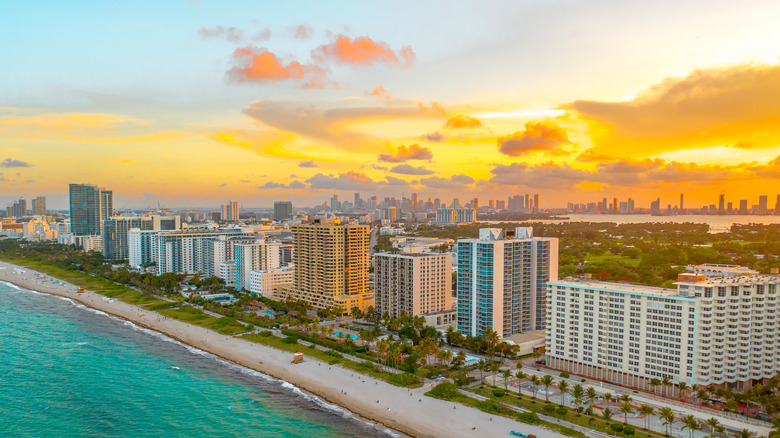 Visuals Fervor Llc/Getty Images
When it comes to choosing an Airbnb for a stay in a city like Miami, travelers have all kinds of wants, needs, and downright absolutes. Some will want to be close to the beach (which is an easy enough suggestion, as Miami lines more than 20 miles of the Atlantic coast), while others prefer to be centrally located right in the heart of the city's pulse. Still others need more space for young children, and groups of friends might prefer to go in on something luxurious and special to celebrate a wedding or major life event.
But if there's one thing that might unite travelers to Miami, it's wanting to find an Airbnb that has a pool. Luckily, that's not too hard to do, whether you are on a tight budget or you have plenty of extra cash to spend. There are Airbnbs in Miami with a pool that meet just about every group's need: party spots, upscale spots, towers that offer panoramic views of the city, and even accessible options for physically disabled travellers.
How we selected the Airbnbs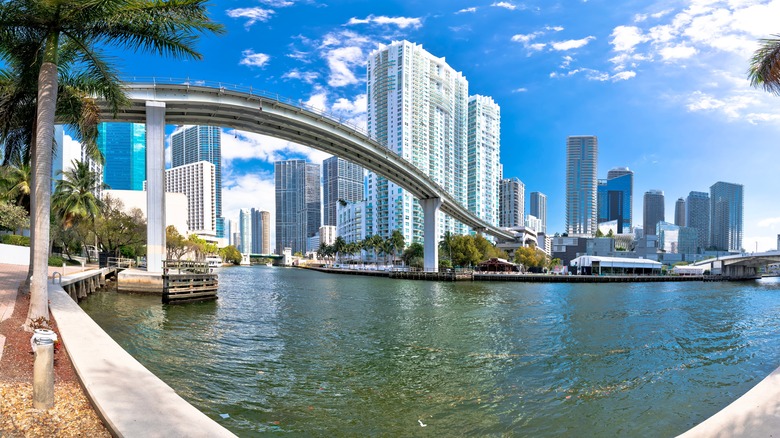 xbrchx/Shutterstock
Picking Airbnbs with pools in Miami wasn't a challenge: the city is gorgeous, and there are plenty of options to choose from. While selecting Airbnbs, we kept a few things in mind. For starters, we know that in a city like Miami, aesthetics are everything. As such, each home featured in this piece is absolutely beautiful, from the most luxurious penthouse with heated pools and saunas to the most budget-friendly (and gorgeous) room for rent.
We also wanted to consider the needs of the traveler themselves. Traveling with kids to a beach town is a different experience than traveling as an adult couple or traveling alone, and the Airbnbs in this list reflect that reality. There are plenty of options that come with all the beach gear you and your loved ones might need, like towels, umbrellas, and more. There are also Airbnbs that are perfect for adults who want to have a different experience.
The best poolside Airbnb in Miami
Each of these Airbnbs has a pool adjacent to the property, but there's one that really stands out as the best of the best for this list.  The Luxury Ocean View Airbnb is a one-bedroom, two-bathroom stay that can accommodate up to four guests with its king bed in the bedroom and queen bed in the common area. The building is spectacularly located smack dab between the Ritz-Carlon and Loews Hotels right on Miami Beach.  
What makes this Airbnb the best on the list is that it really incorporates it all: there's a family room and the entire design is kid-friendly, but the Airbnb itself doesn't scream "little kids!" which means solo adults and couples can enjoy the sleek, zen vibes as well. Relaxation is the ultimate goal, and the home has lightning-fast Wi-Fi and smart TVs for when you and yours need downtime, and the nearby beach offers guest access to private cabanas and chairs. 
On top of that, the pool is a showstopper and a huge part of the already fantastic appeal. The downside? This Airbnb is enormously popular and booked out several months in advance, meaning you'll have to plan ahead to snag it.
The best family-friendly Airbnb in Miami with a pool
When it comes to family-friendly Airbnb options, people tend to think of families with small children, but there are a lot of families who travel together, including groups of adults. Different families also have different needs, and luckily there are tons of Airbnbs in Miami that can accommodate families, no matter the age range.
As the Wandering Wheatleys have noted on their family travel site, South Beach is a great option for families. The area has its own Cuban-infused flavor, and there are plenty of restaurants and attractions for families to visit.
If you are traveling with a group of adults or family members and want to be close to the city, this South Beach apartment is ideal. The home can accommodate at least four, but you might be able to get creative with its two queen beds and the sofa bed in the living room. 
Or, another option that's still located in Miami proper is this three bedroom, two bathroom home that has its own private pool. It's about a 20-minute drive from South Beach, but the home is spacious and inviting for the family to come together after a day's worth of sightseeing. The yard is completely fenced in, which means the kids can run around and play while you relax with the adults in the pool or on the back patio.
The best beachfront Airbnb in Miami with a pool
A big part of the appeal of visiting Miami is to visit the beach, as many of us have visions of blue skies and aquamarine seas dancing in front of our eyes when we think about the city. And when the beaches take up a whopping 20 miles of the Atlantic coast, it's not hard to figure out why so many people visit Miami year after year (per Miami And Beaches). Naturally, snagging an Airbnb with amazing beachside access and a pool is at the top of many traveler's lists, especially in the hot summer months.
This one-bedroom, one-bathroom high rise offers breathtaking views from the condo's location on the building's 12th floor. The master bedroom has a king-size bed and a crib for those who might need it, and the living room has a double bed. This is a place where you can definitely travel solo, as part of a pair, or with a few friends or family members. The building is right on the beach, and you'll find everything you need for your stay with your rental: chairs, towels, an umbrella to keep out of the sun, and even beach toys. You'll also have access to the building's pool and tennis courts. And to make it even better, you can bring small pets up to 13 pounds, upon approval.
The best pet-friendly Airbnbs in Miami with a pool
A lot of us who have pets love to travel with our furry friends, so finding quality pet-friendly options on Airbnb is incredibly important. Dog owners, specifically, are often looking for beaches and parks where their traveling pooches can roam freely. Luckily, Miami has plenty of options to choose from. 
The Greater Miami Convention & Visitors Bureau has compiled a list of the city's best dog-friendly beaches and dog parks, where your beloved sidekick will be able to run freely and feel the salt spray on their fur. But first, you'll need to find the best pet-friendly Airbnb in Miami to stay in. 
A lot of pet owners can look no further than The Cypresses, a four-bedroom home in Miami that can accommodate up to 13 human guests. The listing indicates that pets are absolutely allowed and the home comes equipped with everything you might need for a day trip to the beach. While the home doesn't have its own pool (this might truly be the only thing it lacks), it does offer lake access.
For those want to have their cake and eat it too, the Miami Toro House has a pool and will let you bring your pets along for the ride. On top of that, the townhouse can host up to 9 guests, which also makes it an easier option for pet-loving families and groups of friends.
The best luxury Airbnb in Miami with a pool
If your goal is to make sure your Miami vacation is as lavish as possible, then this South Beach Suite found on Airbnb's Luxe site is the place for you. Comfort and luxury are truly the name of the game with this home, which offers four pools, beach club access, and is located right on the beach. The center of downtown Miami is only 8.5 miles away, making it an easy drive or Uber ride.
The home can host four guests, as the master bedroom has one king-size bed and the living room has a king-size fold-out couch. There are tons of add-ons that can make your trip even easier, including airport pick-up and drop-off, childcare, a private chef, activity planning, spa visits, and more. With a rooftop pool and seemingly endless views, there are few reasons not to spring for a luxury stay, provided you have the budget to cover it.
The best Airbnb with a pool for couples in Miami
Traveling with your partner is one of the most fulfilling activities a couple can do. Looking for Airbnbs in Miami that are specifically tailored to a couple is a fun adventure — there are a lot of options out there that look like gorgeous stays, including this Oceanfront studio apartment. Located on the 16th floor of a high rise, the home offers 180-degree views of Miami Beach, a king-size bed, free valet parking, and access to streaming services.
The home itself is stunning, and people who have stayed there only have good things to say. As one reviewer named Katie wrote in August 2022, "We loved this room so much, we plan on taking another vacation so we can go back. It is extremely convenient to have the pool and the bar and grill steps from the beach. Very, very cool it was pet friendly! Beautifully clean."
As Lonely Planet has noted, traveling together as a couple offers benefits that you might not get anywhere else. As the site explains, teamwork is a huge part of travel. Emma Sparks wrote, "Successful couples know how to problem solve and compromise, and there's no better place to hone those skills than on the road."
The best Airbnb with a pool for single people in Miami
Plenty of people get a lot of joy out of traveling around the world completely by themselves, and those travelers are often looking for Airbnbs that are comfortable for just one person. Of course, just because a home is designed for one person doesn't mean that it should be any less glamorous than larger homes. There are plenty of amazing Airbnbs in Miami that are perfect for the solo adventurer. 
This mid-century bungalow was rated as a top Airbnb in 2019, and it's easy to see why. The pet-friendly home offers a private backyard that is completely fenced, and most importantly, has a shared pool that offers plenty of opportunities for relaxing. On top of that, the home is close to the beach, meaning you can have the best of both worlds: a secluded stay by yourself, plus plenty of opportunities to explore the sandy shore nearby.
People who have stayed in the home absolutely love it. As one reviewer noted in August of 2021, the home is located 15 minutes from anywhere you want to go in Miami. They added, "Stay here if you have the chance! This house is beautiful. You have an amazing tropical backyard with a perfect pool!" As a solo traveler, what else could you ask for? 
The best Airbnb with a pool for bachelorette parties in Miami
Traveling with a group of friends can be an incredible experience, especially if it's in celebration of an upcoming life event, like a wedding. There are numerous Airbnbs in Miami that are ideal for bachelor and bachelorette parties. As Thrillist put it, "A bachelor or bachelorette party cannot go wrong if it contains the following ingredients: sunshine, beaches, amazing food, non-stop nightlife, and a great group of friends." The only thing that makes that better? A beautiful place to come home to every night.
Enter this three-bedroom Bachelorette Paradise apartment right on the beach. The home has three bedrooms, each of which has two beds — perfect for accommodating up to nine guests. The views are extraordinary and the complex offers two heated pools, two hot tubs, immediate access to the beach, a sauna and steam room, and a concierge service for all of your additional needs.
The best centrally-located Airbnb with a pool in Miami
Staying in the middle of everything is hugely appealing in a city like Miami, where there's something going on all the time. Staying in a central location can make a big difference in Miami. 
For one thing, Miami feels massive. Even though it's one of the smallest major cities in the United States, there's so much happening that it can feel impossible to see it all from one end of the city to another. Staying in the center of the city cuts back on the need to rent a vehicle during your stay, since many attractions and restaurants will be within walking distance or a short ride.  
This extremely stylish condo is in the middle of all the action. With one large bed, it's ideal for a single traveler or a couple. The home's host is LGBT friendly and the lobby is open 24/7, which means you can check in late as needed. The beach is literally across the street, and the building boasts its own rooftop pool that's available for guest use. It's worth noting that staying in the center of the city definitely means it gets a little loud (the building is close to bars and clubs), but that's part of the fun for those who are looking for exactly that kind of experience.
The best budget-friendly Airbnb in Miami with a pool
All travelers have some kind of budget in mind for their trip, and if your budget is a little more limited than others, that's totally okay. There's no reason why you can't land an incredible and relaxing place to stay in Miami on a budget. 
If you're open to renting a private room in a shared apartment or home, there are a lot of options out there that make staying in Miami on a budget a lot easier. For example, this home in Coconut Grove offers one bedroom with a private bathroom for less than $70 a night, depending on the season. People who have stayed there before are thrilled about the find. As one previous guest put it, "This Airbnb is a slice of heaven on earth. As other reviewers have noted, the grounds, including a 65-foot lap pool, rival the best in a luxury hotel." Staying in the spot is described as being similar to being in a hotel, which makes the idea of sharing a space with others a little less disconcerting — with your own room and bathroom, you're still left to your own devices.
But if having your own standalone space is really important, there are more options out there. There are numerous apartments and condos under $100 a night, and many also include pools right on the premises.
The best accessible Airbnb in Miami with a pool
As many people probably already know, it can be beyond tough to find Airbnbs that are accessible to everyone. One reason for this is that different disabilities require different accessibility points, and another is that a lot of homeowners simply haven't upgraded their homes to be accessible at all. 
Tita's vibrant, Miami Airbnb is described as an accessible home that is "handicap accessible" and centrally located to nearly everything you'd want to do in the heart of Miami. The home has a wheelchair ramp and the master bedroom doorway allows for a chair to easily move through. On top of that, the homeowners have assured Explore that the flooring is ADA compliant and the master shower is 33.5". The home has three bedrooms and two bathrooms and can comfortably sleep up to eight people. It also has its own private deck-side pool for personal enjoyment.