10 Reasons Why Panama Should Be Your Next Travel Destination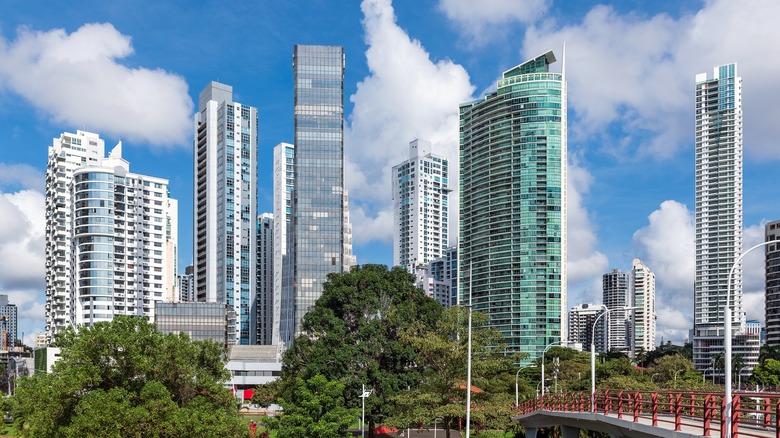 Marek Poplawski/Shutterstock
When it comes to international destinations that are incredible to visit, Panama might not be right at the top of everyone's list, but that's not because the country isn't worth it. Instead, Panama tends to fly under the radar as travelers often visit neighboring Costa Rica and Colombia instead. Far from being a replica of these two equally beautiful locales, Panama is an experience all of its own. It's worth visiting for at least a week or two, but visitor from the United States and Canada could stay longer if they like! These visitors can spend up to six months in the country at a time.
Panama has been described as the point where "the Northern and Southern worlds connect" (via Tourism Panama) and the statement couldn't be more true. Panama is nestled just above the equator, a dynamic that has nurtured a lush ecosystem and fostered a major capital city that is a world player. As Tourism Panama puts it, "Panama is not the destination, but the journey to discover more of what truly matters."
The international airport just finished major renovations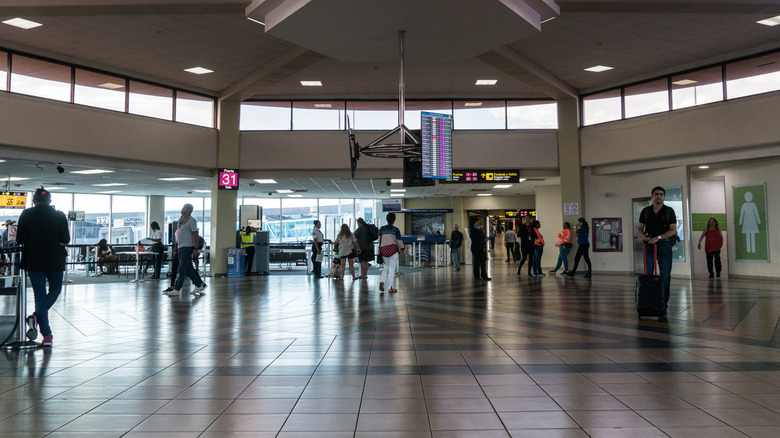 HenriqueWestin/Shutterstock
Panama has one international airport, Tocumen International Airport, which is located in Panama City. The airport has always been nice (and massive), but recently completed renovations have definitely improved the overall experience of flying in and out of the country. The expansion was a long time coming, as construction on the new section of the airport began all the way back in 2013. The goal of the expansion was two-fold: to contend with the rising influx of passengers transiting through the airport and to elevate Central America's overall development and tourism goals (via Arquitectura Viva).
The airport now has the ability to accommodate 15 million passengers a year (a massive boost over the previous 5.8 million) and to do so comfortably. The physical experience of being in the airport is calming and straight-forward, as nothing is ever too far away (be it your gate, a restroom, or somewhere to grab some food). The curved design is aesthetically pleasing, with ceiling-to-floor windows that provide an exciting first glimpse of the country or a bittersweet farewell moment (via Global Design News). 
The balboa is tied to the US dollar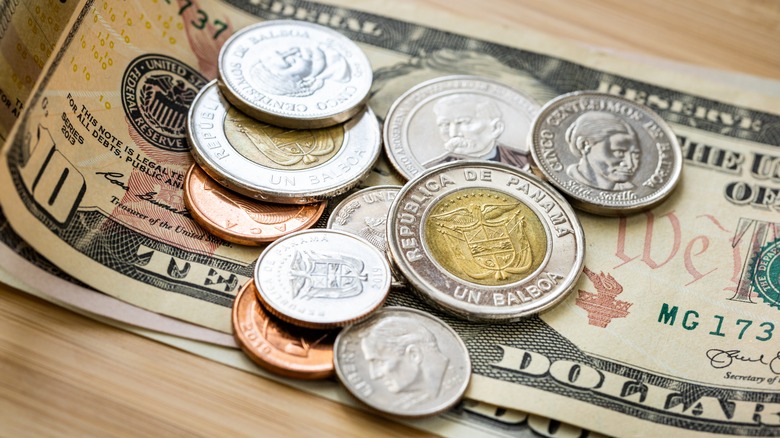 Andrzej Rostek/Shutterstock
Panama's official state currency is the balboa, but if you're visiting from the United States, you'll be in luck: paper money in Panama is exactly the same as it is in the United States. The value is the same (one dollar in the U.S. is the equivalent of one balboa in Panama) and you can use your paper U.S. dollars anywhere in the country. Panama does not print paper money, but it does have its own coin system that is still very similar to the one in the States.
For example, while coins in Panama look different than those in the United States in terms of decoration and design, they come in the same pieces (1 cent, 5 cents, 10 cents, 25 cents, and 50 cents). The coins are also the same size and shape as their American counterparts. And while a dollar and a balboa are worth the same amount, you might find that your money goes a little further in Panama than it does in the U.S., as most experiences and products are more affordable than they would be in America.
Your debit and credit cards will also work just about anywhere you go in the capital city, though it's always a good idea to have cash on hand for street vendors and small local restaurants. If you venture outside of Panama City, it's a good idea to bring cash, just in case (per Anywhere.com).
Summer in Panama is winter in the Northern Hemisphere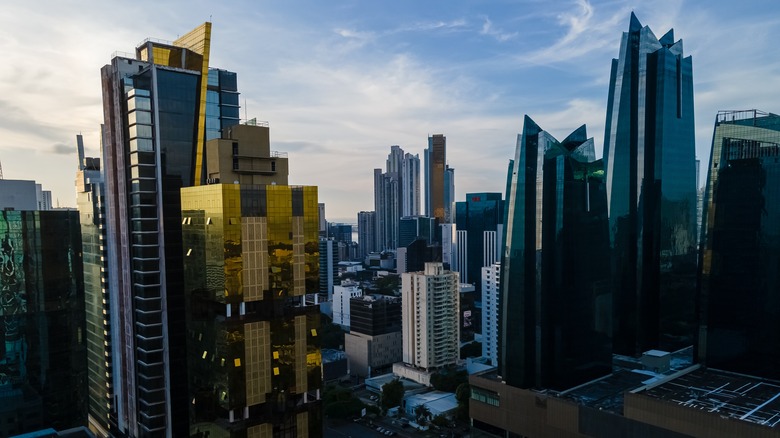 Gianfranco Vivi/Shutterstock
Panama lies 9 degrees north of the equator, which means that travelers coming from the Northern Hemisphere will experience a whole different set of seasons than the ones they are used to. For example, while December-February are typically dreary winter months for many people around the world, December kicks off the beginning of summer in Panama.
This makes visiting the country over the winter holidays or at the beginning of the calendar year a joy for anyone who is tired of wearing coats and shoveling snow. Summer in Panama means less rain and less humidity, though the temperatures will still be pretty hot. Because Panama essentially has two seasons (rainy and dry), there's a whole new world that you can experience by visiting from mid-December through April.
Of course, those two seasons don't mean that it's raining all time during Panama's rainy or winter season, it just means that it's much more likely to rain during that time. There are still plenty of days between May and December that are sunny and gorgeous, and most rainstorms don't last more than an hour or two (per Vacation to Panama).
Panama has a rich history and cultural experiences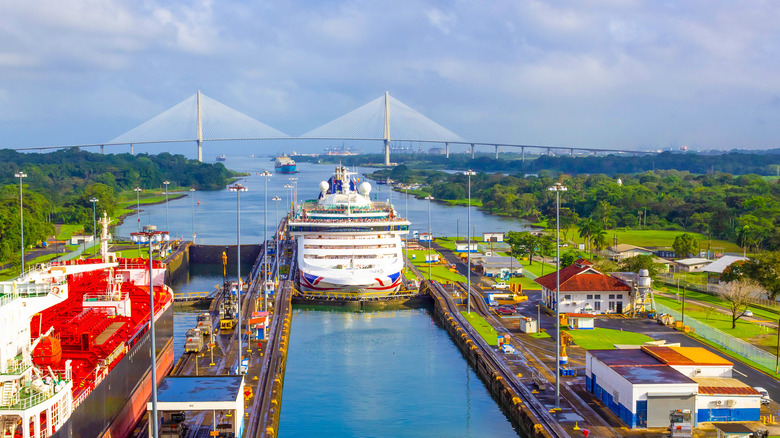 Solarisys/Shutterstock
If you're into history, Panama is the place to visit. As many might recall from a World History class, the building and maintaining of the Panama Canal is riveting and contains a multitude of stories that will fascinate just about anyone who wants to learn them.
Panama's history is one of colonization and liberation from multiple nations, including Spain and Colombia. The country won its independence from Spain on November 28, 1821, a day that is celebrated every year as a national holiday in honor of all the battles Panamanians have fought and won. Indigenous Panamanians hail from the Cocle and Cueva tribes, but the groups were beleaguered by illness and wars brought on by the Spanish (per Maps of the World). The country was part of the Spanish empire for 300 years before gaining independence.
After separating from Spain, Panama joined Gran Colombia (then made up of Colombia, Venezuela, and Ecuador). In 1903, Panama gained independence from Colombia by striking an unpopular deal with the United States that gave the country control of the Panama Canal in exchange for $10 million and an annual $250,000. All this and more can be learned about at the Panama History Museum in Casco Antiguo (via Recorriendo Panamá).
Panama has a diverse population of citizens and tourists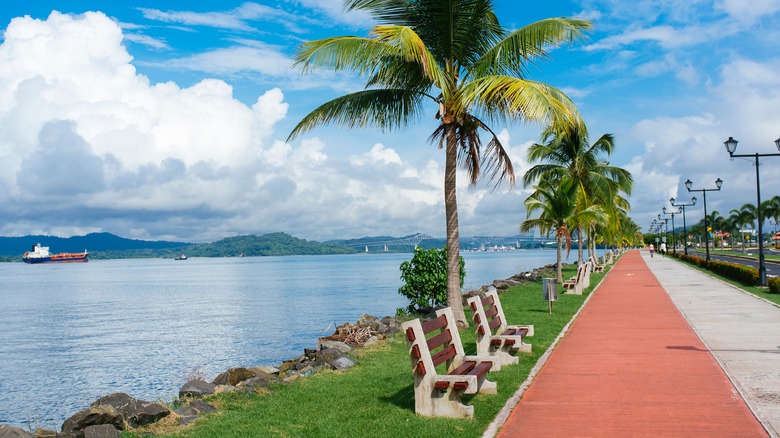 MARCELODLT/Shutterstock
As a nation, Panama is truly a melting pot of so many races, ethnicities, cultures, and influences. The country is filled with vibrant communities of people who have Spanish, Chinese, Afro-Caribbean, African, and American ancestry, and most of the population has mixed-race ancestry. Spanish is the national language but a lot of the population speaks English, which usually makes it easier for visitors from other countries (per International Relocation Firm).
This diversity makes Panama a place where people from all over the world can feel safe and comfortable visiting. There is a strong police presence in the country that is reassuring but not aggressive; the police are regularly seen comfortably chatting with visitors and locals. Panama is one of the safest countries in the region and there are plenty of signals that indicate that, while there are clear differences in quality of life experiences in the country, there is a lot of economic prosperity in the country (via International Living).
Panama is very family-friendly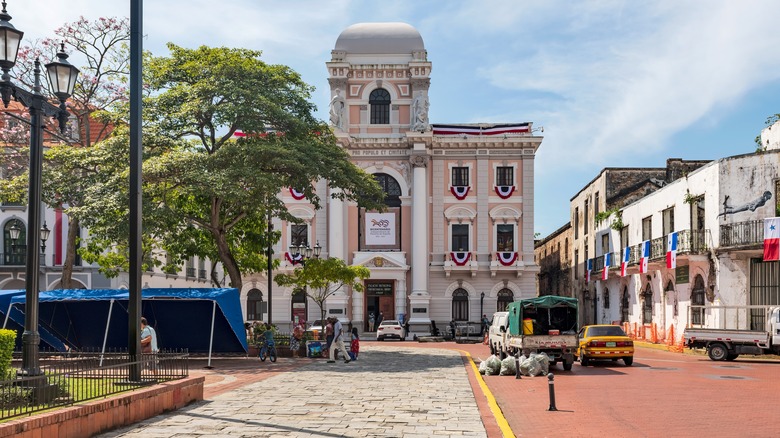 Marek Poplawski/Shutterstock
Panama is known as a family-friendly vacation spot, especially in its capital city. Panama City has a number of museums and centers that engage young minds, such as the city's natural history museum, Biomuseo, and a sloth sanctuary that is surrounded by acres of jungle, which is also surrounded by plenty of areas to safely hike.
There are also plenty of natural wildlife tours families can take together, including a Monkey Island boat trip. The island is exactly what it sounds like, and curious monkeys will even board your boat seeking bananas (or phones, so be careful). If your family is active and athletic, a number of companies (such as Burke's Bikes) offer bike and scooter rentals that you can take up and down the city's Cinta Costera or the Amador Causeway, which are two waterfront paths that are adjacent to restaurants, shops, and the city's vibrant day and night life.
If your family enjoys sports, Panama has national baseball, soccer, and basketball teams that play throughout the year. Game tickets are typically reasonably priced, though often have to be purchased at the game venue. Baseball games are often played at the Estadio Nacional de Panama (also known as the Rod Carew National Stadium), soccer at Estadio Rommel Fernández Gutiérrez, and basketball at Roberto Durán Arena.
Beautiful beaches are only 2 hours from Panama City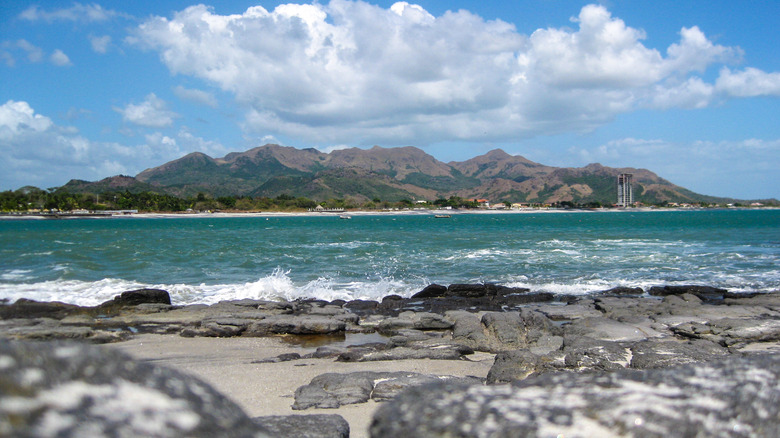 Ekaterina McClaud/Shutterstock
Panama City isn't the only appeal of Panama the country — in plenty of ways, visiting only the capital city is just scratching the surface. If you are hoping to have a beach vacation while in the country, there are plenty of options that are more or less two hours from the city itself.
Many travelers enjoy visiting Caribbean beaches that are close to the province of Colón, including Playa Blanca, Playa La Angosta, and Playa Lopes Mendez. If you are up for a slightly more adventurous beach trip, you can catch a fisherman's boat to Isla Grande, a small island that boasts plenty of hotel and Airbnb options (and one general store that only takes cash, so be prepared). While visiting the province you can head toward the Zona Libre de Colón, a veritable multiplex of outlets that includes both major brands and brands you've never heard of before.
The other coast of Panama is also beautiful, and cities such as Nueva Gorgona and Coronado offer a beach vacation unlike any other. The towns are inhabited by locals and expats alike, creating an environment that is both inherently Panamanian and also convenient for the outsider, as there are plenty of grocery stores and food delivery options, and debit and credit cards ca be used instead of cash (via International Living). Wanting to stay closer to the city? Take a 30-minute ferry to Taboga Island from the Amador Causeway.
Panama offers plenty of hiking expeditions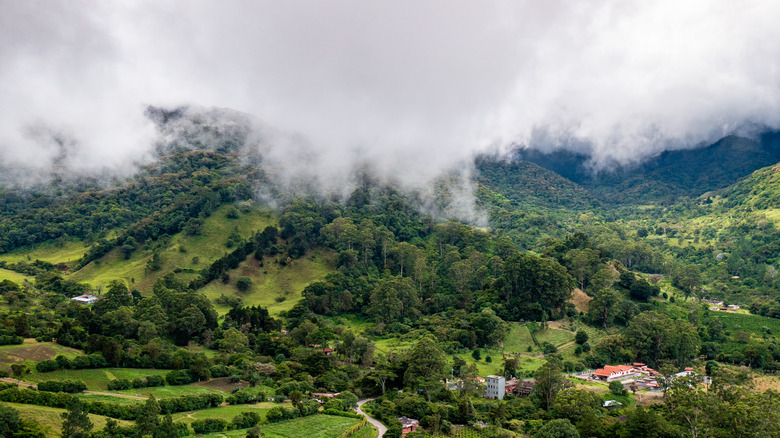 Curioso.Photography/Shutterstock
Panama is an amazing destination for backpackers and hikers who really want to enjoy nature and see everything the country has to offer. From easy trails near the city to lush hikes through waterfalls in Boquete to climbing the country's active volcano Baru, there's a lot out there for nearly everyone who wants to enjoy the country by foot.
As shared by the adventurers at Journey Era, the Lost Waterfalls Trail in Boquete, Panama, is one of the most beautiful jungle hikes you can embark on. As the site has noted, this is usually the first hike that travelers take once they make it to Boquete. The $7 entrance fee allows access to three stunning waterfalls and the entire hike is typically completed in half a day, which also makes it fairly family-friendly.
Quite a few tour companies offer hikes that depart the capital city and have the potential to take you throughout Panama, such as Aventuras Panama and Turismo en Panama, both of whom can be contacted via Instagram or WhatsApp. If you are hoping to stay closer to the city, Metropolitan Natural Park offers plenty of natural area to roam around and is right in the middle of things. There's also a lot of wildlife to spot, including lizards and sloths.
Public transit in Panama is getting better every day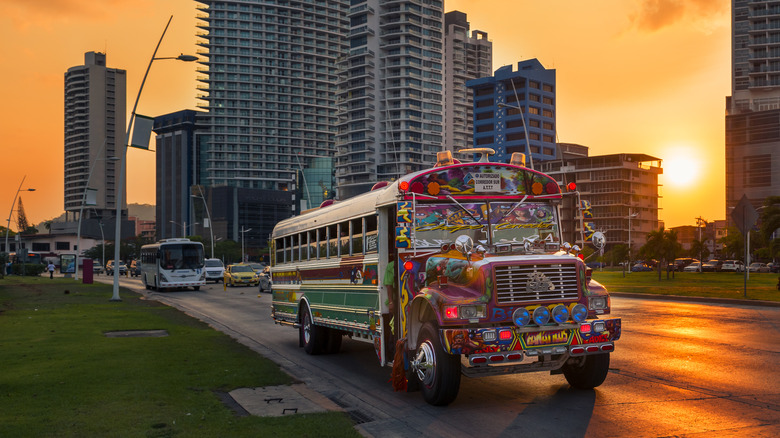 TLF Images/Shutterstock
If you are planning to leave Panama City during your trip, it's a good idea to rent car as that will be the easiest way to get around. However, it's not impossible to use the country's bus system to go from one end of the nation to the other. Visitors who plan to stay in the capital city will have an easy time getting around with the local cash-based taxi system or Uber.
Those who want to take the bus to other cities in the country will have an advantage if they speak Spanish, but it's not too difficult to understand the system if you don't. Per Travel Eater, first and foremost, you will need to purchase a Metro Card for $2, which may be available at some grocery stores. You'll have the most luck snagging a Metro Card at the Albrook bus terminal in the city (you can Uber or take a cab there). 
The next step will require patience and politeness on your part, especially if you don't speak Spanish. At the counter, explain where you are trying to go and, most likely, the person there will tell you when the bus departs and from where. Once on the road, have a translation app handy so you know when and where to exit the bus to make sure you arrive at your destination. 
Panamanians are welcoming to everyone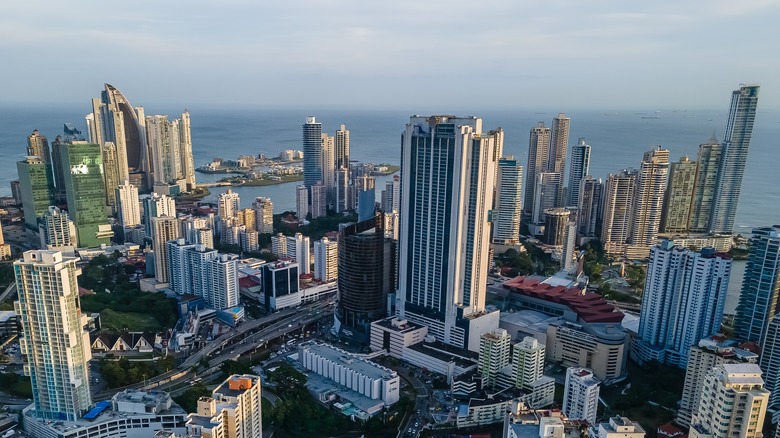 Gianfranco Vivi/Shutterstock
One of the reasons to visit Panama is the people of Panama! The people of Panama love where they are from and are often happy to share the country with visitors who are polite and respectful and wanting to embrace the country for what it is. Those who are coming from other countries, especially the United States and Europe, will typically be met with an outpouring of positive energy and curiosity. It'll be different than what you might be used to, but that's half of the fun! Visiting Panama and expecting it to be just like the United States or Europe is a recipe for disaster. 
As noted by the team at International Living, many Panamanians speak English and are also happy to engage in conversation in both English and Spanish for those who want to try out their language skills. As is true when visiting many parts of the world, a little goodwill and the willingness to engage with the country will go a long way in Panama.