51 Roadside Attractions You Need To See To Believe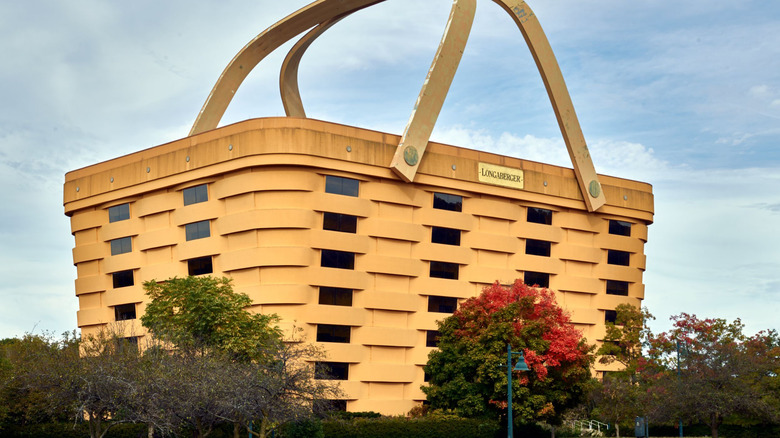 Carol M. Highsmith/Library of Congress
Road-tripping across America is a feat every traveler should try. Whether you're traveling with kids or on your own, going with a group of good friends or traveling with a significant other, there are roadside attractions you'd enjoy. Many of these bizarre statues and strange museums are hidden inside the highway routes of landlocked states and underrated small towns. But others are hidden in plain sight in big cities, large icons that only the locals really know about. Rest stops don't have to be boring. Before you travel to a new city or try your luck at traversing distant highways, get acquainted with some of the nation's greatest roadside attractions you'll need to see to believe.
Apple Valley Hillbilly Garden and Toyland (Calvert City, Kentucky)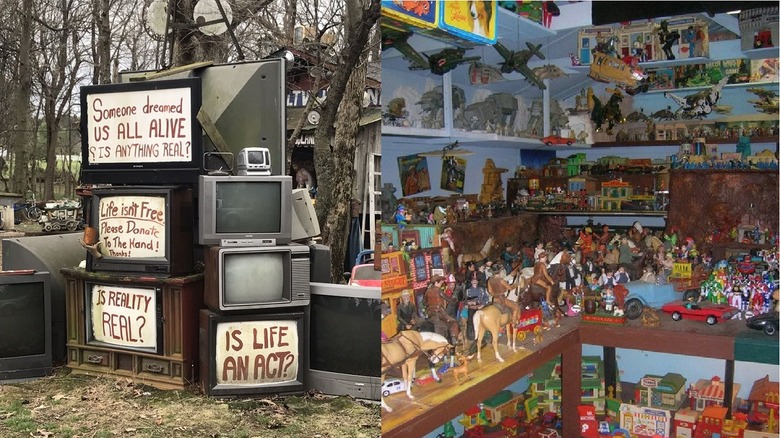 Yelp / Brandy K. | Yelp / Keith H.
When you were in school, you may have made a diorama or two for a class project. But you've never seen anything like this one. Apple Valley Hillbilly Garden and Toyland's main attraction is a diorama of over 4,000 toys guaranteed to bring on some serious nostalgia. The toys inside include pop culture favorites like Star Wars battlefields and "Gunsmoke"-themed Western displays. The oldest toys are from the 19th century and the newest from the modern day. The owner, Keith, will probably be present when you arrive, and his passion for his trade is clear to all who stop by. Outside the museum, the surrounding area is scattered with quirky sculptures and wacky keepsakes that have been transformed into folk art. If you're road-tripping down U.S. 24, be sure to pop in — but bring bug spray. Visitors warn that the mosquitos in the area do not mess around, and those bugs are more dangerous than you think.
Art Cartopia Museum (Trinidad, Colorado)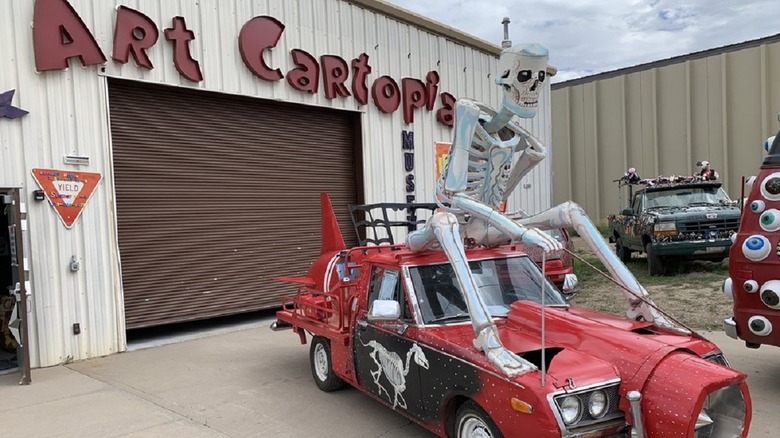 Yelp / J M.
Self-described as "the greatest art car museum on earth," the Art Cartopia Museum is well worth a pit stop. Off the side of I-25, you can catch a glimpse of a skeleton riding a jet plane, a Volkswagen covered in googly eyes and a school bus decked out to look like a dragon. These cars, and many more, have been transformed by "cartists" into individual works of art and are on display year-round. On not-windy days, a gigantic inflatable King Kong holds a car over his head and greets oncoming traffic. Admission is free to see the huge showroom of wacky vehicles, so why not take a gander on a break from a long drive?
Beer Can House (Houston, Texas)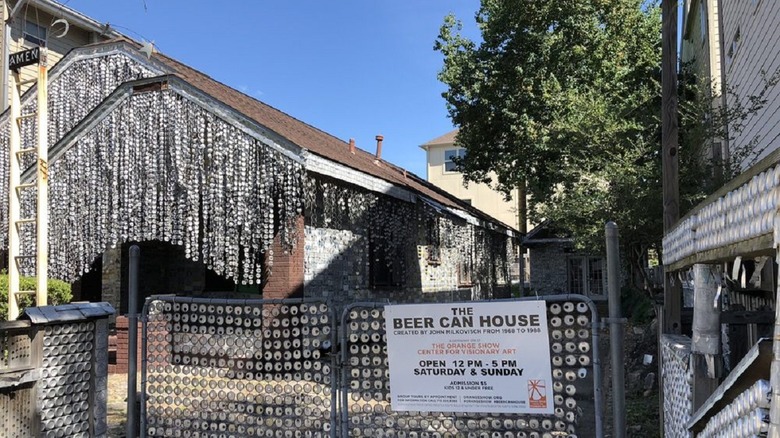 Yelp / Leila R.
John Milkovisch created the Beer Can House over a span of 20 years using over 50,000 cans of beer. Bored after retirement and "sick of mowing the grass," Milkovisch could have traveled to a relaxing post-retirement destination, but instead began laying thousands of marbles, rocks and pieces of metal into the concrete and redwood around his house in 1968. He had soon covered his entire front and backyard and began working on coating the actual structure of his house with recyclables. Specifically, Milkovisch coated his walls with aluminum beer cans. The house is now considered a folk art icon and is complete with hanging garlands of cans Milkovisch crushed — in more ways than one. The house is mostly made from beers he consumed himself, though his wife and friends did occasionally help out. The cans were hardly from the best-tasting beers in the country. Milkovisch's favorite beer was always "whatever's on special."
The Blue Whale (Catoosa, Oklahoma)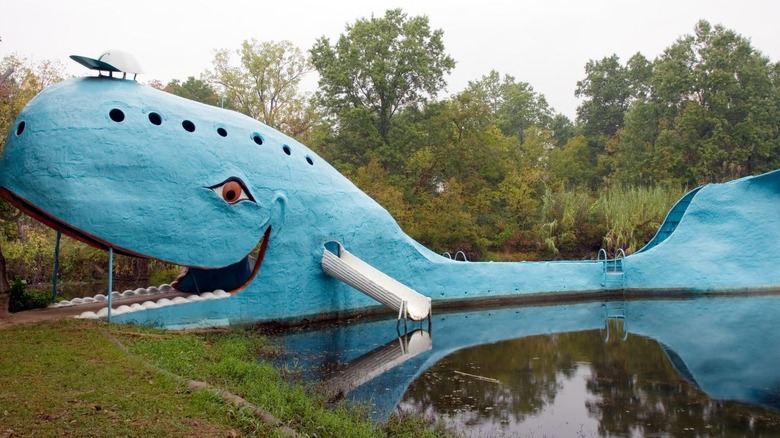 Carol M. Highsmith/Library of Congress
Zoo worker Hugh Davis built the Blue Whale as an anniversary gift for his wife in 1972. He envisioned the friendly-looking whale as a place where children could swim and play by the lake. In addition to running two petting zoos (both of which he also built), Davis maintained the huge structure and kept a concession stand nearby until he passed away in 1980. Blue suffered wear and tear from neglect and weather until 1988 when Davis's son took to repairing the friendly sea creature. Blue has sat smiling by the water in mint condition ever since. Add this to your list of must-stop attractions along Route 66.
Brooks Old Original Catsup bottle (Collinsville, Illinois)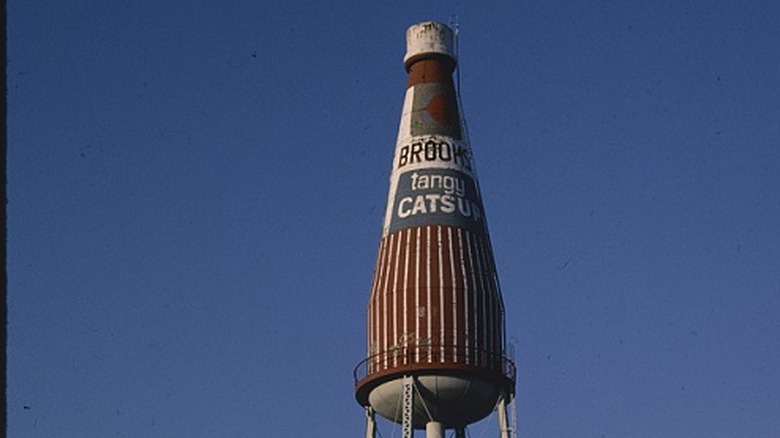 John Margolies/Library of Congress
The largest ketchup bottle in the world isn't filled with ketchup — it's filled with water, and it holds the water reserve for the city of Collinsville, Illinois. It was originally built beside Route 159 to supply water to a Brooks Foods ketchup plant nearby, hence the Brooks Old Original Catsup bottle shape. Brooks Foods has since shut down, and the plant is no longer functional. But the 170-foot-tall water tower still pays homage to the condiment company and was restored by local preservation efforts long after the company closed. If it were actually filled with ketchup, it would contain the equivalent of 640,000 bottles of Brooks Old Original Catsup. And this town does love its ketchup — every year they celebrate the Catsup Bottle Festival. There are motor races, vendors and a children's pageant to crown each year's Little Princess Tomato and Sir Catsup. Sounds like one of the best food festivals in America to us!
Cabazon Dinosaurs (Cabazon, California)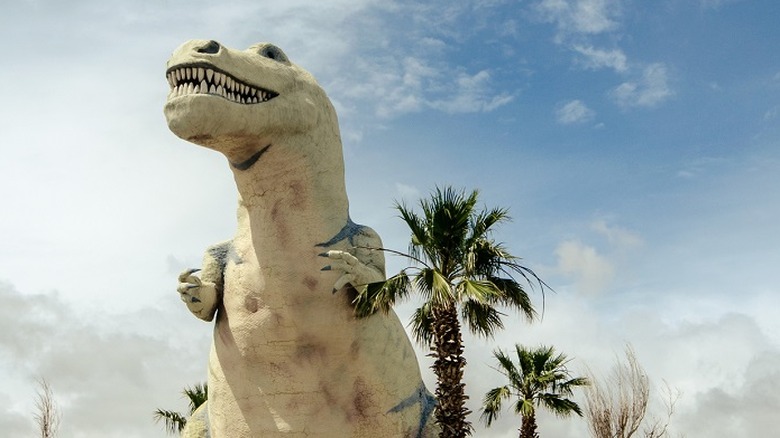 Dreamstime
The Cabazon Dinosaurs have long been one of the strangest tourist attractions in the U.S.. These two huge statues of dinosaurs (named Dinny and Mr. Rex) are tall enough to be visible from Interstate 10. Dinny and Mr. Rex have been standing since 1975 and 1986, respectively, and have been bringing joy to passersby ever since. Claude Bell, a local sculptor, created the dinosaurs as a way to attract people driving by on the highway to his restaurant. Bell's family later sold the property (dinosaurs included). Dinny has a gift shop and museum at his base that's used to promote the creationist theory that dinosaurs walked the Earth at the same time as Adam and Eve 6,000 years ago. But the attraction has nonreligious fun for visitors to enjoy. There's ice cream available at the Wafflesaurus Rex Ice Cream Truck, and anyone can climb up through Mr. Rex and sit inside his humongous mouth.
Cadillac Ranch (Amarillo, Texas)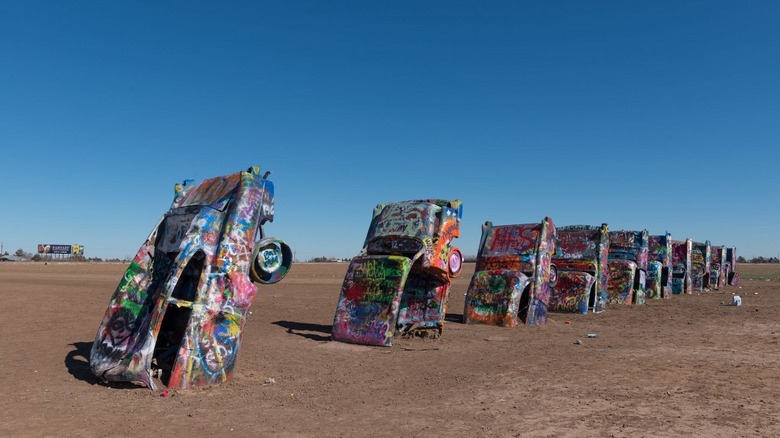 Carol M. Highsmith/Library of Congress
In the middle of the desert near Amarillo, Texas, 10 Cadillacs are nose-down in the sand, half-buried, lined up single-file and covered in graffiti. This art installation is from the minds of Chip Lord, Hudson Marquez and Doug Michels, all of whom were members of the experimental art group Ant Farm. The trio chose to pitch their idea to eccentric millionaire Stanley Marsh 3 (who opted against using the Roman numeral III in his name to avoid looking pretentious) for funding, and he complied. In 1997, the installation was built. Since then, the cars have been repainted a number of times for various reasons, but were re-graffitied to their original colors in 2012. You can drive by and stop for a photo off the south side of Interstate 40, around 10 miles southwest of Amarillo.
Cano's Castle (Antonito, Colorado)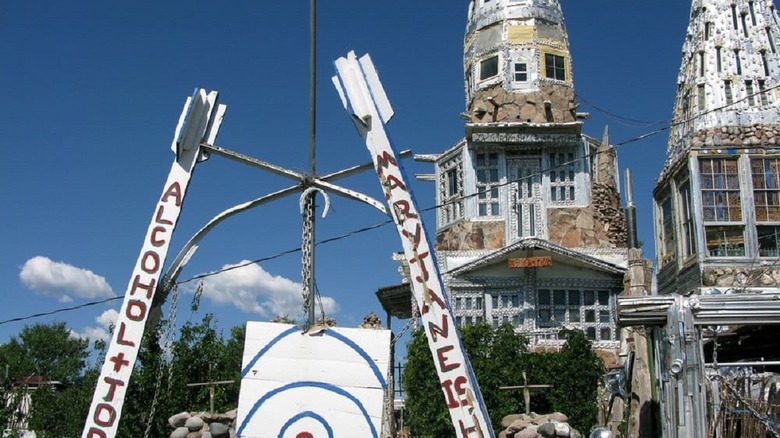 Yelp / Trent R.
Companies have tried to reduce metal waste by making their beer cans recyclable, but one man had another idea. In the middle of an otherwise average Colorado neighborhood lies a silver tower made from scrap aluminum and other trash. Donald Espinoza (who now only goes by "Cano") created the folk art installation using primarily beer cans, but also included other objects made with reflective metal: hub caps, bicycle reflectors, grills, window casements and more. The bright sun makes his castle blinding to look at when the skies are clear, and the structure towers above the other houses nearby. Though his house is flashy, Cano is something of a loner. He prides himself on living off the grid and avoids talking to strangers. When asked about his castle, Cano tells people that "God built it" and that his inspirations for its construction were "Vitamin Mary Jane" and Jesus. He doesn't mind spectators viewing his castle for free, though he has been known to request a donation from those who want to speak with him.
Carhenge (Alliance, Nebraska)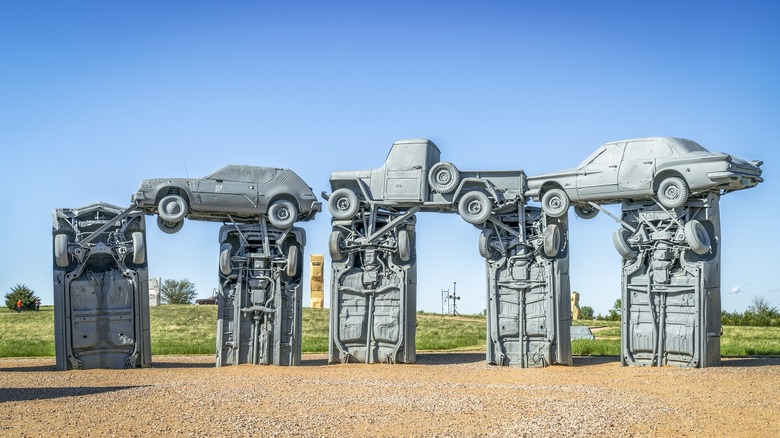 Shutterstock
The unique art installation of Carhenge in Alliance, Nebraska, is a life-size replica of Stonehenge — only instead of ancient stones, it's made from modern cars. Carhenge was built by artist Jim Reinders and a group of friends and family in the 1980s. Reinders reportedly said that the structure, which consists of 38 cars and is 96 feet in diameter, "took a lot of blood, sweat, and beers" to build. It has since been joined by other car-themed sculptures and has won a couple of awards. Admission to Carhenge is free, and the site attracts over 60,000 visitors each year.
Coffee Pot Water Tower (Stanton, Iowa)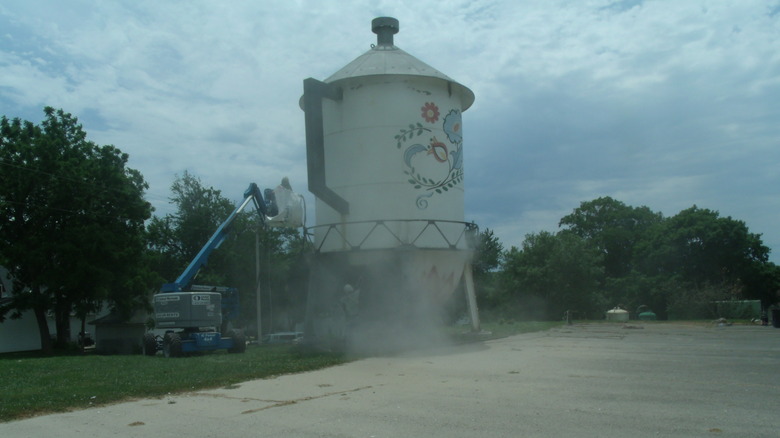 Stanton Historical Society
Water towers are often deemed landmarks of small, rural towns, but in Stanton, Iowa, one water tower is especially beloved. Painted with a traditional Swedish design, the coffee pot-shaped water tower is the largest Swedish coffee pot in the world and a local symbol of good hospitality. Though the water tower did provide water to the town when it was built in 1914, the tower is no longer functional. It was dismantled and brought down from its tall post in 2015, and now sits reassembled and preserved on the grounds of the town's Swedish Heritage and Cultural Center. The coffee pot held 40,000 gallons of water at a time — the equivalent of 640,000 cups of coffee. You'd have to drink more than 17 cups of coffee every single day for 100 years to come close to emptying the volume of that tank.
Corn Palace (Mitchell, South Dakota)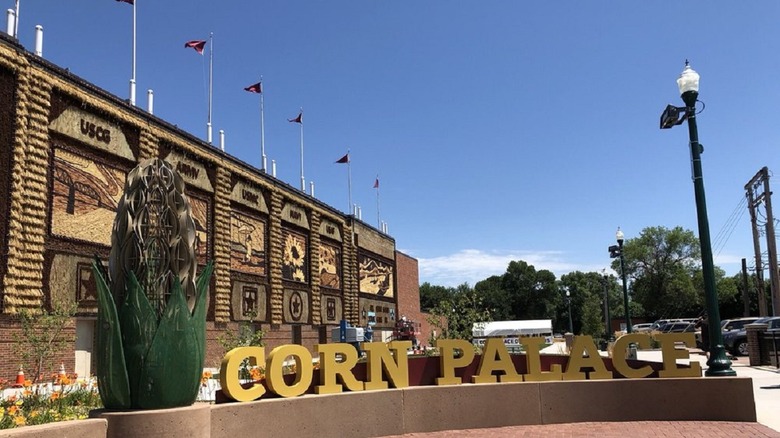 Yelp / Bethany E.
Of all the castles you can find in the United States, this is the most a-maize-ing. The Corn Palace, also advertised as The World's Only Corn Palace and the Mitchell Corn Palace, is a multi-purpose venue meant to celebrate corn built by a town that's crazy about the crop. In Mitchell, South Dakota, the high school mascot is the Kernels and their local radio station is KORN. The Corn Palace hosts an annual Corn Palace Festival. But if you're wondering what's popping at the Corn Palace at any other time of year, rest assured that if you love corn, there's no wrong season to visit. The castle is always bustling with activities including concerts, banquets, Food Truck Fridays (which has some of the best food trucks in America) and corn-themed concessions. It's made of concrete — not corn — but every year, the building's exterior is covered with thousands of bushels of South Dakota corn, grain and grasses. The greenery is arranged into one-of-a-kind murals that last till fall. They also frequently serve as a venue for local events such as graduation, sporting events and prom. Before you go, stop by the gift shop to grab yourself a corny souvenir.
Coyote's Flying Saucer Retrieval and Repair Service (Ocotillo, California)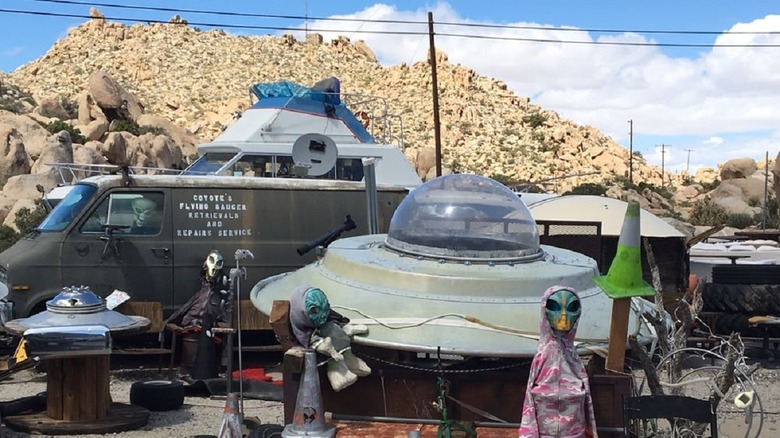 Yelp / Ed G.
A trip through Ocotillo, California, might be your only real chance to set your sights on a real-life UFO. Coyote's Flying Saucer Retrieval and Repair Service is an outdoor junkyard space filled with UFOs in various states of "repair." These flying saucers don't actually fly, and they certainly have never been to space. But that's not what the venue's owner, Coyote, will tell you. He's collected the metal structures and decorated them with lights, filled them with alien dummies and hitched them on the backs of other vehicles. Coyote spends his days showcasing his collection on site and at nearby festivals and events. He's decked out his space with a sign reading "Landing Zone" and hosts drive-in-style movie nights by projecting films onto an "asteroid" he claims was delivered to him by aliens. If you do drop by, don't hesitate to talk to Coyote and say hello. He's become something of a local legend and will be more than happy to share his various conspiracy theories and experiences with you.
Cushing Brain Collection (New Haven, Connecticut)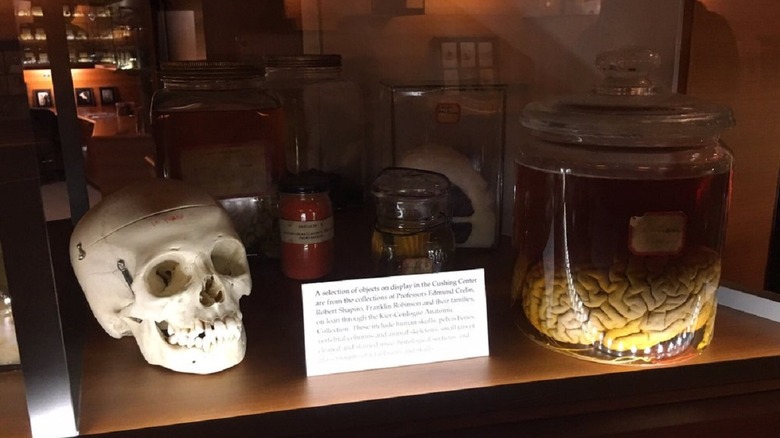 Yelp / Andrea Q.
In the sub-basement of a medical library at Yale University, there's a dimly lit, cavernous room filled with jars of preserved brains. Healthy brains, brains with tumors, torn-apart brains... Squishy organs of all shapes and sizes are on display at the Cushing Brain Collection for visitors to see. There's no mad scientist roving these halls — admission is open to the public and encouraged for curious minds. The collection of over 400 jarred organs was originally assembled by the pioneering neurosurgeon Harvey Cushing in the early 1900s and is still being added to today. Cushing's main topic of study was brain tumor treatment, though he was also a talented artist and surgeon. His collection was donated years after Cushing's death and has been on display ever since at one of the strangest museums in America.
Dog Bark Park Inn (Cottonwood, Idaho)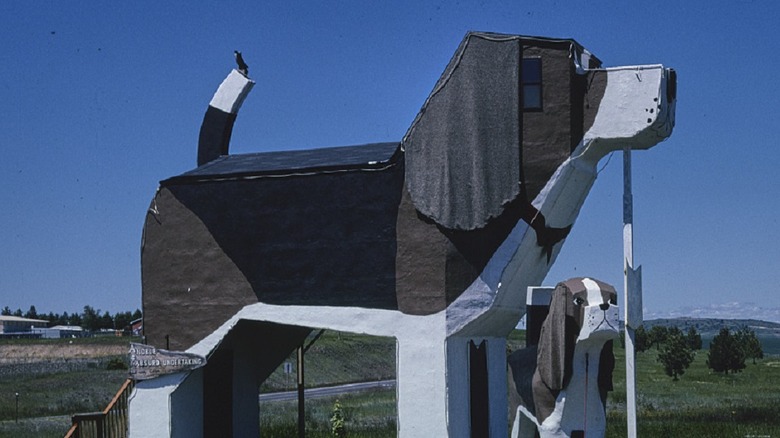 John Margolies/Library of Congress
The Dog Bark Park Inn might be one of the coolest places in America to stay the night. Created by self-taught chainsaw artist Frances Conklin and her husband Dennis J. Sullivan, the Dog Bark Park Inn is shaped like a giant beagle named Sweet Willy. Sweet Willy is 30 feet tall, has a much smaller friend and fellow dog carving named Toby, and is a fully functioning bed and breakfast. Inside Willy's belly, there's a single room with a bathroom and a loft. Conklin and Sullivan specialize in folk art wooden carvings of canines, but Sweet Willy is their pride and joy. They've decked him out with free Wi-Fi, a clock radio, a mini-fridge, hair dryer, books, games and puzzles. Guests are also welcome to stay for breakfast and (of course) pets are welcome!
Dole Plantation's Giant Pineapple Garden Maze (Wahiawa, Hawaii)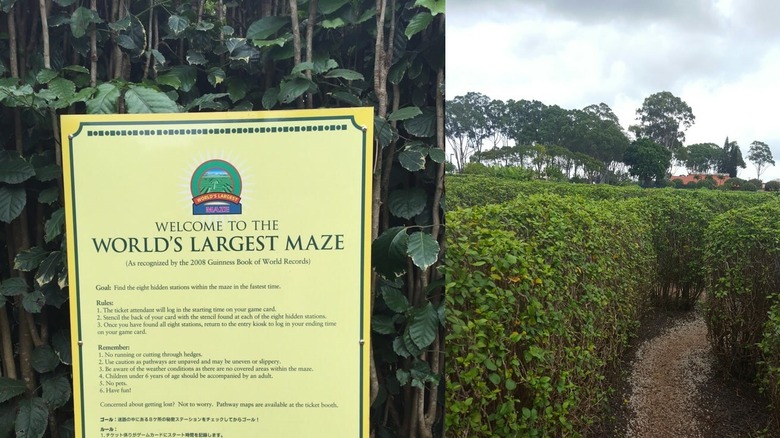 Yelp / Alex S. | Yelp / Erik P.
This is a secret gem of Hawaii that only the locals know. At Dole Plantation, visitors can find and walk through the world's largest maze. It was officially awarded the title in 2008 and has held it ever since. The Giant Pineapple Garden Maze encompasses over 3 acres of land and has nearly two and a half miles of paths. The paths are made up of approximately 14,000 native Hawaiian plants. Visitors can pay $8 for admission to the maze and treat themselves to a refreshing cup of Dole Whip afterwards. At the center of the labyrinth, there's a mystery — but you have to find all eight stations within the maze before you can find out what it is.
Enchanted Highway (Regent, North Dakota)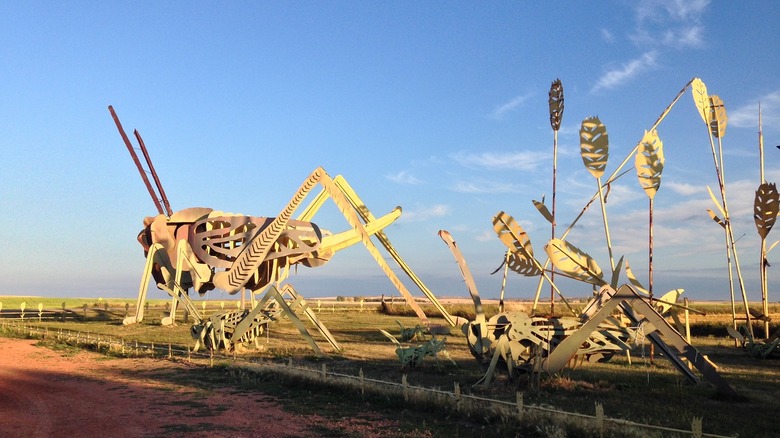 Shutterstock
The Enchanted Highway is a collection of the largest scrap metal sculptures in the world dispersed over 32 miles of a two-lane highway in North Dakota. The sculptures, created and maintained by Gary Greff, are intended to increase traffic in the area and fight the growing disinterest in small-town America. Greff had zero artistic experience prior to creating the sculptures. But the hidden gems have succeeded in saving the town of Regent from extinction, and Greff plans to continue building more along the same road. Every statue has a meaning related to North Dakota's history. Teddy Roosevelt stars in one statue, for example, while others feature local wildlife such as grasshoppers and deer. Greff later opened a motel called the Enchanted Castle for visiting guests to stay, and has plans in the works to open a top RV resort, drive-in theater and quaint cafe.
Field of Corn (Dublin, Ohio)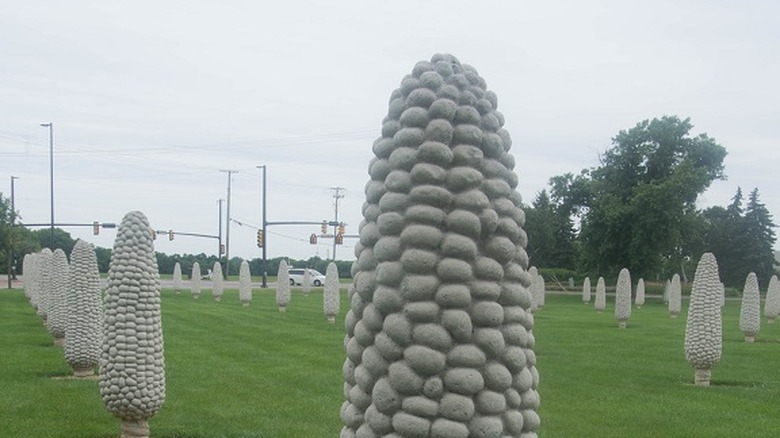 Dreamstime
Ohio has plenty of corn, but this is no ordinary cornfield. The Field of Corn in Dublin, Ohio, is one of the oddest, most famous attractions in the Midwest. The artistic installation features 109 person-sized sculptures of gray ears of corn. Each one is 6 feet 3 inches tall, and all are set in orderly rows across the large field. The piece is meant to symbolize the community's longstanding legacy of farming and to celebrate the culture of the town — but the sentiment may have been a tad too corny, because it became more of a joke to residents than a serious homage to agriculture. Tax dollars were being spent on inedible giant food, rather than actual food grown in the ground. The field was once used to farm actual corn by Sam Frantz, who helped to pioneer the use of hybridized corn. No matter the controversy, visitors still come from all over to visit the installation and learn kernels of the town's history.
Food Gatherers' Giant Carrots (Ann Arbor, Michigan)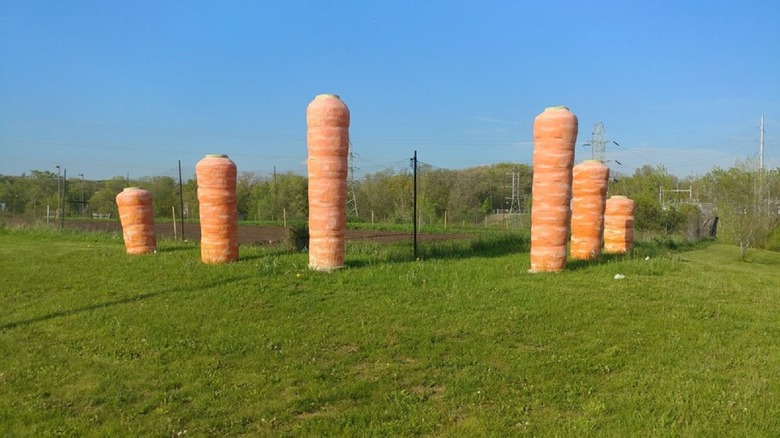 Yelp / Bruce K.
If Stonehenge were made of carrots, it would look like these roadside statues. Outside of local Ann Arbor, Michigan, food rescue program Food Gatherers, 10-foot-tall carrots are poking out of the ground. Meant to symbolize deep roots in the community, carrots are Food Gatherers' logo and chosen symbol. The giant homage to the organization's important work is both a fitting symbol for the approximately 5.2 million meals Food Gatherers has delivered to those in need and a quirky sight to see while passing through the town.
Fouke Monster Mart (Fouke, Arkansas)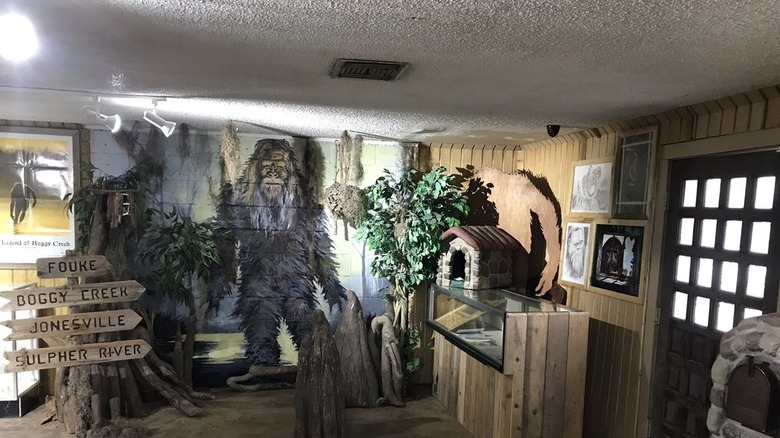 Yelp / Aleksandar P.
You've heard of the Loch Ness Monster, Bigfoot and other odd regional creatures, but what about the Boggy Creek Monster? Residents of Fouke, Arkansas, have been hearing about him for decades. The legend states that the 300-pound, hairy beast wanders the area at night and sleeps during the day. There have been over 40 reported sightings of the monster, though none have been confirmed. One alleged sighting ended in a hospital visit — a child named Bobby Ford was treated for severe gashes across his back. The local legend has inspired a local attraction called Fouke Monster Mart filled with souvenirs, food and artwork based on the creature. The store has statues of the monster and a large mural depicting his frame.
The Gas Station (Bastrop, Texas)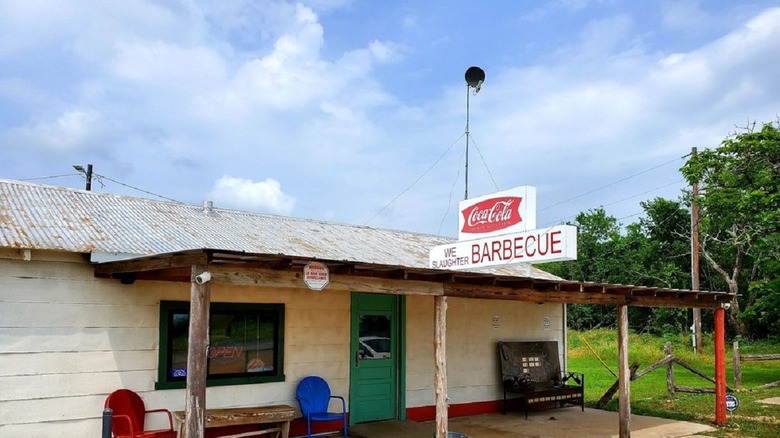 Yelp / Bianca B.
Do you like slasher movies? Do you also like barbecue? If so, this place is for you. The actual real-life gas station featured in the 1974 film "Texas Chainsaw Massacre" is now a barbecue joint and campsite called The Gas Station. Thrill-seeking guests can rent one of four cabins on site and stay the night at the creepy location. If you'd rather not pay $129 a night to lie awake in terror, you can stop by for some fantastic smoked barbecue. Rest assured — no people are slaughtered here, though pig and cow carcasses certainly are. Diners can order brisket or sausage by the pound, or opt for a plate complete with classic barbecue sides such as potato salad or coleslaw. Look for the sign that says "We Slaughter Barbecue" out front if you don't recognize the gas station from the film.
The Glass Outhouse Art Gallery (Twentynine Palms, California)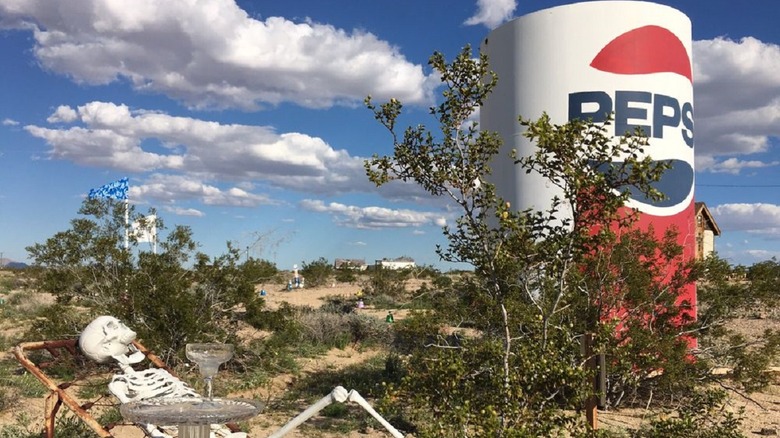 Yelp / Steve F.
Off the side of Highway 62, there is a property covered in an eclectic collection of outdoor artwork. The Glass Outhouse Art Gallery contains an outhouse, a giant can of Pepsi Cola, a "Ghoul's Gym" filled with exercising skeletons, men drowning in "quicksand" and more. The owners give out free cold drinks and popsicles, both of which you'll need to stay hydrated walking around the scorching desert oasis. The only bathroom on the property is a glass outhouse with a one-way window for a door. You can see out, but you can't see in.
Gum Wall (Seattle, Washington)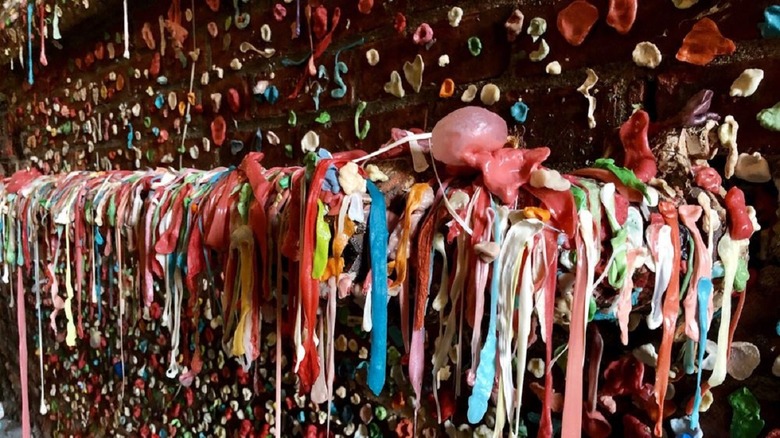 Yelp / Michael S.
At Pike Place Market in Seattle, tourists come from far and wide to feast their eyes on a wall covered in saliva. Gum Wall is considered a famous local landmark and collective art project. It features a large expanse of wall covered from end-to-end in visitors' gum. Despite how gross it sounds, the Gum Wall is actually quite the sight — it's colorful array of gum wads is as Instagrammable and ever-changing, and gum depositors get creative with the placements of their contributions. It began somewhat accidentally in the 1990s because local patrons of improv shows at Post Alley's Market Theater would stick their used gum on the wall while they waited in line. It's about 50 feet long and known for being a bit smelly, but well worth a visit.
Hole N the Rock (Moab, Utah)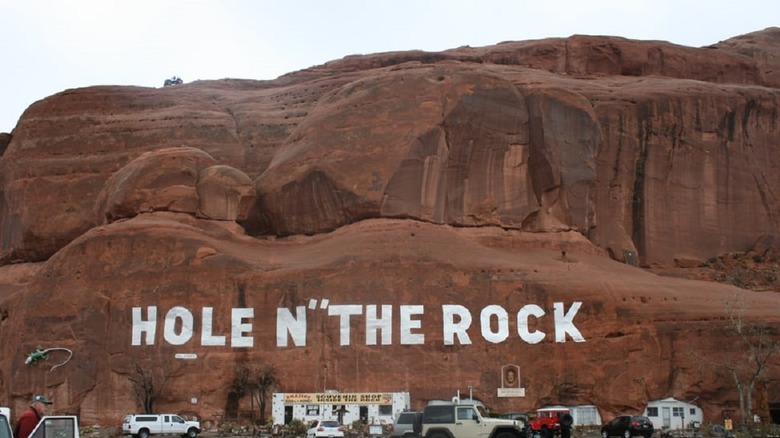 Yelp / William B.
With a name like Hole N" the Rock, you might not think this landmark was really anything special. But when you see the giant lettering painted on the side of a rock off of Highway 191 in Moab, Utah, don't drive by without making a pit stop. The incorrectly punctuated signage points to a 5,000-square-foot cavern carved into the rock face by local couple Albert and Gladys Christensen in the 1940s. They blasted open the hole with dynamite to use it as their home, working on creating a large enough space for 12 years. Once it was finished, they moved in with their family and opened a diner they hoped would earn them some money. The establishment brought a whole new meaning to the idea of a "hole-in-the-wall" diner, and was quite a success. Albert died just five years after it was finished, in 1957. But his wife lived in the hole and ran the diner until 1970, when she died. Both Albert and Gladys are buried on the property. Now, the cavern functions as a roadside attraction complete with guided tours of the old home, a rock and cactus garden, Native American pottery, a petting zoo and an ice cream shop.
The Igloo Soft Freeze (New Paris, Pennsylvania)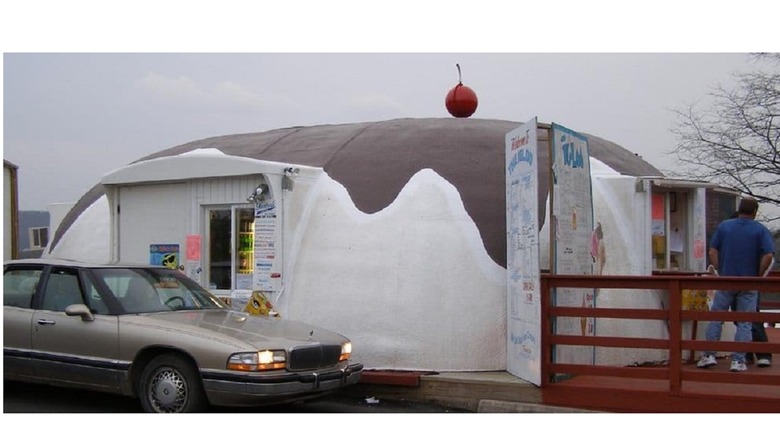 Yelp / DJ M.
If you ever find yourself driving through the small town of New Paris, Pennsylvania, in the dead of summer, you're not hallucinating — there really is a giant ice cream sundae on the side of Quaker Valley Road. The Igloo Soft Freeze is a small ice cream shop inside a building shaped like a big scoop of vanilla. It's painted to look as if it's been drizzled with chocolate sauce and even has a bright red cherry propped on top. If you step inside, you can treat yourself to one of their many flavors of flurries, milkshakes and sundaes, complete with toppings and fun-flavored dips. You can also opt for a slushie, sno-cone or ice cream soda.
Jimmy Carter Smiling Peanut (Plains, Georgia)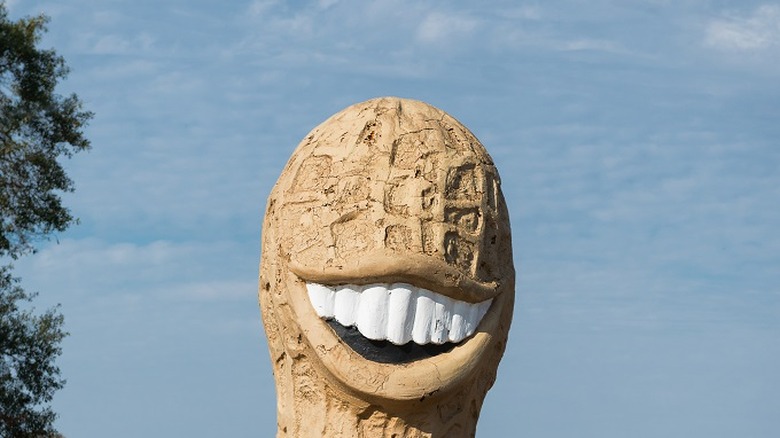 Shutterstock
The Democratic Party commissioned the Jimmy Carter Smiling Peanut in Georgia as a publicity stunt to win the hearts of voters — and it worked. The 13-foot-tall attraction helped Jimmy Carter beat Gerald Ford in Plains and every other voting district in Georgia in 1976. The statue still stands tall bearing Carter's trademark toothy grin. Tragically, the second-largest peanut in the world was caught in a fender bender in 2000 and had to be moved from the local train depot to the Davis E-Z Shop in Plains. But it still stands intact today. There is just one mystery of this giant peanut: There's a small hole in his frame and no one is sure how it got there. Some theories say that the Secret Service carved it there during the election so they wouldn't have to crack open his shell to check the interior for bombs.
Jolly Green Giant (Blue Earth, Minnesota)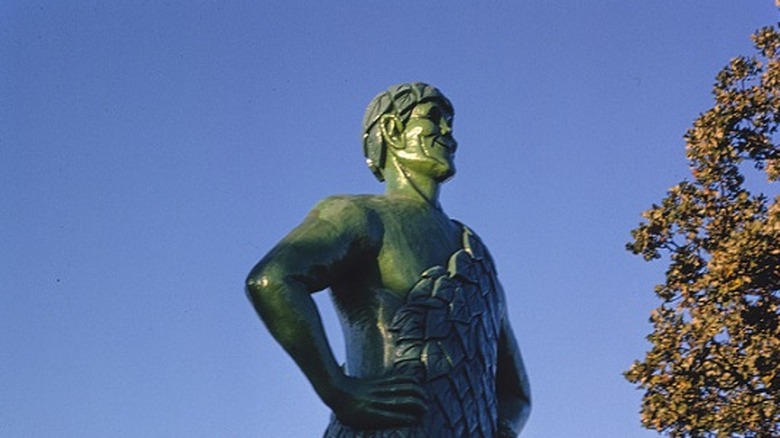 John Margolies/Library of Congress
An 8,000-pound, 55.5-foot-tall fiberglass rendition of the Jolly Green Giant towers over the terrain of Blue Earth, Minnesota, reminding residents to make healthy choices. You might think that the food company commissioned, or at least had something to do with, what looks like a giant advertisement — but Green Giant had nothing to do with it. Rather, a radio station host named Paul Hedberg took the initiative to fund and create it, thinking that it might attract more visitors to his small town. Blue Earth used to be home to a factory that canned Green Giant vegetables (though it's no longer used for that purpose), so Hedberg used to give canned vegetables to guests of his show. The statue ended up being farther from the highway than Hedberg expected, but is still considered a success. As a result of the Jolly Green Giant, the town created "The Giant Museum Featuring Jolly Green Giant Memorabilia" and hosts an annual "Giant Days" festival. The town loves the statue — in winter, the Blue Earth Fire Department gives the green guy a bright red scarf to keep warm.
Judge Roy Bean Visitor Center (Langtry, Texas)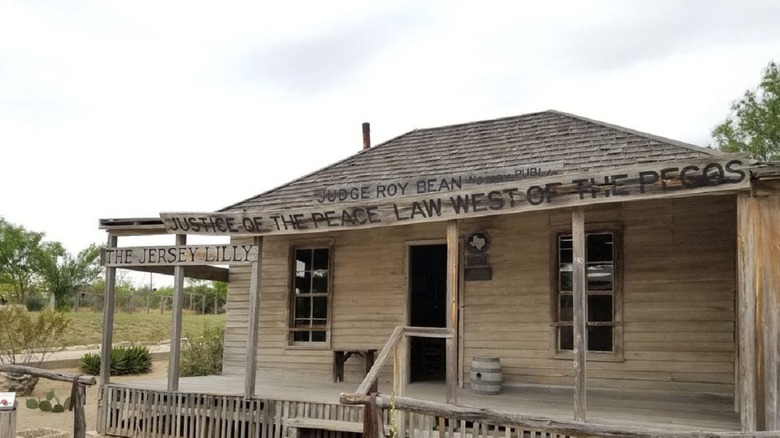 Yelp / Beth B.
Phantly Roy Bean Jr. was a 19th-century Texan and a character straight out of an old Western. After arriving from the nearby town of Beanville with nothing but a tent, some supplies and 10 barrels of whiskey to his name, "Judge" Roy Bean settled down in a tent city he called Vinegaroon. Here, he was named the justice of the peace and began calling himself the "Law West of the Pecos," ruling with an outdated lawbook and a jury made up of his best bar customers (who were required to buy a drink during recesses). Oh yeah, Roy Bean held his court in a saloon called the Jersey Lilly, named after the British actress he was infatuated with, Lilly Langtry. The court was wild, and Bean's saloon still stands. Visitors can tour it and the (much nicer) visitors center nearby to learn about the town's history and the strange, gunslinging saga of Judge Roy Bean.
Kelso Depot Ghost Town (San Bernardino County, California)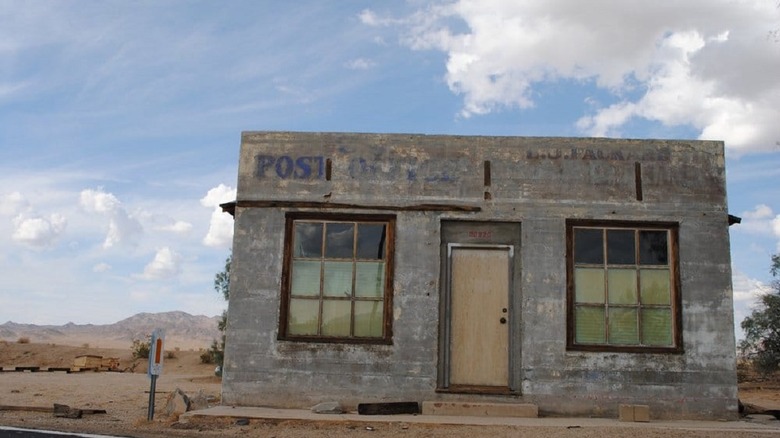 Yelp / suzanne b.
In the middle of the Mojave National Preserve, one of the most underrated national parks in America, there's a hidden ghost town and abandoned railway depot called Kelso. Located near the railroad tracks passing through the arid desert, the town of Kelso was built in 1905 as an oasis for weary travelers to acquire food, water, postal services and shelter. John H. Kelso was given the honor of having this town named after him after having his name drawn from a hat. At its largest, Kelso had a population of about 2,000 residents in the 1940s, when gold and silver were discovered nearby, but it shrank soon after. Nearby mines closed and workers moved elsewhere. By the 1980s, the town was practically empty. Now, the town jail (which is really more of a single human-sized cage used to detain local drunkards) still stands, as does the old abandoned post office. The historic train depot has been renovated and functions as the visitors center for the Mojave National Preserve.
Leaning Tower of Niles (Niles, Illinois)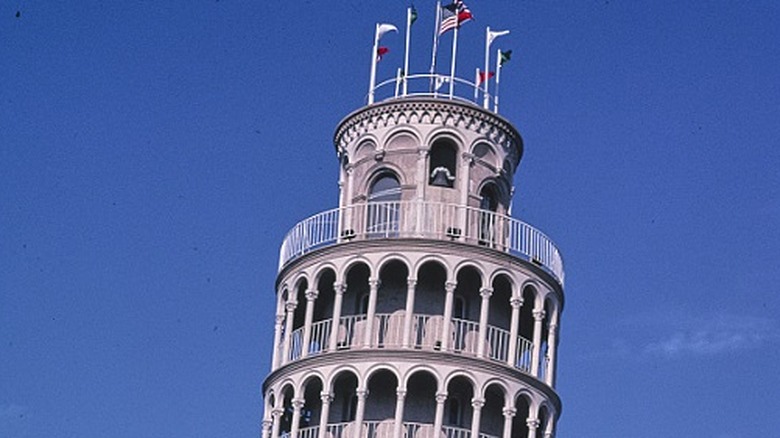 John Margolies/Library of Congress
Just 15 minutes outside the Chicago O'Hare airport in Pisa's sister city, Niles, Illinois, there's a half-sized replica of Italy's Leaning Tower of Pisa. The tower was built in 1934 by Robert Ilg, intended as a place to store water for a nearby public pool. Ilg also had a special admiration for Galileo, who was said to have used the original leaning tower to help prove theories about gravity. Today, the on-site water fountains serve no purpose other than aesthetics. But the tower remains an attraction for visitors. It's also 10 minutes from the world's first-ever McDonald's — a somewhat different food scene than you'd find in Pisa, Italy.
Longaberger Basket Headquarters (Dresden, Ohio)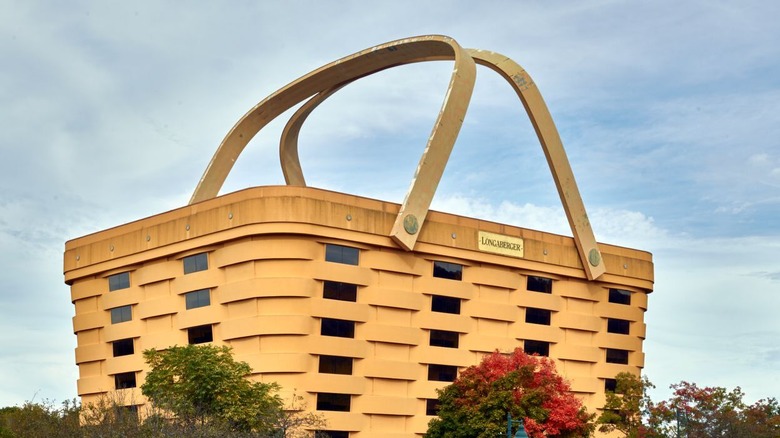 Carol M. Highsmith/Library of Congress
The Longaberger Company was a large manufacturer that sold baskets and other housewares. Once a billion-dollar company, their headquarters was based in a building that looked like a gigantic maple wood basket. But running a business is no picnic. The Longaberger Company went out of business in 2018, leaving the wacky building behind. The seven-story building can still be seen from Main Street in Dresden, Ohio.
Louis' Lunch (New Haven, Connecticut)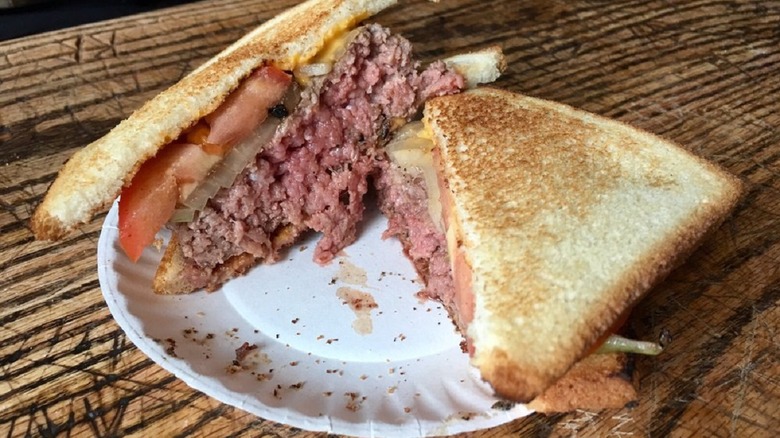 Yelp / Elaine W.
People from everywhere from Wisconsin to Texas claim to have invented the hamburger, so it's tough to say who was ever really the first. But legend has it, Louis Lassen was the first to sell this iconic American food on his lunch wagon in 1900. Like many other foods, the hamburger may have been invented by mistake. Lassen's restaurant sold steak sandwiches, but one day, he ran out. To accommodate a hungry customer, Lassen took trimmings from other pieces of beef, ground them into a patty, grilled the patty and slapped it on two slices of toast. The rest is history. You can still eat at Louis' Lunch in New Haven, Connecticut, but there are a few conditions. There are only two sandwiches on the menu: a hamburger and cheeseburger. And, as a sign inside the restaurant will tell you, "This is not Burger King, you don't get it your way." You get it Louis' way, or you don't get it at all: on white toast without ketchup or other condiments. The only toppings allowed are tomato and onion. But despite its oddities, Louis' Lunch serves one of the best burgers in America you can get for under $10.
Lucy the Elephant (Margate City, New Jersey)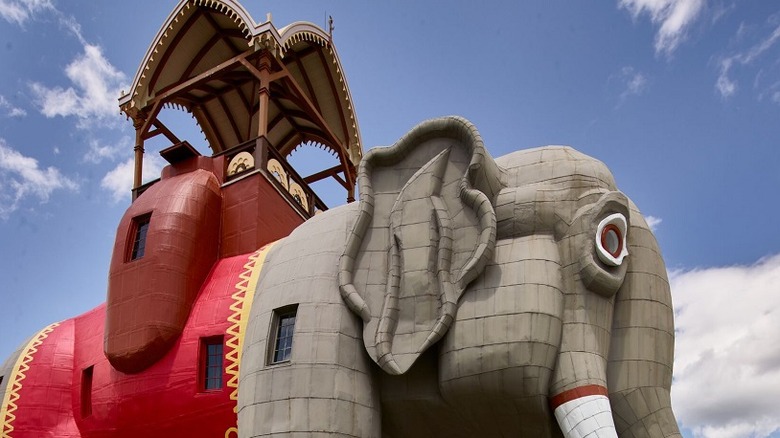 Carol M. Highsmith/Library of Congress
On your way to Atlantic City, you might want to take a slight detour to catch a glimpse of Lucy. Lucy the Elephant is a six-story architectural display and the oldest surviving roadside attraction in America, having been around since 1881. She's listed on the National Register of Historic Places and draws thousands of tourists each year. Visitors can stop to take a guided tour through Lucy's insides (she brags she's "the only elephant in the world you can walk through and come out alive") and see a 360-degree view of the surrounding landscape from the howdah on her back. Lucy has quite the history (11 chapters of it on her website, in fact) but here's the long and short of it: She was built for the sole purpose of drawing publicity and was modeled after the real "largest elephant on Earth" at P.T. Barnum's Greatest Show on Earth. Lucy weighs around 90 tons, over 14 times the weight of the real elephant, Jumbo.
Nicolas Cage's Pyramid Tomb (New Orleans, Louisiana)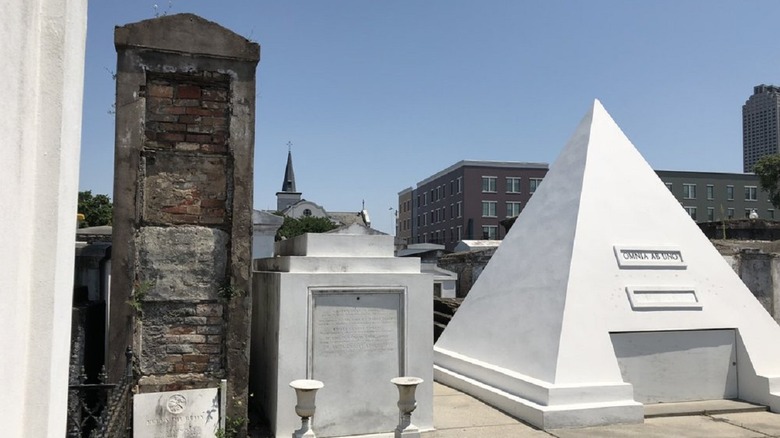 Yelp / Karen T
After he dies, actor Nicolas Cage himself hopes to become a national treasure. The actor has made a number of wild purchases in his lifetime, including a haunted mansion and a pet octopus, but this just might be the strangest. Cage purchased a tomb located in a cemetery in New Orleans and shaped like a giant pyramid with the ominous inscription "Omnia Ab Uno," which translates from Latin as "Everything From One." What this means remains a mystery, as do Cage's motivations for purchasing the tomb, though some speculate it has something to do with his alleged affiliations with the Illuminati. Regardless of his reasons, Cage has unintentionally attracted tourists to his tomb; some have even left prints of bright lipstick behind.
Old Salem Coffee Pot (Winston-Salem, North Carolina)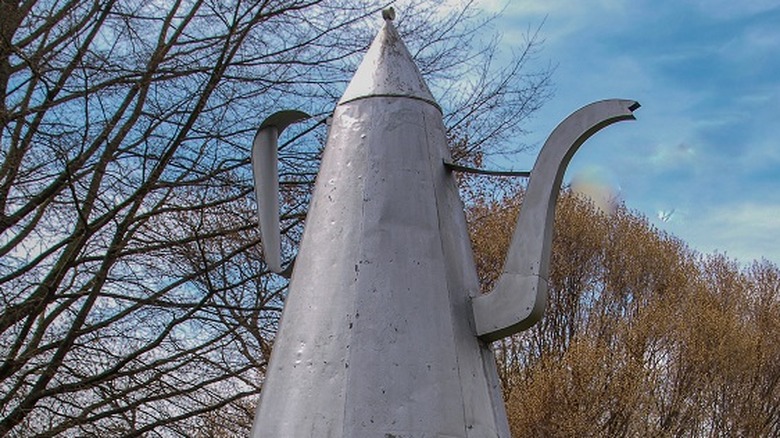 Dreamstime
On a side street in Winston-Salem, North Carolina, you'll find a 7-foot-tall tin coffee pot suspended beside the road. The coffee pot is one of the area's oldest landmarks. It was built in 1858 by two tinsmiths, Julius and Samuel Mickey, who intended it to promote their tin shop. Since then, there have been a number of legends circulating about the coffee pot, none of which are likely true. Tour guides tell visitors that the town's founders used to brew and drink coffee from the large pot on Easter Sunday. Others tell stories of a Union soldier who hid in the kettle during the Civil War. One tale speaks of a young boy who used to climb into the pot to light a fire and make steam come out of its spout. No details to support any of these stories have been found. An anecdote that did prove true was that local children used the coffee pot to pull off an annual prank every Halloween. The kettle was knocked down from its post, only to be hoisted again year after year. One year, the joke was taken too far when a group of teenagers lit a firecracker inside and burst open the entire structure. The teens' families were forced to pay to repair the kettle, and it has not been knocked down since.
Paper House (Rockport, Massachussetts)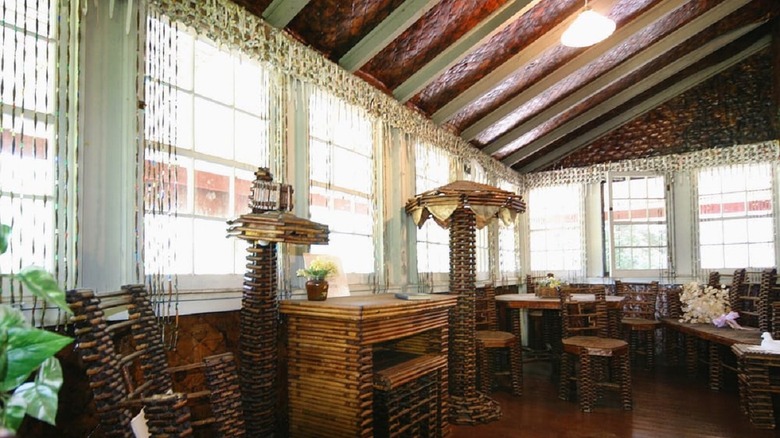 Yelp / Kyle S.
You might not think of newspaper as the most reliable form of shelter, but the architect behind the famous Paper House made it work. This remarkable structure in Rockport, Massachusetts, has stood against all odds for nearly 100 years. Elis F. Stenman, the mechanical engineer behind mass-produced paper clips, began building his house of paper in 1922 as a side hobby. His idea was that paper made good insulation and could be protective and useful against the Northeast's brutal winter. Once the house was finished in 1924, Stenman moved in and lived in the house until 1930. The structure itself is made of wood, as are the roof and floors — but all of the walls and layers of insulation are 100 percent paper. Varnish painted on the exterior makes the house waterproof. Inside, the house is decorated with intricately folded pieces of furniture also made of paper. The structure has functioned as a museum since the 1930s and is frequented by curious visitors year-round.
Peachoid (Gaffney, South Carolina)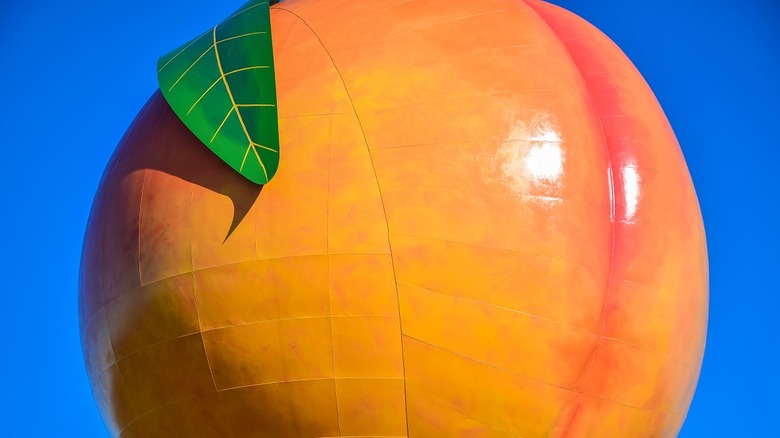 Shutterstock
Nicknamed the "Peach Capital of South Carolina," Gaffney is home to a water tower that's shaped like a giant peach. The peach is 135 feet tall and can contain up to 1 million gallons of water. According to the South Carolina Department of Parks, Recreation and Tourism, this is the most-photographed water tower in the United States, though perhaps not for the reason the town intended. It was anticipated that the tower would draw a crowd, but they never expected to develop a history quite so juicy. Partially the fault of the peach emoji, the giant peach reminded people less of James from the innocent children's novel and more of a certain body part. The tower quickly became the butt of many jokes, and rumor has it that, blaming the danger of rubbernecking injuries from passing cars on Interstate 85, civic authorities ordered it be repainted in the early '90s.
Peggy Sue's '50s Diner & Diner-Saur Park (Yermo, California)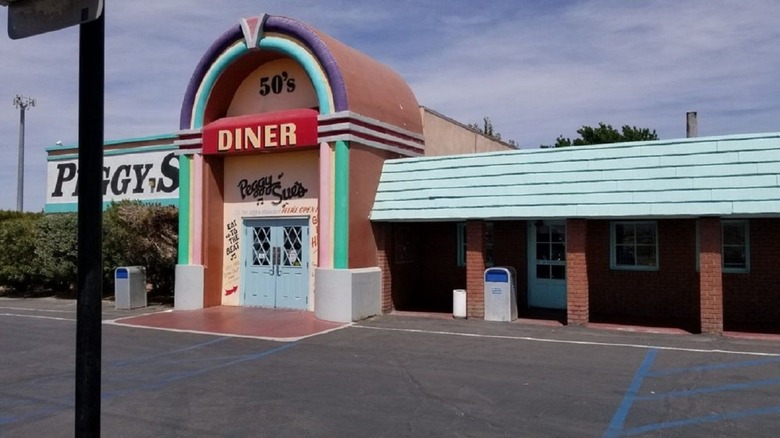 Yelp / Luciano G.
A trip to Peggy Sue's is a trip back in time — to both the 1950's and the prehistoric age. On the side of a highway in the middle of the Mojave Desert, travelers will find a '50s-style diner (complete with a '50s-style menu) with a giant jukebox for a door. Peggy opened the establishment with her husband Chip in 1981. Peggy worked as an actress and Chip was a worker at Knott's Berry Farm, one of the best theme parks in America that few people have heard of. The interior of the diner is filled with the couple's TV and movie memorabilia, including a life-size statue of Betty Boop. Waitresses are decked out in vintage-style pink-and-teal uniforms. There's also a vintage ice cream counter and a backyard "Diner-Saur Park." Out back, visitors can walk off the best greasy diner meals while meandering through 10-foot-tall metal statues of dinosaurs and a massive King Kong.
Pink Elephant Antique Mall (Livingston, Illinois)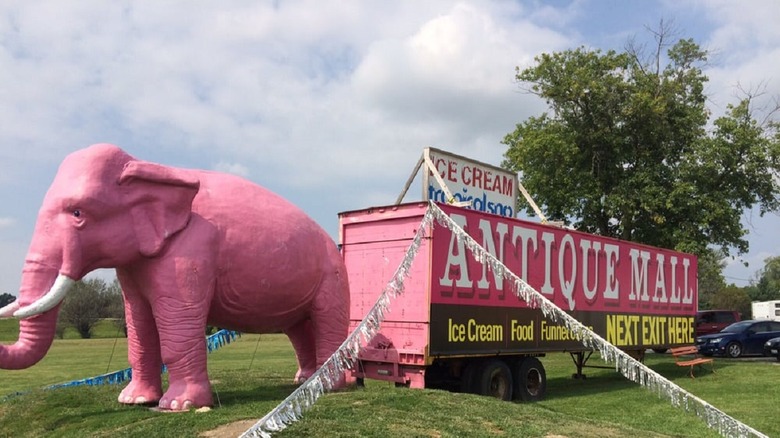 Yelp / Jim H.
Interstate 55 is home to a few odd attractions, but this one is larger than life. The Pink Elephant Antique Mall is surrounded by large statues of everything from Alvin and the Chipmunks to a "muffler man" (one of those colossal fiberglass statues of a man holding something that dot American roadways from coast to coast) wearing a Harley-Davidson shirt. From the highway, it's impossible to miss — the entrance is guarded by a giant pink elephant. Inside the building itself, there's a bustling flea market filled with trinkets and homemade items for sale. A newly opened Route 66-themed nostalgic diner serves greasy, fried appetizers and other American foods. Outside, an ice cream cone-shaped shop called "Twistee Treat" sells frozen desserts including soft serve, sundaes and milkshakes.
The Reptile Zoo (Monroe, Washington)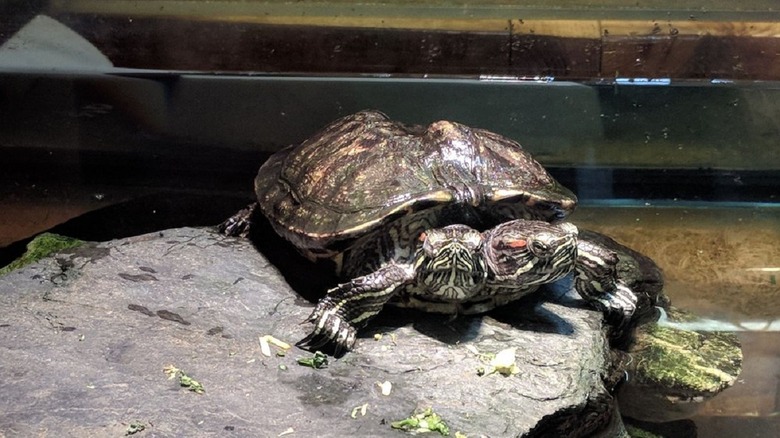 Yelp / Todd L.
Scott "The Reptile Man" Peterson, zoologist and educator, founded the Reptile Zoo in 1996 in hopes of spreading his personal love of reptiles to others. This is no ordinary zoo — and these aren't just ordinary reptiles. The facility houses an albino alligator and a two-headed turtle, both alive. Peterson also has giant tarantulas, brightly colored frogs, an extensive snake collection (including the world's deadliest snake, the black mamba), color-changing chameleons, enormous lizards and a tortoise petting station. Museum visitors can hold many of the snakes on site and participate in a kid-friendly scavenger hunt.
Salvation Mountain (Niland, California)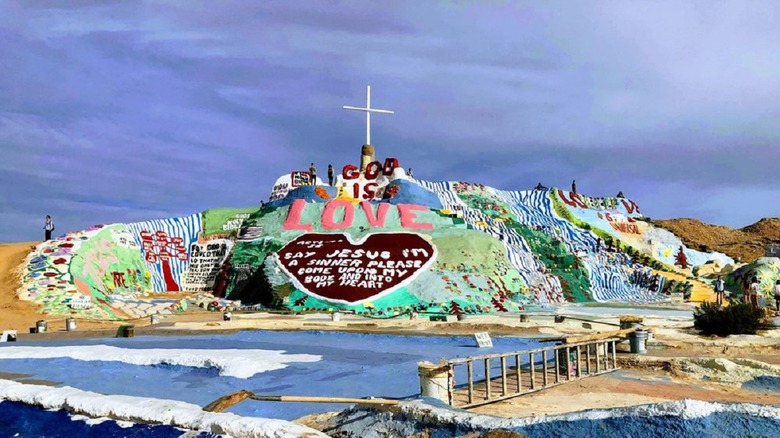 Yelp / Norman J.
Salvation Mountain is an immersive art installation on a hillside in Niland, California. Constructed of adobe, straw and thousands of gallons of paint, the visionary environment was created by local resident Leonard Knight as a religious tribute. On the side of the hill, Knight painted mural after mural depicting Bible verses and Christian symbols and sayings. Instagram influencers travel from far and wide to take photos in front of the massive piece, which must be constantly repaired and maintained due to the harsh weather of its surrounding environment. It requires so much paint to complete and maintain that the surrounding soils have absorbed high levels of toxic lead. After discovering the contamination in 1994, repairs to the site switched to lead-free paint. Visitors and others who support the installation donate lead-free paint, and volunteers often gather to work on touching up damaged spots on the site.
Sparky's Burgers, BBQ & Espresso (Hatch, New Mexico)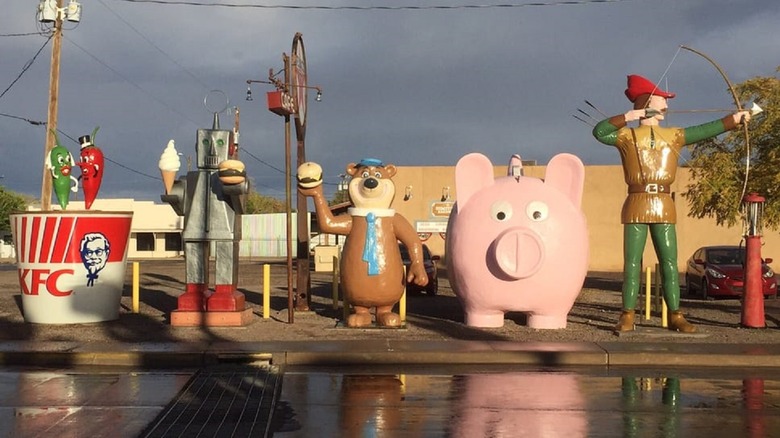 Yelp / Tom H.
If you ever find yourself in Hatch, New Mexico, and want to stop for a bite, consider stopping at Sparky's. A novelty restaurant specializing in burgers, barbecue and espresso, they'll satisfy your greasy food and caffeine cravings. But the best part about Sparky's is the decor. Out front, a robot alien named Sparky greets hungry customers, as does the Statue of Liberty, Ronald McDonald and a 30-foot-tall Uncle Sam. On the roof, the A&W family lines up with burgers. Across the street, you'll see huge statues of Robin Hood, Hamm from "Toy Story," Yogi Bear, a robot, a bucket of KFC and a bright-green alien. Inside, many of the menu items find creative ways to incorporate Hatch chile peppers (the town's namesake) into dishes like burgers, fries, milkshakes and other classic diner fare.
Stardust Motel Sign (Marfa, Texas)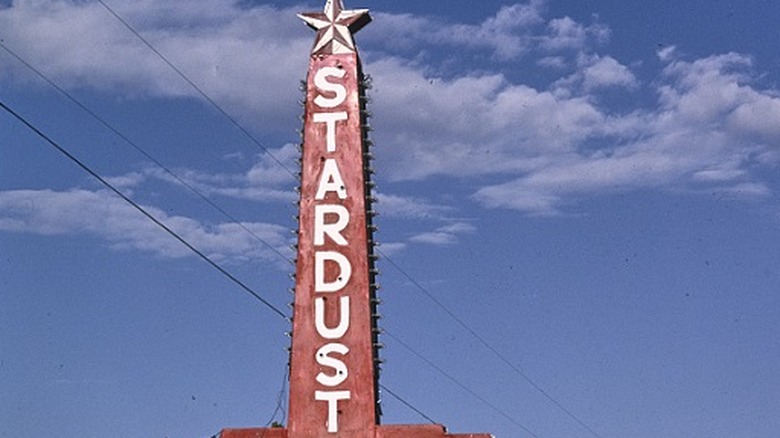 John Margolies/Library of Congress
Bright, flashy motel signs are an iconic image of old American highways, but this sign leads to nowhere. Every trace of the old motel behind the huge Stardust Motel sign has disappeared, leaving this landmark an eerie remnant that sits in front of a small, dusty RV park. While the sign certainly used to be dazzling and brightly lit, it now has faded to a dull brownish gray and has lost most of its light bulbs to weather and wear. Even still, the retro-looking signage is a sight worth seeing. The flickering, decrepit sign is a nostalgic tribute to decades past.
Sultana Bar (Williams, Arizona)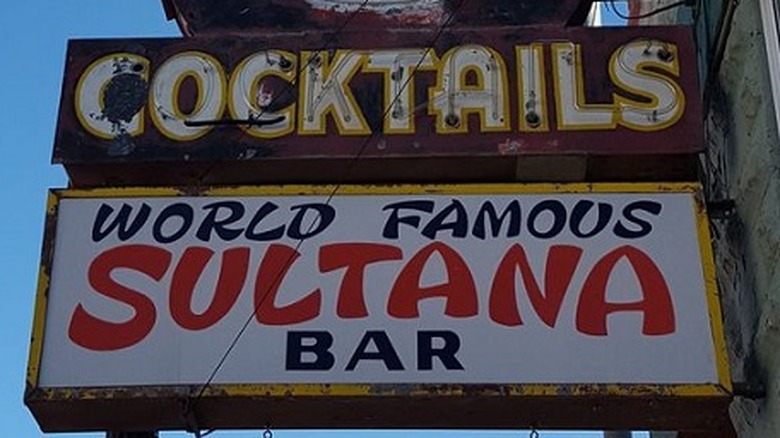 Yelp / Kat P.
It may not be the best dive bar in Arizona, but Sultana Bar is certainly the oldest. Situated on the curbside of Route 66, this watering hole still stands where it opened 14 years before the highway was built. The neon sign out front advertises world-famous bar, cocktails and "package goods," a phrase referring to the old practice of selling packaged alcohol to go. Beneath the (still-operating) bar, there is a large maze of tunnels reportedly dug by opium smugglers in the early 20th century. During Prohibition, the tunnels were used to hide and transport stockpiles of liquor while the above-ground portion was used to show silent movies to thirsty customers. The theater portion of the establishment now functions as a venue for special events while the bar portion functions as, well... a bar. Complete with beer-and-a-shot specials, pool tables and a jukebox, this cheap establishment still welcomes weary travelers for a guaranteed and historically good time.
Tommy the Turtle (Bottineau, North Dakota)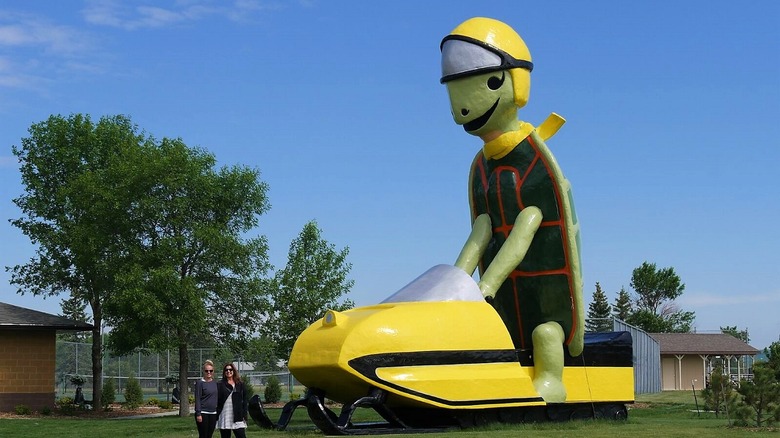 North Dakota Tourism
Tommy the Turtle, a landmark in Bottineau, North Dakota, is the largest turtle in the world. He's meant to pay tribute to and symbolize the nearby area that used to be a gateway to the Turtle Mountains. The mountains themselves are long gone, said to have been destroyed by the last ice age. The snowmobile-driving reptile towers more than 30 feet over the side of country roads near the Canadian border. He weighs 3 tons and sits atop a 34-foot-long snowmobile that visitors can ascend into to stand on a platform as his passenger. Surrounding a grinning, helmet-wearing Tommy is a park — Tommy Park, also named after him — where children often come to play.
UFO Watchtower (Hooper, Colorado)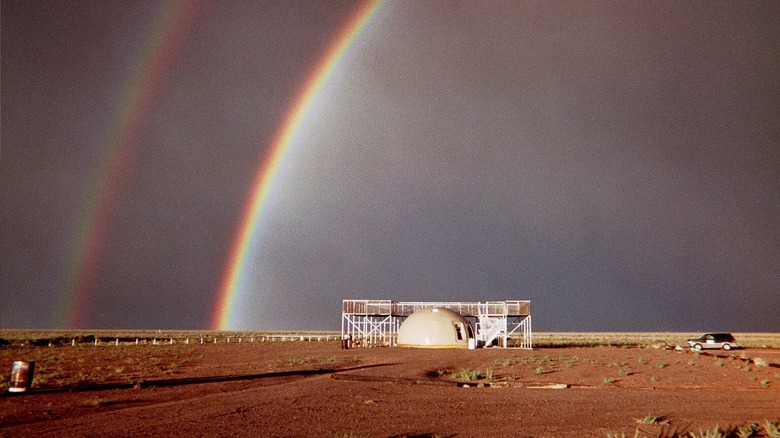 Judy Messoline/UFO Watchtower
Even if you're not a believer, you should stop by the UFO Watchtower to try your luck at spotting aliens. Just north of Hooper, Colorado, local resident Judy Messoline has built an observation platform with a 360-degree view of the San Luis Valley. The valley is the site of many supposed UFO sightings on clear nights, which inspired Messoline to start inviting people to camp on her property for extra cash. Though the venture started as something of a joke, Messoline has at this point been entirely converted. She now believes wholeheartedly in aliens and flying saucers, keeping detailed records of stories people tell her of their sightings while passing through. In addition to a 10-foot-high viewing platform and a gift shop filled with paraphernalia, visitors can stroll through the "Healing Garden" out back. Here, Messoline says that over 20 psychics have confirmed the presence of two large "vortexes." The spaces are outlined by rocks and littered with objects such as CDs and old toys that eager visitors have left behind.
World's Largest Buffalo (Jamestown, North Dakota)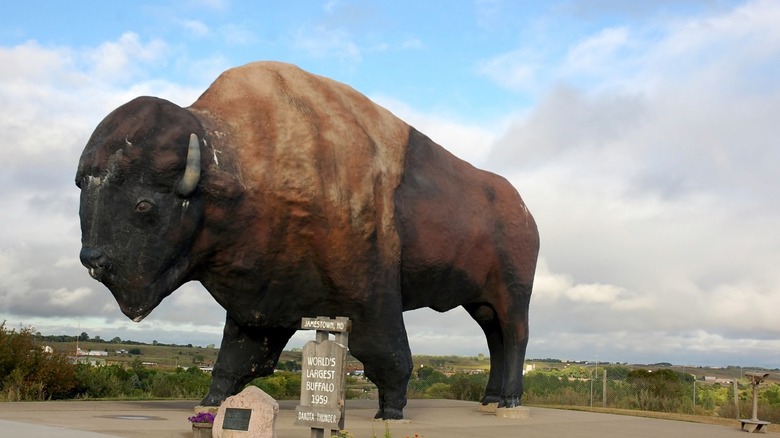 Dreamstime
Buffalo are already pretty large (each animal weighs approximately 1,000 to 2,000 pounds) but this one outweighs them all. The World's Largest Buffalo, a giant statue in Jamestown, North Dakota, is 26 feet tall and 46 feet long, and it clocks in at a massive 60 tons. That's the equivalent of the weight of 60 large buffalo. The idea for the monument arose in 1958, when the first stretch of highway was built near Jamestown. By building something attention-worthy near I-94, residents hoped to draw in more visitors to their small town. Elmer P. Peterson, an art teacher at the local college, was hired to make something big and impossible to ignore, and the World's Largest Buffalo was born. He's massive, made of metal and cement, and anatomically correct. After the buffalo's 50th birthday, Jamestown held a contest to come up with a name for their beloved monument. In 2010, he was officially christened "Dakota Thunder."
World's Largest Chest of Drawers (High Point, North Carolina)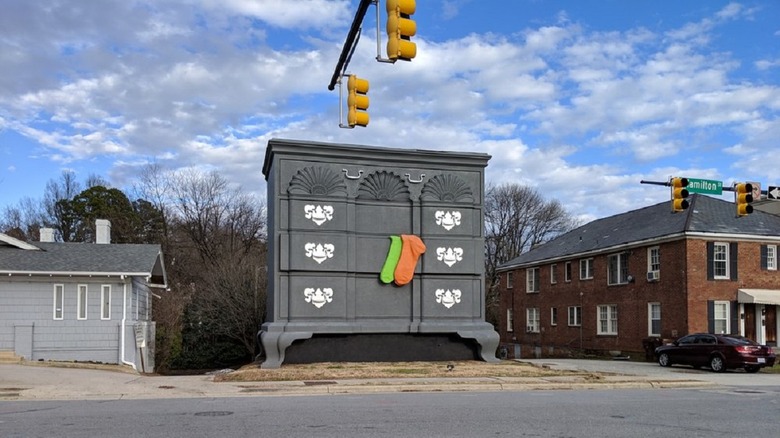 Yelp / Daniel B
High Point, North Carolina, is known as the "furniture capital of the world," and it's got a statue to prove it. The town's chamber of commerce commissioned the gigantic chest of drawers in 1926 to honor the town's hosiery industry. The first statue was 20 feet tall, but it was later rebuilt into a 38-foot-tall Goddard-Townsend block front chest. From the front of the drawers hang two 6-foot, neon-colored socks. There's not much to do there other than ogle, but visitors seem to agree that the location is the high point of the town.
World's Largest Chicken Wing (Madeira Beach, Florida)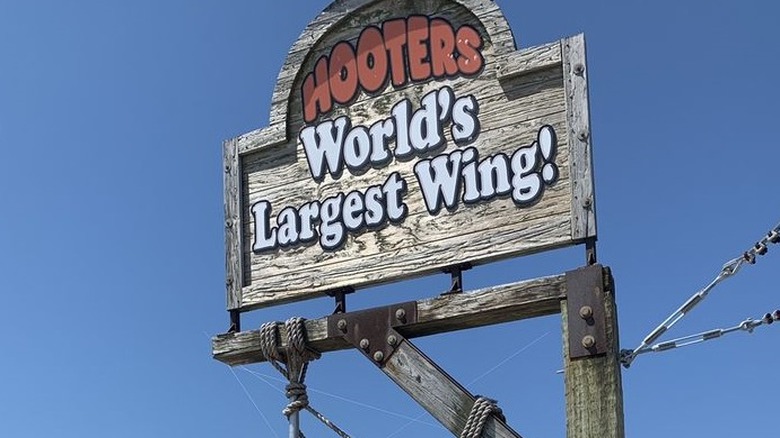 Yelp / Kenneth W.
Florida has a lot going on outside of just Disney and the beach. One of Florida's more unique attractions is located in Madeira Beach at an oceanside location of Hooters. The chain restaurant boasts the World's Largest Chicken Wing, a large statue on the restaurant's porch out back. The wing hangs on a hook off of a 14-foot-tall crossbeam and weighs half a ton (1,037 pounds, to be exact). Diners and passersby can take photos with the giant wing or stand on the nearby enlarged buckets of hot, medium and mild wing sauce.
World's Largest Pistachio (Alamogordo, New Mexico)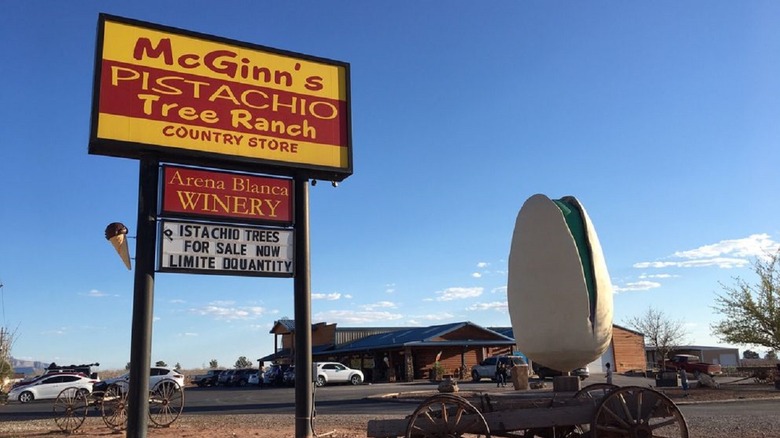 Yelp / Alan B.
You'll know you've arrived at PistachioLand in Alamogordo, New Mexico, because outside the building is a huge 30-foot-tall pistachio. The monument is more than just an advertisement for the local nut business. Tim McGinn, whose father Tom founded McGinn's Pistachio Tree Ranch, commissioned the statue to commemorate the elder McGinn after he passed away. It might seem a little nutty to create a roadside spectacle to remember your father by, but Tom was said to have loved roadside attractions while he was still alive. "Tom dreamed big, expected big, and accomplished big things," reads the bronze plaque placed outside. "He would have said the monument is not big enough!" The icon is held up on a pole and anchored in 9 feet of concrete. But don't let this gigantic nut be your only draw to this attraction. While you're at PistachioLand, pick up some delightful pistachio-flavored treats such as chili-chocolate pistachio brittle, barbecue roasted pistachios and homemade pistachio milkshakes.
World's Largest Santa (North Pole, Alaska)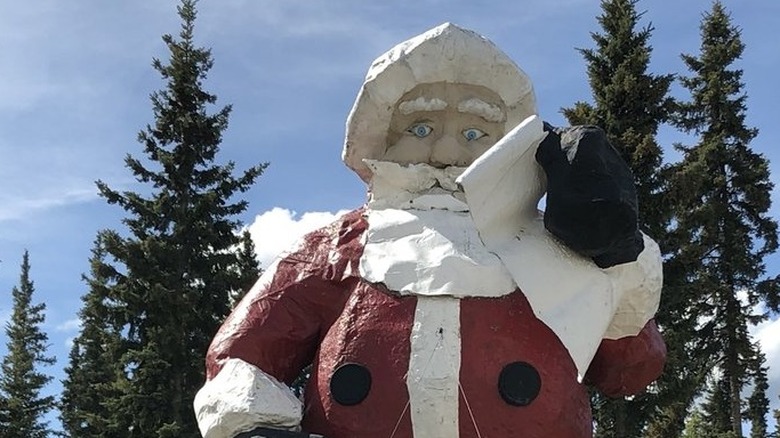 Yelp / Ed L.
North Pole, Alaska (not to be confused with the actual North Pole), is home to Santa Claus House, an old post office and general store that has transformed into a novelty shop and something of a museum. In addition to sending personalized letters "from Santa" to kids around the world, Santa Claus House is home to one of the world's most beloved Santas — a 42-foot-tall, 900-pound Santa Claus statue. The statue was built in 1960 as a prototype for three other Santas (whereabouts unknown) and purchased by the shop's owner in 1978 for $4,500. The gargantuan Saint Nick had to be disassembled and shipped in four separate pieces, later to be reassembled like Humpty Dumpty before being secured at his permanent station at the museum's entrance in one of the most magical Christmas towns in the world.
Yard Birds Mall (Chehalis, Washington)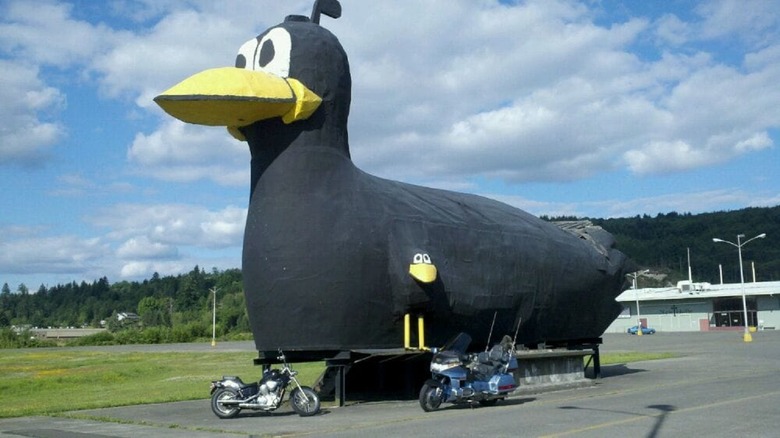 Yelp / Kathy M
Yard Birds Mall and Flea Market is a shopping venue in Chehalis, Washington, with a hodgepodge of over 100 vendors, including local artisans, antique shops and more. But if you don't stop to shop, you should at least visit the gigantic black bird statue posted outside, which is beloved by locals because it's a remnant of an once-popular shopping chain, Yard Birds, that closed in the 1990s. (At another location, the chain erected an even crazier 60-foot-tall bird statue that visitors could actually drive though, but it spectacularly burned down in the '70s.) The 7-acre venue is now home to shopping year-round as well as a one-of-a-kind swap meet, a Miss Yard Birds Pageant, a Kid Day, classic car meets and other events. Indoors, visitors can also entertain themselves at the black light mini golf course or rent out a party room to host events. Though it may not seem especially venerable, the mall is quite the landmark. If you pass through Washington, you should stop to see it — in fact, you should try to see the most iconic landmark in every state you visit.