Double Up: How To See Two National Parks In One Trip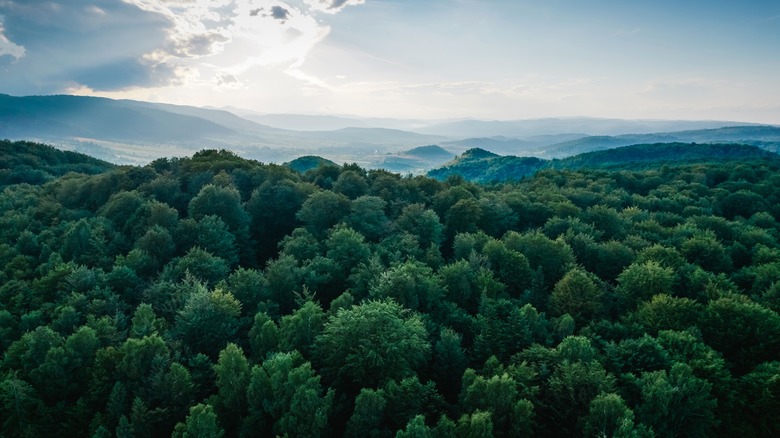 Olga Danylenko/Shutterstock
Let's get real. Being greedy when you're on vacation isn't a bad thing.
At least when it applies to how much you want to see and do—especially if your getaway game plan takes place at any of your, yes your, 59 national parks.
If you have the vacation days, double-dipping and experiencing two national parks on the same trip is a genius idea. Obviously it would be a stretch to try to knock out Hawaiʻi Volcanoes National Park and Denali National Park in a week, but there are certainly several convenient "national park neighbors" that make it easy to plan a "two-for-one" visit.
Here are a few examples of national parks that are conveniently located within close proximity to one another, making it easy for visitors to see more of America's most beautiful landscapes in one trip. And keep in mind that since April 18 to 26 is National Park Week, you can benefit from perks like free-entry days (April 18 to 19) and special programming.
Yellowstone National Park (Mont., Wyo., Idaho) & Grand Teton National Park (Wyo.)
Spread across three states, the country's first national park may sound overwhelming at first glance. But seeing the main sights in Yellowstone National Park is totally doable in a few days. What's more, its neighbor to the south is another equally stunning park. Although Yellowstone Lake is a mere 10 minutes by car from Jackson Lake in northern Grand Teton National Park, the parks are strikingly different. For example, Yellowstone's world famous geothermal features like Old Faithful aren't found in Grand Teton, but in the same sense Yellowstone's bike paths are pale in comparison to its neighbor's.
In fact, Grand Teton National Park has more miles of designated bike paths than any other U.S. national park. While you're there, consider seeing both parks with Austin Adventures, an outfitter that's been leading tours through the parks for more than 30 years and offers all-inclusive family-friendly multisport itineraries featuring behind-the-scenes park access (perks of being a tour operator owned by Xanterra Parks & Resorts). But, if a-la-carte adventures are more your speed, stay in Jackson Hole and explore both parks with day-tour providers like Wild Things of Wyoming and Teton Mountain Bike Tours.
Yosemite National Park (Calif.) & Death Valley National Park (Calif. & Nev.)
Home to Mt. Whitney (elevation 14,505 feet) the highest point in the continental U.S., Yosemite National Park is a high altitude hiker's dream. Ironically, less than 150 miles west lies Badwater Basin, Death Valley National Park's crown jewel, and the lowest point in the continental U.S. Hiking in both parks is epic; Yosemite brings the permit-required Half Dome to the table and Death Valley has Dry Mountain—a day-long hike with 4,700 feet of elevation gain.
Start your vacation off in the mountain-biking mecca of Mammoth Lakes where Yosemite is a short shuttle ride away and the Sierra National Forest is at your feet. End your trip 206 miles southwest in Death Valley—tearing through Titus Canyon on a jeep outfitted with suspension lifts and all the bells and whistles needed for off-roading. At night, crash at Furnace Creek Resort where you can play a game of golf at one of "America's 50 Toughest Courses" according to Golf Digest.
Everglades National Park (Fla.) & Biscayne National Park (Fla.)
Panthers aren't the first thing that come to mind when most people think of national park wildlife, but that's what you can hope to see while visiting the country's largest subtropical wilderness, aka Everglades National Park. You're far more likely to run into manatees and crocodiles, and since most of the park is only accessible via waterways including the 99-mile-long Wilderness Waterway, it's a great park for exploring by canoe or kayak.
As the crow flies, Biscayne National Park is only 19 miles east of the Everglades, but it offers an entirely different experience. You won't just want to be on the water, you'll want to be in it. From snorkeling among the coral reefs, where more than 600 tropical fish species are found, to diving at historic shipwreck sites, it's easy to find a reason to play in Biscayne's warm, turquoise waters. Since both parks lack lodging, camping is your best bet for accommodations. Getting from park to park only takes half an hour, and on certain weekends, the town of Homestead, the "Gateway to Everglades and Biscayne National Parks" runs a free trolley between the two parks.
Bryce Canyon National Park (Utah) & Zion National Park (Utah)
Countless hoodoos, wind-carved spires, natural amphitheaters and unusual "rock gardens" are just a few of the features you'll encounter while hiking in Bryce Canyon National Park. One of the park's more difficult hikes, the Fairyland Loop, leads to China Wall and Tower Bridge—both as worthwhile as they sound. Park rangers lead Full Moon Hikes which are so popular tickets are distributed via a lottery system.
But perhaps the most popular hike (at least for experienced hikers) within a 100-mile radius is Angel's Landing. This intimidating but rewarding climb is narrow, steep, flanked by sheer drop-offs and found some 80 miles southwest of Bryce in Zion National Park—Utah's first and most-visited national park. Hiking varies between the two parks (see here for a helpful hiking resource), but if you're after more adrenaline-inducing adventures, you'll want to spend more time in Zion where you can find canyoneering with Zion Adventure Company, aerial tours with Zion Helicopters and sky diving with Sky Dive Zion.