Florida's Crandon Park Beach Is Basically Heaven On Earth For Snorkelers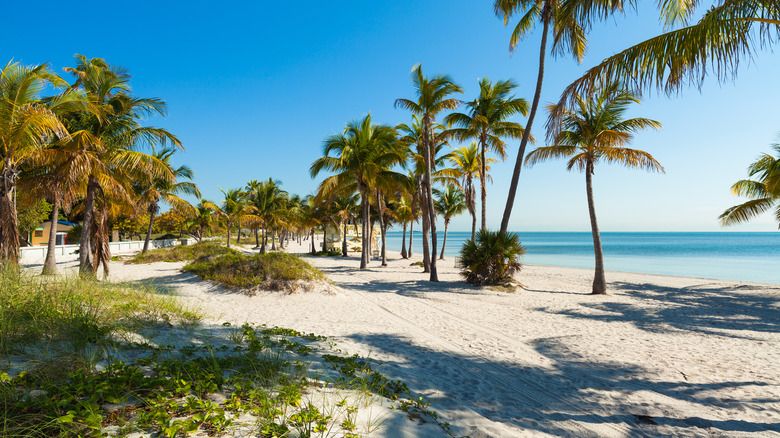 Fotoluminate LLC/Shutterstock
If you've ever been down to South Florida, you'll know just how inviting, clear, and blue the waters of Key Biscayne are. Walking into its warm waters, looking down into its hypnotic aqua-blue essence, you can see clearly for miles. If you've never been to South Florida, this is your chance to make your way to one of Miami's most postcard-perfect beaches, as reported by Florida Rambler, and take in its beauty, tranquility, and what it has to offer.
According to U.S. News & World Report, Crandon Park Beach is rated No. 5 in Best Things to Do in Miami. With fine, white sand, dunes, rows of coconut palm trees, balmy breezes, and a unique sandbar that creates the perfect lagoon, it's a visually impressive and calming haven of sea, nature, birds, and wildlife — to snorkelers, it's paradise found. The shallow waters around the lagoon reveal an abundance of tropical fish, coral, and surprising ancient finds.
A treasure-trove of artifacts and sealife for snorkelers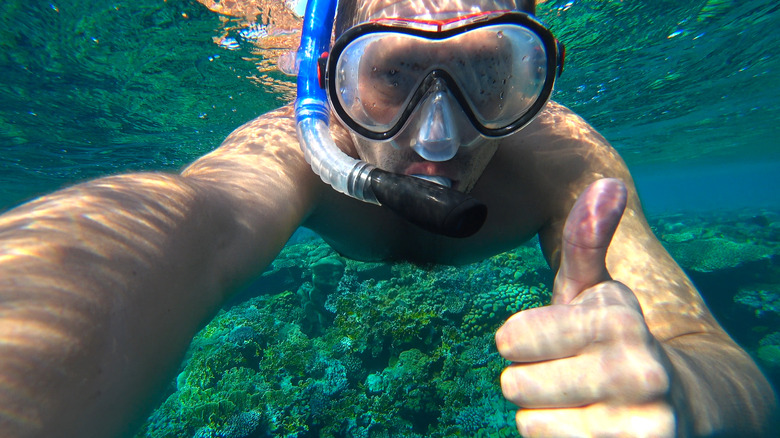 Happy monkey/Shutterstock
This area is also home to the Marjorie Stoneman Douglas Biscayne Nature Center, which features the famous Half Moon ship wreckage — a state underwater archaeological preserve just off the coast — that earned its place in the National Register of Historic Places in 2001.
According to Scuba Diver Life, an old, racing yacht was battered severely by a storm off the coast of Miami in 1930, finally succumbing to the turbulent waves, its final resting place was a shallow, sandy shoal off Key Biscayne near Bear Cut, and has been a popular diving spot for snorkelers because of its depth, and clarity of artifacts.
As stated on the Greater Miami Convention & Visitors Bureau website, the 6,000-year-old, fossilized, mangrove reef at Crandon Park Beach also gives divers and snorkelers plenty to explore, along with its colorful sea life, seagrass beds, and plants: It's a coastal ecosystem of natural exhibits, wild birds and wonders for both adults and families to enjoy.
A hidden gem off Key Biscayne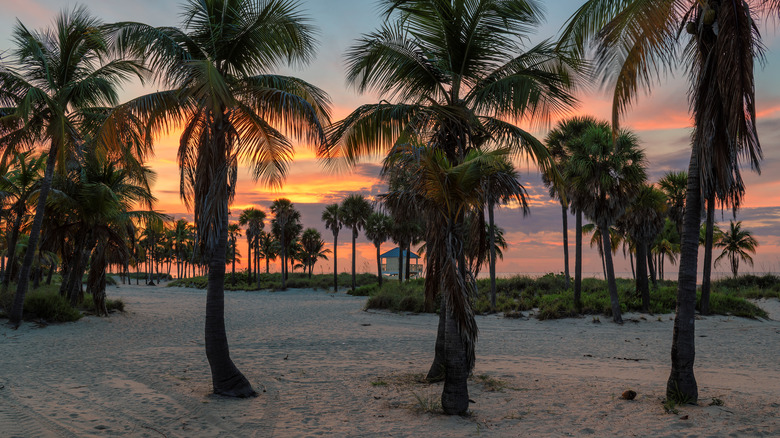 Lucky-photographer/Shutterstock
Given the convenient location of Crandon Park Beach, it's easily accessible by car, and by foot, and traffic is typically never a problem. Bear in mind, though, that while snorkeling and diving are permitted activities, floatation devices are not permitted according to the Miami-Dade Government website, and that's to keep everyone who visits safe, while helping to protect the environment and natural wildlife of the area. Once you've had your fill of snorkeling, the Greater Miami Convention & Visitors Bureau notes that visitors can also take part in tennis, golf, stand-up paddleboarding, and kayaking.
And with 1,200 acres and two miles of unspoiled beach to visit, largely uncluttered by tourists, and quite often named one of the best beaches in the United States, as reported by Lonely Planet, visiting Crandon Park Beach is a must-do and must-see experience for everyone that doesn't disappoint.