Why You Should Use A Soft-Sided Carrier When Traveling With Your Pet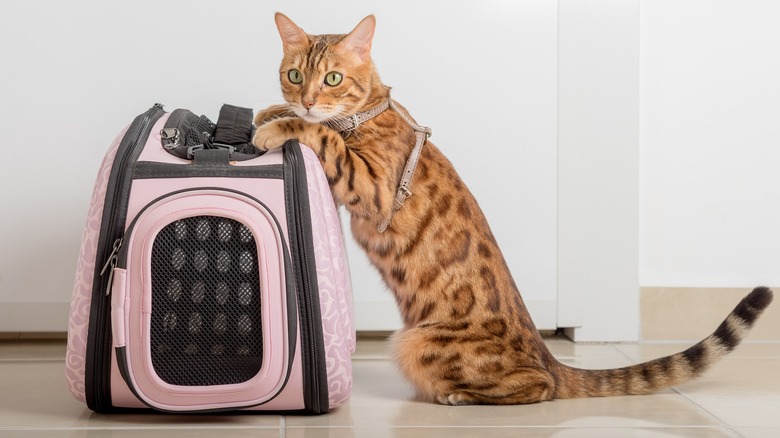 Svetlana Rey/Shutterstock
When it comes to traveling with your pet, your first instinct is to ensure that the carrier they're traveling in is not only secure but comfortable for them as well. And, with a vast variety of both hard and soft-sided pet carriers out on the market, knowing which one to choose for the safety and comfort of your pet can be confusing.
Taking into consideration the dimensions of the carrier is a necessary requirement — as the FAA and each airline have rules and regulations regarding the transport of animals on their planes, whether they can travel in-cabin or the cargo hold, and what the maximum size and weight of your pet's travel carrier can be, per the United Airlines website.
As researched and reported by U.S. News & World Report, soft-sided carriers afford more flexibility for pets and pet owners. They're lightweight, machine-washable, and collapsible. They also come in hundreds of shapes, sizes, and styles, with some having a nifty expandability option. Today, we're going to look into soft-sided carriers and why choosing them over hard-shell carriers is a better option for your pet to travel in, particularly when bringing your pet in-cabin on short or long-haul flights.
Soft-sided vs. hard-shell carriers for in-cabin flights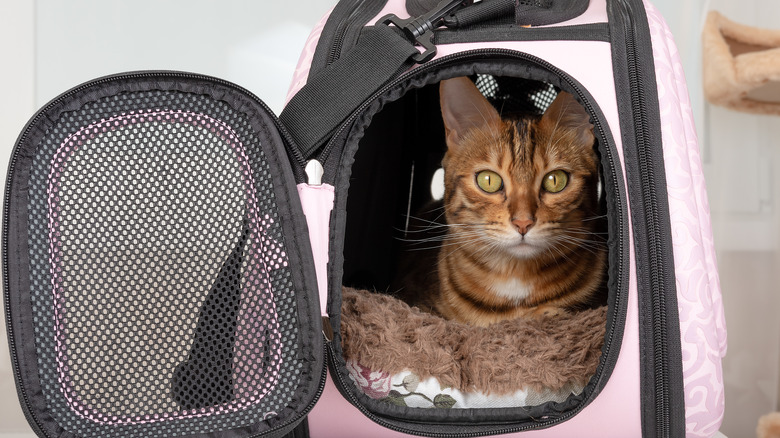 Svetlana Rey/Shutterstock
If you're planning on taking your small feline or canine companion on a flight with you, more than likely, you'll be bringing them in-cabin for the journey. With guidelines laid out by each airline company on the size and dimensions of carriers permitted, the carriers are also required to be well-ventilated and leakproof, as noted on the Delta Airlines website.
Finding a soft-sided carrier that fits easily under the seat in front of you, and can conform to its petite area without causing discomfort to your pet is vital. Hard-shell carriers are not only bulky and stiff but they also cannot be manipulated under airline seats, and tend to stick out into foot traffic. Soft-sided carriers come in durable polyester, nylon, and mesh materials that bend and curve to your pet's body movements, retaining your pet's body temperature better than hard-shell, plastic carriers — thus helping to keep your darling pet warm and toasty on those cold flights.
Soft-sided carriers will oftentimes have convenient external and internal pockets, as well as convenient carrying straps, and may be lined with a unique, sherpa-like blanket for your pet to lay on — making it ever so cozy and comforting during a stressful travel time. Recently, Insider extensively tested 20 cat carriers and narrowed it down to the five best for your furry feline and you to consider. Keep in mind, these carriers can also be used for small dogs.
Pet travel and carrier guidelines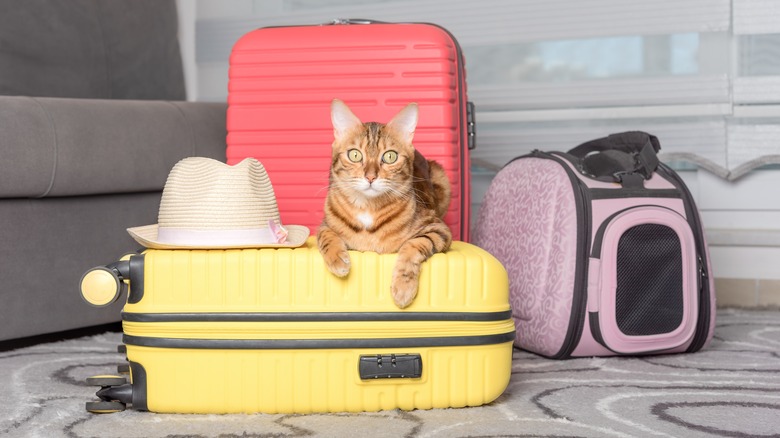 Svetlana Rey/Shutterstock
In addition to style and comfort, considering a soft-shelled carrier for your pet's travel is essential since airlines consider any pet travel bag your carry-on bag — as mandated by the Federal Aviation Administration — with the same maximum weight restrictions permitted for normal carry-ons. Airlines will carefully weigh your pet while it's in the carrier to calculate the total maximum weight accurately before allowing you to board any flight. When taking into consideration the weight of your pet, having a soft-sided carrier that is lightweight, and not stiff or bulky is key, especially if you're trying to make a mad dash between flights from one end of the terminal to the next. 
Given the number of choices available for pet travel bags, finding one that is an approved transport carrier — meaning the carrier falls within the measurement and capacity guidelines imposed by the FAA and airline you're flying with — is crucial for your pet to be able to travel with you, ensuring no issues arise when checking in for your flight.
In order to create a safe environment for your pet while traveling, opt for a carrier that is sturdy, yet comfortable, breathable, soft, and flexible. Your pet will feel as though they are sleeping in the comforts of their home while traveling, which will allow for a stress-free environment for them and for you, making everyone happy.