30 Destinations Where It's Summer All The Time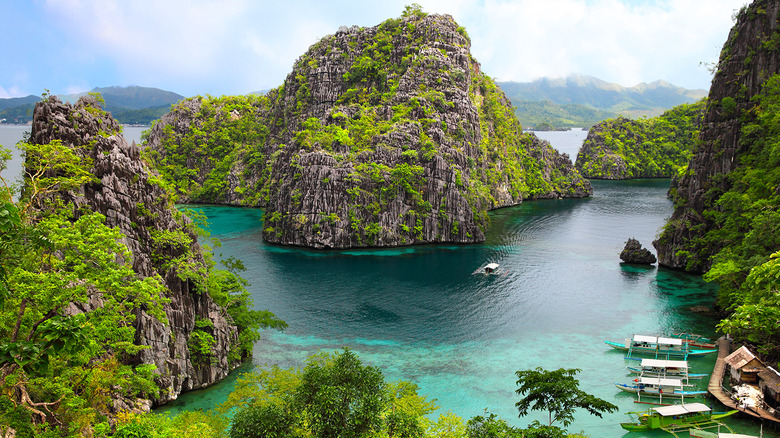 Shutterstock
When you think of a relaxing vacation, what's the first thing that comes to mind? For many travelers, the ideal trip looks sunny and summery: white sand beaches, colorful lounge chairs beneath wide-brimmed umbrellas and the smooth sway of palm trees. In colder months especially, sitting under the sun and spending time on the water sounds better than ever.
In some parts of the world, the weather is warm and toasty all year long, no matter the season. So even in the dead of winter, you can take off on an airplane and arrive in sunny paradise. In these 30 destinations, it's summer all the time.
Antigua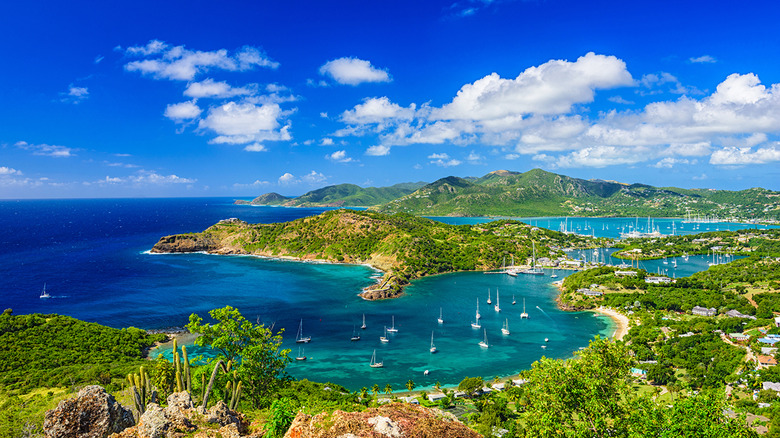 istockphoto.com
Antigua is an island in the eastern Caribbean known for its large expanses of sandy beaches. It's one of the more affordable winter destinations, though it won't feel like a budget trip. The island is ringed with protected coral reefs that attract scuba divers and snorkelers from around the world. Antigua offers delicious Caribbean cuisine, art galleries, museums, dozens of water activities and year-round temperatures that hover around the mid-70s to mid-80s, according to data from the Antigua and Barbuda Meteorological Service.
Bali, Indonesia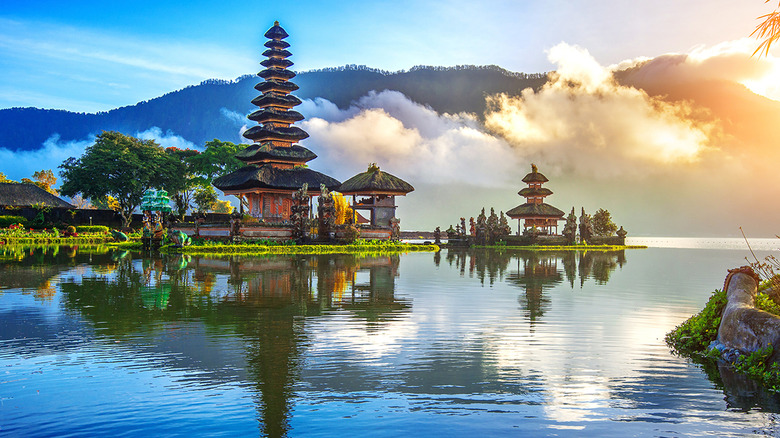 istockphoto.com
Bali, Indonesia, sometimes referred to as "the Island of the Gods," is an island known for its impressive volcanoes, expanses of rice paddies and gorgeous beaches. These landscapes are enjoyable to explore in any season thanks to Bali's consistently warm temperatures and sunny weather. A popular destination for party-goers and families alike, Bali has a colorful culture and activities for any type of traveler. The beach at Menjangan is considered one of the best spots for swimming and snorkeling, and Bali's ancient temples and bustling street markets make it a summery destination you don't want to miss.
Borneo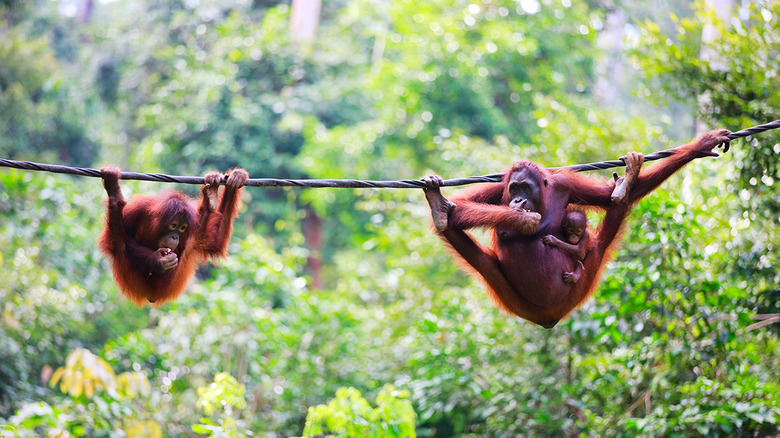 istockphoto.com
The largest island in Asia, Borneo is known for its large rainforests and bright blue beaches. The water is shallow and clear, and the forests are dense with wildlife. Borneo is one of the only places in the world where tourists can see orangutans in their natural habitat. The island also has great hiking, scuba diving and unique travel experiences, including staying in a longhouse to see how indigenous people live.
Cairns, Australia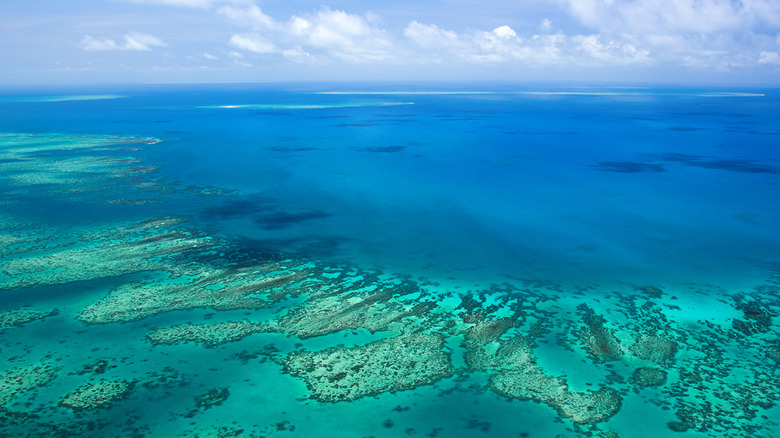 istockphoto.com
Cairns, Australia, features a beautiful landscape of waterfalls, rainforests and beaches, which are often illuminated by a sunny forecast. Visitors can also spend a day in the city at Cairns Esplanade, which has not only a diverse selection of bars and restaurants, but also its very own swimming lagoon. But perhaps the most impressive thing to see in Cairns is one of the sights everyone should see in their lifetime: the Great Barrier Reef. Tour the waters over the reef on a guided boat ride or get up close on a snorkeling adventure.
Cape Town, South Africa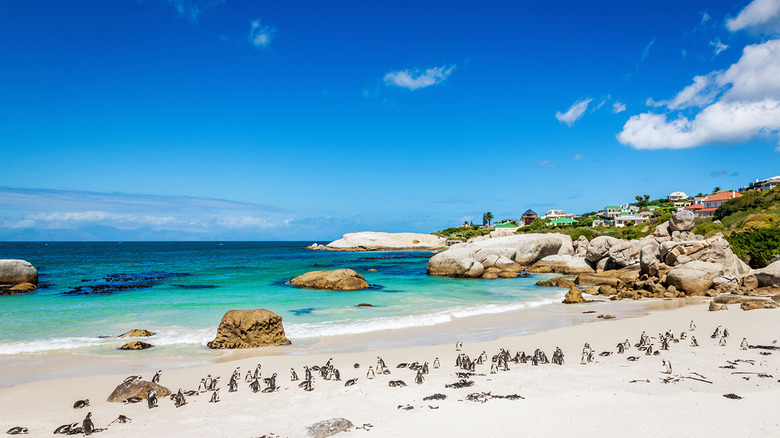 istockphoto.com
The port city of Cape Town, South Africa, is bustling with activity and is rich with cultural history. Visit during the warmer months to spend your days sunbathing with penguins at Boulders Beach, and spend your nights dining on the waterfront and breathing in the warm ocean air. The coldest month of the year for Cape Town is June, when temperatures can sink to an average of 55 degrees, according to data from the South African Weather Service. But that's still warm enough to spend the day outdoors and soak up some sunshine. When you're ready to take a break from the sun, visit the city's many museums and art galleries.
Cape Verde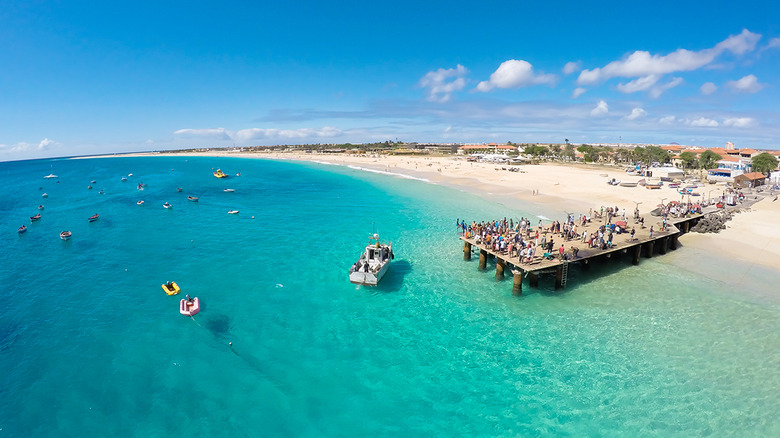 Shutterstock
A tiny cluster of islands off of the coast of Senegal, the country of Cape Verde is a hidden gem of beautiful beaches waiting to be discovered. Despite the islands' small sizes, they have a surprising array of geographical features. Mountain ridges, volcanoes and beaches cover the African islands, and visitors can enjoy the outdoors year-round. Immerse yourself in the culture of the quaint coastal villages or venture into the mountains on an ambitious hike. Relax the days away on the white sandy beaches and dance the nights away experiencing the country's thriving nightlife. Cape Verde is known for its local music genre, called morna, which can be heard at many local bars and restaurants.
Costa Del Sol, Spain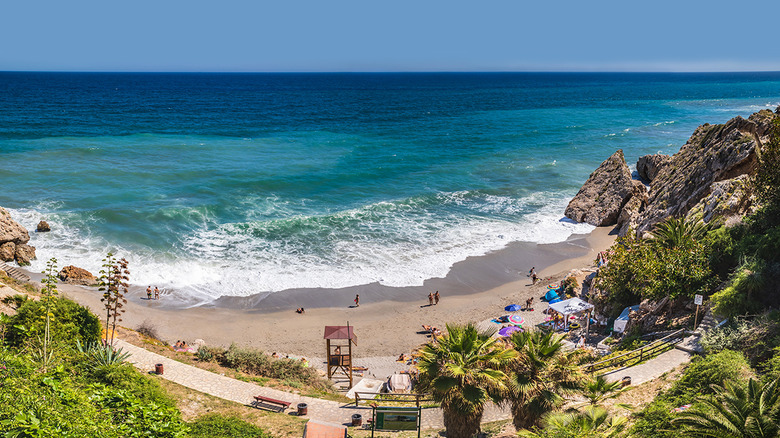 Shutterstock
Costa Del Sol, Spain, which translates to Coast of the Sun, is a must-visit for those seeking warmer weather. The coastal haven is lined with sandy, not-crowded beaches and has a vivacious local culture. Dance the night away and spend your days sunbathing and strolling through the pueblos blancos, quaint, white-washed houses hiding in the hills of the Spanish city.
Curacao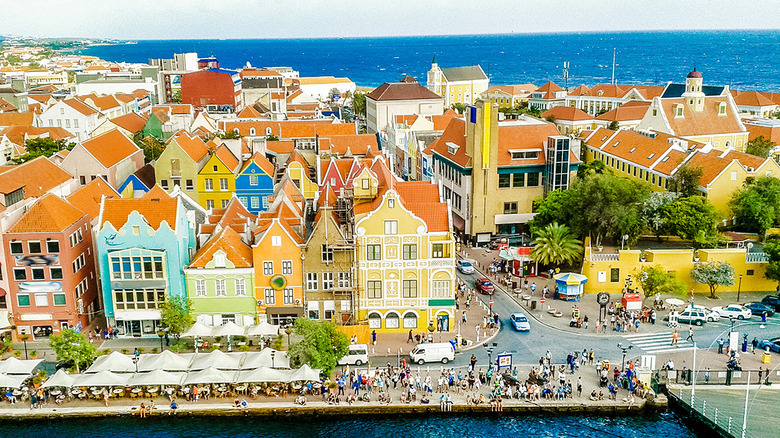 istockphoto.com
Curacao is a Dutch Caribbean island that often gets overlooked as a beach destination because of its proximity to Aruba. But this thrilling destination needs to make it onto your bucket list. The Caribbean paradise has some of the most colorful streets in the world, a rich cuisine and beaches with clear blue waters. The island is perfect for adventure-seekers who enjoy activities such as cliff jumping, trail biking, scuba diving and going on safaris.
Darwin, Australia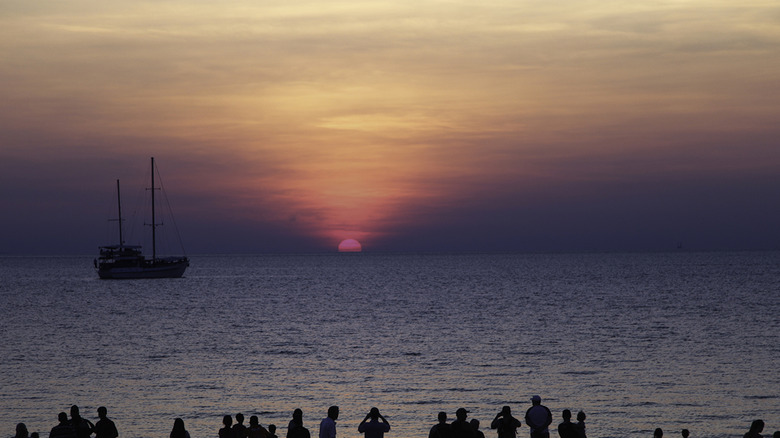 istockphoto.com
When planning a trip to the land Down Under, Darwin might not be the first city that comes to mind. But this warm-weather destination is well worth a visit. The weather is tropical and sunny, and this coastal town has no limit of fun things to do. Immerse yourself in the vibrant food scene, swim with huge crocodiles in Crocosaurus Cove's "Cage of Death" and go snorkeling at Berry Springs. Don't leave without walking through Mindil Beach Sunset Market to watch the dusk fall.
Fort Lauderdale, Florida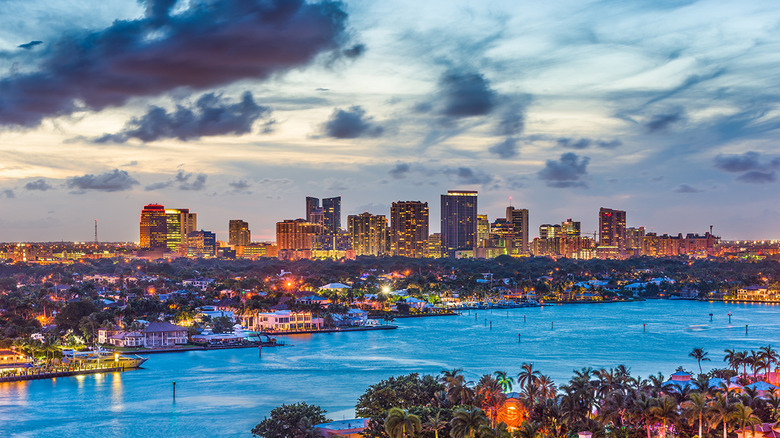 Shutterstock
There's a reason snowbirds flock to Florida in the wintertime: It never gets too cold. The temperatures are sunny and warm year-round; even in the winter months, the temperature averages in the 70s, according to data from the National Weather Service. Avoid the chaos of Miami in its underrated neighbor city, Fort Lauderdale. Fort Lauderdale's beaches boast warm water and beautiful boardwalks. Right by the beach is the Strip, a route along A1A that's home to dozens of beachside restaurants, bars and shops. The city has exciting nightlife and an impressive art scene. Visit the many museums and theater venues during your stay, and treat yourself to some of the best food and drink in Florida.
Goa, India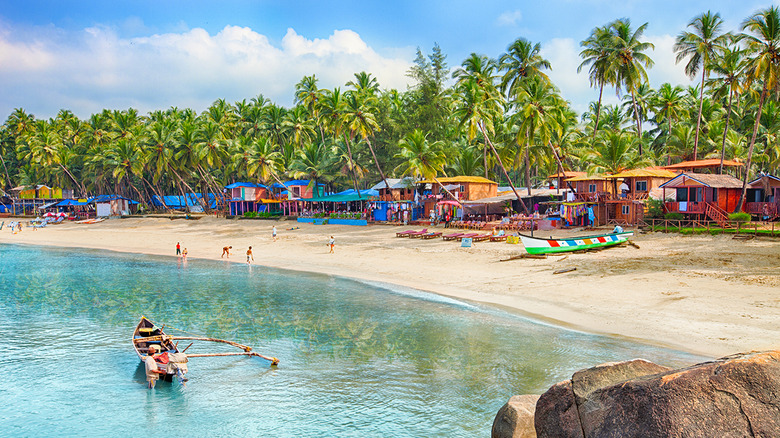 Shutterstock
Goa, located on the western coast of India, is a sunny region known for its beautiful beaches and pleasantly warm temperatures. The local cuisine and culture has both Portuguese and Indian influence, making it completely unique. Any time you don't spend laying out on the sand you can spend sight-seeing at the city's historic convents and cathedral (a UNESCO World Heritage Site) and outdoor flea markets.
Havana, Cuba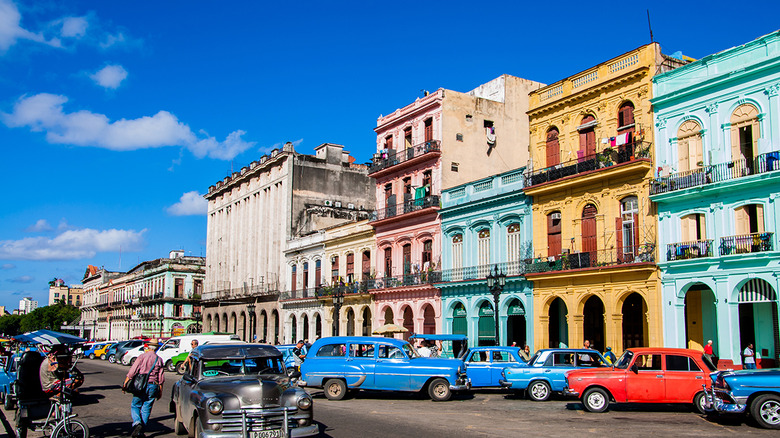 Shutterstock
You can experience great Cuban food, serene beaches and quaint historic districts in warm weather all year long in Cuba's capital of Havana. Havana is known for being beautiful and vibrant, with Spanish colonial architecture and brightly colored buildings on cobblestone streets. Visit the historic district of Habana Vieja or spend a day on the Malecón, a 7-kilometer-long seawall and esplanade where residents will often relax, talk, eat and watch the sunset. There are still some restrictions on visiting Cuba, so ensure that you meet the current conditions required by the government for visitation.
Ho Chi Minh City, Vietnam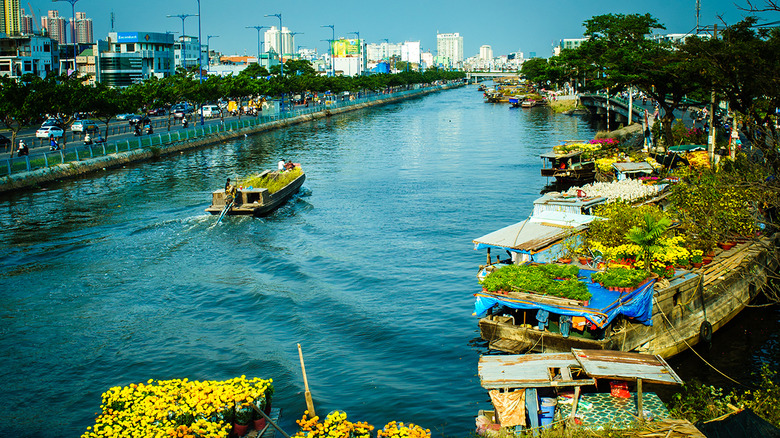 Shutterstock
Ho Chi Minh City is located closer to the equator that other popular Vietnamese cities, which means the temperatures doesn't get as chilly. A rapidly growing tourist destination, Ho Chi Minh City is a great spot for budgeting American travelers due to a dollar-friendly exchange rate. The city has a thriving food scene (mainly located in the city center's Ben Thanh Market) and historical French colonial landmarks for history buffs. The best time to visit this rapidly modernizing city is once the crowds have left in fall, but the weather will be toasty and warm no matter when you visit.
Langkawi, Malaysia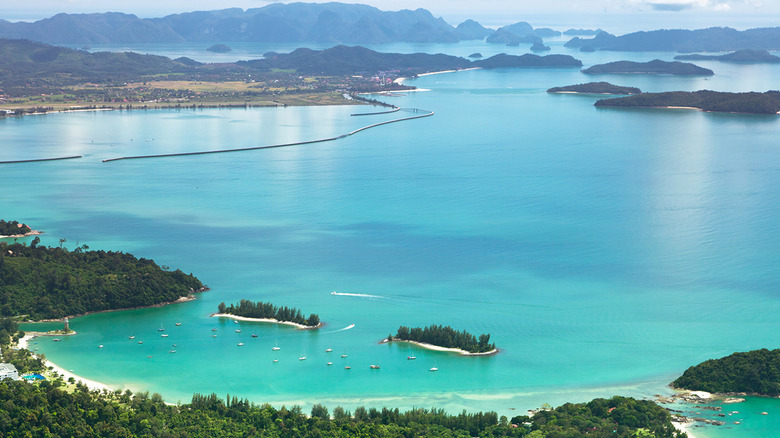 istockphoto.com
Referred to as "the Jewel of Kedah," Langkawi, Malaysia, is an archipelago in the Andaman Sea consisting of 99 small, beautiful islands. Average temperatures are frequently in the 80s, according to the Encyclopedia Britannica, which is perfect weather for enjoying the remote, practically untouched beaches and touring the natural greenery on land. Though it's small, Langkawi is packed with outdoor markets, high-quality restaurants, craft villages, museums and boat tours through lush mangroves.
Luang Prabang, Laos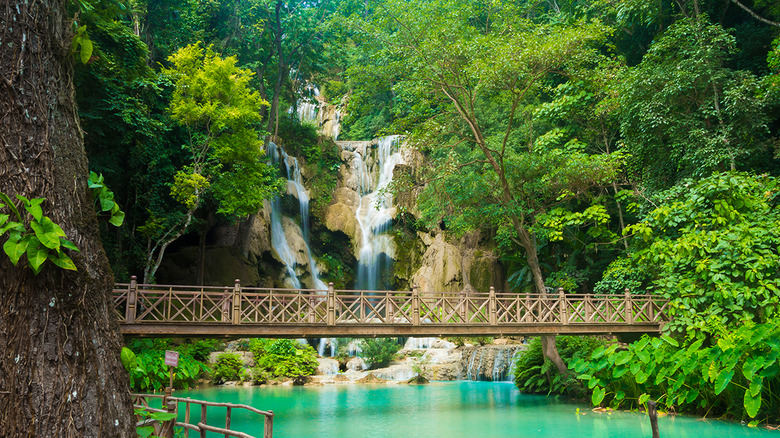 Shutterstock
The weather in Laos stays comfortably warm all year, and the spiritual, calm town is surrounded by gorgeous natural features you'll want to explore. Visit one of the city's many UNESCO-protected sites, including ornate temples, babbling waterfalls, decorated caves and elaborate palaces. The cuisine is unique to the area and the buildings have rich histories with artwork that pays homage to the city's deep spirituality.
Maui, Hawaii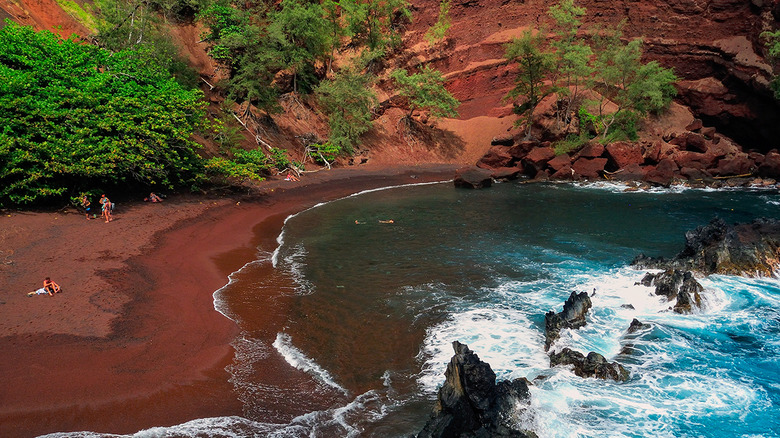 istockphoto.com
Maui is a hot travel destination year-round in both senses of the word — it's often filled with tourists and has average temperatures around 80 degrees or higher all year long, according to data from the National Weather Service. Avoid the crowds by visiting the secret locations only locals know such as Waioka Pond, a secluded freshwater swimming hole lined with cliffs you can dive off of, and Red Sand Beach, one of the world's stunning rainbow beaches you'll have to see to believe.
Mauritius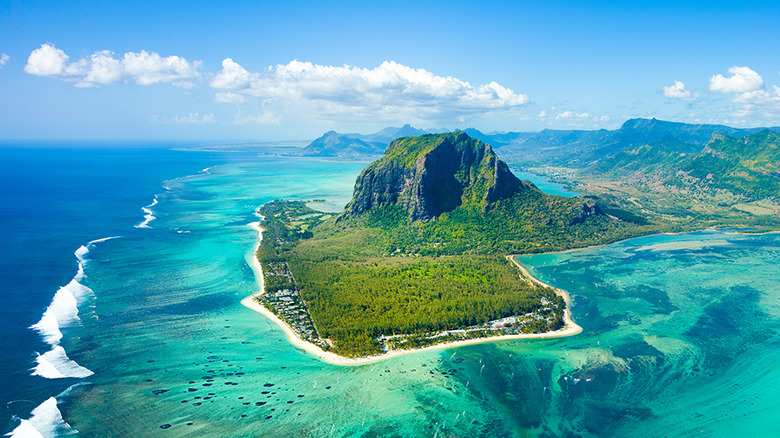 Shutterstock
A relatively lesser-known island located in the Indian Ocean far off the coast of Madagascar, Mauritius is home to a trove of paradisiacal beaches and unique wildlife. Visitors can go hiking on one of the many mountainous trails, doze lazily on pristine white beaches and view breathtaking waterfalls. Visit the city of Port Louis for a more lively bar and restaurant scene or travel to the west coast for vast expanses of forest and incredible mountain views. Here, you'll also find hidden lagoons with calm, open water perfect for snorkeling, kayaking, diving and swimming.
Mazatlan, Mexico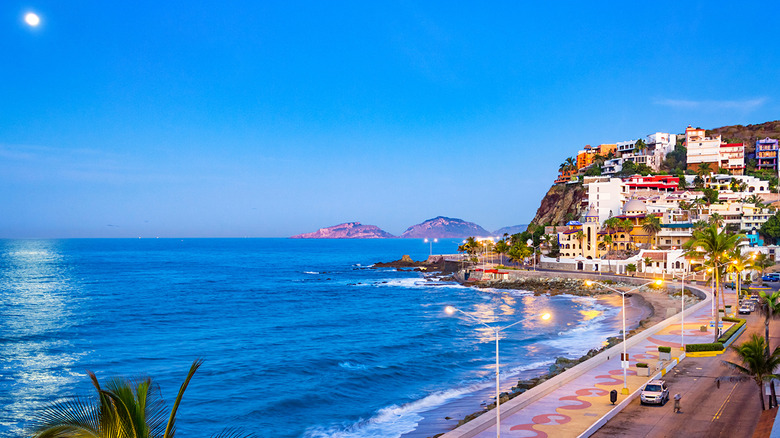 istockphoto.com
Along Mexico's Pacific shoreline is Mazatlan, a beach town with a romantic feel and picturesque ocean views. The city's Zona Dorada ("Golden Zone") is home to the city's most popular beaches and high-end hotels. Tourists should visit Las Labradas, the largest existing collection of engraved stone drawings in Mexico, according to UNESCO, and El Malecon, a scenic boardwalk with idyllic views. The city also has around 12 miles of sandy beaches and unique hiking trails, such as the one leading to Cerro del Creston, a mountain peak and one of the world's prettiest natural lighthouses.
Moorea, French Polynesia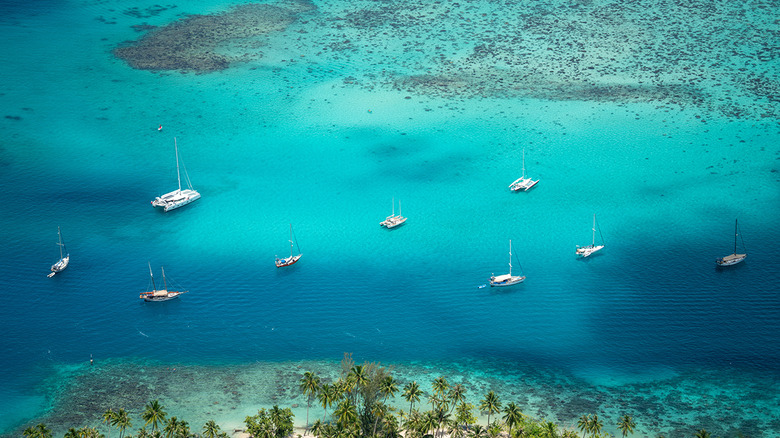 Shutterstock
Moorea is an island in the South Pacific covered in rocky volcanoes and serene beaches. In Moorea, you'll find peaceful waterfalls and breathtaking cliffs among the jagged tall mountains, all bordered by a soft ring of white sand. Go scuba diving with stingrays or lay out by the clear blue lagoon. Walk through quiet, rainbow-like gardens or experience the culture of Moorea's quaint villages.
Negril, Jamaica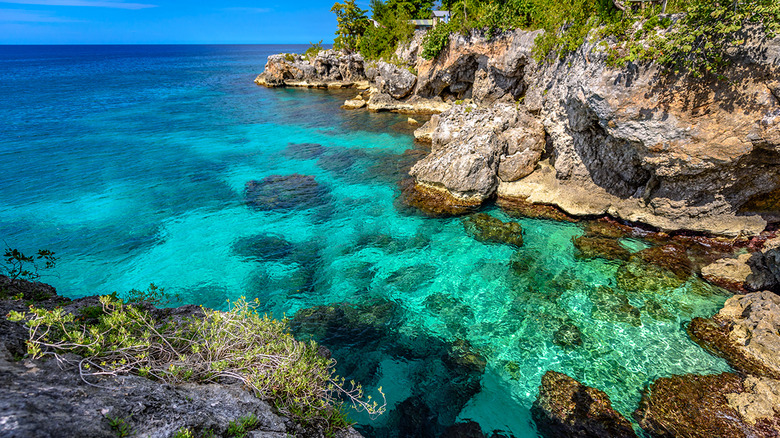 Shutterstock
The weather in Jamaica is sunny and bright all year round, so there's no bad time to visit this tropical destination. Negril is a small resort town with miles and miles of sandy beaches. The warm water is a cool turquoise and the sand is soft and light. Visitors can spend their days on Seven Mile Beach, which is lined with restaurants and bars, and go on adventurous excursions like scuba diving and rainforest river rafting.
Nosy Be, Madagascar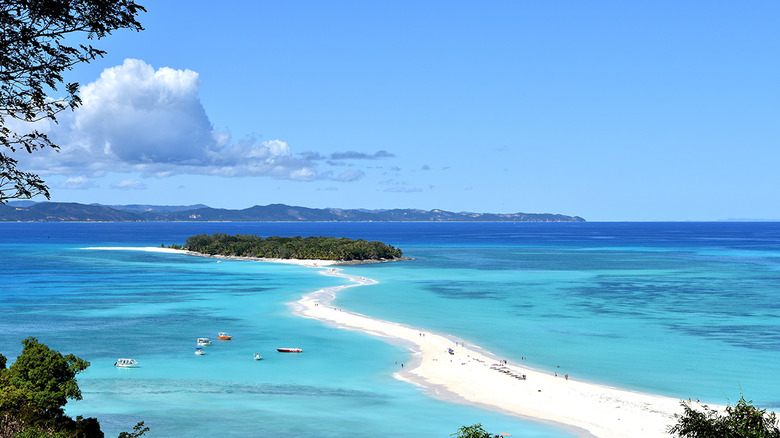 Shutterstock
Nosy Be is a tiny island off the coast of Madagascar. Nosy Be is best known for its spotless beaches and amazing seafood. So if it's a quiet beach vacation you're looking for, Nosy Be might be your ideal spot. The sand is fine and white, the water is shallow and clear, and your photos are guaranteed to be stunning. Recreational activities on the water such as snorkeling and sailing are popular here, so come prepared to explore the surrounding ocean.
Palawan, Philippines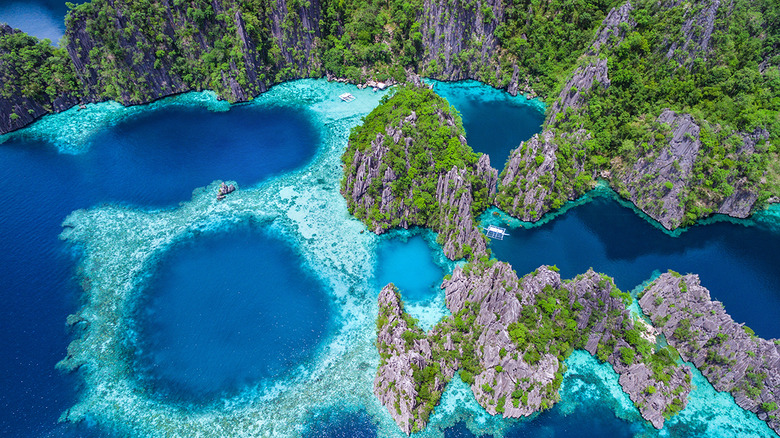 Shutterstock
Palawan is a province of the Philippines and has both large beaches and tiny islands. Go island-hopping or tour mangrove swamps on the Calamian Islands, go snorkeling and visit pearl farms at Port Barton, or visit one of Palawan's most famous spots, the Bacuit Archipelago. The rugged limestone islands are as picturesque as they are varied; moving through the archipelago, you'll find hidden lagoons and coves at every turn.
Phuket, Thailand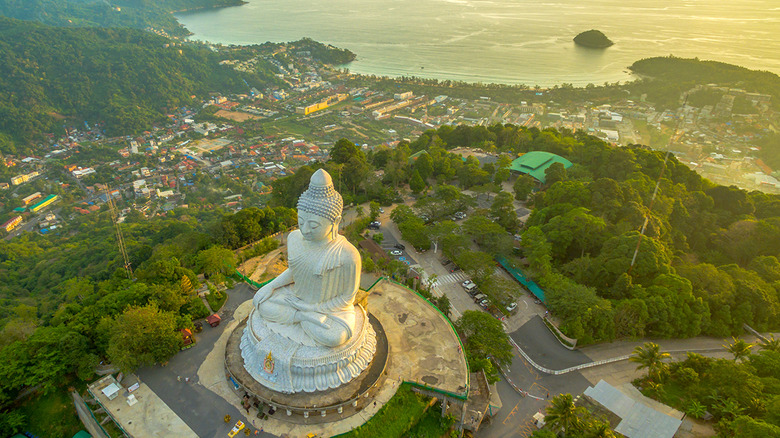 istockphoto.com
Located in the Andaman Sea, Phuket, Thailand, is an island with thick rainforests and jagged mountain peaks. The temperature is usually in the mid-80s, according to the Encyclopedia Britannica, perfect weather for walking through the vibrant street markets and lounging on one of the island's many beaches. The white-gold sand and clear blue water are the main draw of the destination, but don't leave without partaking in some of the many activities here, such as traveling by tuk-tuk (basically an engine-powered rickshaw), hiking through the jungle, touring the local distillery, visiting an elephant sanctuary and eating local Thai cuisine.
Punta Cana, Dominican Republic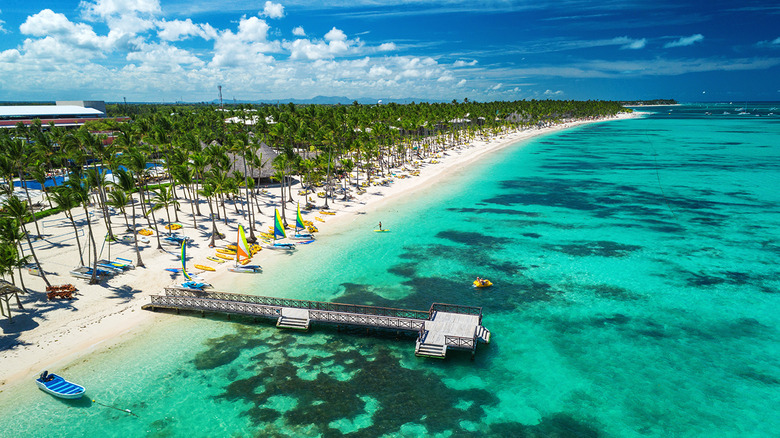 istockphoto.com
Punta Cana is one of the most popular tourist spots in the Caribbean. Its over 30 miles of beaches are lined with glitzy resorts, hotels and casinos. Adventure-seekers can find activities such as scuba diving, hiking, ziplining and wildlife spotting. The beaches offer a calm escape and the many restaurants have dining options to fit everyone's tastes. The weather in Punta Cana is almost always sunny, ideal for spending time outdoors partaking in recreational activities or touring the well-maintained parks.
Rarotonga, Cook Islands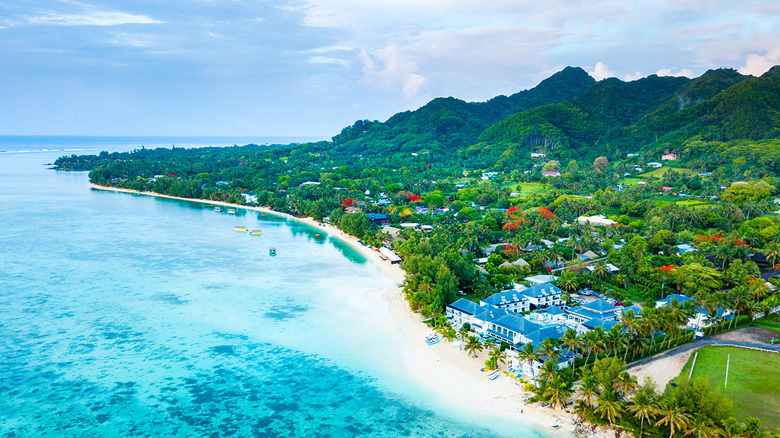 istockphoto.com
The Cook Islands are a cluster of stunning remote islands in the South Pacific. You really can't go wrong in visiting any of them, but Rarotonga in particular is home to one of the best beaches in the world, Muri Beach. Rarotonga is the largest of the 15 islands and has an array of geographical features ranging from volcanic peaks to rich rainforests. Visitors can hike the Cross-Island Track, a rugged trail that features breathtaking waterfalls and stunning wildlife. During the hike, you will traverse "The Needle," the highest point on Rarotonga at the peak of Te Rua Manga. Winter and early spring is the best time of year to visit since it's the dry season, but these islands are nice and warm year-round.
Rio de Janeiro, Brazil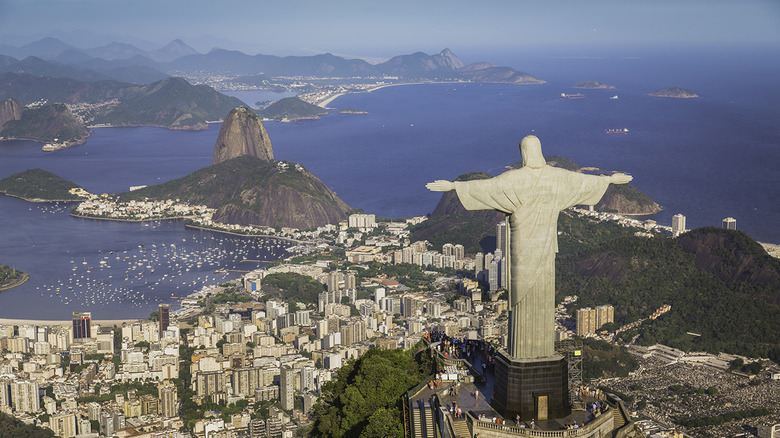 istockphoto.com
The massive city of Rio de Janeiro stays toasty warm year-round (even for its magical Christmas celebration). Rio de Janeiro is a place every traveler needs to see in their lifetime. With world-renowned beaches and vibrant nightlife, your visit is sure to be a party. Hike up Sugarloaf Mountain for a breathtaking view of the surrounding landscape and sample the local cuisine at a beachside restaurant.
Saint Barthelemy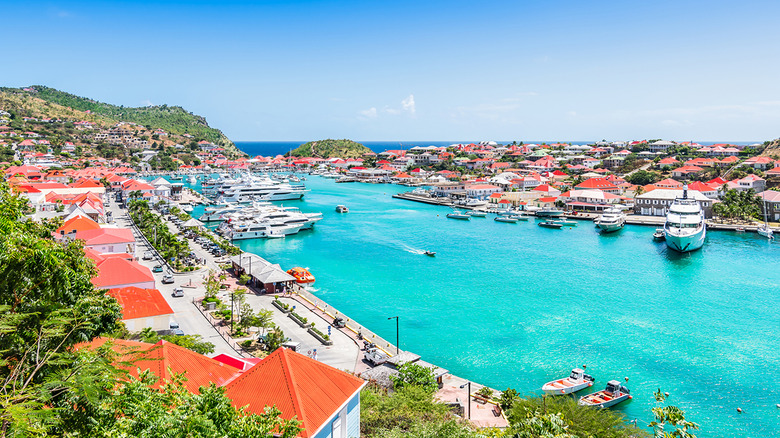 istockphoto.com
Commonly known as St. Barts or St. Barths, this Caribbean island is known to attract first-class travelers to its designer shops, world-renowned hotels and villas and pristine white-sand beaches. It's known for being expensive and elite; the harbor is filled with yachts and the restaurants are five-star. The weather is first class here, too, with frequent temperatures in the 80s and the lowest temperature extremes at just 68 F, according to the Encyclopedia Britannica. Precipitation levels are low, too, so rain isn't likely to spoil your trip.
San Pedro de Atacama, Chile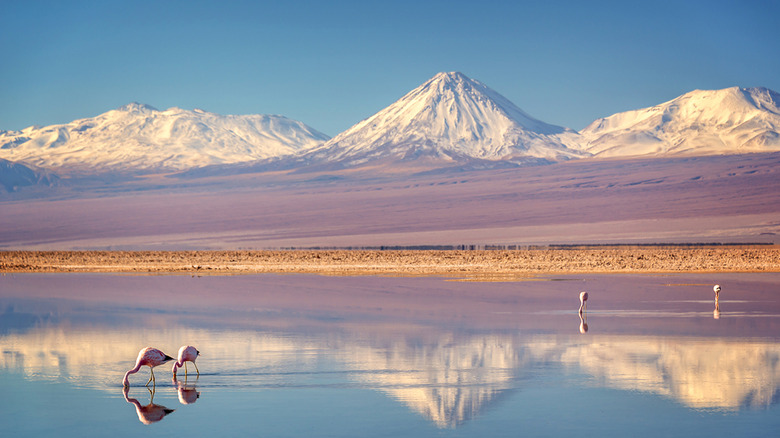 istockphoto.com
Located in the Andes Mountains in northeastern Chile, San Pedro de Atacama has a stunning desert landscape you have to see to believe. The Atacama Desert is known for its unique rock formations and colorful horizons. This desert is far from barren — you'll find geysers, lagoons and stunning salt flats, as well as plenty of wildlife like flamingos. Visit traditional-style adobe homes and immerse yourself in the culture of the indigenous people while you take in the unique landscape.
Sentosa, Singapore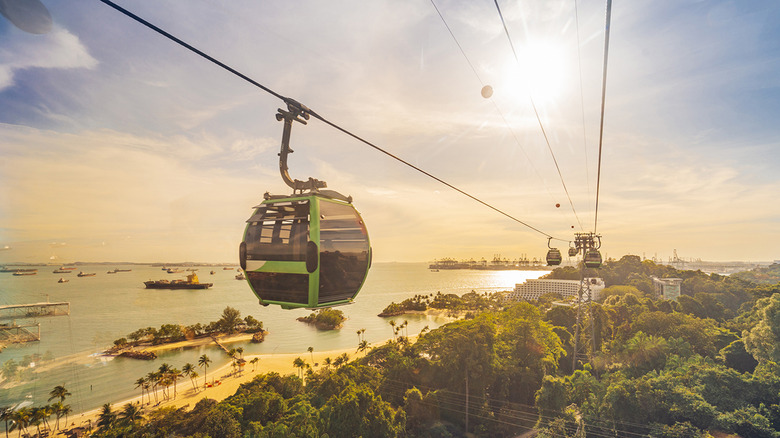 istockphoto.com
Sentosa is a resort-lined island in Singapore that attracts sun-seeking vacationers from around the world. The island is home to a Universal Studios, a water park, an aquarium and other resort attractions as well as more peaceful locations such as calm beaches and impressive yet walkable boardwalks. Visit some of the high-class restaurants and try out some of the more thrilling activities such as simulation skydiving and ziplining. Sentosa is a family-friendly warm-weather destination you won't forget.
Zanzibar, Tanzania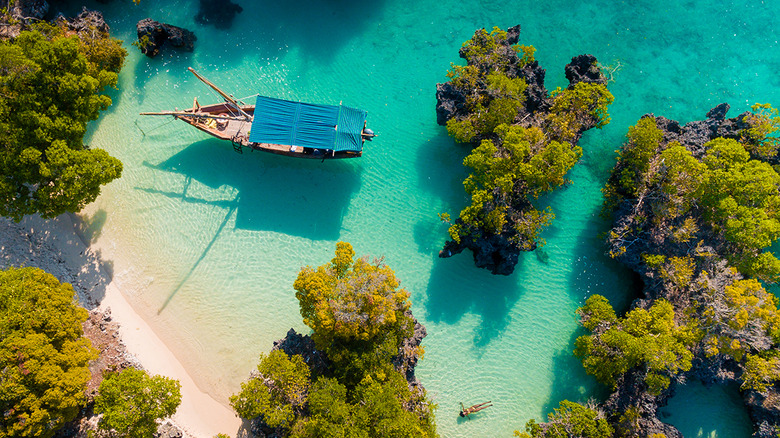 Shutterstock
The semi-autonomous islands of Zanzibar are located just 15 miles off the coast of Tanzania. Between the tropical rainforests and white coral beaches, there is no shortage of landscape to explore. Many of these areas are still undiscovered by most tourists, so you can soak up the sun at your leisure without stressing about beating the crowds. Don't be surprised if you find yourself spending most of your time at the beach, as Zanzibar has one of the most beautiful coastlines in the world.