These 15 States Get The Most Snowfall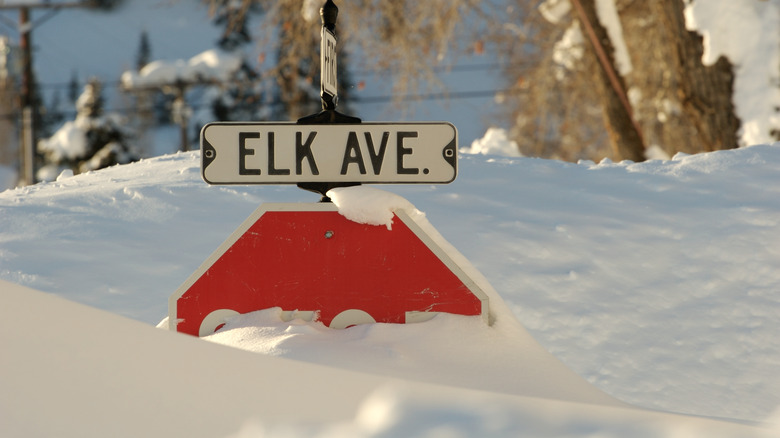 iStock.com/beklaus
Vermont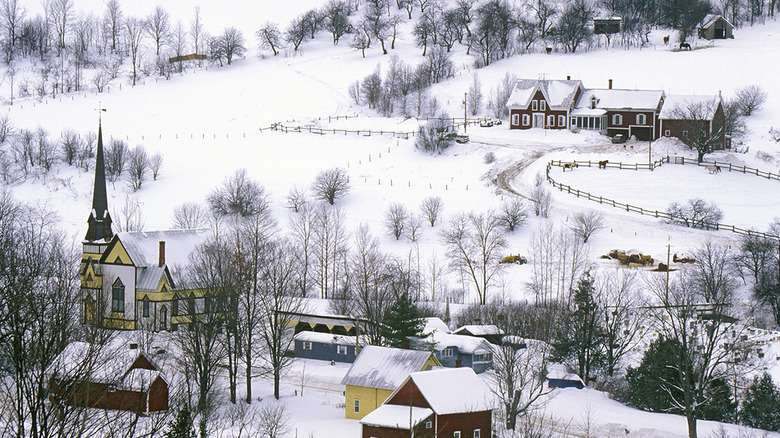 Jospeh Sohm/Shutterstock
Vermont's climate can be marked by chilly, frosty winters. Burlington, in the northwestern part of the state, sees an average annual snowfall of 72 inches. In 2018-2019, the area had 102 inches of snow in just one winter season. Since Vermont has such a spectacular autumn, it's likely to be just as magical in winter.
Maine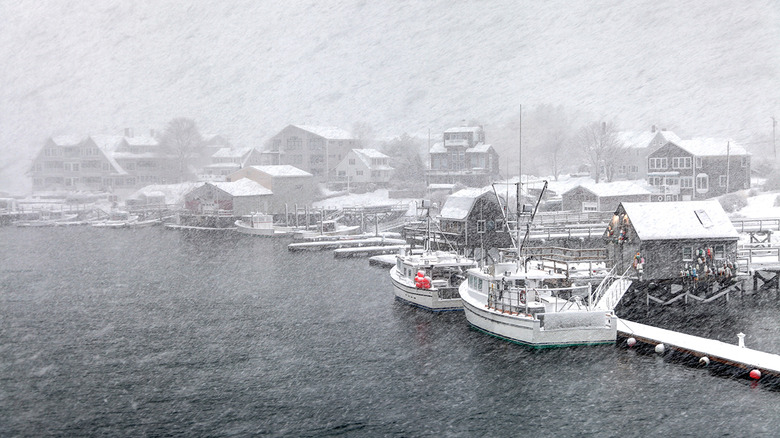 iStock.com/DenisTangneyJr
Depending on which part of the state you're talking about, the average accumulated snowfall in Maine is between 10 and 80 inches, with the northern tip of the state being an extreme outlier and receiving up to 125 inches. Caribou, the most northeastern city in the U.S., recently recorded 157 consecutive days with at least an inch of snow on the ground, breaking its previous record of 155, set during the winter of 2002-03. If you are not a snow lover, winters in Maine would not be ideal, but the state does make for a great summer getaway.
New Hampshire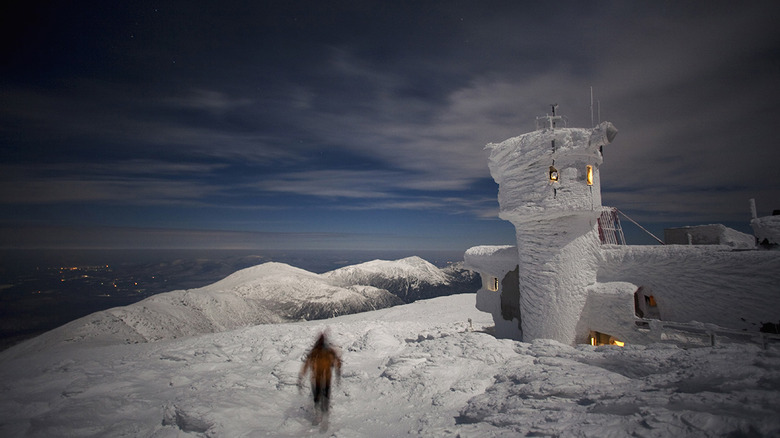 Jose Azel/Aurora/Getty Images Plus
The statewide average snowfall in New Hampshire is about 60 inches per year, but certain pockets of the state see massive amounts of snow. Mount Washington, the highest peak in New Hampshire's White Mountains, easily tops the list of snowiest places in the country with an average of over 23 feet of snow annually.
Colorado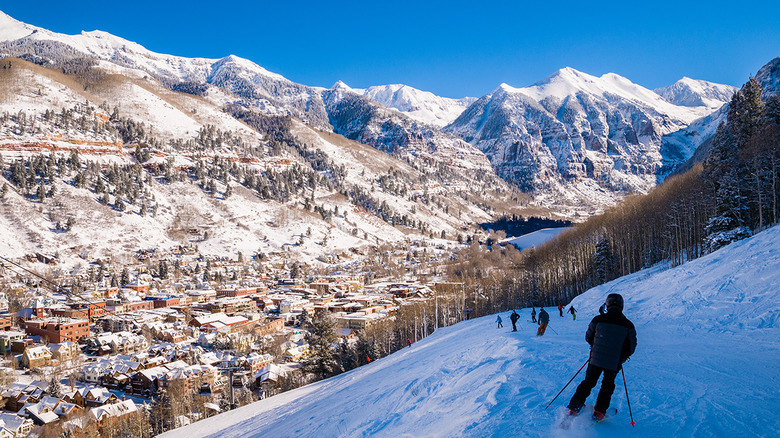 Glenn van der Knijff/Lonely Planet Images/Getty Images Plus
Colorado's snowfall totals vary across the state. The mountainous regions of the state receive between 150 inches to more than 400 inches per year. In Telluride — a top choice for skiers — the average is about 175 inches. Meanwhile, Denver has a long-term seasonal snowfall average of 57 inches.
Alaska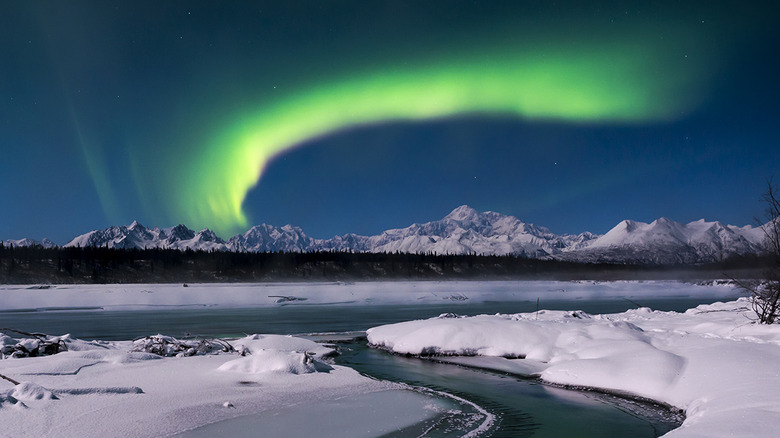 Carl R. Battreall/Design Pics/First Light/Getty Images Plus
It should be no surprise that Alaska sees pretty heavy snowfall. The snowfall amount varies from region to region in the state. In Yakutat, which is off the Gulf of Alaska and borders Glacier Bay National Park, it snows up to 216 inches a year. Nome, Alaska, also sees a large amount of snow — it had a winter snowfall of 70 inches in 2018-2019, most of it from a February storm that dropped nearly 36 inches.
Michigan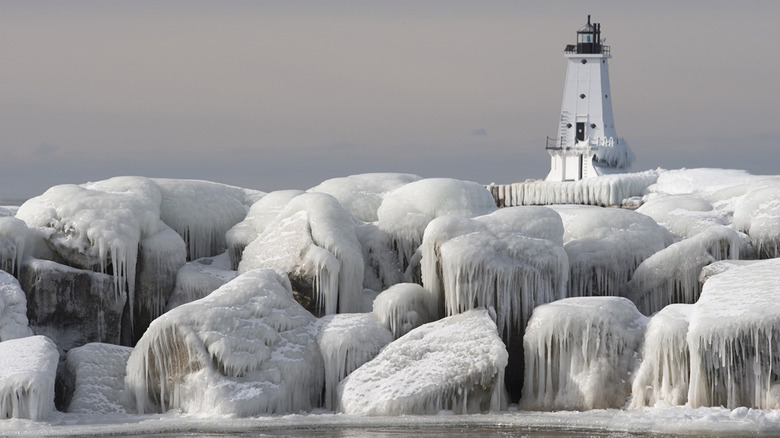 iStock.com/jskiba
Heavy snow is incredibly common in Michigan — as it is for most of the Midwest — but it varies throughout the state. Sault Ste. Marie is one of the snowiest places in Michigan because of its proximity to two of the Great Lakes — Superior and Huron. The area gets a seasonal snowfall of 120 inches. Parts of the Upper Peninsula receive upward of 180 inches of snow annually. The eastern shore of Lake Michigan in the Lower Peninsula also receives more snowfall annually than the rest of the state. In the winter of 2018-2019, Detroit received just 30 inches of snow, 9 inches below the city's historical average.
Massachusetts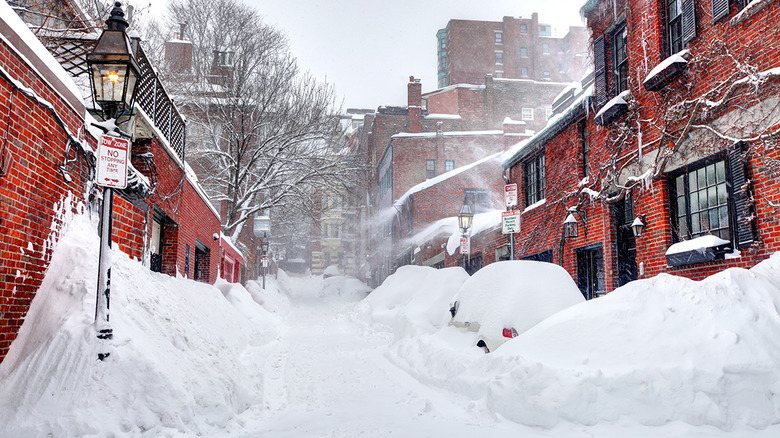 Mitchell Funk/Photographer's Choice/Getty Images Plus
Along with Maine, New Hampshire and Vermont, Massachusetts also experiences long winters and heavy snow, not to mention the occasional nor'easter. Cities in northeastern and central Massachusetts get hit hardest on an annual basis, consistently putting the state on the highest snowfall rankings. Boston alone saw 50 inches of snow in 2018. Massachusetts averages five snow events each winter month.
New York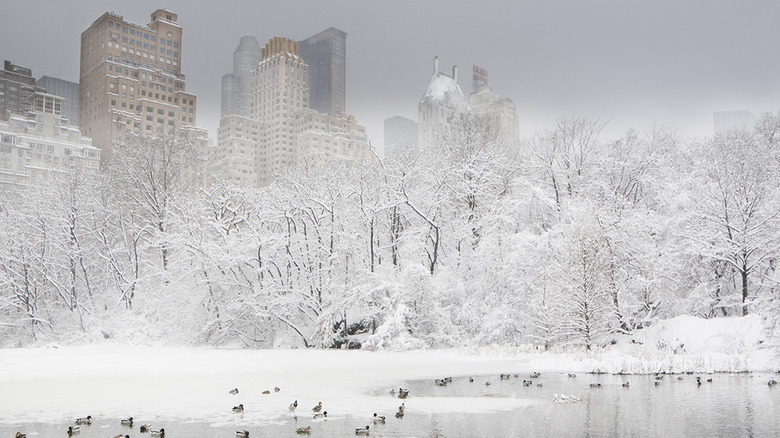 Royalty-free/Getty Images
New York may be one of the happiest states in America, but it's also one of the snowiest. Cities in the western part of New York, like Rochester and Buffalo, get the most. During the 2018-19 winter season, Rochester saw 97 inches of snow, most of it in January alone, and Buffalo received more than 100 inches. According to the NOAA, excluding the Coastal Division of the state, New York receives an average annual snowfall of 40 inches or more, with 60% of the state averaging more than 70 inches per year.
Wyoming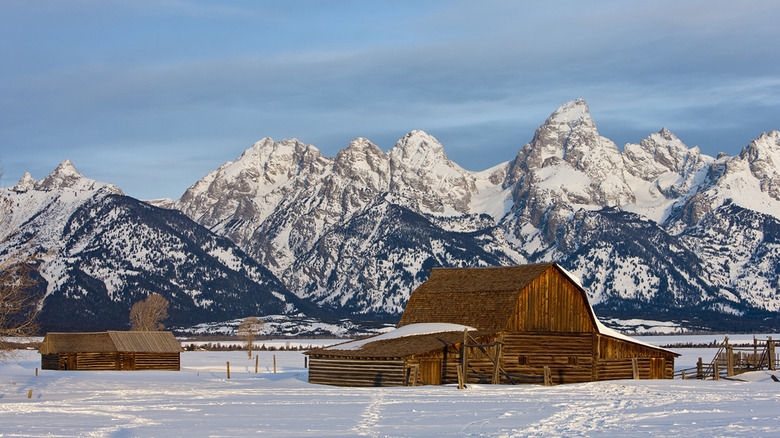 Stock.com/thejack
Some mountain regions in Wyoming see more than 200 inches of snowfall annually. And other areas like Jackson in Wyoming's Jackson Hole valley get nearly 67 inches of snow a year. Jackson is known for its ski slopes and its close proximity to Yellowstone National Park.
Wisconsin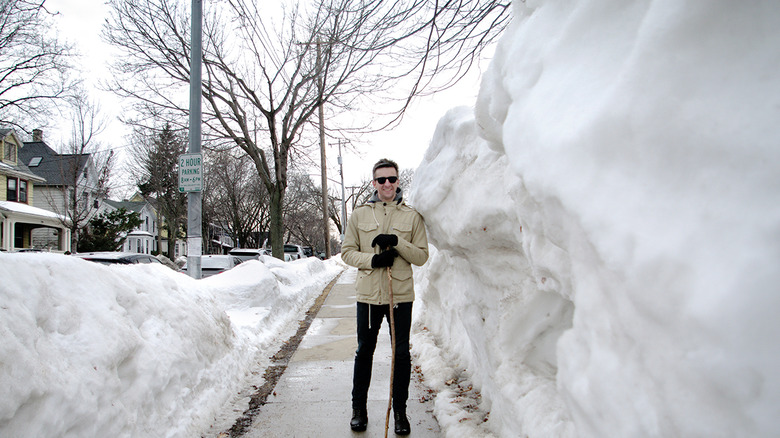 Royalty-free/Getty Images
The Midwestern state sees average seasonal snowfall totals between 40 to 50 inches across most of central and northeast Wisconsin. But the snowbelt region of Vilas County sees twice as much with 100 to 125 inches annually.
Minnesota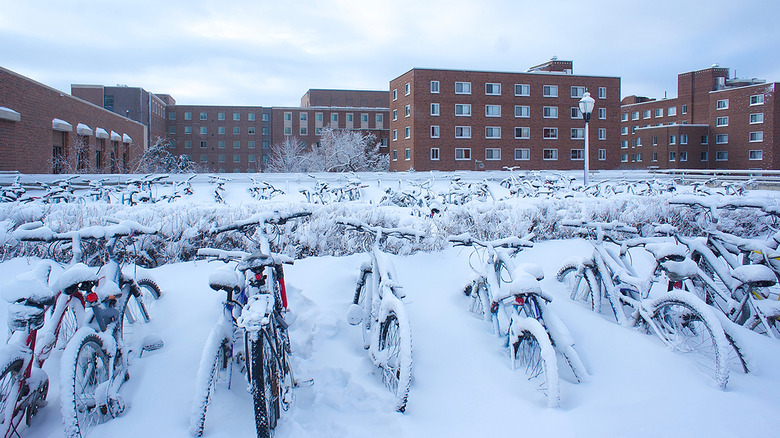 iStock.com/HaizhanZeng
Snowstorms are not uncommon for Minnesota winters, with average yearly snowfall between 40 to 60 inches. Duluth, however, gets close to 86 inches of snow per season. And International Falls in Minnesota not only boasts snow, but is also one of the coldest inhabited places in the world, with temperatures as low as minus 55 degrees F.
Utah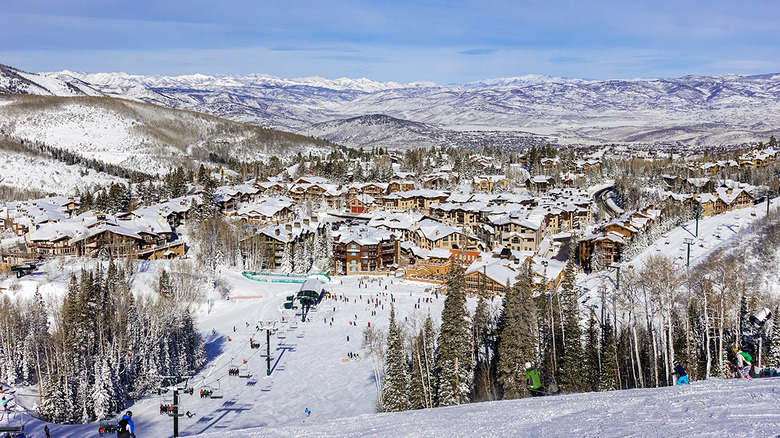 David A. Litman/Shutterstock
Utah is also a shoo-in for this list, especially with places like Salt Lake City, which gets an average of 47 inches of snowfall a year, and other areas in the mountains, which can see over 400 inches annually. But despite the flakes, the state is the second happiest state in the country, and also one of the safest.
Rhode Island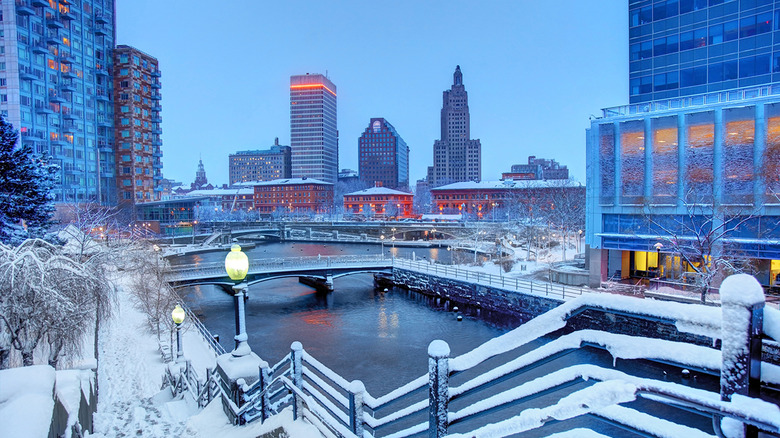 iStock.com/DenisTangneyJr
While Rhode Island is the smallest state in the country, its snow totals are fairly high. According to the data, the western part of the state sees between 40 to 55 inches per year.
Connecticut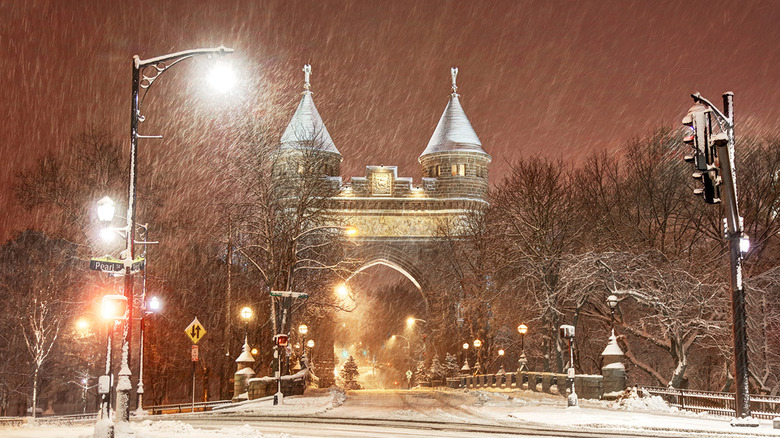 iStock.com/DenisTangneyJr
Another New England state, Connecticut, sees a generous amount of nor'easters and winter storms. In a typical winter season, average accumulated snowfall can range from 35 inches along the coast to 50 inches in the northwest side of the state. Places like Bridgeport get about 29 inches of snow annually while New Hartford averages 59 inches.
South Dakota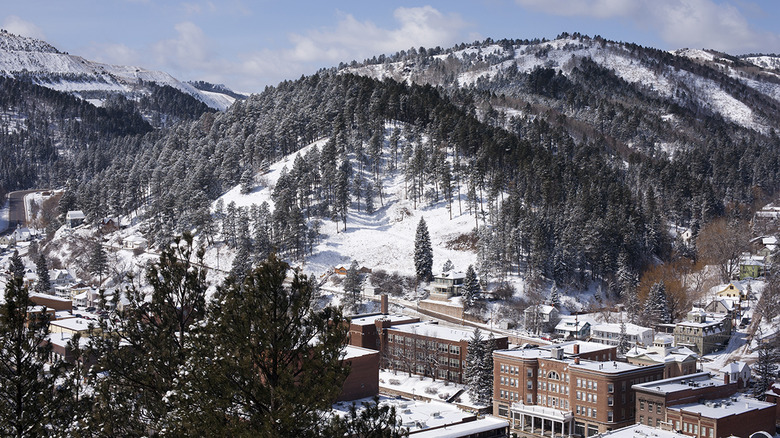 Royalty-free/Getty Images
South Dakota's northern location in the U.S. makes it highly susceptible to snowstorms. Most of the state averages about 30 inches of snow annually, but the area of Black Hills National Forest can receive more than 70 inches a year.