The One Place You Don't Want To Be During Magic Kingdom's Fireworks Display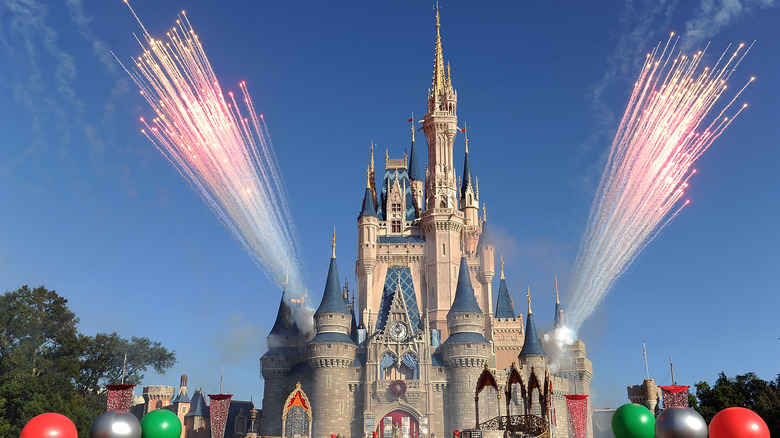 Handout/Getty Images
Over 58 million people visit the Magic Kingdom at Walt Disney World each year, according to Magic Guides. With those numbers, visiting the most magical place on earth can be pretty hectic if you're not prepared. That's why there are many different resources through Disney and other websites that help visitors navigate attractions at the popular amusement park.
One of the most popular attractions at Magic Kingdom is the nightly fireworks and light show. Projection effects, lights, and lasers flash across the famous Cinderella Castle during the show, showcasing popular Disney characters and songs. Each night, thousands of visitors flock to Cinderella Castle to see the show. The current 15-minute show is "Disney Enchantment," which is "a fireworks spectacular that empowers you to believe in yourself and in magic," according to Walt Disney World.
While the fireworks show is indeed breathtaking, visitors will be surprised to find that there's one place that they should completely avoid during the show.
Main Street USA is super crowded during the nightly fireworks
Since the nightly firework show displays around Cinderella Castle, it makes sense to go to Main Street USA in the Magic Kingdom to watch. However, thousands of others have the same idea. The street quickly gets filled with people with little space to move around. That can be annoying when you're trying to enjoy the show, especially after a long day of dealing with the crowds. And if you have tired and cranky kids in tow, it could make things even worse.
Instead of running to the castle, planDisney panelist Anne Marie R suggests going to other locations. Per a conversation with Good Housekeeping, she shared that the bridge to Tomorrowland offers visitors a great view with fewer crowds. "And Tinker Bell flies directly over your head," she revealed. "Otherwise, stand behind Cinderella Castle near Prince Charming Regal Carrousel or near the ferry dock at the Transportation and Ticket Center to get a picture-perfect view."
Skip the fireworks altogether to get on more rides
Another trick to enjoying the last few minutes before the park closes is to skip the fireworks display completely. The best time to ride your favorite rides is when everyone else is distracted by something else. For example, the Magic Kingdom parade on Main Street is the perfect time to visit other attractions. Crowds are often so enamored by Mickey Mouse and friends on the floats that they aren't concerned with rides at all.
Since the majority of people are also on Main Street during the fireworks display, you can sneak in a few extra rides without having to deal with long lines. Visitors who have already seen the fireworks show may find that tip extra helpful. "It feels like you have the entire park to yourself since almost anyone is in front of the castle for the fireworks," Cristy Stewart-Harfmann of HappyFamilyBlog told Good Housekeeping.