10 Winter Sports You Need To Try This Year
Winter Sports You Need to Try this Year
From the active adventures you can take regularly to the once-a-winter experiences like bobsledding, changing up your routine can help keep you moving despite shorter days and colder temperatures. Whether you plan on getting outside for exercise, pure enjoyment or a bit of a thrill, there are plenty of opportunities—just add snow. 
Fat Biking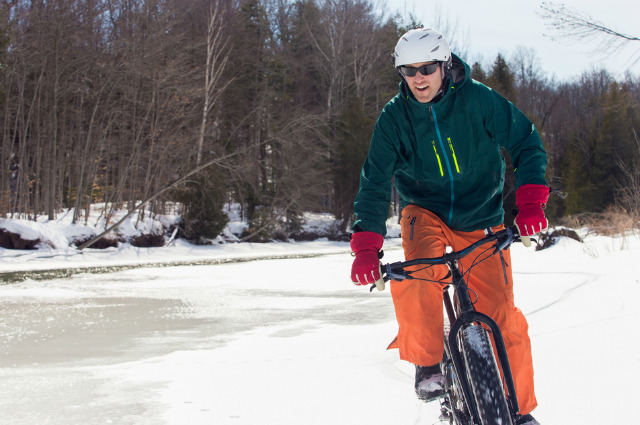 Shutterstock
With quiet beginnings in sand and snow during the 1980s, fat biking has recently exploded onto the winter recreation and bike commuter scene. Designed specifically for handling soft, uneven conditions, the fat bike is perfect for taking on snow, sand and even some dirt trails where you might need extra grip. The defining feature on these bikes are the over-sized tires, which allow the rubber to float over obstacles or unfavorable conditions—and they are a blast to ride any time of year. If you miss warm-weather riding, try fat biking this winter; many trail systems allow fat bikes and rentals are available in many ski towns across the country and are increasingly popping up in bike shops everywhere.
Ski Biking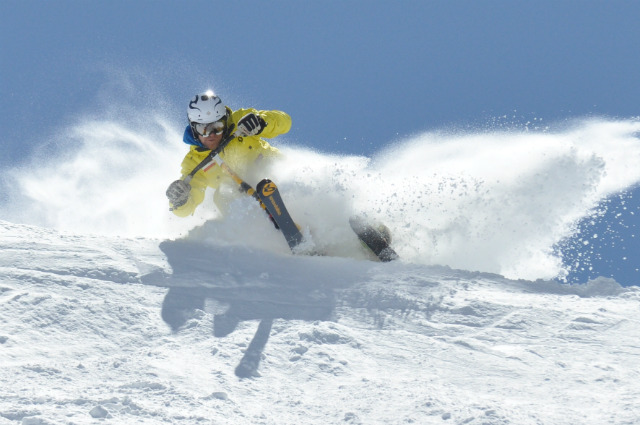 Wikimedia Commons/ Bernd Brenter licensed under CC BY-SA 3.0
Much like it sounds, this downhill sport combines a bike frame with skis in place of tires for an ultimate thrill. Well-loved as an alternative winter sport, ski biking is an adventurous way to get on the mountain without a long learning curve. Several ski resorts (like Vail) offer rentals and tours; visit the American SkiBike Association to learn more.
Snowkiting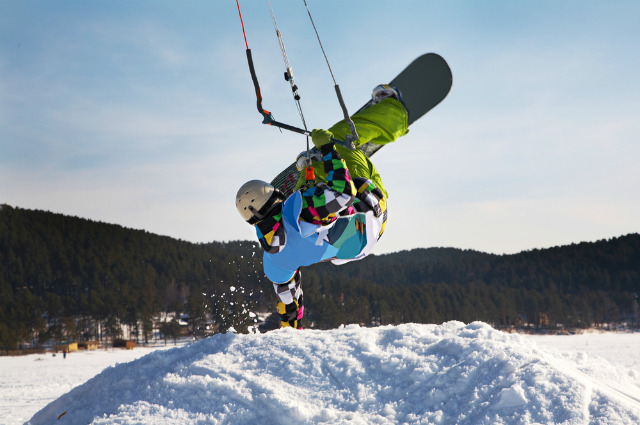 Shutterstock
Essentially the wintertime equivalent of kiteboarding on open water, snowkiting is a wind-powered adventure that can take you over snow and ice and into mid-air. The adventurous sport can bring you uphill, downhill or across flat stretches of land, while you're attached to the kite via harness and handle. It's highly recommended that you start learning with a trained professional, a helmet and a small trainer kite and once you get the hang of this sport, you might be ready to ditch downhill skiing and riding for good. For more information, check out snowkiting.com.
Airboarding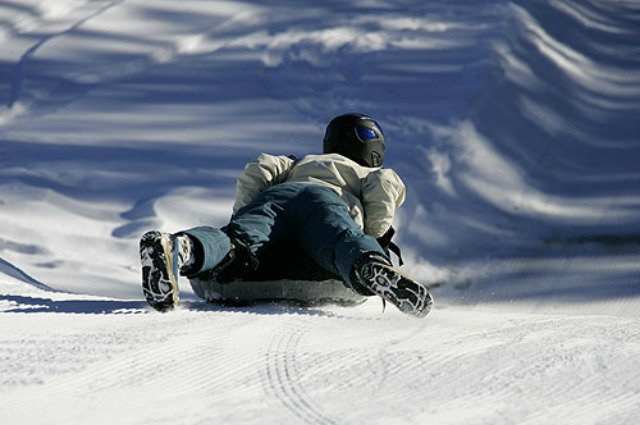 Wikimedia Commons/ Roland Zumbühl (Picswiss) licensed under CC BY-SA 3.0
Similar to the well-loved childhood tradition of sledding, this sport is taking the slopes by storm. The activity, enjoyed by both kids and adults, will have you cruising down the mountain (head first) on top of a blow-up body board. And while this may not be the most calorie-torching winter sport, it is one of the most fun and beginner friendly ones. Currently available at ski resorts across the country, be sure to check out airboarding on your next trip.
Snow Kayaking
Described as "sledding on steroids," snow kayaking is exactly what it sounds like. Instead of storing kayaks away for the winter, the sport involves racing the freshly-waxed boats over snow, down mountains. With the help of a paddle to steer and a helmet in the event of a crash, you will fly down slopes. Be sure to start out slow on a wide open hill with a gentle slope, as a kayak isn't as easy to steer as a pair of skis.
Ice Climbing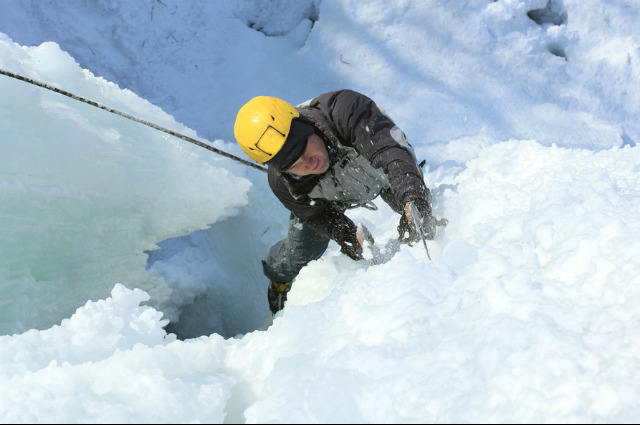 Shutterstock
You've likely heard of this tough sport before, but if you haven't tried it for yourself maybe this winter is the time to start. Challenging for both the body and the mind, ice climbing provides an adrenaline rush and puts you in a pristine natural environment. Seeing that the risk factor here is pretty high, it's always a good idea to start with lessons from a qualified instructor and the proper safety equipment. Once you've got the hang of the sport, there are many places across the U.S. that are ideal for ice climbing.
Curling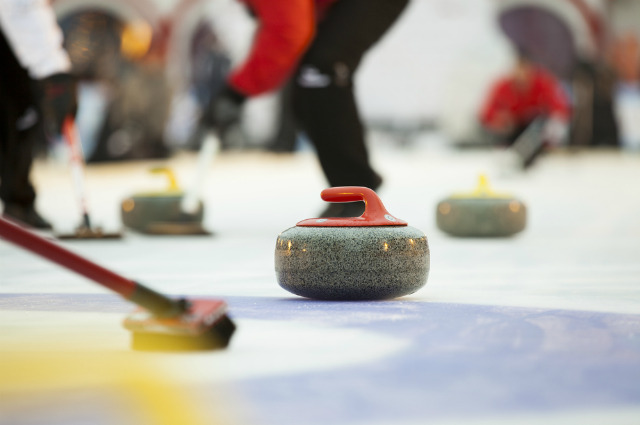 Shutterstock
The once obscure winter sport has gotten major attention on the world stage, with its appearance in the Winter Olympics, prompting everyday athletes to give this team sport a try. The sport consists of sliding large stones across ice with the goal of making it into a target area.  Although it seems simple enough, the team aspect can make accuracy extra tricky. Due to the growth in popularity, it's fairly easy to find a curling venue—check out this website to find a rink in your area.
Skijoring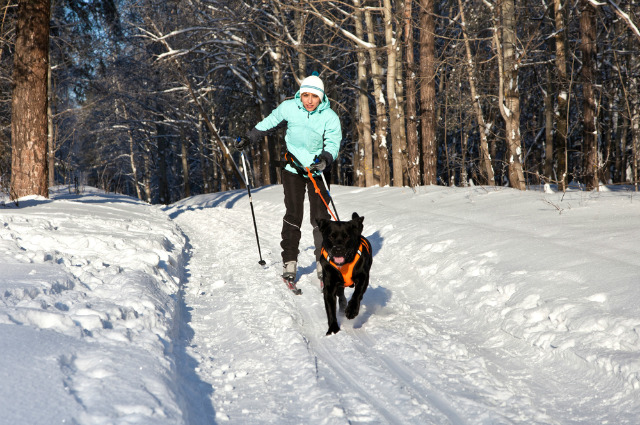 Shutterstock
Skis, check—now all you need for this sport is a horse, dog or car and the proper towing apparatus. Yes, skijoring is an actual sport with real competitions and, with a bit of training, it's a sport that the average person can do. Skijoring with dogs is most common and many find it's a great way to get outside with your four-legged friend. If you'd like to watch the pros, equestrian skijoring races are popular out west—Whitefish, Mont. hosts the World Skijoring Championships each year.
Bobsledding
Speed demons rejoice, your new favorite sport is here. You may recognize this event from the Winter Olympic Games, but if not, the object for two- or four-person teams is to race their sled down an ice-lined track and try to get the fastest time. Put your skills to the test at an Olympic venue like Lake Placid or Salt Lake City, where professionals will show you the ropes and take you for a ride.
Cross-Country Skiing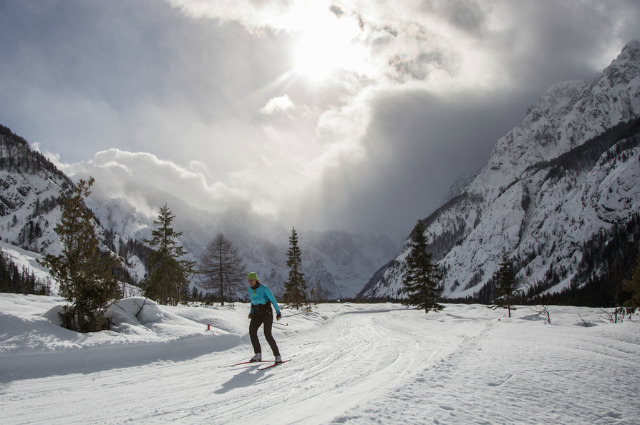 Shutterstock
Not quite as speedy or dangerous as most of the other sports on our list, cross-country skiing is still an incredible way to enjoy the outdoors during winter and it is still a great workout. With a reasonable learning curve and the opportunity to ski on many trails throughout the U.S., this sport is one of the best and most easily accessible of winter.