10 Top Vacation Spots For Fitness Fanatics
Brendan Lee
10 Top Vacation Spots for Fitness Fanatics
No matter what type of destination you're itching to visit, and no matter what your favorite way to work out is, you can easily combine your passion for both exploration and exercise at one of these top fitness-focused vacation spots.
Las Vegas Ski & Snowboard Resort
Located about 45 minutes north of the Las Vegas Strip, this high-elevation resort (it sits 8,510 feet above sea level in Lee Canyon) provides exercise-loving guests with an array of outdoor activities to choose from, and not only during ski season. Popular outdoor activities include hiking in the nearby Spring Mountain National Recreation Area (home to 51 miles of trails) and disc golf games amidst Humboldt-Toiyabe National Forest. The first hole of this popular course has an elevation of 9,300-feet, and while there is a chairlift that will take you to the first tee, exercise enthusiasts are welcomed to hike their way up as well.
skilasvegas.com
Boracay in the Philippines
Brendan Lee, creator of the travel blog Bren on the Road, recommends this island, which is world renowned for its pristine beaches, as a top-tier destination for martial arts training. "I trained at a martial arts gym called Legacy Gym, and the training was world-class," he said. "Some days we would start with sprints on the beach at 8 a.m., before the unforgiving Boracay sun came up." Even though it may sound like an experience for intense athletes only, Brendan says he encountered exercisers of all levels during his stay. "[There were] kids, men, and women of all ages and all levels of experience," he said. "Complete beginners were very common and they loved it."
boracay.com
Reebok Fitness Vacations: Montana
Travel outfitter Austin Adventures recently partnered with Reebok to offer fitness fanatics travel opportunities that combine the best of adventure and fitness in one simple package. The program's Montana trip features a six-day itinerary which includes everything from backcountry yoga sessions and trail running to canyon paddle rafting and outdoor bodyweight workouts. All of these activities take place amidst the beauty of Montana's Yellowstone National Park, Big Sky, and Paradise Valley and each day's workout gets progressively more difficult so that you'll return home fitter and stronger than before.
austinadventures.com
Retreat in the Pines, Texas
A health-minded escape doesn't have to involve high-intensity activities. For fitness lovers in search of a healthy destination with a more relaxing vibe, this Texas-based sanctuary offers a "journey to the beauty and stillness of the piney woods." Retreat in the Pines specializes in women's wellness and yoga retreats and describes itself as "a breathtaking oasis of nature with the comforts of home." A perfect destination for de-stressing from the hustle and bustle of everyday life, visitors here can rejuvenate and recharge in the resort's cozy cabins while soaking in the peacefulness of the surrounding nature.
retreatinthepines.com
Hiking at Machu Picchu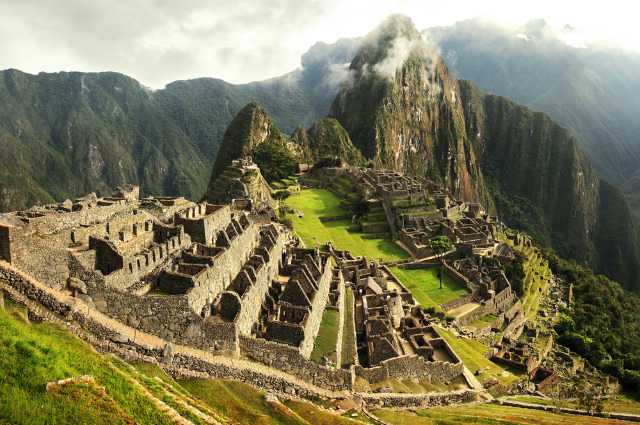 Shutterstock.com
"The trek up Salkantay and Machu Picchu is challenging, breathtakingly beautiful, and different trail elements provide additional fitness stimulation," says Amy Hendel, a health coach, nutritionist, and fitness expert. She recommends this active trip, which can be booked through REI Adventures, to everyone from kids age 10 and up to older adults in their 70s, so long as they're in shape. "We chose a six-night, seven-day climb allowing for a climb up Salkantay and then on to Machu Picchu," she said. "We [stayed] overnight in the lodges now built along the trek, though there are also groups that camp out, which I'm sure adds another physical element." A few things she mentioned to keep in mind: the lodges need to be booked many months in advanced, you should prepare for the high altitude with some light training, like hiking or on a stair climber machine, and a trip in late June or early July will allow you to enjoy the trek ahead of the area's rainy season.
rei.com
Glacier National Park
A trip to one of the most beloved national parks in the U.S. offers exercise-loving travelers the opportunity to engage in a wide range of outdoor sports. Of particular interest are hiking, fishing, and rafting, all of which are the core focus for the park's exclusive guide service, Glacier Guides. Trip packages include everything from rugged 10-day camping excursions to a six-day "ultimate chalet tour," where hikers retreat to the park's historic backcountry chalets.
glacierguides.com
Colorado Rockies
There's nothing like a challenging hike to get your heart rate up, and with more peaks above 14,000 feet than any other state, Colorado's Rocky Mountains are essentially a fitness fanatic's paradise. Timberline Adventures offer multi-day hiking and bike tours through the range, and to top it all off, nearby Boulder (America's fittest city) is basically a mecca for exercise enthusiasts.
timbertours.com
Lake Placid, Adirondacks, N.Y.
According to the Lake Placid Visitors Bureau, this upstate New York resort village has been a premier destination for outdoor and exercise enthusiasts since the late 1800s. Summer and fall activities include everything from kayaking and golf to mountain biking and rock climbing. In the spring and winter visitors can go ice climbing, cross country skiing, snowshoeing, skiing and snowboarding, and ice skating. Plus, the area is home to one of only two Olympic training centers in the U.S. and serves as home to several athletic events, including the Ironman Lake Placid, two marathons, the long-running Summit Lacrosse tournament, and Can Am Rugby.
lakeplacid.com
Turks and Caicos
Business Insider recently named Turks and Caicos the "best island for health nuts," noting its many health and wellness retreats. But spa treatments and yoga aren't all that this island has to offer. This exotic escape includes opportunities for almost any activity you can think of, including snorkeling, kayaking, kitesurfing, stand up paddleboaring, running, and cycling. Also noteworthy: Turks and Caicos host two triathlon races every year, the Race for the Conch open water swimming race, and a 50-mile running race and 65-mile bike race on North and middle Caicos.
turksandcaicosreservations.com
Cycling Tours
Why limit your enthusiasm for fitness to just one location when you can exert energy cycling from one location to the next? Of particular interest in the world of cycling  tours, is the new "Hannibal Expedition" from Ride & Seek. This 26-day, 1,543-mile journey begins in Barcelona and ends in Rome, following the historic path of Carthaginian general, Hannibal through Spain, France, and Italy. The tour is broken up into four stages and covers about 60 miles per day. Riders can choose to participate in one or all of the stages, but the tour is designated as "advanced" and was not designed for beginner cyclers.
rideandseek.com