10 Of The Best U.S. Lake Beaches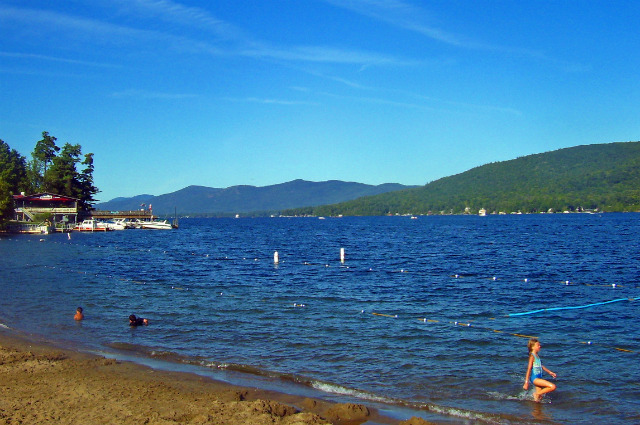 "Lake George from village beach" by Daniel Case - Own work. Licensed under CC BY-SA 3.0 via Wikimedia Commons.
10 of the Best U.S. Lake Beaches
Some people who were fortunate enough to grow up near the ocean coast have stubborn opinions about what constitutes a "real" beach. When referring to a lake, you may hear them utter something along the lines of, "Yeah, but that's not actually the beach." For some reason they tend to think that the sandy shores of a picturesque lake don't quiet equate to that of an ocean shoreline.
Sure, ocean and lake beaches have their differences, but what these closed-minded coastal natives fail to recognize is that plenty of U.S. lakes offer truly unique beach settings with pristine landscapes that could easily contend against some of our nation's most beloved coastlines.
Maybe you won't get a magnificent view of the vast horizon or waves perfect for surfing, but what lake beaches lack in size they certainly make up for in scenery and individuality.
The following lake beaches, easily considered among the best in all of the United States, perfectly exemplify this sentiment and serve as truly unique waterfront destinations for beach-lovers and outdoor enthusiasts of all different types.
Siltcoos Lake, Ore.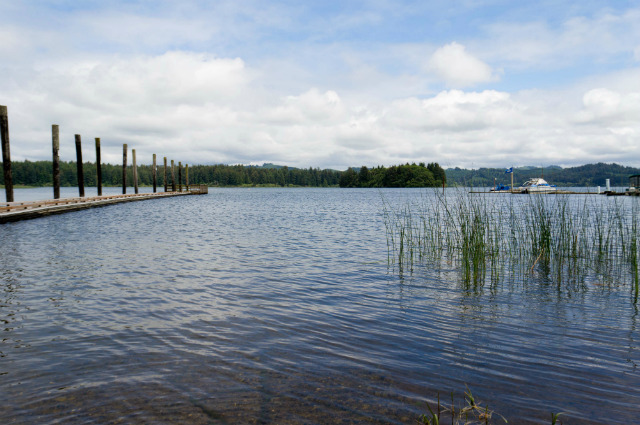 "Siltcoos Lake" by Visitor7 - Own work. Licensed under CC BY-SA 3.0 via Wikimedia Commons.
As the largest lake on the Oregon Coast this waterfront oasis offers beach-goers a truly unique and picturesque experience. Here, visitors can choose from a wide range of water activities, including fishing, water skiing and kayaking, just to name a few. Plus, with Honeyman State Park in between, Siltcoos is situated just a few miles from the Pacific Ocean and the Siltcoos Lake Trail leads lake-goers directly to the ocean shore. 
eugenecascadescoast.org
Tenaya Lake, Calif.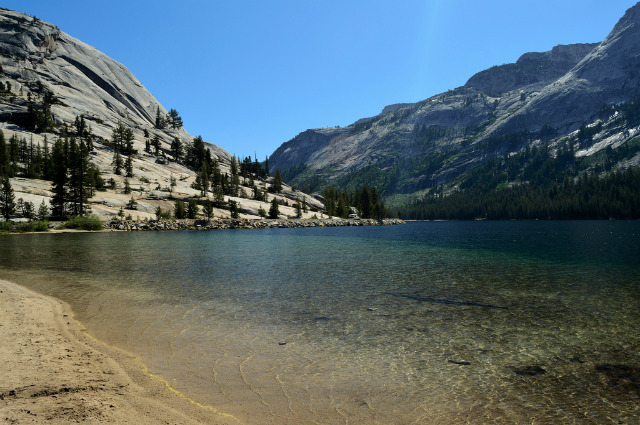 Flickr/tomhilton CC by
According to the National Park Service, Tenaya Lake is the largest lake in Yosemite National Park's frontcountry and one of the park's most popular destinations during the summer. Situated between Yosemite Valley and Tuolumne Meadows, a visit to this High Sierra lake offers unrivaled views of Yosemite's vast wilderness. "The tranquil view here is nothing short of stunning," one Yelp user wrote. "It's a great place to pause during your journey, enjoy lunch, or like I have, take a cold and refreshing dip."
nps.gov
Lake George, N.Y.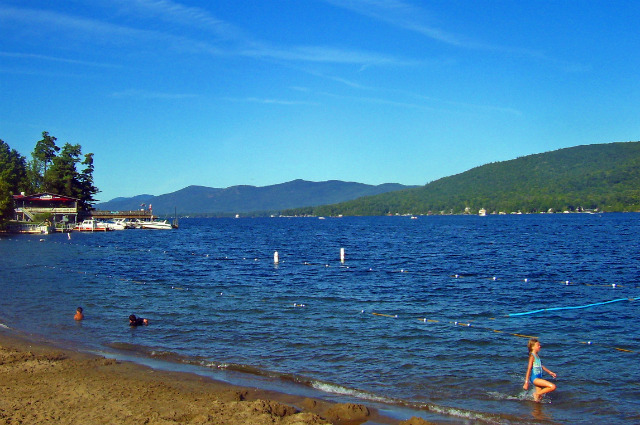 "Lake George from village beach" by Daniel Case - Own work. Licensed under CC BY-SA 3.0 via Wikimedia Commons.
Lake George has long been a popular vacation spot for outdoor recreation lovers, and as home to what's commonly referred to as the "Queen of American Lakes," it's easily fits in among the top lakefront beaches in the country. Water activities include everything from swimming and fishing to boating, jet skiing, tubing and even diving. With so many adventures to choose from, it's truly an exceptional destination for travelers of all ages and interests.
visitlakegeorge.com
Pictured Rocks National Lakeshore, Mich.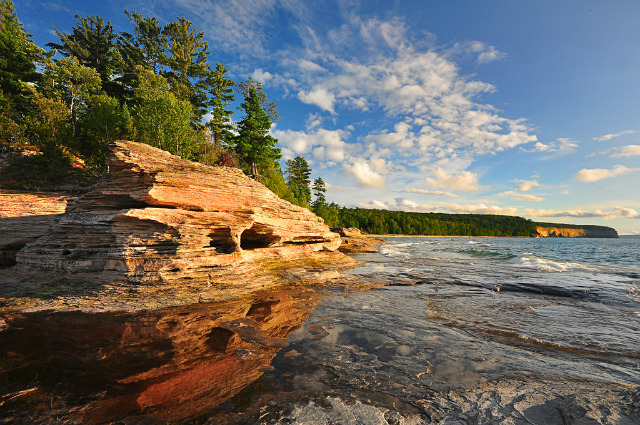 Flickr/noaaphotolib CC by 2.0
Characterized by sand dunes, sandstone cliffs and, of course, plenty of picturesque beaches, Michigan's Pictured Rocks National Lakeshore is a must-see destination for lovers of the great outdoors. Lake Superior boasts more than 40 miles of pristine shoreline just waiting to be explored and it's the largest, deepest and coldest of all the Great Lakes. The temperature doesn't stop lake-goers from enjoying a wide range of water activities, though. Boating, swimming, fishing and diving are among some of the most popular activities here.
nps.gov
Oak Street Beach—Chicago, Ill.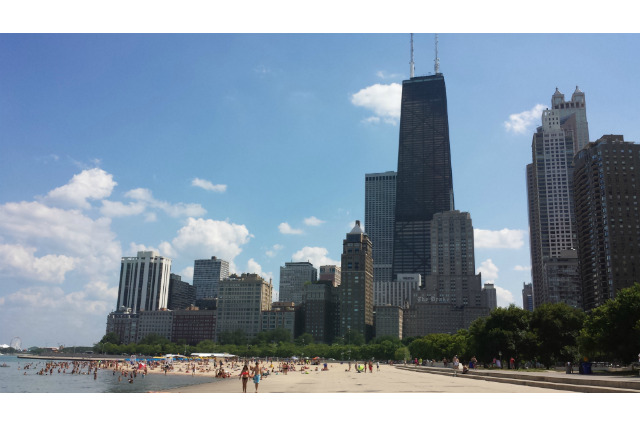 "Oak Street Beach Chicago" by Steven Kevil - Own work. Licensed under CC BY-SA 3.0 via Wikimedia Commons.
Chicago's Oak Street Beach provides the perfect mix of city living and lakeside relaxation. "This beach is relatively clean, the people are friendly, it's safe, and a great place for kids and friends to have fun," one  visitor wrote on Yelp. Amenities include everything from chair and bike rentals to volleyball courts and food and beverages from the Oak Street Beach Café. But, what many visitors love most about Oak Street is its incredible views of Chicago's famed skyline. "The best part of the beach to me is the awesome views of the skyline. Chicago and skyscrapers are synonymous with each other and seeing those skyscrapers right behind you while you are relaxing at the beach is pure bliss," another Yelp user wrote.
chicagoparkdistrict.com
Torch Lake, Mich.
Ron Schmedly, a manager at DefensiveDriving.org, says his career as taken him to all 50 U.S. states over the past 20 years. His favorite inland lake: Torch Lake in Northern Michigan. "The water is so clear," he said. "When we visit, we tend to rent a boat one day and stand-up paddleboards the other. Over the past ten years it has become much more of a hot tourist destination, but the beauty of the water is hard to surpass. Both Eminem and Michael Moore have homes on the lake, and looking at photos you can see why."
Walden Pond, Mass.
Visitors say the beach here tends to get crowded on warm summer days, but that's because this historic body of water is widely admired for its serene and captivating beauty. Perhaps most well-known through Henry David Thoreau's "Walden," which chronicled his two-year experience of "simple living" in a cabin near this body of water, Walden Pond is a designated National Historic Landmark. The perfect spot for a picnic on the beach, visitors say the water is clean and refreshing. "Lovely place to get in a good walk/hike and then a swim," one visitor wrote on TripAdvisor. "Really enjoy the many spots to picnic along the water's edge."
nps.gov
Lake Willoughby , Vt.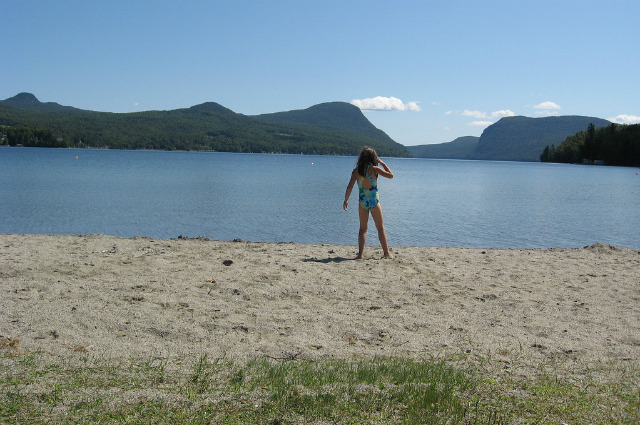 Flickr/kwbridge CC by 2.0
Lovers of the great outdoors have nothing but good things to say about this charming lake situated just between Mount Pisgah and Mount Hor. "The lake is reminiscent of fjords you find in New Zealand or Norway. There are nice sandy beaches at both the South end and the North end open to all," one visitor wrote on TripAdivisor. "You will be amazed at the thousand-foot cliffs that drop down to the lake."
Park Point, Minn.
Readers of Lake Superior Magazine voted Park Point Minnesota's best beach in 2014. The magazine calls it the "quintessential beach settlement" and says it's also the birthplace of the city of Duluth. "The sandy beach is always a must stop for my family," one visitor wrote on TripAdvisor. "It's a great place to sit and relax after a long day of hiking, shopping or visiting. The kids love to watch the massive waves come in and build with the sand."
parkpointbeach.org
Big Bay, Wis.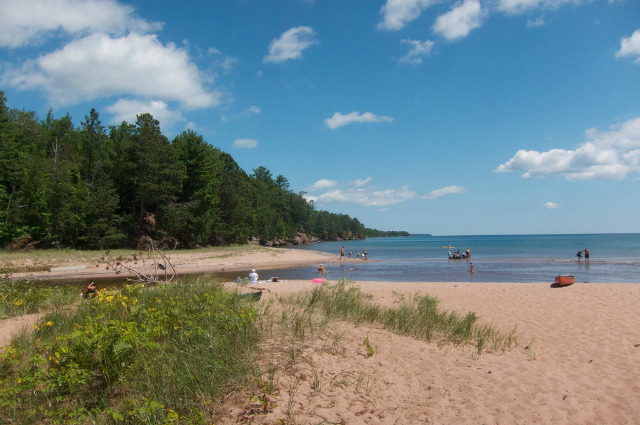 Flickr/timwilson CC by 2.0
Voted as a top beach in Wisconsin (also by readers of Lake Superior Magazine), Big Bay on Madeline Island offers numerous exciting opportunities for visitors to explore Lake Superior. There are three public beaches (Big Bay Town Park, Big Bay State Park and Joni's Beach), but with so many adventurous activities to choose from, you'll hardly want to lay around lounging on the sand. Local recreation includes everything from boat and kayaking tours to fishing charters, stand-up paddleboarding and even sailing.  
madelineisland.com