10 Beaches So Spectacular You'd Visit Them In A Sweater
Beaches So Spectacular You'd Visit Them in a Sweater
Ask just about anyone and they'll tell you that beach getaways are for summer, but there are some beaches so spectacular that visits shouldn't be confined to one season. We set out to highlight those magnificent sandy shores from around the country. 
Iona's Beach, Two Harbors, Minn.
Set on Minnesota's north shore, Iona's Beach and natural preserve is truly one-of-a-kind. "[It's] a scene out of a fairy tale – a beach of utterly pink rock, piled in wave patterns as the baby blue waters of Lake Superior lap against them," said Rob Bignell, an avid hiker and author. He added that the beach is usually empty in the fall, save for some seagulls. With temperatures generally ranging from the high 40s to high 60s in October, you'll definitely want to bring along some extra layers.
Moonlight Beach, Encinitas, Calif.
With average temperatures in the high 60s and low 70s for October, you might only need a light sweater for this California beach, but the sunny days are really a big bonus. Local travel photographer Kim Olson said, "It's often sunnier this time of year, the beach is far less crowded now that kids are back in school and there are facilities available at the beach. Some say fall is the best time here."
Sand Beach, Acadia National Park, Maine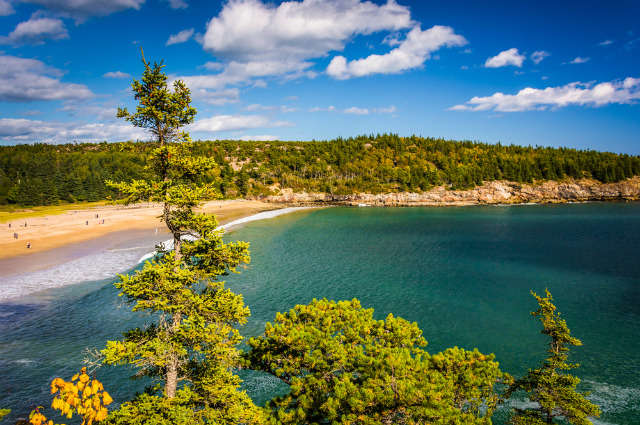 Shutterstock
It's clear that Acadia is simply stunning any time of year, but perhaps even more so in the fall. The changing leaves and lighter crowds make this national park—and Sand Beach, in particular—a must-visit during autumn. Weather in the 50s and 60s means you'll need to bring an extra layer, but with views like this, we're betting you won't mind a slight chill.
Tybee Island Beach, Ga.
"Clean, quiet and tranquil"—those are the words Tybee Island's visitor center uses to describe the 5-mile-long stretch of coastline that makes up the beautiful Tybee Island beach. The whole stretch is open to the public and during late October temperatures usually stick around the 70s, which makes for perfect fall weather. With most of the Georgia humidity of the summer gone, visitors can easily enjoy the beach and nearby lighthouse. 
Indiana Dunes State Park and National Lakeshore, Ind.
Nantucket, Mass.
"I call Nantucket Island home and it is the perfect place to visit in the fall for its spectacular beaches," said Kristen Kellogg, a digital storyteller and filmmaker behind Border Free Travels. "The water is still plenty warm enough to surf or splash around, and you'll likely get one all to yourself because most of the summer residents and visitors have left for the season. September and October can be quite heavenly for those looking for some downtime in this picturesque place."
Seabrook Island, S.C.
Just a 50-minute drive from downtown Charleston, Seabrook Island is home to 3 miles of beautiful beaches that are even better in the fall. The stretch of coastline is as varied as it is beautiful. According to Seabrook Island's visitor center, a walk along the beach will take visitors from "one of the widest beaches in South Carolina" to "the serene shores of Pelican Beach." With that kind of landscape and temperatures in the 60s and 70s, Seabrook Island is a top beach spot for fall.
Cannon Beach, Ore.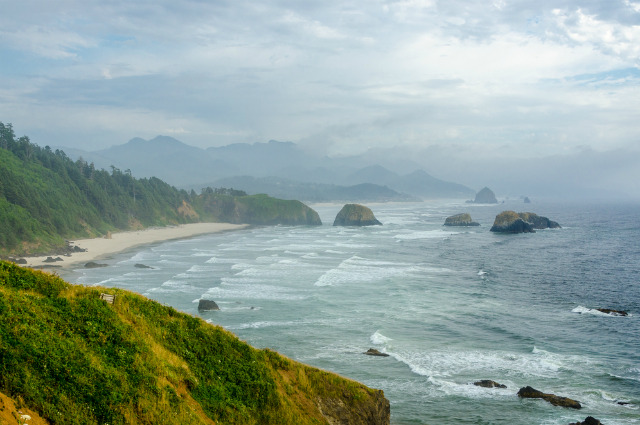 Shutterstock
Set alongside Ecola State Park, this beach offers incredible views, lovely hikes and it's a bit less crowded in the fall. With temperatures in the 60s, it's still enjoyable when it comes to exploring, but you should consider bringing an extra layer.
Block Island, R.I.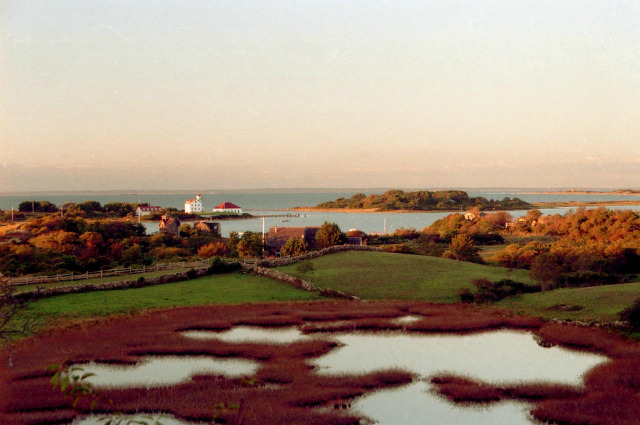 Shutterstock
This island (and its beach) is so naturally spectacular that The Nature Conservancy called it one of the "last great places in the Western Hemisphere." Both beautiful and untouched, Block Island is an understated destination with tons to offer, especially in the fall. With weather that hovers in the low 60s and sparse crowds, there's no better time to explore Block Island's 17 miles of beaches.
Sleeping Bear Dunes National Lakeshore, Mich.
Hovering in the 50s for late October, the stunning Sleeping Bear Dunes National Lakeshore tends to cool quickly toward the end of fall, but it's still well worth the trip. The diverse landscape only makes the park more beautiful, as the forest changes color and the dunes continuously shift. Enjoy the beauty on the 35-mile-stretch of beach, visit the lighthouse and stroll the historic district when you visit.