The Best Day Trips From Los Angeles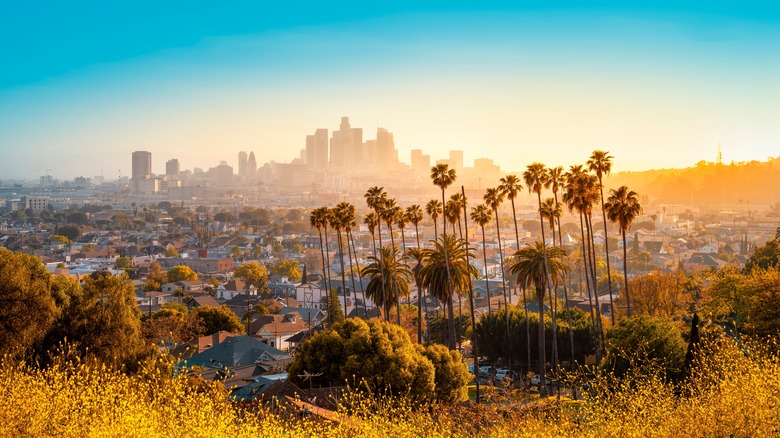 frank_peters/Shutterstock
California is famous for being somewhere you can ski and surf on the same day, and it's technically true. While that would be a long day, the fact that it's possible shows the amazing geographical diversity of the state. Los Angeles may bring to mind images of palm trees and swimming pools, but head just an hour outside of the city, and you could find yourself on a snowy mountain, in the middle of a 110-degree desert, staring down a bison or a dolphin, or in a quaint Danish village.
You can even travel to the far reaches of the universe, either via a "Star Wars" ride at Disneyland or by looking at the white fog of the Milky Way on a crystal clear Joshua Tree night. Entirely new worlds are just a day trip in any direction from Los Angeles, and while they may initially seem radically diverse, they tend to share great food, drink, shopping, culture, and memories. No matter what you're looking for, adventure awaits when taking one of these day trips from Los Angeles.
Malibu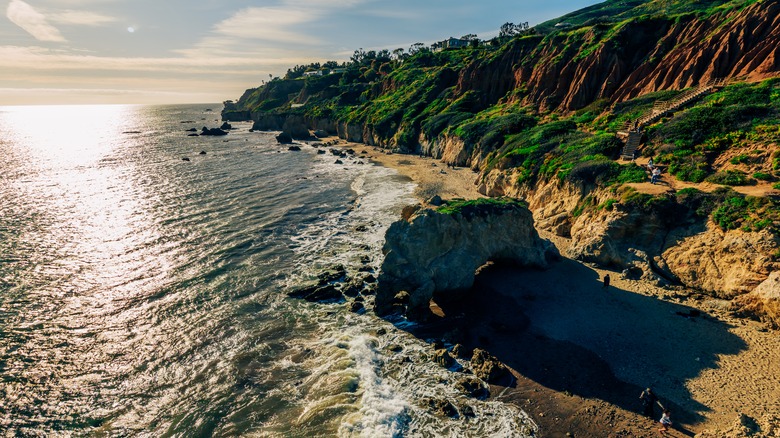 Strikernia/Shutterstock
If you're visiting L.A., you'll likely visit the well-traveled stretch of beach around Santa Monica and Venice. Off in the distance, you'll notice towering mountains pushing into the ocean. That is Malibu, the fabled "21 Miles of Scenic Beauty" known for its pristine beaches, invigorating hikes, and yes, an A-list movie star or 20.
Travel up the majestic Pacific Coast Highway and enjoy the dazzling scenery of mountains and oceans. Stop at the Malibu Pier at Surfrider Beach, a picturesque pier near Malibu's downtown famous for its views, shops, restaurants, and surfers. Continue to Point Dume, a coastal promontory with views that stretch all the way to Palos Verdes and Catalina. If you're feeling particularly adventurous, climb down the 100-foot rocky cliff to Zuma Beach, a pristine, 1.8-mile stretch of beach that often ranks as one of L.A.'s cleanest, according to the Heal the Bay report card.
Zuma is just one of the beaches located along Malibu's 21 miles of coast, and each beach has a different flavor: Surfrider is famous for its surfers and pier; Malibu Lagoon has an estuary and migratory birds; and El Matador is famous for its massive rock formations and sea caves, to name just a few. Malibu may be well-known for its beaches, but it's also a world-class hiking destination. Enjoy trails and landscapes featured in movies of yesteryear at Paramount Ranch and Malibu Creek State Park, or visit Escondido Canyon Park to hike to Escondido Falls, a 150-foot cascade.
Palos Verdes Peninsula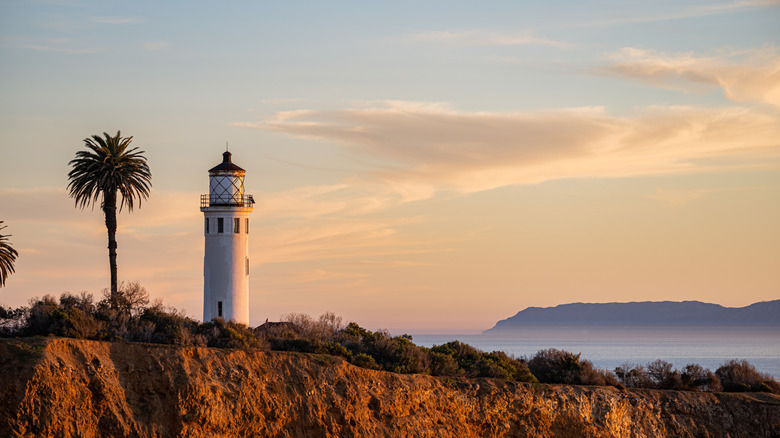 Lisa Bronitt/Getty Images
Look in the other direction from Santa Monica, and you'll see another promontory jutting into the water. That is the Palos Verdes Peninsula, a less well-known but equally stunning stretch of beach and mountains. Located just north of Long Beach, this dramatic peninsula offers near-panoramic views of Los Angeles, its coastline, its mountains, and Malibu. On a clear day, you can stroll along the Blufftop Trail to see the entire metropolitan area, including downtown L.A., the entire Santa Monica Mountain Range, and the San Gabriel Mountains behind those. Off of Paseo del Mar, hike down the bluffs to arrive at Sacred Cove, a rocky beach with incredible tidepools and even better views.
For another sacred experience, head to the South Coast Botanic Garden, an 87-acre nature reserve with more than 2,500 species of plants. During winter nights, the garden turns into Astra Lumina, an enchanting immersive experience of otherworldly lights and sounds.
As a wealthy enclave full of multimillion-dollar homes, Palos Verdes is also home to renowned golf courses, including the Los Verdes Golf Club, an 18-hole course that overlooks the ocean. For those interested in extending their day trip, the Terranea Resort is just steps away from the iconic Point Vicente Lighthouse. The five-star hotel on the beach offers its own golf course, restaurants, spa, bungalows, and walking trails.
Santa Barbara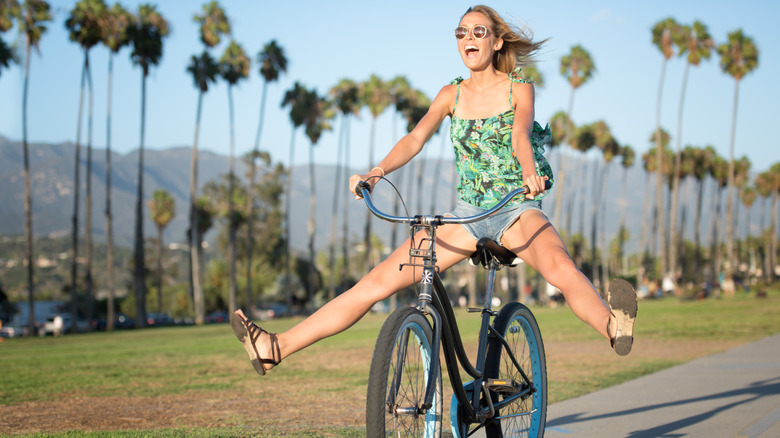 4fr/Getty Images
It's hard to know where to begin with Santa Barbara, a dazzling region about 100 miles north of downtown L.A. Tucked under and around the towering Santa Ynez Mountains is a fabled resort known both as the "American Riviera" and the "Hamptons of Hollywood." Many celebrities, from Katy Perry to J.Lo to Steven Spielberg to Oprah Winfrey, have sprawling properties in the area, particularly in Montecito. 
Perhaps it's best to begin in the center of it all: the buzzing downtown surrounding Stearns Wharf. Enjoy historic Mission Revival architecture and boutique shops and restaurants alongside a long seaside bike and pedestrian promenade. Branch out onto Stearns Wharf, a 2,300-foot wharf built in 1872 that is also the oldest working wooden pier in California. Along the wharf, enjoy panoramic views of the incomparable mountains and oceans, all while enjoying ice cream or lobster at one of the many restaurants.
Like Malibu, Santa Barbara is a paradise for beachgoers and hikers. The area has multiple beaches to enjoy: East Beach near the wharf, Arroyo Burro Beach for the dogs, Butterfly Beach in Montecito for the sunsets, and Leadbetter Beach for surfing. Once you've had your fill of crashing waves and the occasional dolphin sighting, head up into the Santa Ynez Mountains for countless hiking options. After just a few hundred feet of hiking up in any direction, you're guaranteed jaw-dropping views of the world-famous coastline. The city and region can also be enjoyed through countless winery, trolley, and scooter tours.
Santa Catalina Island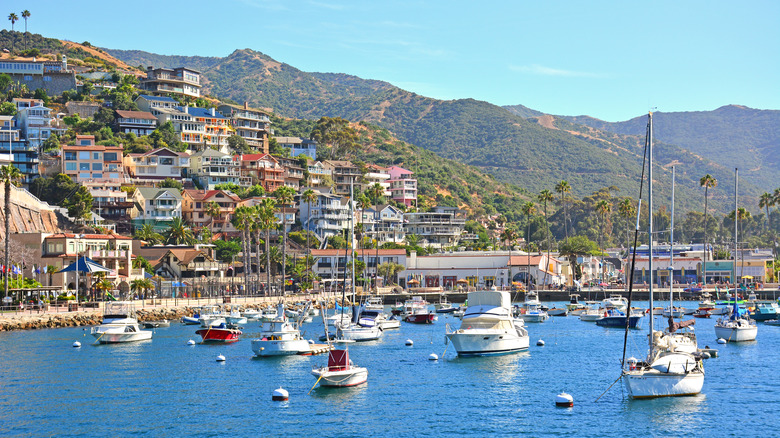 Ryan Tishken/Getty Images
Any island where cars are replaced by golf carts has to be a good time. Santa Catalina Island, a 76-square-mile island about 20 miles off the South Bay coast, does not disappoint. Simultaneously rugged and deluxe, this mountainous island — better known as just "Catalina" — boasts everything from ziplining to parasailing to submarine tours to sumptuous spas, with a few bison thrown in here and there for good measure.
The roughly 60-minute ferry from Long Beach will drop you off in Avalon, the bustling home-base harbor town full of shops, hotels, restaurants, and impossibly cute hillside bungalows. Stroll along a seaside promenade to the Catalina Casino, the imposing Mediterranean/Art Deco movie theater and ballroom that serves as the island's unofficial landmark. Contrary to popular belief, it is not a gambling casino, and never has been. Its name comes from the Spanish word for "gathering place."
Whether you want to go down into the ocean to gaze at schools of fish in an Undersea Sub Expedition, soar through the air on a two-hour long Zip Line Eco Tour, or scale the island's rugged mountain terrain in a safari Jeep looking for bison, Catalina offers breathtaking fun on land, sea, and sky. Visitors can kayak, golf, hike, snorkel, paddleboard, and so much more. The only thing they can't do is drive anything other than a golf cart, which adds to the island's rugged, unspoiled charm.
Laguna Beach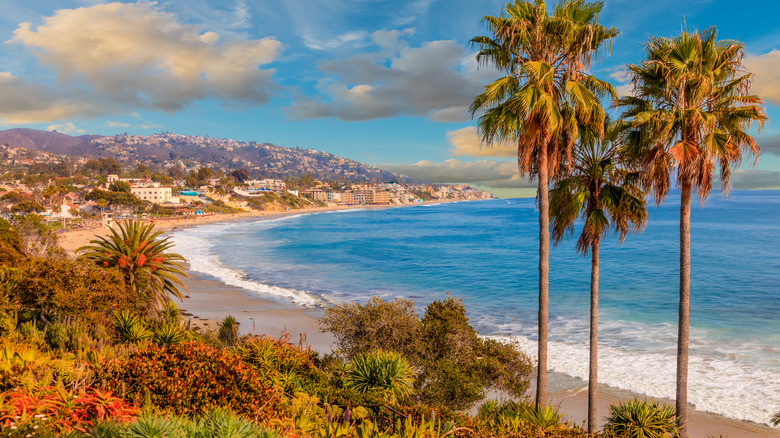 Ron And Patty Thomas/Getty Images
MTV didn't name a show after this city for nothing. This boho-chic artist colony located on one of the most picturesque stretches of the Orange County coast is the epitome of SoCal cool. Whether you want to look at a painting, a sculpture, a tidepool, a whale, a breathtaking sunset, or a breathtaking surfer, Laguna Beach is a vision for everyone.
The rustic beach town started making a name for itself in the early 20th century when the beautiful scenery attracted both plein-air painters and Hollywood film crews looking for nice places to shoot. Today, the town of 23,000 boasts over 100 art galleries, as well as art museums, artist studios, and more than 100 pieces of outdoor public art, including numerous murals and sculptures. The town also hosts five public art festivals each year. 
Visitors can also appreciate the natural artistry of the stunning scenery that surrounds the town. Nestled in between seven miles of coves and canyons, Laguna is home to dozens of extraordinary tidepools that offer up-close views of starfish, snails, mussels, small fish, and even the occasional octopus. The beaches are also a haven for surfers, snorkelers, and sunbathers. Inland, hiking enthusiasts can enjoy the Laguna Green Belt, which includes nearly 20,000 acres of open space that offer beautiful coastline views, horseback riding adventures, and shady trees.
Balboa Island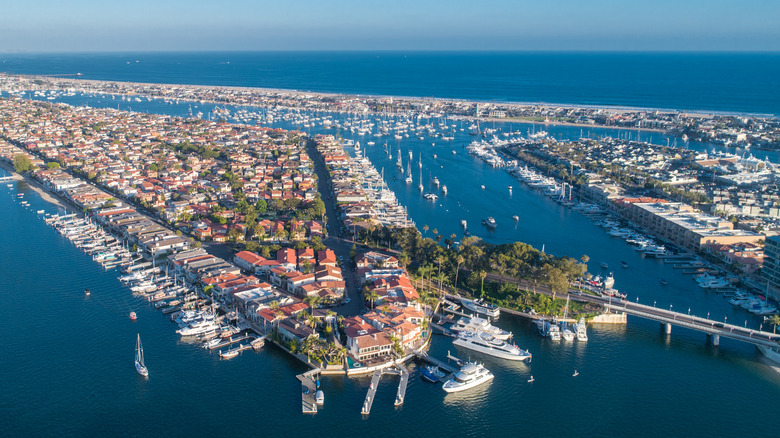 Beach Media/Shutterstock
Another O.C. work of art is Balboa Island, a small, man-made island located inside Newport Bay. This scenic seaside island packs a lot into its tiny landmass, including 3,000 residents, a charming boardwalk, chic shops and restaurants, and even the frozen banana that inspired the ill-fated banana stand in "Arrested Development." 
Sugar 'n Spice, the original "frozen banana" is doing much better than its imaginary Bluth-run doppelganger, and has been since 1945. Guests can enjoy frozen bananas dipped in chocolate, peanut butter, and more. Also, try quirky delicacies like Frozen Tiramisu-on-a-Stick or Frozen Cheesecake-on-a-Stick. If that doesn't hit your sweet tooth, the island also boasts the caramel apples and frozen treats of Too Sweet Chocolate and the freshly baked pastries of Dad's Donut & Bakery Shop.
The kids will also go nuts for the Balboa Fun Zone, a classic beachside amusement zone with a Ferris wheel, rides, and an arcade. They're also bound to love the whale watches, which leave daily throughout the year. When it comes to the best times of year for Southern California whale watching, you can typically see blue whales in the summer, gray whales in the winter and spring, as well as dolphins and seals year-round. Back on land, visitors can enjoy all varieties of restaurants and bars, art galleries, and beachy boutiques. History buffs will enjoy the Balboa Island Museum, which covers the unique history of Balboa Island and Newport Beach. In 2022, the museum received a designation as "The Best of the Southland" in entertainment by The Los Angeles Times.
Palm Springs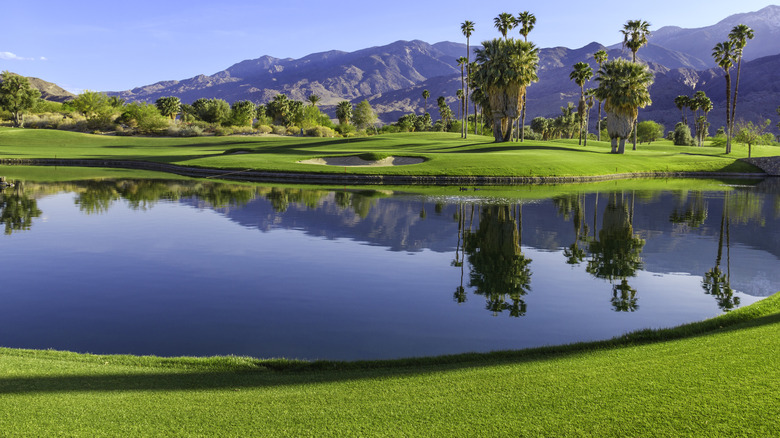 Ron And Patty Thomas/Getty Images
California may be renowned for its coast, but its desert isn't bad, either. About 100 miles east of downtown L.A. is Palm Springs, a fun-loving, retro-chic resort town known for golf, LGBTQ community, and midcentury glitz. Enjoy a thriving downtown, vintage Rat Pack-style resorts, the world's largest aerial tramway, and yes, the roadside replica dinosaurs.
Start off with a stroll down Palm Canyon Drive, the historical heart of the city lined with galleries, restaurants, palm trees, and even the Palm Springs Walk of Stars. If you can, stop by on Thursday nights for VillageFest, when the street is closed to cars, and vendor booths line both sides of the street. Or, put on your most fabulous costume and visit from Nov. 2-5, when Palm Springs Pride will turn the city, already an LGBTQ hotspot, into even more of a party.
If you're in a more mellow mood, hike through any of the city's surrounding canyons for breathtaking desert views and the bluest sky you'll ever see. Or, find a massage table, pool, or tiki bar with a Mai Tai by visiting one of the city's many celebrated resorts and spas, like the Palm Canyon or Margaritaville. Once you feel like a million bucks again, head to the city's many fabled golf courses. The best way to take it all in is the famed Palm Springs Aerial Tramway, which travels 2.5 miles over the cliffs of Chino Canyon to Mt. Jacinto State Park.
Joshua Tree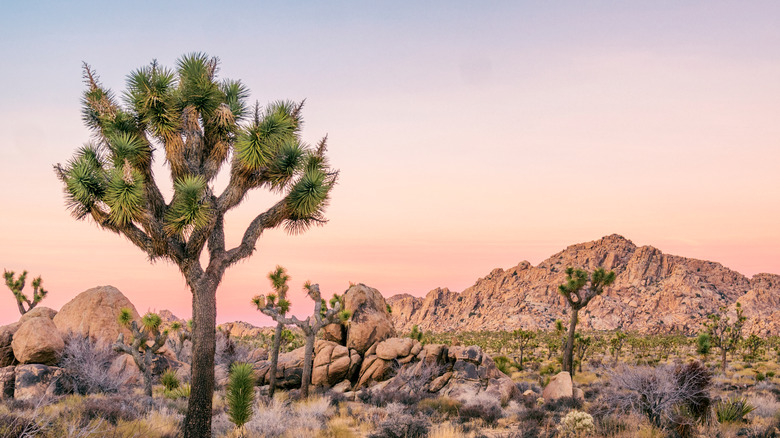 Dennis Silvas/Shutterstock
Head about an hour east to commune with awe-inspiring nature. The 800,000-acre Joshua Tree National Park is renowned for its eponymous tree, which Mormon immigrants supposedly believed resembled the biblical figure Joshua guiding them toward the promised land. Nearly two centuries later, the park looks much the same as it did in the 1850s: a mix of Mars and Dr. Seuss. Joshua trees (or yucca brevifolia) mingle with bighorn sheep, eagles, and sculpture-like rock formations shaped like elephants or skulls.
Though Joshua Tree can be enjoyed in a day, many people come to camp overnight. The park has nine campgrounds, most of which have no running water, or running anything. If totally immersive 1850s living isn't your thing, the park has many glamping sites, which range from tricked-out RVs to fancy yurts and teepees. Wherever you spend your night, however, be sure to take a second — or several hours — to gaze up at a stunning night sky.
During the day, the park is a hiking and rock-climbing paradise. Popular trails include the shorter Barker Dam Nature Trail, the Skull Rock Nature Trail, and the Keys View Trail, which rewards visitors with panoramic views stretching to Mexico. Visitors keen to return to some form of civilization can explore the funky town of Joshua Tree or mosey on into Pioneer Town, which was built as a Wild West movie set in the 1940s and today is home to shops, restaurants, and a hotel.
Angeles National Forest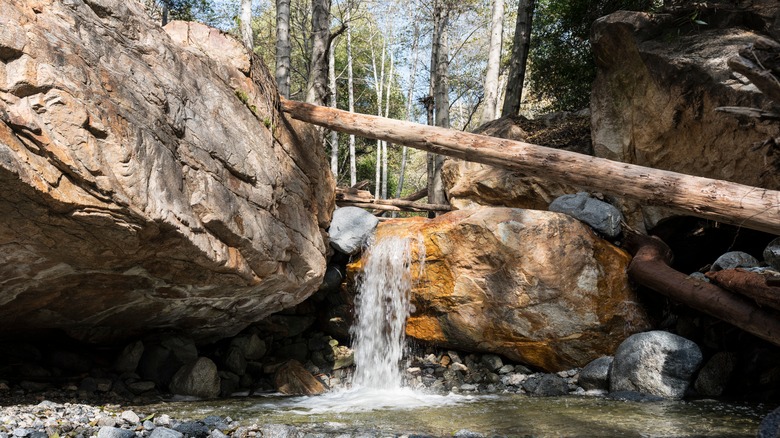 trekandshoot/Shutterstock
Closer to L.A. is the Angeles National Forest, those stunning mountains you see once you get to the top of Griffith Park or the coast along Mulholland Drive. Located within an hour of most of the vast L.A. metropolitan area, the more than 700,000-acre mountain wilderness is an outdoor paradise offering countless places to hike, swim, camp, fish, and even ski. Taking a day trip from Los Angeles doesn't necessarily mean driving too far. The forest contains over 200 trails and 53 trailheads, with the trails ranging from the 1.4-mile San Antonio Falls Trail, which may take 40 minutes to hike, to the 11-mile, half-day hike on the Mount Baldy Notch Trail. 
Mt. Baldy (officially known as Mt. San Antonio) reaches 10,000 feet, making it the highest peak of the San Gabriel Mountains and one of the best known. Because it's so tall, it gets snow in the winter, and Mt. Baldy Resort is one of Angeles' three ski resorts. Mt. Baldy also offers one of the region's many biking trails: the 14-mile Devil's Backbone Trail. If you'd like to stay overnight, Angeles features over 66 campgrounds, some of which can accommodate up to 300 people (though others are limited to as few as eight, so it's best to book in advance.) 
Crystal Lake, Pyramid Lake, and Elizabeth Lake allow for swimming, boating, and kayaking. However, this is still California, so if you want to just drive around the area, that's also an option. To enjoy some scenic landscapes, take the 66-mile, winding Angeles Crest Highway from one end of the forest to the other.
Big Bear Lake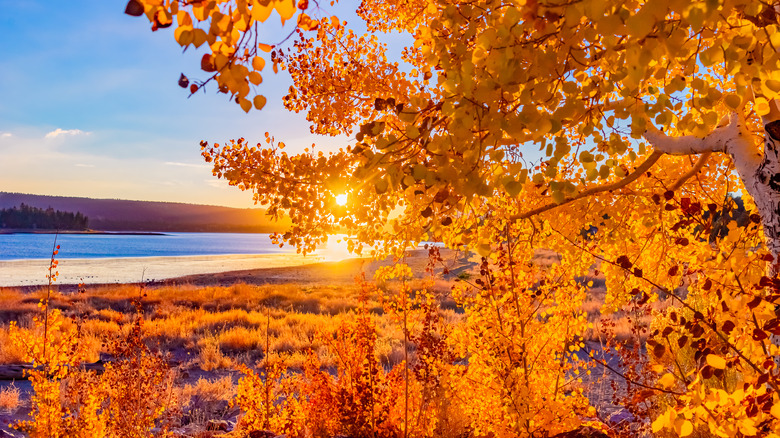 Patricia Elaine Thomas/Shutterstock
In the autumn months, many foliage-starved Angelenos head to Big Bear Lake, a picture-perfect lake at the edge of the Angeles National Forest. The four-season outdoor paradise is perfect for swimming, fishing, boating, hiking, skiing, stargazing, leaf-peeping, and unwinding in cozy cabin rentals.
In the summer, it's all about the lake. Go into full summer camp mode by swimming, splashing, kayaking, paddleboarding, fishing, or tubing. You can head to the Big Bear Marina to rent any of the above or to book a lake tour on the Big Bear Cruzer pontoon. Families will also love Big Bear Summer Tubing, where visitors can barrel down a 300-foot tube slide, and Big Bear Speedway, where visitors can board karts and race up to 30 mph.
In the fall, it's all about the leaves. Big Bear is consistently ranked one of the best spots in Southern California for autumn foliage. Enjoy a number of trails through the forest near the lake, which offer city dwellers crisp, clean mountain air and a symphony of color. In the winter, it's all about the skis. Big Bear Mountain Resort offers 26 lifts and 55 runs across 400 acres. Thrill seekers can also delight in a bungee trampoline, zip line, and the aforementioned tubing park — but filled with snow, of course.
Ojai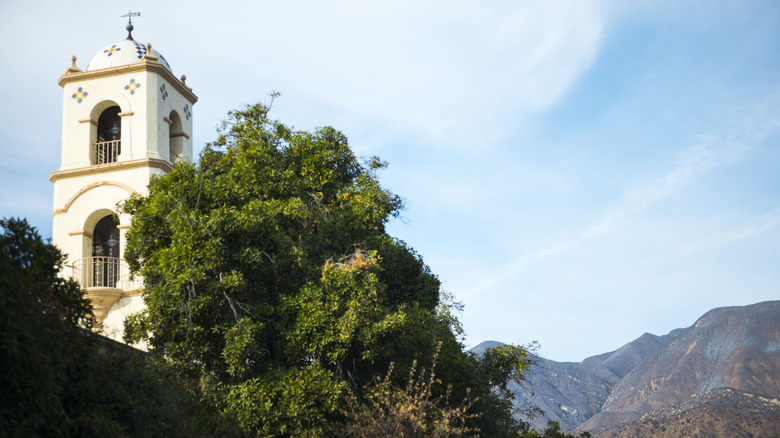 Dougberry/Getty Images
If it's hippie zen you're craving, head about an hour and a half north to Ojai, a small mountain town in between Malibu and Santa Barbara known for meditation retreats and quirky creatives. After some sun salutations and a vegan smoothie from a handcrafted ceramic mug, ride a horse through a winery or bike through the woods in this quintessentially Californian commune.
Apart from California counterculture, this lush Mediterranean landscape is known for groves of citrus trees, romantic mountains, and of course, wine and olive oil. The region offers a number of vineyards, wine tastings, and wine tours. It is also known for the celebrated Ojai Olive Oil, a fourth-generation, family-owned and operated olive farm open seven days a week for tasting and tours. The epicurean pleasures continue downtown, which offers top-rate coffee, bakeries, breweries, and restaurants. Plan your visit for a Sunday, when all the vintners, olive growers, farmers, and craftsmen gather for the Ojai Certified Farmers Market, which stands out in a state known for its farmers markets. 
On any other day, check out the downtown's many thrift, gift, and antique stores, and make sure to stop by Bart's Books, the world's largest outdoor bookstore that's been around since 1964. After you enjoy some food to eat and food for thought downtown, head to the Ojai Meadows Preserve, a peaceful, flat meadow known for its bunnies, birds, frogs, flowers, and sweeping mountain views.
Solvang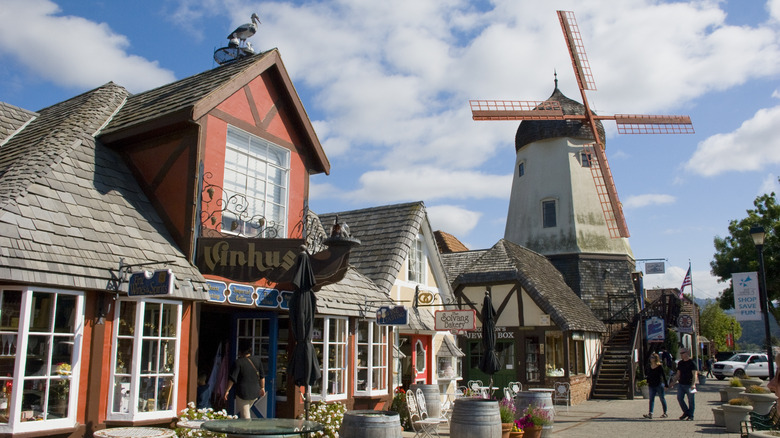 Delray77/Getty Images
Not many people know that it's possible to day trip from Los Angeles to Denmark in just over two hours. Okay, Solvang isn't exactly Denmark, but it's close. Its distinctive downtown was constructed by Danish immigrants and resembles an authentic Danish village. Think thatched roofs, windmills, Copenhagen Drive, the Hans Christian Andersen Museum, and plenty of hygge.
Start the day off with a jam-filled aebelskiver pancake ball at one of the town's many Danish restaurants and bakeries. Later on, come back for frikadeller (meatballs), medisterpolse (sausage), and a whole smorgasbord of other Danish delicacies. In between snacking, walk off the aebelskivers by touring the downtown, which features several windmills, a clock tower, and statues of Hans Christian Andersen and his best-known creation, "The Little Mermaid." Shop for unique treasures like music boxes, clocks, jewelry, and Danish art. Then step inside one of the town's many museums, like the Hans Christian Andersen Museum, or the Elverhøj Museum of History and Art, a Solvang history named for "Elves Hill," a famous 19th-century folk play performed in Solvang since 1914. 
If you visit between November 24 and January 6, you'll also see why Solvang was named one of the "Most Magical Christmas Towns and Villages Across the World" by Oprah Daily. During its annual Julefest, the city goes full North Pole, offering a Maker's Market, light show, parade, tree lighting ceremony, parade, and of course, Santa's Village.
Disneyland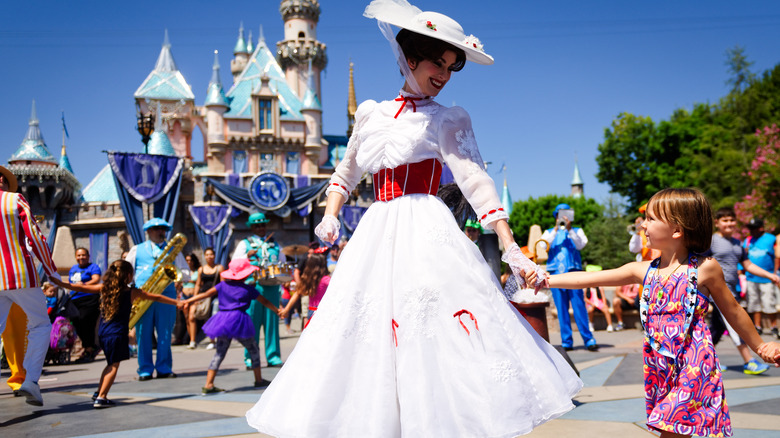 Smckenzie/Getty Images
No trip to Hollywood is complete without a visit to Disneyland, the sprawling Anaheim theme park that serves as a thrilling temple to the very best of entertainment. The "happiest place on Earth" takes visitors all over the universe, from the edge of the "Star Wars" galaxy to the iconic ride reminding visitors that "it's a small world after all." It's not a small Disneyland though, especially as the park celebrates the Walt Disney Company's 100th anniversary.
Of course, there are the rides. There's the famous Space Mountain whirl through the universe; the "Pirates of the Caribbean" ride that opened in 1967 and inspired the multibillion-dollar Johnny Depp franchise; the Indiana Jones ride that hurls you through an ancient crypt; Soarin' Over California, the interactive IMAX experience perfect for anyone who can't make it to all the spots on this list; Soarin' Over the World, for the more ambitious virtual traveler; and, perfect for Halloween, the creepy Haunted Mansion.
But the park also offers plenty for the motion-sick prone. The best foods to try at Disneyland include the Mickey Bar ice cream or the Micky beignet, the classic Dole Whip soft-serve pineapple treat at the Tiki Juice Bar, lightsaber churros, and plenty of Southern food, like fried chicken and mint juleps at New Orleans Square. This being Disney and all, there's also no shortage of stellar entertainment, from Disney characters everywhere to daily parades, to the nighttime fireworks displays, to Broadway-quality shows at the Hyperion and Royal Theatres.
Coronado Island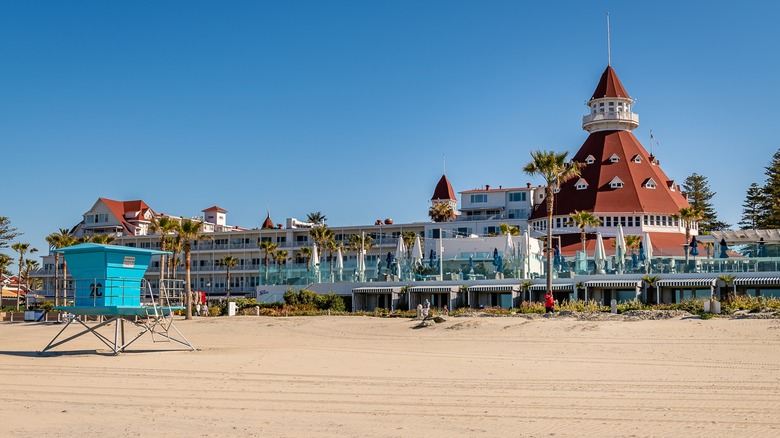 Chris LaBasco/Shutterstock
Just two hours south of L.A. lies an entirely different metropolitan area full of its own treasures. One of the crown jewels of the San Diego region is Coronado Island, a 32.5-square-mile peninsula best known for its wide sand beaches and the iconic Hotel del Coronado.
The grand old hotel, known simply as The Del, was built in 1888 during the region's first major real estate boom. By the 1920s, The Del had become a fashionable playground for Hollywood stars like Charlie Chaplin, Clark Gable, Bette Davis, and Katharine Hepburn. That reputation continues, as the hotel has hosted everyone from Oprah Winfrey to Brad Pitt to Marilyn Monroe, who filmed "Some Like It Hot" here in 1959. It's also hosted 12 U.S. presidents, as well as nearby resident L. Frank Baum, who reportedly did much of his writing here and used it as inspiration for the Emerald City.
The Del may be the centerpiece of Coronado, but it's far from the only attraction. Step just outside to Coronado Central Beach, a glittering beach lined with glittering homes. Nearby is dog-friendly North Beach and the picture-perfect Silver Strand Beach. On the other side of the peninsula, enjoy sweeping views of San Diego Bay and the San Diego skyline from Coronado Tidelands Park, the Coronado Municipal Golf Course, or Glorietta Bay Park. The best way to take in all of this? A bike ride along the miles of flat bike paths that line the whole peninsula.
San Diego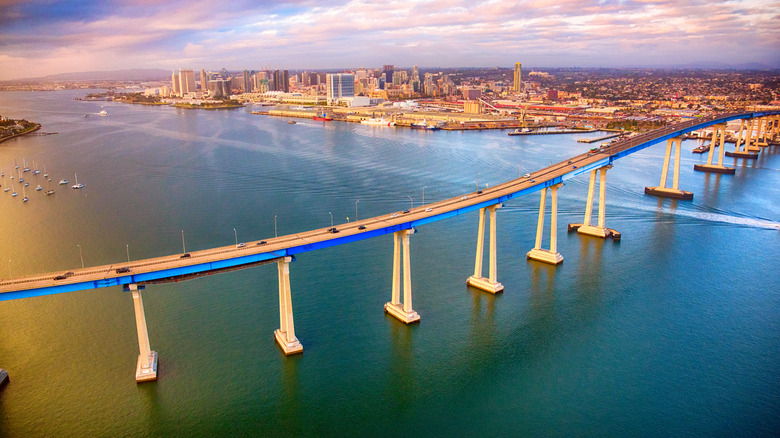 Art Wager/Getty Images
Take a ferry across the bay or drive across the iconic Coronado Bridge to arrive in the second-largest city in California and the eighth-largest city in the United States, San Diego. This world-class city deserves its own article(s), but since it's so close to L.A., it would be remiss to leave it out. "America's Finest City" offers perfect weather year-round, miles of beaches and parks, a world-famous zoo and safari park, a buzzy downtown with a thriving restaurant and bar scene, and much more.
One of the city's top attractions is Balboa Park, a 1,200-acre park near the center of the city. The park boasts the iconic San Diego Zoo, one of the largest and most prestigious in the country, and the landmark Botanical Building, which boasts a Japanese garden, rose garden, and cactus garden. In the unlikely event you haven't gotten your animal fix after the zoo, head up to Escondido to Safari Park, where you can ogle free-roaming giraffes, zebras, lions, and more.
Back in the city, the Gaslamp Quarter is 16 square blocks of trendy shops, bars, and restaurants located inside historic Victorian buildings. Or kick back at Mission Beach, the city's main beach, which offers a restaurant-lined boardwalk, and Belmont Park, an amusement park with rides and arcades. For quieter beaches, head north to La Jolla — "The Jewel" — which offers gorgeous homes and the Torrey Pines State Natural Reserve, a gorgeous set of bluffs and beaches along the unspoiled coast.