12 Can't-Miss Regional Restaurant Chains To Try On Your Next Road Trip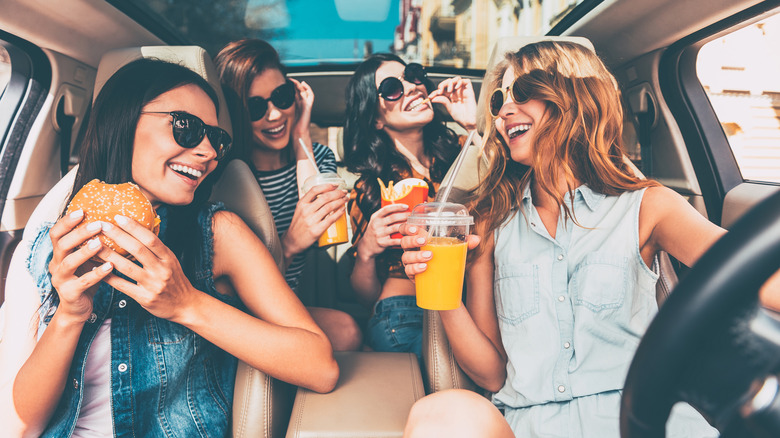 G-Stock Studio/Shutterstock
Can we, as a collective community of travelers, make a rule once and for all against crappy roadside fast-food joints? Experiencing different foods an area has to offer is one of the joys of traveling, and if you're spending a large portion of a trip on the road, opting for one of the better, more niche restaurants of wherever the road takes you will result in a much more authentic and enjoyable pit stop. Who wants to stop for soggy Mcdonald's fries when you could be having a regional delicacy? Alright, we're not suggesting you stop for some drive-thru caviar, but good food can and should be a part of your road trip experience! We can do better than the thousands of restaurants that are part of your typical big, national fast-food chains.
Luckily, we've explored the many regional chains there are in America and have hand-picked the very best ones by area. Whether you are taking a relatively short drive through New England or headed out west through the midwestern states, there are small and large franchises that could help explorers make mediocre fast food giants a thing of the past.
Wawa - Eastern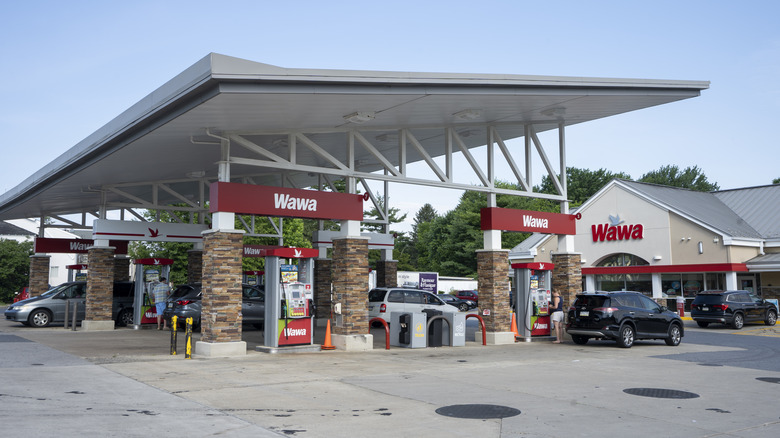 Hapabapa/Getty Images
The two undeniable truths of any road trip: you've gotta eat and you've gotta stop for gas. Wawa combines the two in quick and easy roadside convenience perfection. The gas station chain along the Eastern United States also has an extensive and customizable touchscreen menu that sends your chosen order through to an open kitchen for quick meals and snacks that satisfy basically any munchie-esque craving.
Wawa is fantastic for a quick stop, especially around breakfast time. Their Sizzli breakfast sandwiches allow patrons – especially early morning workers – to grab sustenance and head back on the road quickly. Not only is the breakfast option fast, but it's also only a few bucks. Of course, if you don't see a sandwich that is to your liking, you can always create your own on their touch-screen ordering system. While it's not as quick as grabbing one from the warmer, the cooks are pretty great about getting food out in not much time at all.
The extensive menu is greatly extended by the refrigerated grab-and-go options and the convenience store part of the establishment. You can find a variety of food, snack, and drink options between all the store's sections and you're able to grab everything you need to refuel while your car is getting its tank filled up. Voila, the perfect road trip pitstop!
Friendly's - Eastern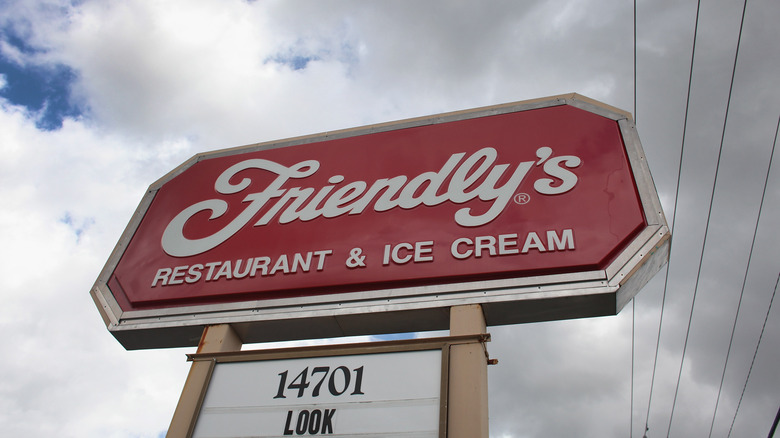 Joe Raedle/Getty Images
It's all in the name. Friendly's is dedicated to good vibes all around and is a place families can come to have, well, a friendly experience. Whether you're in the mood for a sweet or savory mid-journey meal, the easygoing restaurant has your back. Founded in the 1930s, the restaurant and ice cream shop still remains a slight reminder of the era with many locations having a retro adjacent interior. Though the seating arrangements can feel a little dated, neither the atmosphere nor the food is anything short of joy-inducing.
Eating out with kids can be tough and a lot of establishments are kid friendly begrudgingly at best. Friendly's welcomes kids and families enthusiastically which, astonishingly, makes the ice cream taste even better. If you've got the whole family in tow on a long stretch of road and see an exit sign for Friendly's, do yourself a favor and take a break from the very probable screams and "are we there yet"s coming from the back seat by stopping in for a full meal, a treat, or a little bit of both.
You'll find Friendly's locations up and down the eastern coastal states, especially in the Northeast. Around 25% of the chain's locations are located in Massachusetts, so if your road trip takes you to New England, be on the lookout for that white-on-red cursive logo.
Xi'an Famous Foods - Eastern
Though you won't find a drive-thru at this chain, Xi'an Famous Foods is a great option for road-trippers who love Chinese food and are passing through New York. The city, historically a refuge for both immigrants and Americans looking to build new lives, is known for second chances and Xi'an Famous Foods is the perfect family-owned business to support in honor of NYC's heritage.
There are a dozen locations in NYC throughout the city's neighborhoods, and while it can be a tad stressful to enter the busy city if just passing through, the authentic food just may be worth it. You can either dine in or order ahead for pick-up. The burger options, made with a flatbread adjacent bun and either stewed pork or sliced lamb, are ideal for travelers on the go – you may even get away with eating the dumplings in the car without making a mess. Whether your destination is the Big Apple or you are road-tripping to New England from a more southern state, Xi'an Famous Foods should be on your radar.
The Varsity - South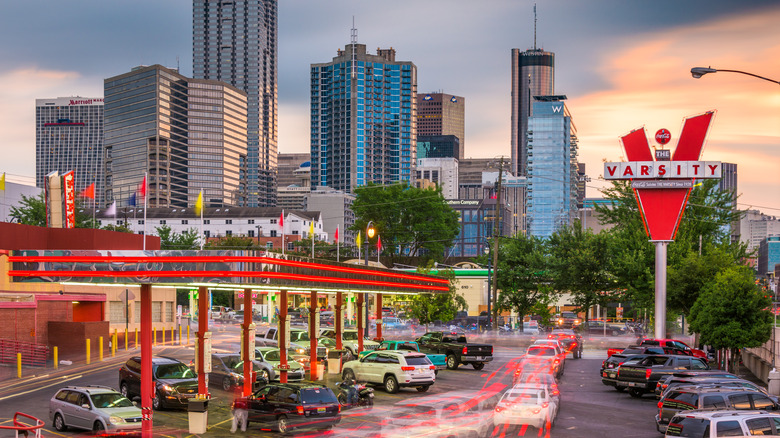 Sean Pavone/Getty Images
The Varsity is the perfect addition to an all-American road trip, as it not only plays on the nostalgia of a time gone by in the U.S. but is also a staple of Atlanta's past and culture. The original restaurant, known as the "world's largest drive-in," is akin to Sonic (minus the national spread of locations and the roller skates).
The Varsity serves up specialties that are iconic in the Atlanta area – they even have their own language that Georgians might know how to speak. When you approach the counter to order, expect to be asked "What'll ya have?" — it's the iconic catchphrase that's been said in the restaurant for decades. Be sure to try the Frosted Orange shake while you're here, it's a vanilla shake mixed with Varsity Orange that's perfect for a warm day. And if you order a hotdog here, just know it'll come with chili and mustard on it as default. Chocolate milk comes with ice and don't be surprised if you hear a customer ask for a "bag of rags" and receive some potato chips.
Don't be discouraged from dining at The Varsity just because you don't have the lingo down, the staff will still be able to help you out. A trip to or through Atlanta isn't complete with a dog, burger, or shake from one of the city staple's six locations. And since the original location is the size of two city blocks, you likely won't be able to avoid it!
Frothy Monkey - South
When it comes to road trips and driving long stretches at a time, caffeine is king and coffee is one of the best, most artisanal ways to get it. Ditch the Monster energy drink and opt for a specially crafted cup of coffee from a local cafe like Frothy Monkey.
What started out as a local coffee shop and bakery in Nashville has now become a popular chain found in multiple Tennessee cities plus Birmingham, Alabama. The only thing better than a cozy cafe is one that stays open all day, and most Frothy Monkey locations are open from the morning to 9 p.m., which makes this homegrown cafe chain perfect for caffeine connoisseurs and road trippers who need a little jolt to make it a couple more hours on the road.
While you shouldn't rely on coffee to keep from falling asleep at the wheel, it can be a tool to help you make it safely down the road on long car trips, especially as the day comes to an end. If you hit Tennessee or Birmingham around mealtime, Frothy Monkey has a full brunch and dinner meal as well as bakery options. Whether you're taking a latte and croissant to go or stopping in for a full meal, travelers heading down south have a respite in this little cafe chain.
Cook Out - South
It's difficult to find genuinely cheap eats these days, and near impossible to find quality at the low prices fast food was expected to be once upon a time. Cook Out comes through on both accounts and is vital for a late-night pit stop. This spot is open 'til the wee hours of the morning, and the menu honors its namesake with classic hot dogs and hamburgers but also goes a lot further with a number of side options and other entrees. As far as affordability goes, the fast food restaurant is known for its trays, which are basically a create-your-own combo that includes a whole lot of food for an affordable price.
If you're in the mood for something sweet, you're in luck — Cook Out is well-known for its milkshake menu. They have over 40 milkshake flavors, and customers are able to mix and match as well – ever had a banana pudding vanilla wafer milkshake before? What about peach cobbler cheesecake? The possibilities are quite endless, as staff typically allow you to mix more than just two flavors in a milkshake for no extra cost. If that sounds too good to be true, buckle in, because a Cook Out milkshake is under $3. Great food at cheap prices and extended hours? That's good looking out.
Bigfoot Java - West Coast
Washington is overwhelmingly known for coffee, in large due to being the birthplace of the largest coffee brand in the world. Starbucks isn't the only brew available on the road on the northwest coast though, as the winding roads of Washington state have these cool little drive-up coffee kiosks throughout. While there are many companies that have adopted this method of caffeinating travelers and commuters, Bigfoot Java is a reliable chain in the niche.
There are over 30 and counting Bigfoot Java locations in Washington state, and they are all located in spots where it's easy to just pull right off the road and quickly grab a coffee. Coffee and espresso drinks aren't all that this fun caffeine kiosk offers. They can also make the typical iced, hot, or frozen pick-me-ups, and the little chain also has a completely separate drink menu with vibrantly colored teas, sodas, and smoothies. Be on the lookout for Bigfoot (Java) on your next trip to the Pacific Northwest, you'll be able to catch them on the tail end of a road trip up the coast.
Super Duper Burgers - West Coast
If you find yourself continuously frustrated with the lack of healthy food options in fast food, then Super Duper Burgers is for you and should be on your radar if your road trip takes you to the Bay area. While that probably sounds like the beginning of a cheesy '80s infomercial, the chain really does pride itself on using better ingredients in order to not only craft better burgers but reinvent fast food culture into something more akin to a full restaurant experience.
Super Duper Burgers promotes its food as being crafted from scratch by ingredients that are not only locally sourced and organic, but also humanely raised. The company goes even further than ethical food and tries to be conscious about the environment when it comes to its packaging as well. When it comes to a Super Duper burger, there is no trash. Everything used is compostable or recyclable.
Ethical and delicious, Super Duper Burger also has a pretty stellar happy hour. While the special is going on, any alcoholic beverage order gets a free order of fries, and kids get a free ice cream cone with any burger purchase. The chain is only found in certain parts of California – sorry everybody else, no ethically scrumptious burger for you – but the state has some of the most beautiful scenic drives that would pair well with one of the restaurant's Super Burgers.
Roscoe's House of Chicken & Waffles - West Coast
If you're road-tripping on the west coast, chances are you'll make at least a brief pitstop in LA. If you find yourself there, Roscoe's House of Chicken & Waffles can be found spread out over the city, and you're going to want to stop in.
The name says it all, the chicken and waffles at Roscoe's is where it's at. If you're at all southern, you are familiar with the dish and likely claim it to be part of the culture in the region. However, LA has its own lore about where the dish originated. The original breakfast-for-dinner dish, jazz performers in Harlem would eat chicken and waffles in the early hours of the morning after they played and the dish is said to have migrated with a performer to LA. Interestingly enough, the founder of Roscoe's is a Harlem native, so whether the lore originates with Roscoe's founder Herb Hudson or another LA transplant, we don't know.
There's a reason the small restaurant chain of soul food has stood the test of time and expanded into its now eight locations since the '70s, and that's because it's good eating. Experience it for yourself and indulge in some timeless LA culture.
Swensons Drive-In - Midwest
Another drive-in fast food restaurant, Swensons is basically a no-nonsense Sonic. Midwesterners love it when you give it to them straight and, with the majority of the restaurant's locations in Ohio, they love the classic chain. Here, a burger is just a burger – albeit a darn good one – and there's arguably nothing that pairs better than a milkshake of the same nature.
At this rate, we'll be able to create a road trip around epic burgers and milkshake joints, not that we're complaining. While Swensons Drive-In may have a menu that looks so much like a more basic version of some of the other quick burger and fry joints on this list, the restaurant still strongly holds its own as a solid choice for a mid-journey pitstop. Of course, it certainly helps that it would look right at home as the centerpiece for a Midwest mood board. Everything from its simplistic, tried and true menu to the muted colors of its brand, Swensons is undeniably Midwestern to its core.
Runza - Midwest
If you've never been in the Midwest, it's likely that stopping at a Runza will be a very unique experience. The chain's feature dish is basically a meatloaf calzone, with a mixture of ground beef and cooked vegetables inside pastry-like breading. The recipe has become something of a cultural dish for Nebraska – if there is such a thing – and if you're passing through the state and happen upon one of the restaurant's 80+ locations there, you've got to give it a try. 
The meat pockets are actually pretty ideal for a road trip, as they can be handheld if you need to take your food to go in the car. Other types of sandwiches are available, along with fries and onion rings, but it's the Runza that has people flocking to the restaurant regularly. If your journey down the road is taking you outside of the Midwest and you are intrigued by the captivating Runza, they do ship all over the United States. Nothing like a box of frozen meat pastries to cure whatever ails the soul.
Schoop's Hamburgers - Midwest
In a line-up of burgers, you'd be able to spot a Schoop's at a glance – the patty spills out past the bun in its signature hand-formed style. This presentation creates a very homemade, grilled-at-home feel that gives the restaurant a sense of comfort and familiarity. As simple as it may look, the flavors are anything but, because the taste of the burger is far superior to your run-of-the-mill fast food slab of meat.
With a number of locations horseshoeing around Lake Michigan, Schoop's Hamburgers has been named Indiana's best restaurant chain multiple times over the years. The burger joint's fame has spilled over into the rest of the Midwest as well as in Chicago, as there is a location in the large city's vicinity as well. While Schoop's isn't spread far and wide over the Midwest, you should still keep your eyes peeled for a location if you are going through Indiana or around the Chicago area.