Samantha Brown's Tips For Making Your Thanksgiving Air Travel So Smoother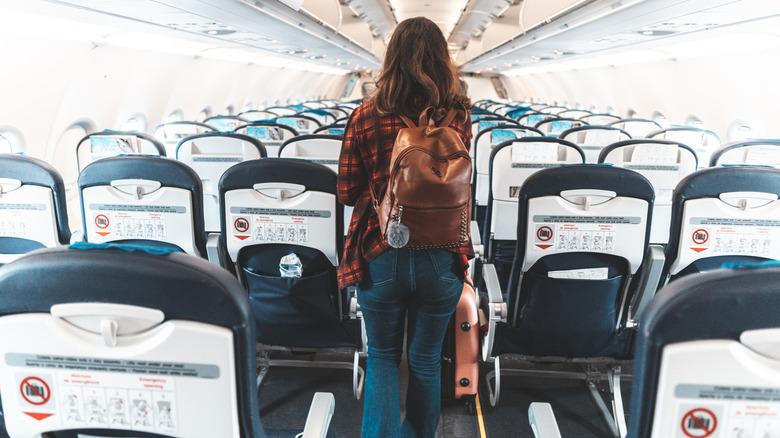 Mesquitafms/Getty Images
Thanksgiving week is full of holiday cheer, scrumptious food, and busy travel days. Unfortunately, things are becoming even more frenzied. This year, AAA predicted (via CNN) that 55.4 million people will travel the day before Thanksgiving and the Sunday after. While many Americans choose to take road trips to visit family or friends, AAA noted that air travel for Thanksgiving is on the rise in 2023. That said, the Thanksgiving season is incredibly hectic for those planning to fly to their destination. 
Luckily, travel expert Samantha Brown, perhaps best recognized for her work with the Travel Channel, knows this. It's advised to book flights for Thanksgiving travels a few months in advance, but if you've procrastinated, Brown wrote on her website, Samantha-Brown, to book tickets ASAP or risk paying more. 
Likewise, she explained, "If your dates are flexible, you could both save money and avoid the peak most stressful times to fly. Sites like FareCompare.com or Expedia.com have calendars to show when the cheapest days and times are to fly to your destination. Just mark 'My dates are flexible.' Or plan to fly early morning on Thursday, with a return trip on Saturday. Flying early Thursday might be tough, but the airports will be empty, and hopefully, there's a mandatory post-Turkey nap policy in your family."
Overall, Brown emphasized that it is crucial to plan accordingly for your Thanksgiving flight.
Allow for extra time to get to the airport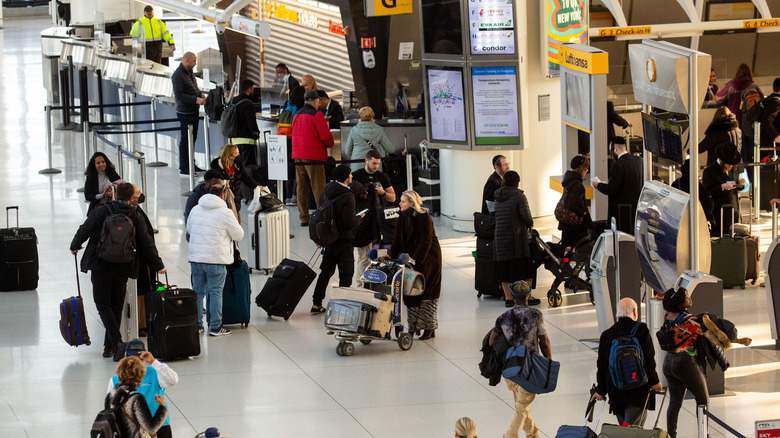 Bloomberg/Getty Images
Traveling during the holidays is synonymous with delays, long lines, and other mishaps. The last thing you want to do is miss your flight and Thanksgiving dinner because you arrived too late. On her website, Samantha Brown states that fliers should arrive at the airport two hours early. 
In a 2012 article written for HSN Blogs, Brown clarified that they should not be two hours early for their flight departure but for their boarding time. Times vary depending on the airline, but generally, flights start boarding anywhere from 30 to 50 minutes before the flight is scheduled to leave. However, your boarding pass will specify the time this process will begin.
Plus, there are other perks to being early. "And you'll want to be at the gate when the flight is called so you have a better chance of boarding at the beginning of your zone or group so you can get space in the overhead bin," Brown wrote on HSN.
In addition, Brown says to make sure you check in and have your boarding pass before arriving at the airport. It also wouldn't hurt to know what Thanksgiving essentials you can or can't travel with. In other words, be wary of the 3-1-1 liquids rule while packing for your trip, as per TSA.
Pay for certain amenities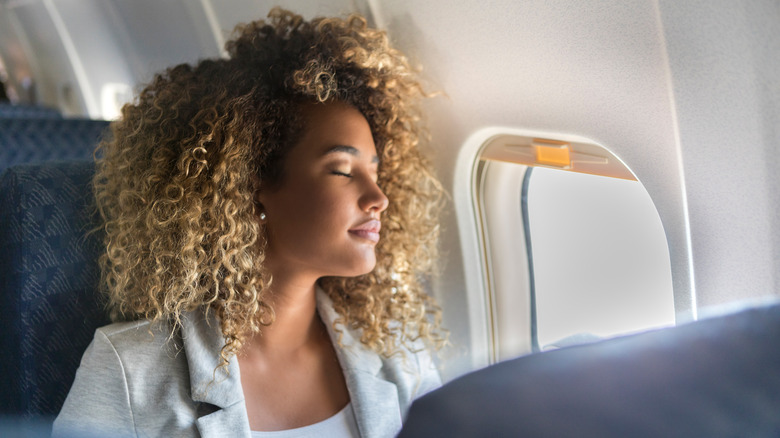 Sdi Productions/Getty Images
Flights aren't cheap, especially if you're traveling during Thanksgiving. Although no one wants to spend even more money during their travels, Samantha Brown says that, in some cases, it's worth it, as per her site. For example, if you're traveling with family, Brown notes that you should consider paying for an aisle and window seat if you all want to sit together. The same can be said for solo travelers who don't want to sit in the middle.
Moreover, Brown says to ditch connecting flights, noting that it's better in the long run if you do. She said via Samantha-Brown, "If there was ever a time to fly nonstop, it would be now. I know that connecting flights are cheaper, but they are also the weakest link of your itinerary and will leave you vulnerable to major problems for such a short trip. If you miss your connecting flight, the chance of room on another is very slim." 
She added, "If you have to connect, leave no less than two hours between flights." In addition to all of this, Brown advises travelers to take care of themselves by eating and having something that will entertain them on a flight, such as a book or a downloaded movie.