We Tried This Last-Minute Booking App HotelTonight And Here Are Our Thoughts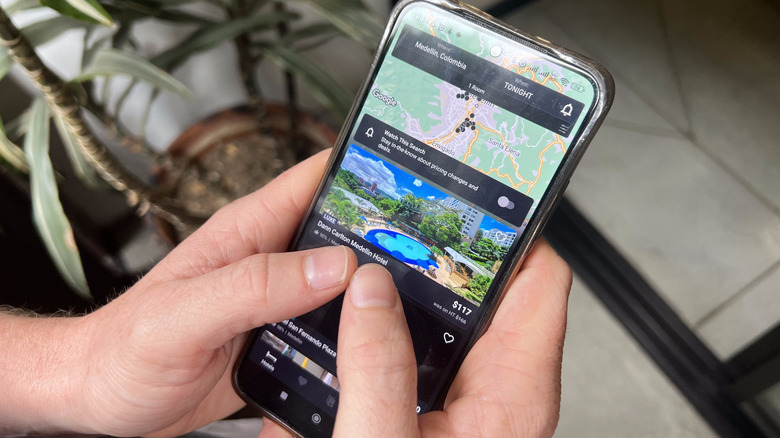 Camila Pérez B./Static Media
Over-planners out there might not relate, but there's nothing like the thrill of snagging that perfect hotel deal just hours before a vacation. The stress, the excitement, the not-knowing where you might end up or if you'll find anything worthwhile ... it's an emotional rollercoaster that's almost as exciting as the trip itself. And nowadays, tools like HotelTonight are here to act as a buffer between finding a bed and getting left wandering around an unknown destination.
After launching in 2011, HotelTonight is available online and via the Apple and Google Play stores and claims to offer "incredible last-minute hotel deals" in destinations worldwide — from New York City to Rabat, Morocco. What exactly does that mean? Simply hop online, use the search bar to choose your destination, select your travel dates, and press "Go." From there, the platform will display a list of hotel deals alongside a handy map of the city for you to choose from. Easy to use, convenient, and, if done well, incredibly affordable.
But it's not all rainbows and butterflies. We decided to put HotelTonight to the test during a recent holiday to see if the platform really lived up to expectations in terms of helping us save on our hotel room. And, unfortunately, the results left us wanting a little more than what the site had to offer.
Signing up for HotelTonight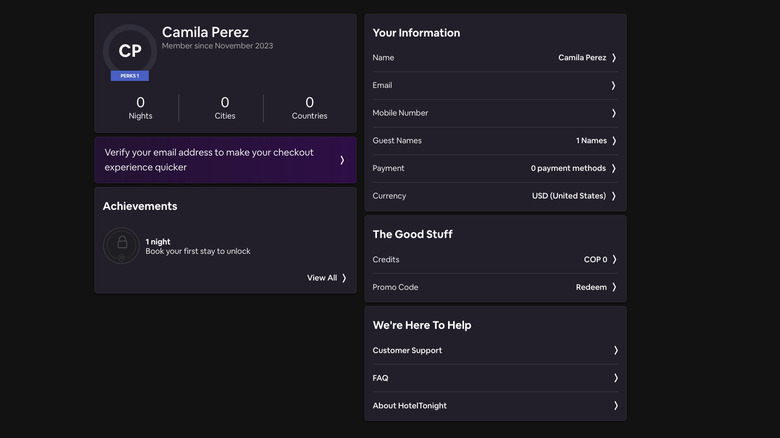 Camila Pérez B./Static Media
The best thing about HotelTonight is how easy it is to use. Unlike other booking platforms that feel a little overwhelming, the site shines for its simplicity. First things first, there's the sign-up process. All you have to do is create an account using your name, email, and mobile number. You'll then receive an email notifying you that you're in, along with additional information about "HT Perks," downloading the app, and a few other goodies. The process of signing in, however, is a whole different story. You'll have to prompt the site to send you an email every time you want to login — which, frankly, feels annoying and a little invasive in comparison to just using a password.
Account personalization is also pretty basic. You can change your name, email address, and phone number from within your dashboard, as well as add a preferred payment method, your chosen currency, and any additional "Guest Names" if you travel with someone else frequently.
This is also where you'll see a breakdown of your "HT Perks," or HotelTonight's version of a loyalty program. Basically, the more you use the app, the more points you'll accumulate. These points will help you move up through HotelTonight's levels and gain access to special perks. Think better deals, extra discounts, and booking credits to spend on future stays.
Finding accommodation in a flash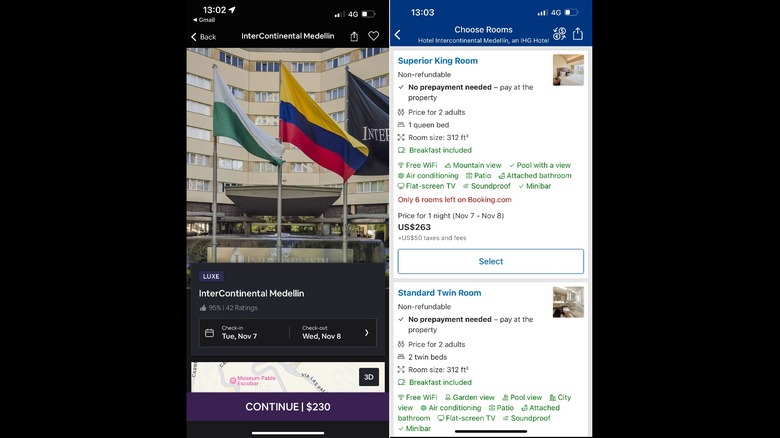 Camila Pérez B./Static Media
In theory, HotelTonight sounds like the perfect tool for procrastinators and last-minute holiday bookers. In reality, though, the platform still has a ways to go in terms of what it claims to do. In our case, we wanted to find a last-minute deal on a stay in Medellín — one of Colombia's most popular cities among international and local tourists. The results were disappointing, to say the least. While platforms like Booking.com had over 800 hotels on offer for the same night, HotelTonight had a meager five hotels available.
Pricing wasn't all that impressive, either (see comparison in the above image). While HotelTonight offered a $230 "DEAL" (plus $51 taxes) for users who wanted to book an undisclosed room at the InterContinental Medellín, Booking.com offered the same hotel stay at $263 (plus $50 taxes) for a Superior King Room. This meant last-minute travelers were only saving $32 by using HotelTonight, and leaving certain details like room type and amenities — all of which provide peace of mind — up to chance.
For the sake of fairness, we tried the same experiment using a popular U.S. destination: Boston. A quick search revealed similar results. While HotelTonight highlighted the Sonesta Select Boston Danvers as a "DEAL" at $119 (plus $21 taxes) for a last-minute stay, Booking.com had a Deluxe King Room on offer for just $135 (plus $16 taxes). This ultimately adds up to an $11 difference. Not great for a site that claims to have the best last-minute deals, huh?
Is HotelTonight worth it?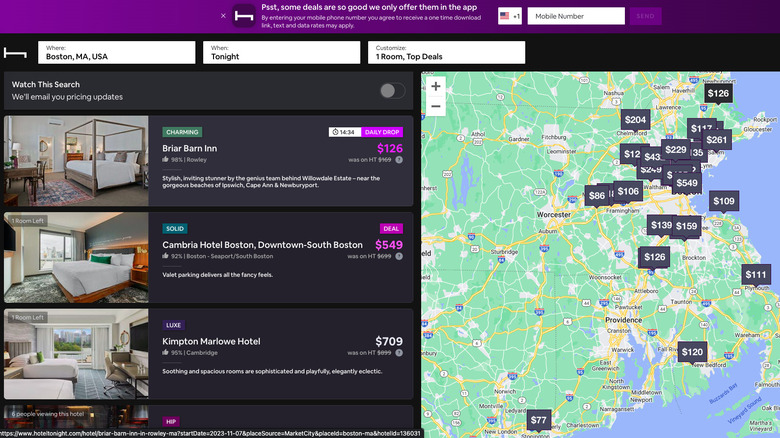 Camila Pérez B./Static Media
In short: yes and no. While the platform does have its perks, there isn't really enough going for it that would justify signing up or downloading a totally new app to add to your roster. Not only that, but HotelTonight is also notorious for its strict cancellation policy — which clearly outlines you won't get a refund and can't reschedule your booking or pass it on to someone else.
One reason we might be persuaded to use HotelTonight is the platform's "Daily Drop" offer. Available once a day for 15 minutes, the app and website highlight one-off discounted stays that can amount to big savings. The only downside is these "Daily Drops" aren't available in every destination. In our case, Medellín didn't have any daily drop deals for our selected travel dates. Boston, on the other, had a $126 deal at the Briar Barn Inn, while the actual website had rooms starting from $179 for the same date. And let's face it: $53 off to book last minute simply doesn't cut it.
All in all, HotelTonight can be a great choice if you're traveling to popular destinations — Los Angeles, London, Berlin, and Paris all have dozens of rooms on offer. However, you might be better off sticking to the basics if you're heading somewhere a little off the beaten path. Our verdict? Check the offers online if you're feeling lucky, but save up precious phone space for some vacation photos instead.