Enjoy A Tropical Vacation Without A Passport At These Pacific Ocean Islands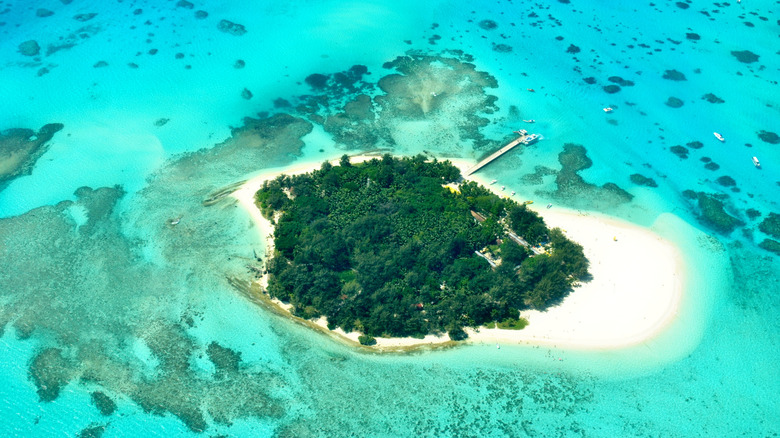 RaksyBH/Shutterstock
When Americans are looking for a tropical domestic getaway, they frequently tend to head to Florida. However, if the Sunshine State feels too been-there, done-that, fortunately there's a remote set of islands quite far from the U.S. that are indeed a U.S. territory. What exactly does that mean for American travelers? Well, passports are not needed for American travelers to enter this tropical oasis: the Northern Mariana Islands.
Not to be confused with Guam, the Northern Mariana Islands are a group of 14 islands located in the South Pacific Ocean, not too far from Guam, another US territory. Along with Puerto Rico, Guam is one of the more commonly known U.S. territories, leaving the Northern Mariana Islands to remain a true hidden gem. While a visit here takes some strategic planning due to its remote location, requirements to enter the Northern Mariana Islands themselves are as breezy as entering Colorado, Florida, Missouri, Arkansas, or indeed any of the 50 U.S. states.
How to get there (and how much an average trip costs)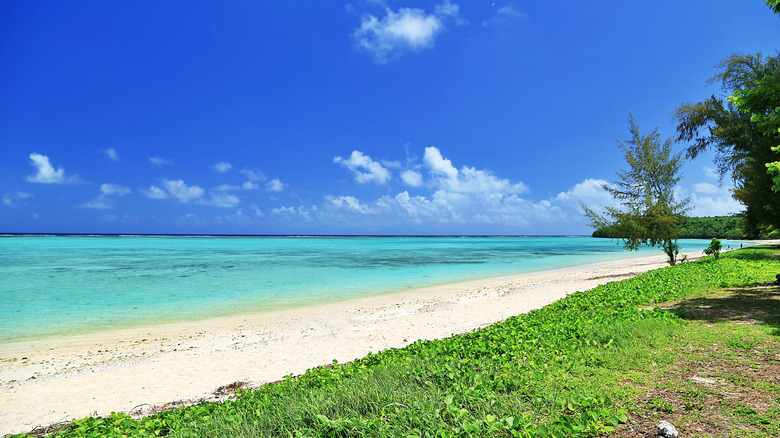 Triphibian Productions/Shutterstock
Here's the twist about the whole "you don't need a passport to travel here." While the Northern Mariana Islands are indeed a commonwealth of the United States, there are no direct flights from mainland USA, meaning you do need a passport to transit. All layovers are in either Incheon (Korea) or Narita (Japan), so if you've never been to either destination, consider seizing the opportunity by leaving the airport for a long layover in Seoul or Tokyo. Airlines that fly to Saipan, the Northern Mariana Islands' dedicated international hub, are United, Jeju Air, T'way Air, and Asiana Airlines.
According to data collected from Skyscanner, the cheapest round-trip ticket available for purchase from the USA to the Northern Mariana Islands is approximately $1,095, with the cheapest time to fly being in October. However, according to data collected from Booking, the most popular ticket from the USA, which departs from Seattle-Tacoma Airport (SEA), costs nearly double that at $2,023 per round-trip ticket. Expect lengthy travel time, as this popular route with respective stops takes over 32 hours.
Hotel costs around the Northern Mariana Islands depend greatly on what day of the week you book for, as well as where amongst the islands you stay – the average cost for a room ranges from $158-$270 per night, depending on these factors. You flew all the way there, so you might consider splurging on Kensington Hotel Saipan, one of the island's most sought-after five-star hotels.
What to do and when to go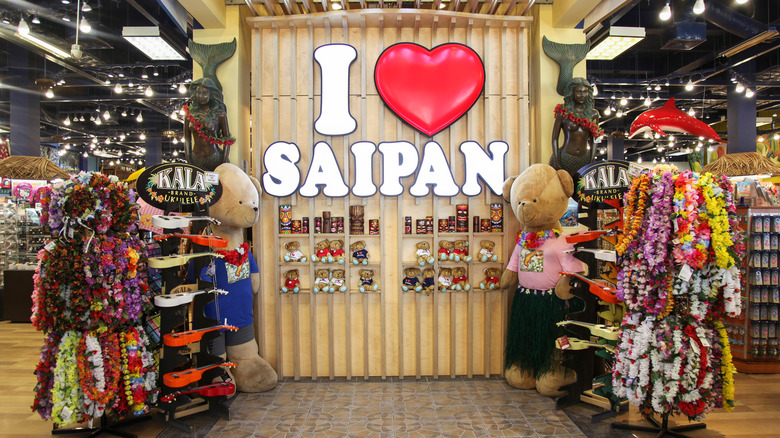 Han Gyual Oh/Shutterstock
Saipan, the largest city in the Northern Mariana Islands, holds the Guinness World Record for having the most invariable climate on earth, meaning the weather is pretty much the same all year round, with an average of 80 degrees Fahrenheit. However, for the Northern Mariana Islands as a whole, December to June is the best time to visit, and the rainy season is typically from July to October, when the islands are prone to typhoons. If you want to avoid the crowds, avoid coming during Japanese holidays, as the Northern Mariana Islands make for a popular vacation spot for Japanese tourists.
It goes without saying that the beaches are pristine in the Northern Mariana Islands. Some of the most idyllic can be found on Saipan, at Micro Beach, Lau Lau Beach, and Landing Beach. Scuba diving and snorkeling are top activities here. Home to a landmark known as Eagle Ray City, divers can immerse themselves in water and be surrounded by up to 40 eagle rays on any given day. History buffs will thrive under the sea with several WWII wrecks and artifacts deep beneath the sea's surface, just waiting to be explored.
If you hear your appetite calling, grab some kelaguen, a native dish to the Chamorro people (who are indigenous to the Northern Mariana Islands). It's typically made with chicken, lemon, coconut, and spicy peppers, but some versions offer it with fish or shrimp. Estufao, a chicken or pork-based stew, cooked in vinegar and soy sauce, is another must-try.