Everything You Need To Know About Royal Caribbean's Ultimate Adults-Only Beach Destination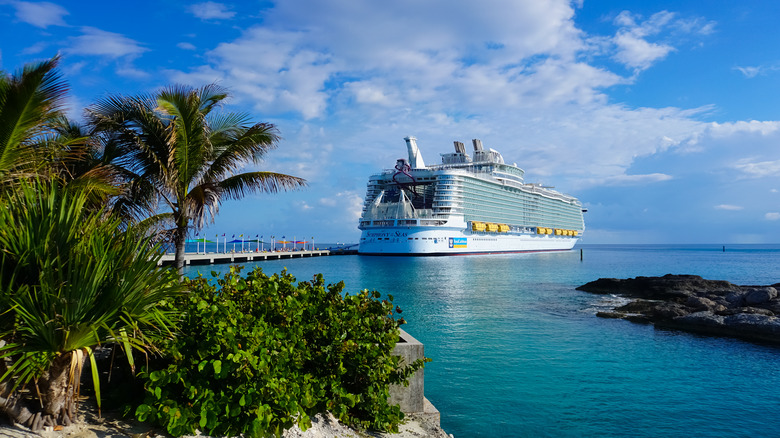 Marina113/Getty Images
Since 1970, Royal Caribbean Cruises has strived to offer seafaring travelers experiences of a lifetime, and the company has undoubtedly revolutionized sea travel. For example, in 2021, they announced their nearly year-long Ultimate World Cruise, which will set sail in December 2023 and traverse the globe's seven continents. In January 2024, Royal Caribbean is set to launch the world's largest cruise ship, the Icon of the Seas. This is in conjunction with the grand opening of Hideaway Beach, a private beach for guests who are 18 years and older. Hideaway Beach is on the northwest coastline of Perfect Day at CocoCay, Royal Caribbean's gorgeous private island in the Bahamas.
The island underwent a $250 million renovation in 2019 and is known for being a premier destination for families and kids of all ages, as attractions include two waterparks: Thrill Waterpark and Splashaway Bay. In addition, Perfect Day at CocoCay has various kid-friendly beaches, including Chill Island and South Beach. However, as the first adults-only beach on the island, Hideaway Beach provides guests with leisure and seclusion. Guests can expect two pools with swim-up bars, 20 cabanas, a DJ, and more. While a majority of attractions at Perfect Day at CocoCay are free for Royal Caribbean passengers, there is an entry fee for Hideaway Beach.
How much will Hideaway Beach cost?
Guests at Hideaway Beach will enjoy a plethora of amenities amid scenic island views. This includes two bars on the beach, hammocks, swings, and lounger chairs. At one bar called On the Rocks, guests can play games and listen to live music. Don't want to get sandy? The Hideaway pool will have a DJ cranking out tunes and a swim-up bar for those who want to stay poolside. Furthermore, Hideaway Beach will include two dining options: Slice of Paradise and Snack Shack. The latter offers unique pizzas, and the former has classic fast-food options. 
So, how much can visitors expect to pay to visit Hideaway Beach? According to a cruise line spokesperson, via USA Today, admission prices will vary but start between $39 to $89. In addition, guests must pay extra to book a private cabana, which comes with exclusive services. There is also a fee to access The Hideout, a VIP-type area with an infinity pool and 10 cabanas.
At the time of this publication, it's unclear how much these additional experiences will cost. However, if you want to visit Hideaway Beach, Royal Caribbean has 22 cruises set to stop by Perfect Day at CocoCay in 2024. Hideaway Beach will be able to accommodate up to 1,800 and 2,000 guests. Nevertheless, Royal Caribbean recommends that guests book their entrance to Hideaway Beach in advance through their app.