This Linen Closet Staple Is The Road Trip Essential You Didn't Know You Needed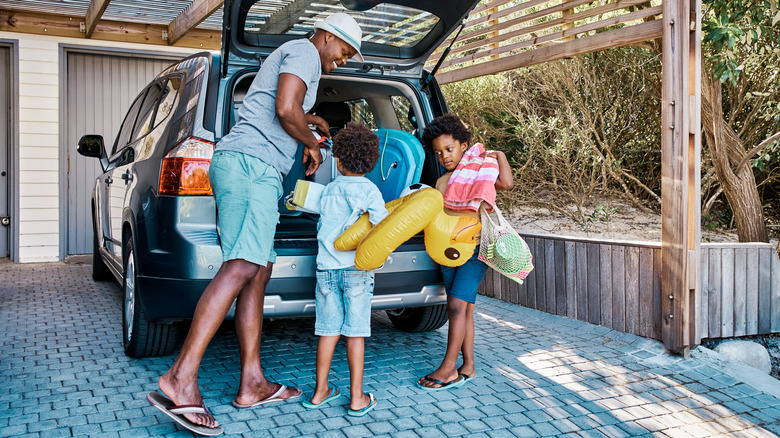 Pixdeluxe/Getty Images
We may receive a commission on purchases made from links.
A road trip can be a wonderful opportunity to catch up with friends or family, see some stunning sights, and feel the breeze as you sing along to your favorite songs. However, you may hit some bumps during your drive. There are some useful hacks that can make your ride smoother, like using a cereal dispenser for garbage or sticking on a shower caddy to organize important items. And there's yet another basic household item to add to the list that can significantly reduce travel hassle.
If you're taking a long road trip, you or other passengers will probably eat a snack at some point. But a crunchy granola bar or some crispy potato chips can quickly get messy. As much as you try to minimize the mess, you may find your seat covered in crumbs and caught in the cracks of the cushions. Fortunately, there's a simple way to prevent this from happening at all. The next time you head out on a road trip, pack an old fitted sheet. This linen closet staple will protect your seats when you're eating, which will make the cleanup as easy as pie.
A fitted sheet works wonders for kids and adults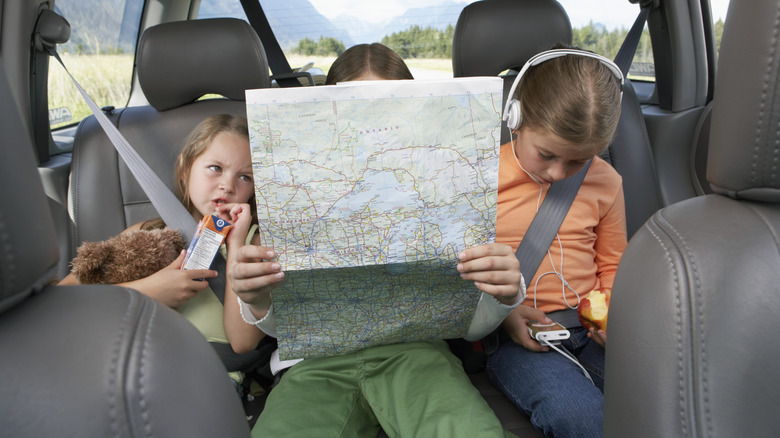 Noel Hendrickson/Getty Images
Whether your road trip company is kids or adults, using a fitted sheet to collect car crumbs is an easy and painless solution to an all too common travel problem. Simply place the sheet over the entire seat from the headrest to the bottom corners. If your child sits in a car seat, you can keep the crevices from filling up with crumbs with a fitted sheet. However, the child's safety should never be compromised, so make sure they can still be buckled up properly. If the sheet is too bulky, you can find an appropriately sized car seat protector for your tot on Etsy or Amazon.
Once you've arrived at your destination, you can pull the fitted sheet from the car seats and throw out the accumulated scraps and dirt. This will be much less time consuming than having to dig up all the scattered crumbs. To be extra resourceful on your vacation, you can bring along your fitted sheet for some other pertinent activities. For instance, if you go on a picnic, use the sheet in place of a tablecloth. At the end of the meal, shake it out to remove food remnants.
What to do about remaining dirt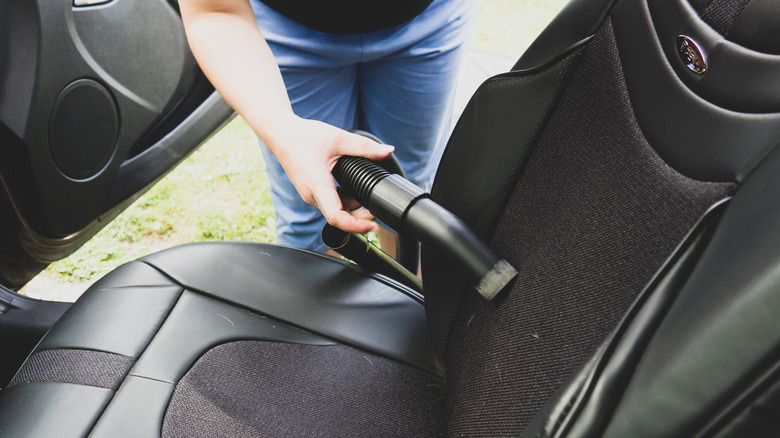 badnews86dups/Shutterstock
If you didn't use a fitted sheet in your car, or if crumbs remain, don't fret. With the proper appliances, you can clean up the mess. However, the steps will vary based on your seat's material. If your car has leather seats, get rid of dirt with the crevice attachment of a vacuum. Then, scrub with a commercial leather cleaner and a damp rag. To keep the surface drip-free, wipe from the top of the seat down. When the seats are no longer wet, apply a commercial leather conditioner. This will help the leather stay soft and in good condition.
You can also dispose of scraps from cloth car seats with a vacuum crevice tool. To pretreat stains, spray a commercial upholstery cleaner or a homemade cleaner made of equal parts oxygen bleach powder and water. Paint the paste onto the area with a soft-bristled brush, allowing it to sit for an hour. Then, vacuum the dried-up substance.
To keep your cloth car seats nice and spotless, apply a commercial upholstery cleaner, adhering to the product's instructions. Alternatively, you can create your own cleaner with ½ cup of distilled white vinegar, a teaspoon of dishwashing liquid, and a cup of warm water. After giving the spray bottle a good shake, spritz the cleaner onto the seat, working from the top and then cleaning the surface with your brush. Lastly, rinse the seats with a damp microfiber cloth, washing and wringing it frequently.