Make Traveling With Snacks Easier By Upcycling An Old Coffee Creamer Jar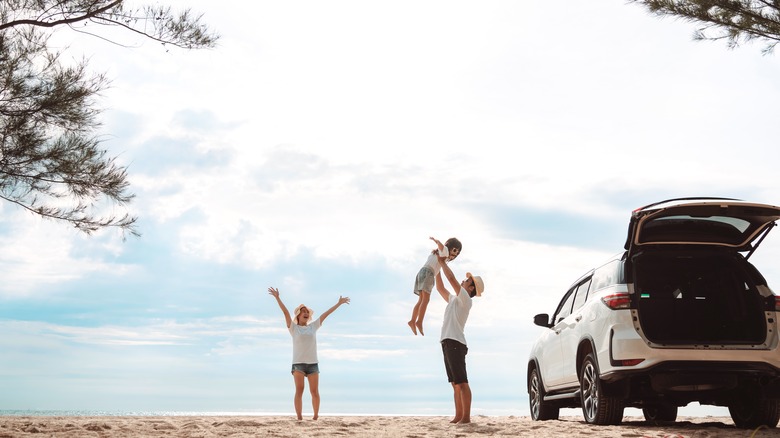 MMD Creative/Shutterstock
Traveling with kids can bring a lot of joy, but let's be real, it can bring a whole lot of stress, too. One of the most tedious stressors about traveling with kids is that they can be, well, messy. If you have a road trip planned with your kiddos and are worried about how to keep them entertained along the way, you've probably already done your research and know to bring snacks, games, and maybe even Post-Its and window clings. Snacks are absolutely crucial, but you'll want to ensure your car is not going to suffer from an ant infestation afterward from the kids' messes, and we have just the hack for mess-proof road trip snacks.
Using an old coffee creamer container to store snacks like cereal, crackers, cookies, popcorn, cut-up fruit, and more is a great road trip hack for traveling with kids. There are many benefits to using an old coffee creamer container, and many ways to get creative to keep an extra dose of entertainment going for your young ones.
The benefits of using an old coffee creamer container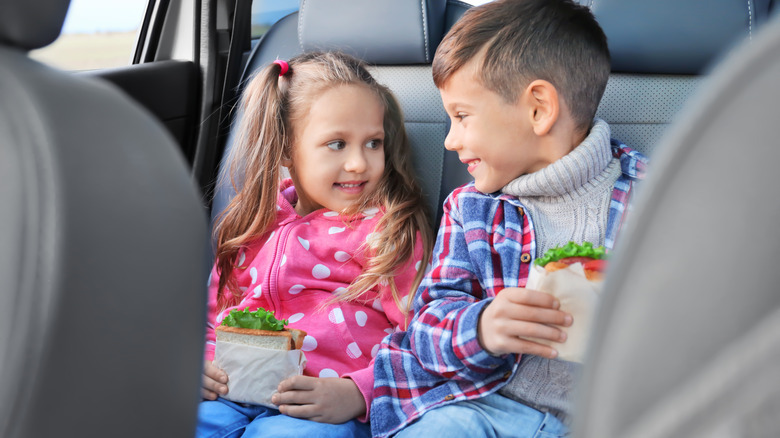 Africa Studio/Shutterstock
Aside from the convenience of a great vessel for your kids' snacks, reusing a coffee creamer container is an environmentally friendly way to up-cycle what would potentially otherwise end up in a landfill. Most coffee creamer cups are easily washable, meaning they can last for several uses.
Don't toss the lid of a coffee creamer container, either. The lid allows for only so many snacks to come out at once, creating a mess-free dispenser. You can also bring a variety of coffee creamer containers, and since they are indeed reusable, you can change the snacks offered on the way back home. Did your kids find a new treat they really loved while on vacation? Fill it up in the coffee cream container for a fun way to keep the kiddos entertained.
If you want to make eating out of the coffee creamer containers even more entertaining, you can put stickers or decor around them with your kids' favorite cartoon or movie characters. Hey, the more we think about it, coffee cream containers also make for a great mess-free way for adults to enjoy snacks on a road trip, too. Fill up some for yourself with nuts, trail mix, dark chocolate, dried fruit, and more to stay just as entertained as your little ones.