20 Best US Destinations For The Ultimate Bachelorette Weekend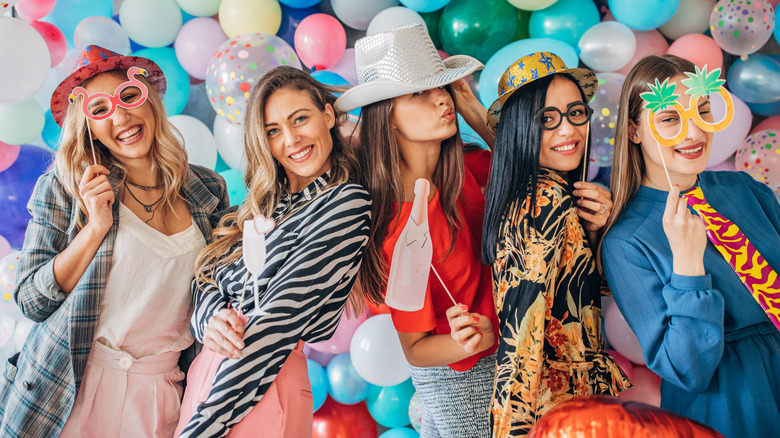 South_agency/Getty Images
A make-it-or-break-it bachelorette party is all about who you spend it with, as a fantastic group of women could make anywhere seem like a luxury entertainment venue. That's not to say that a destination bachelorette party won't make for a pretty epic party, though. Heading to a tropical paradise or haven for relaxation could be the perfect way to usher in a new life of being someone's wife, and there are plenty of places right here in the United States that can show you and your bridal party a good time.
Over 50% of bachelorette parties are celebrated over the course of two or three days, which makes a weekend getaway ideal for the majority of brides. Your destination will naturally depend on what kind of vibe you'd like to mark the end of your single life, but whether you want to bask in the glory of nature's finest glamping retreat or hit a city of neon for a wild night out, these U.S. destinations all have something unique and truly special about them that make for the ultimate bachelorette weekend you and the girls won't soon forget.
Nashville, Tennessee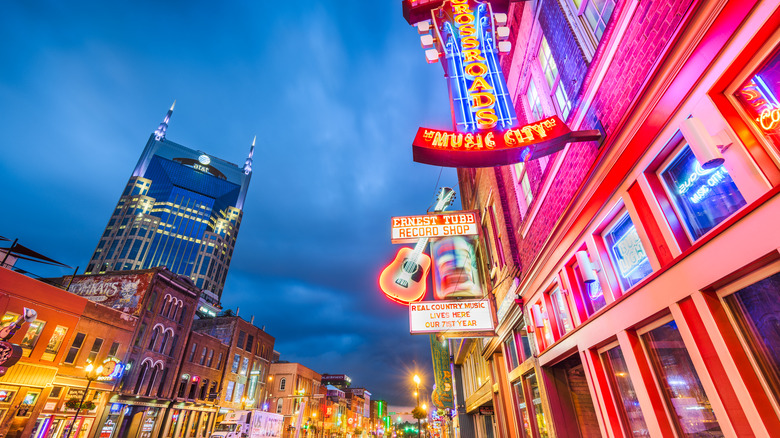 Sean Pavone/Shutterstock
It's only natural we start off with flashy Nashvegas — the current capital of bachelorette parties, according to CNN. Nashville's Broadway, with its neon-clad honky-tonks and live music venues, is one of the most popular destinations that bridal parties flock to in order to have a weekend packed with fun. It doesn't really matter which establishment you drunkenly stumble into here, as line dancing, live bands belting out songs you can sing along to, and crowds of similar parties will greet you at every turn. If you do want to be picky, though, you can't go wrong with Tootsie's Orchid Lounge or Nudie's Honkey Tonk.
Part of the fun of planning the perfect Nashville bachelorette party is dressing the part, as the whole bridal party will have a blast finding the perfect cowboy boots and hat to match each other and their outfits. Artists who make custom boots and hats, like Rustler Hat Co. and Music City Leather, can be found throughout the city. You'll have the perfect souvenirs to remember what could be one of the best weekends spent with some of your favorite people.
Once your group is decked out in the finest stereotypical southern gear, taking a trip into the Music City's Broadway during the day can be almost as good a time as taking it by night. Trolley tours and bars on wheels take day drinking to a new level. Check out Nashville Pedal Tavern for exploring vibrant Nashville streets.
Savannah, Georgia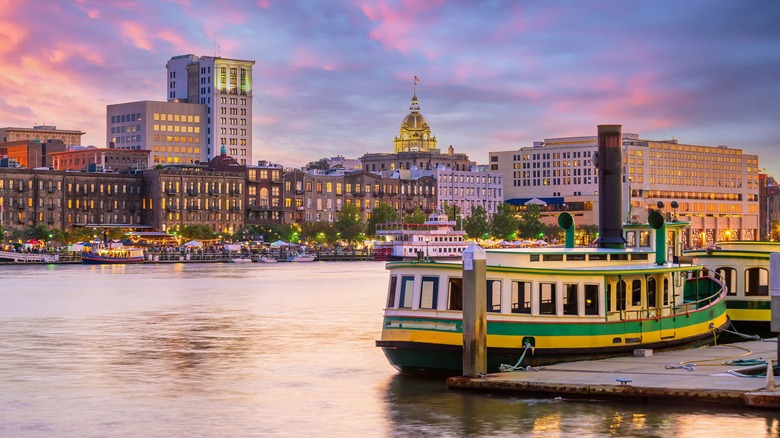 f11photo/Shutterstock
The perfect destination for the bride who wants to channel her inner southern belle, Savannah, Georgia is one of the most charming cities in the U.S. with a deep history and culture all its own. A bachelorette party here will likely lead to a relaxed yet exciting trip. The welcoming city, known as the "Hostess City of the South," takes care of its visitors by offering an experience steeped with charm. As America's first planned city, Savannah is organized, easy to navigate, and gives visitors a sense of peace and a feeling of being at home.
Even if those in your party aren't sports fans, planning on seeing the Savannah Bananas or Party Animals at Grayson Stadium would add something majorly special to your trip. The baseball teams — the Bananas in particular — are TikTok sensations and are regularly sold out, thanks to their crowd work, attention to trends, and performative playing style. The combination of comedy, good baseball, and a ballpark that leaves little to be desired makes for an all-around good time, especially for groups.
You may want to consider taking the group out on the water with a party boat while you're in Savannah as well. Experiences offered by companies like Savannah Party Cat and Tipsy Turtle Tiki Tours allow groups to drink, dance, and let loose on the water while getting great views of the city. A bridal weekend in Savannah could take many different paths, all of which have the makings of a great time.
Miami, Florida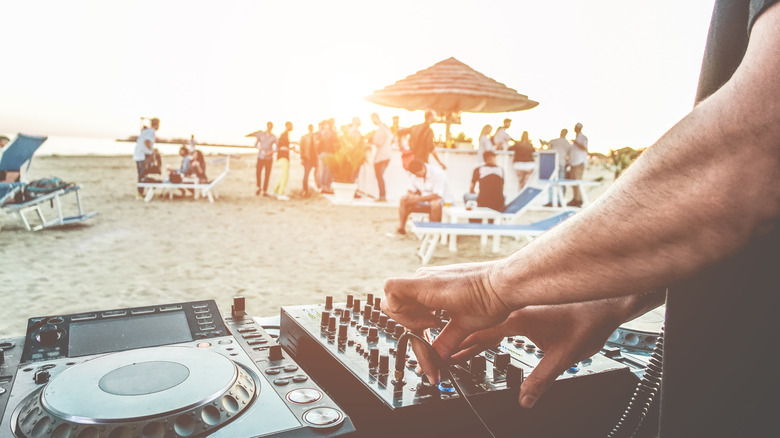 DisobeyArt/Shutterstock
The East Coast is packed with stellar destinations for bachelorette parties, and way down in the southernmost part of the coastline is one of the most popular U.S. cities for bridal parties and girls' trips. Miami is a blast if you and your group are interested in a weekend of days spent on the beach and late nights out on the town.
South Beach is a must for anyone visiting Miami but is especially appropriate for a group of ladies looking for a good time in the sun. A spot that celebrities are known to frequent, the beach is beyond iconic, having been featured in popular films for many decades. The area is also ripe with nightclubs and the nightlife there is almost unmatchable in the United States. Do Not Sit On The Furniture and Basement are two clubs worth checking out, but each Miami nightclub has its own personality and if you don't like the vibes in one, feel free to move to another.
Miami has an abundance of culture for parties that want to step outside the outskirts of South Beach and the typical tourist destinations. Little Havana and Little Haiti are food paradises with authentic Cuban and Haitian dishes, respectively; just hit up one of the many local bodegas and street markets. One day wandering the many neighborhoods of Miami, another hitting the beach or going boating, and nights spent at some of the hottest clubs will result in one exciting bachelorette weekend.
Palm Springs, California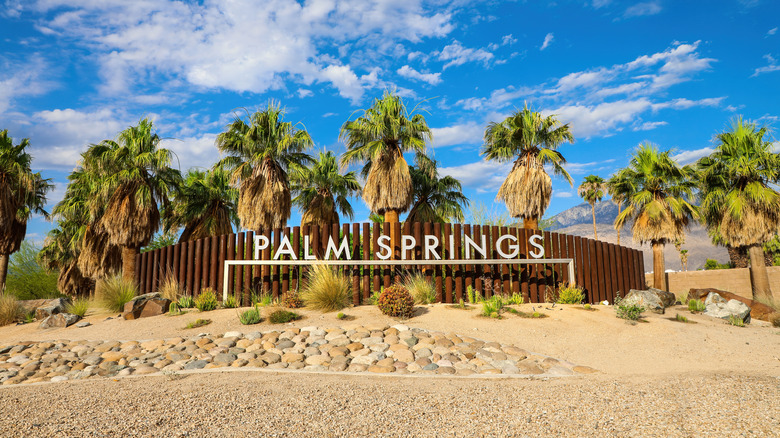 Try Media/Getty Images
A classic Hollywood getaway destination, Palm Springs has been a place that celebrities have ventured to for a luxury vacation since the 1920s. While a lot has changed in the century it has been a hotspot for the rich and famous, the Californian town remains timeless and a great place for bachelorettes to have a laid-back, luxury weekend with their bridal party.
The desert town is anything but dry, as lounging by a pool with friends is a popular experience when staying at an Airbnb or similar lodging. A wine tasting should also be on the ultimate bachelorette party checklist, and Palm Spring Wine Tasting will bring the party and a selection of wines to you. If you prefer to go where the wine is, V Wine Lounge & Martini Bar has a wide selection and a retro style.
A bachelorette party in Palm Springs isn't complete without a dip in a nearby hot spring. Planning a wedding is stress-inducing work, so spend some much-needed relaxation time at one of the many spas in the area that makes use of hot springs. Heading to nearby Desert Hot Springs is the move in this regard.
Joshua Tree, California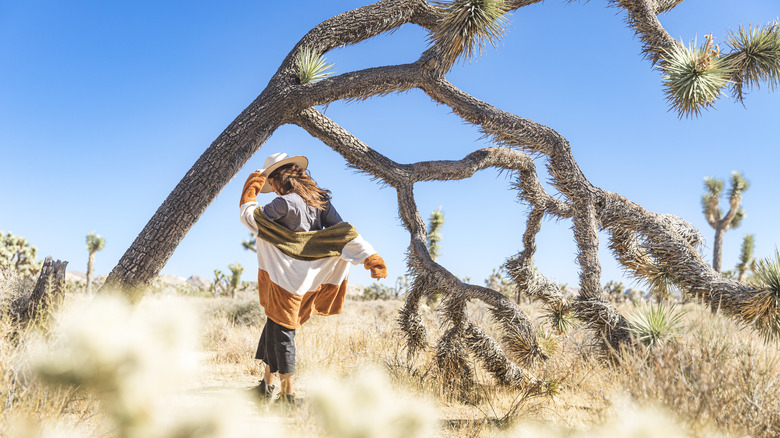 Philip Thurston/Getty Images
Less than an hour east of Palm Springs is Joshua Tree and although the two destinations are both surrounded by desert and relatively close to one another, the experiences are quite different. Where the former perfectly meshes mid-century modern style with a desert atmosphere, the latter fully embraces the raw beauty of the Mojave Desert.
For women who love the outdoors and have an appreciation for Mother Nature in her most rugged form, Joshua Tree National Park is an ideal destination for a weekend getaway, especially right before settling into what can sometimes be described as the monotony of matrimony. Despite being in the desert, there's nothing dull about the area, as hikes and sights like Skull Rock and Cholla Cactus Garden will leave you feeling invigorated and with some pretty spectacular Insta pics. It's a spiritual experience, and perfect for those looking for a little wellness before their big day.
If you're concerned about spending your hen do in the middle of a desert doing nothing but walking around and watching the sun set and rise, don't worry, because civilization isn't far away. In fact, dining and shopping around Joshua Tree isn't too shabby, especially if you're into the southwestern style — try the Station and Coyote Corner for an eclectic collection of options.
Denver, Colorado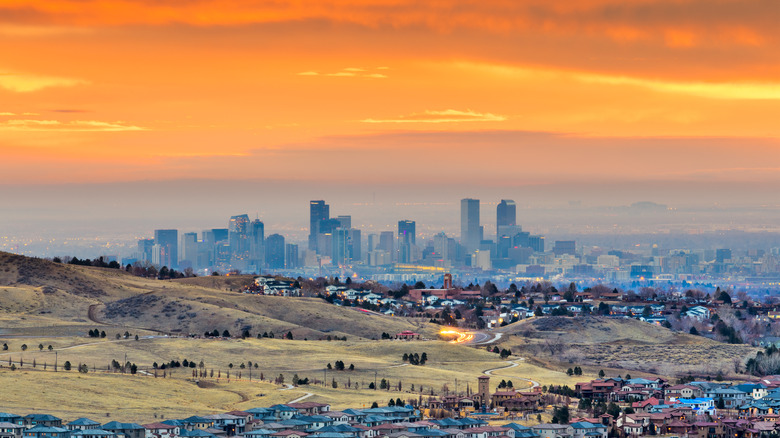 Sean Pavone/Shutterstock
Bridal parties with those who consider themselves free thinkers or creative may love a weekend getaway to Denver. The capital of Colorado has made a name for itself as a beer city; it's a go-to place in the Southwest for locally brewed beer and an ideal place for bachelorettes who prefer the hoppy beverage over wine. For ladies who like to legally partake in the green goddess, Denver is a leader in the cannabis industry and remains a city that many flock to for cultivated experiences. Marijuana lounges like Tetra, dispensaries, smoke-friendly restaurants, and even private marijuana limo tours are all options that make a bachelorette party one that can't be recreated in many other places in the United States.
Of course, the Mile High City isn't all beer and weed. It's impossible to travel to Denver and not appreciate the natural beauty of the Rocky Mountains, and there are plenty of outdoor adventures to enjoy the scenery up close. Red Rocks Park is a popular attraction for those visiting the city, and it's hard to find a view not worthy of the 'gram. Catch a film or concert at the iconic amphitheater for a taste of the outdoors without the exertion. Bridal parties wanting to pump a little adrenaline can go off-roading, whitewater rafting, or zip-lining as well.
Scottsdale, Arizona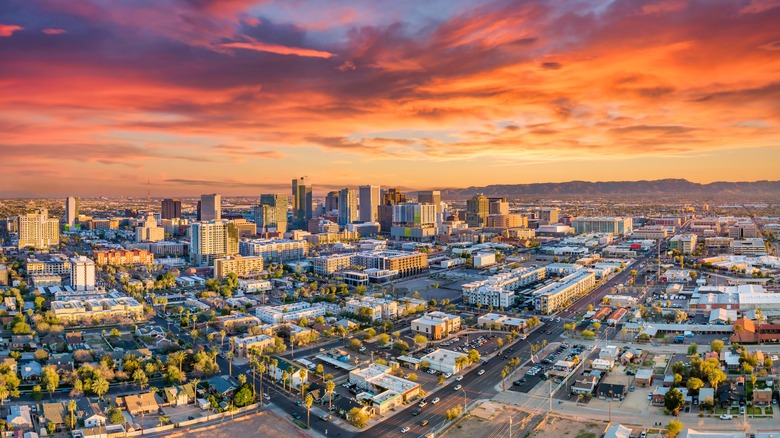 Kevin Ruck/Shutterstock
Scottsdale, a close neighbor to Arizona's capital city of Phoenix, is a fantastic bachelorette party destination for those wanting to be surrounded by gorgeous nature while also having an upscale and luxury spa experience. The city has quickly become a top spot for bridal bashes, even saddling up to rival Nashville.
Maybe the most valuable thing that Scottsdale offers brides-to-be and their closest companions is its aesthetic. With a desert backdrop and trendy shops found throughout, the city provides endless opportunities to get the perfect group photo. As important as securing photos to remember your time together is, be sure to soak in the views without a phone in front of you, because there's nothing like taking in the desert colors with your own eyes.
Finding the perfect rental or resort is vital in having the best trip possible, as chilling by the pool with your own cabana boy or private yoga class brings a whole new level of luxury to your party. Heading out on the town for a pedal pub tour and the ArtWalk will help you see the city while further bonding with your party.
New Orleans, Louisiana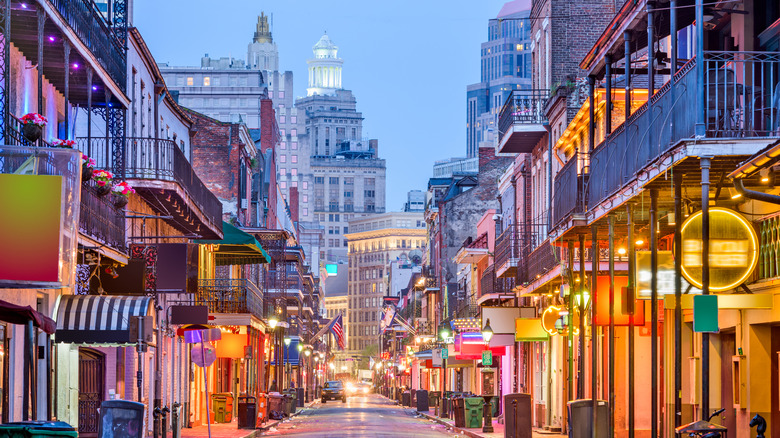 Sean Pavone/Shutterstock
New Orleans is a city unlike any other, so there is really no surprise that brides and bridesmaids flock there for big pre-wedding celebrations. The history and culture of NOLA has created an environment that is both mysterious and spooky, but there is also plenty of fun to be had in the nightlife scene.
Some bachelorette parties like to play up the scary vibe that the city puts off, and ghost tours are popular in New Orleans — for good reason. It's harder to find a hotel or business that is free of spirits than one that has a few resident ghosts, and brides who are feeling brave can book a room with increased paranormal activity if they are dead set on having an otherworldly experience. If you're unconcerned with the idea of bad luck, catching sight of a wedding dress-clad ghost at May Baily's could make for a great story.
The French Quarter is hands down the place to be for those visiting the old city, and spending time here will put you in the very center of nightlife and activity. Dance clubs, cabaret, and burlesque are popular night activities; the AllWays Lounge has various risqué shows to choose from depending on when you'll be in town.
Austin, Texas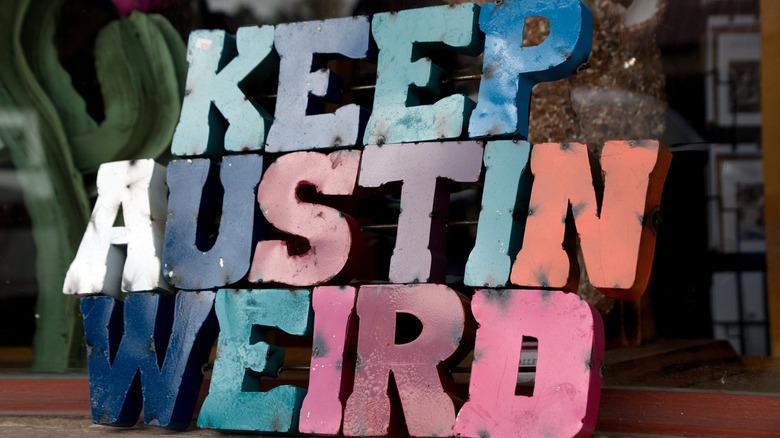 Dmitri Kotchetov/Shutterstock
While Texas is packed with interesting cities that could make for a great party destination, Austin takes the cake when it comes to pre-wedding festivities. The city is especially geared toward visitors who may have a penchant for the eclectic, as Austin's mantra is "Keep Austin Weird," and unique shops, businesses, and experiences can be found throughout.
Depending on what kind of vibe you're looking for, the many different neighborhoods and districts of Austin offer varying experiences. The Warehouse District leans more in the direction of a "hipster" destination, where bars and nightlife can be found in full force on 6th Street. The city is also famously home to Rainey Street, which features historic bungalows that have been transformed into popular bars, making for an ideal bachelorette party pub crawl.
Spend the sunlit hours day drinking through Rainey Street and the night hitting some of the city's equally interesting nightclubs, like Outer Heaven, which boldly claims to be the only "real" bar in Austin. Your explorations may even lead you to dig up some "weird" hidden gems and city secrets.
The Hamptons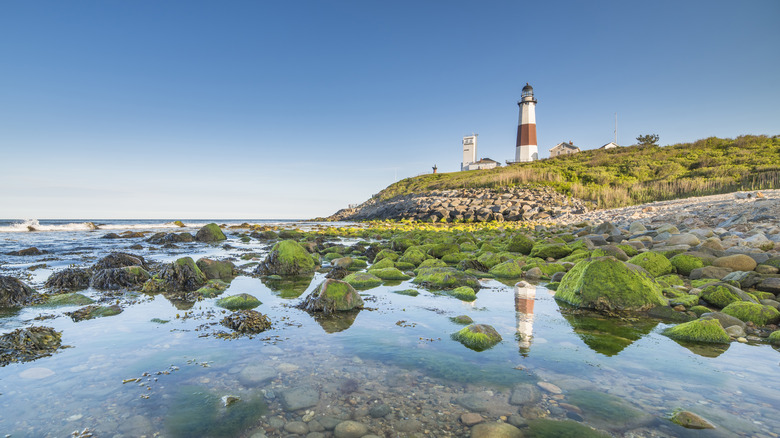 Haizhanzheng/Getty Images
Bachelorette parties allow everyday people to feel like celebrities and live in the lap of luxury, even for a short time. The Hamptons, an exclusive area on the eastern side of Long Island, are a perfect choice for a bride who wants to bask in that kind of high-class life before her wedding day.
The Hamptons offer the same experiences as a lot of coastal, upper-class destinations on this list: beach and pool parties, live music and DJs by the water, and drinks under the sun. However, the Hamptons also offer a classic, almost timeless vibe provided by the historic nature of the many mansions that line the area. The Hamptons reportedly inspired F. Scott Fitzgerald's "The Great Gatsby," and it's been the theme of many bachelorette parties and events throughout the decades. Whether you want to theme your trip around the American classic or just let the location work its magic on its own, a girls' trip here will take you out of the present and into a weekend of much-needed R & R.
San Diego, California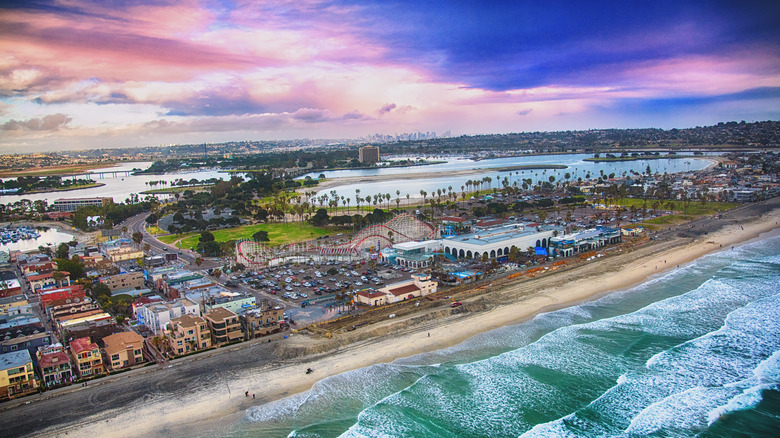 Art Wager/Getty Images
For anyone looking for a beach getaway, San Diego, California is kind of a no-brainer. With about 70 miles of coastline, there are beaches galore in San Diego. If you've chosen San Diego as the place to host your bachelorette party, it's likely you'll be spending pretty much all your time on or around the beach and West Coast waters, and you'll still likely feel as though you haven't spent enough time exploring the city's many beaches and enjoying the sunshine provided by the Golden State.
You'd be remiss if you didn't take the opportunity to learn to surf while in San Diego — or, if you already are skilled on a longboard, spending some expert time out on the waves. While some beaches are more secluded than others, it's the more popular beaches that may be best for a fun bachelorette party. Mission Beach is a great option. But if you want to be spending your time out on the water instead of on land, we wouldn't blame you. Boating is a popular choice for bridal parties, and booking with Triton Charters could have you chilling on a yacht for the ultimate pre-matrimony experience.
Chicago, Illinois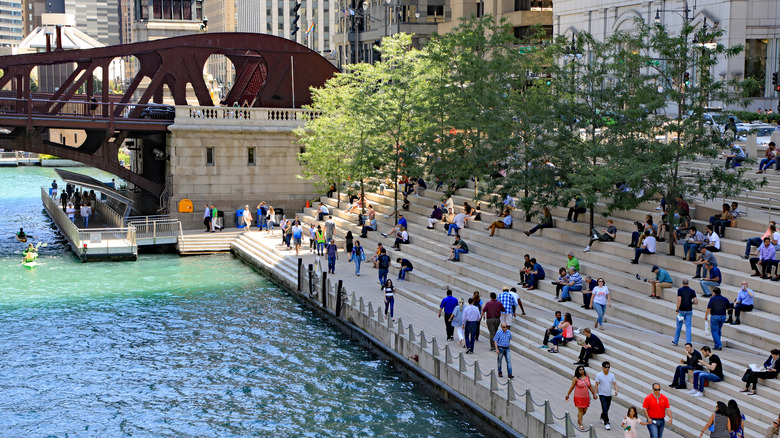 Thomas Barrat/Shutterstock
While Chicago isn't the first place most brides and maids of honor think about when contemplating where they want to go for their party weekend, Chi-town shouldn't be discounted so quickly. The Windy City is undoubtedly a cool city, with piano bars, playhouses, and evidence of all forms of art found throughout. There is so much to do here that a person could spend a lifetime getting to know the city's secrets and still learn new things about it daily. While Chicago could certainly provide a weekend of fun, you and your bridal party will wish you booked a longer celebration here.
The countless bars and thriving nightlife scene of the city is enough to keep any group busy, but during the day Chicago offers some pretty epic shopping opportunities for those with a healthy spending budget. Shopaholics who gravitate toward well-known name brands and high-end chains may wish to explore the Magnificent Mile near the heart of the city. For those of more eclectic tastes, Wicker Park is a thriving and trendy area that has unique shops spread around generously. Stopping in at one of the many restaurants and bars, like the Violet Hour, would make for a good break in the day.
Hawaii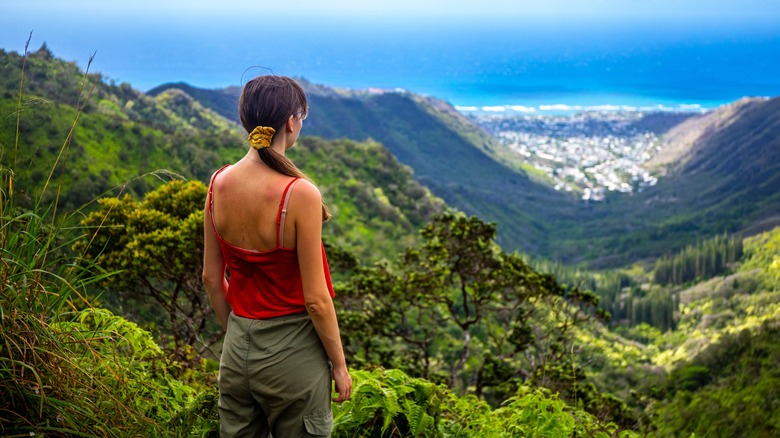 Jakub Maculewicz/Shutterstock
The best way to describe paradise is probably the same way most people describe Hawaii. There are eight major islands in Hawaii, two of which are off-limits to the public. That still leaves six that can be seen as the ideal Utopia-esque destination for any event, but especially one so highly regarded as a bachelorette party. For many people, the event and wedding that follows have been a source of excitement for quite some time, so why not book a trip to the place most people feel deserves a top spot on their travel bucket lists?
While bridal parties can certainly find a beach to have a blast on, Hawaii is made up of so much more than its coasts. Granted, the state does have lots of coastline to enjoy. Volcanoes, jungles, and nature not found anywhere else can all be explored here as well, and brides who like to hike could lead quite the adventure. Of course, there are plenty of resorts like the Hilton Hawaiian Village Waikiki Beach Resort that could effortlessly fill all your time for those who desire a more traditional, laid-back bachelorette party.
The Golden Isles
If your first thought when heading out to a bachelorette party is about how wild your night is about to get, you certainly aren't alone. Stag and hen parties are notorious for being some of the most feral nights of a person's life, but that image isn't for everyone. Some genuinely just want to have time to relax and refresh before their big day. If that sounds like you, you may want to head to the Golden Isles to experience some truly special spa treatments.
As the Golden Isles Convention and Visitors Bureau explains, "Nestled on the Georgia coast, midway between Savannah, GA, and Jacksonville, FL, lie four beautiful barrier islands — St. Simons Island, Sea Island, Jekyll Island, Little St. Simons Island — and the mainland city of Historic Brunswick." In particular, Sea Island Resorts has everything you and the girls will need to kick back and not worry about a thing for an entire weekend. You needn't worry about navigating a new city or researching things to fill your time, as experiences are readily available and easily accessible. From horseback riding on the beach and wildlife preservation to massages and wellness treatments, there is something for each of the bridal party members to take part in as a group or on their own.
Charleston, South Carolina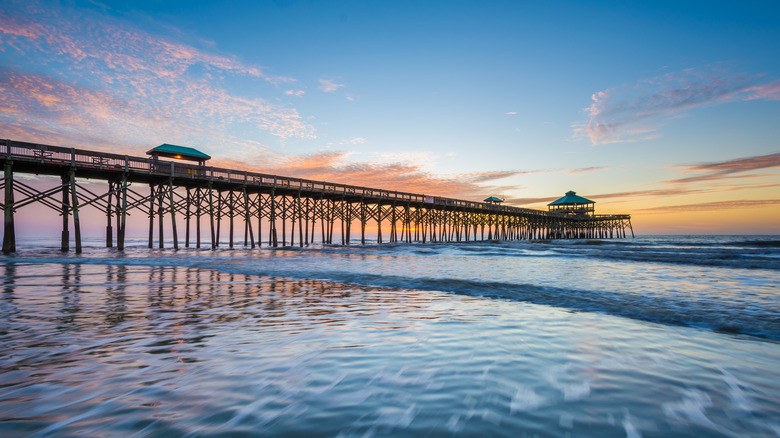 Jon Bilous/Getty Images
Charleston is a longstanding destination for a bachelorette weekend and the perfect example of "if it ain't broke, don't fix it." Not only does the city still have a rich history and some serious southern charm going for it, but it also has quite a few trendy restaurants and shops throughout.
The beach, of course, is one place that a lot of bachelorette parties flock to, and for good reason. Places like Folly Beach have clear waters and gorgeous sunset views, and its vicinity to downtown Charleston makes it a great place to spend the day for a smooth transition to a more bountiful nightlife scene. In particular, Élevé makes for a whimsical experience with a rooftop view of downtown Charleston and beyond.
Food is kind of a big deal in Charleston, and for the foodie bride, it might make the top list of where to head for a delectable bachelorette party. No matter what neighborhood you find yourself in, there will be a number of local restaurants that can satisfy cravings you didn't even know you had until seeing the dishes written on a menu. Check out Leon's Oyster Shop for some first-class seafood and, interestingly enough, a rosé slushie.
Montana
While some bridal parties would be — quite literally — happy campers spending the night out in nature sleeping in tents beneath the stars and wide-open night sky, other bachelorette party participants may not be as comfortable roughing it all weekend. A happy medium between camping and staying in a luxury hotel can be found in glamorous camping, i.e., glamping.
Montana is the perfect place to glamp, as its undeniable beauty makes being out in nature seem like standing in the middle of a painting or art piece. As such, it has become somewhat of a niche bachelorette party destination, with various companies that offer comfortable accommodations featuring nature right outside a tent.
Pitch Yellowstone provides domed tents with large windows for glampers to have a wide-open view of the night sky as they lay beneath the stars while also being comfortable indoors. Hardscrabble Ranch has a similar glamping setup, with a sheltered "patio" space right outside the tent. Bridal parties will love the aesthetic and easy way of living while bonding with their group in Montana's mountainous outdoors.
Jersey Shore, New Jersey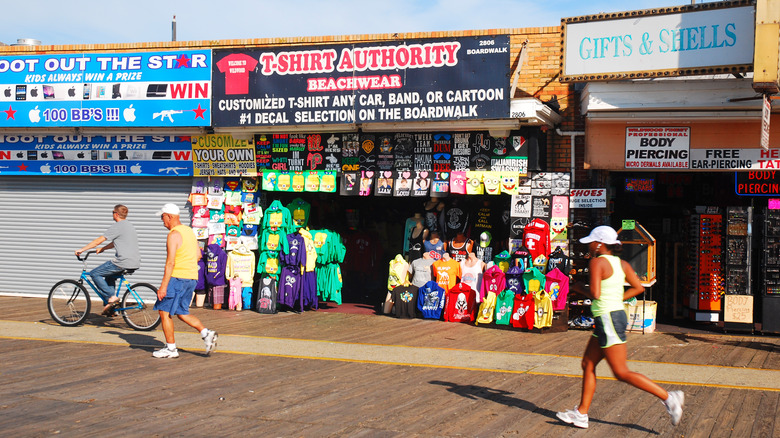 Kirkikis/Getty Images
Typically, people either love New Jersey or love to hate it. Thanks to its namesake reality series, Jersey Shore has become a destination almost synonymous with the loud and exaggerated stars from the show. The coastal area isn't actually all about love triangles and peeing in the club, though, and hosting a bachelorette party will be utterly different than what fans of the show have grown to relate the beach paradise with.
Jersey Shore's beaches are stunning, and the boardwalks add a lot to the scenery as well as interesting exploration. There are also amusement parks found here, which give the area such a classic, timeless movie vibe. Those who are not too concerned with spending time exploring the beaches and boardwalks, though, will not be disappointed to learn that "Jersey Shore" was right on the money when it comes to the nightlife scene. Of course, Atlantic City is a go-to destination for bachelorettes who like to hit the casinos.
Phoenix, Arizona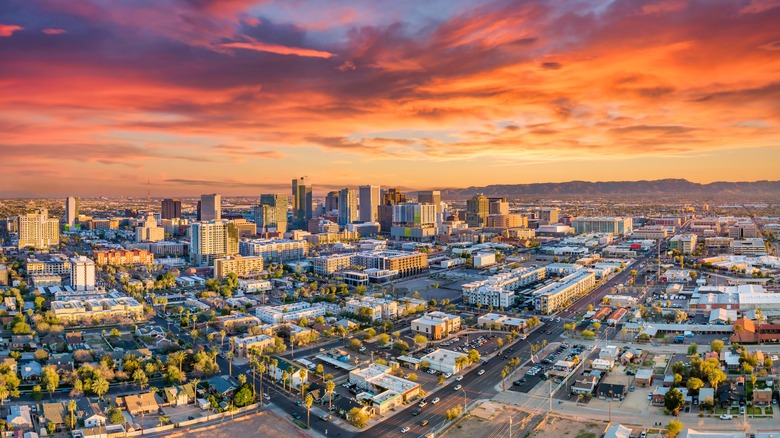 Kevin Ruck/Shutterstock
Yes, we've already covered Scottsdale earlier on, but neighbor Phoenix deserves some love as well. Even though they are close to one another, Phoenix, Arizona is quite different from her neighbor and vastly larger. 
Golf is frequently brought up as a desired activity for bachelor parties, but golf isn't just for men. Women play professional golf and the sport holds just as much value for women. Since Phoenix is full of golf courses, it would be a great destination to get you and the girls out to put golf elitisms in their place. We-Ko-Pa Golf Club has two golf courses in which to wipe the floor with any of your challengers.
Phoenix may not be a coastal city, but under an hour to the north is Scorpion Bay at Lake Pleasant which offers floating cabins that are quite a unique way to spend a bachelorette party weekend. Spend your nights on the lake and your days exploring the city of Phoenix for a well-rounded getaway.
Asheville, North Carolina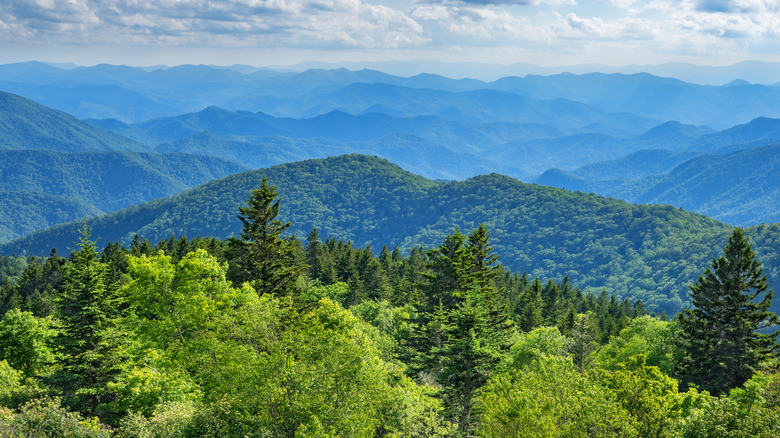 Margaret.Wiktor/Shutterstock
One of the most unsuspecting places on the list, Asheville, North Carolina makes for quite an interesting bachelorette party. Surrounded by woods and a river, the city is perfect for those who want to feel one with nature.
There are so many group activities to discover in Asheville, from rafting down the river to zip-lining through the trees. Wellness is also a decently sized industry in Asheville, so it's no trouble to find a spa or group yoga classes to incorporate into your girls' weekend. Asheville Wellness Tours even takes groups into the wilderness to find zen in a process called forest bathing.
As gorgeous and serene as the nature surrounding Asheville is, the city itself is quite an exciting place to be. Spending time in the River Arts District will put your group face to face with local artists and art, which is perfect for the bride who appreciates artistic vision. Book a group art class or simply visit some studios to gain a connection to Asheville and the creatives who frequent or reside there.
Las Vegas, Nevada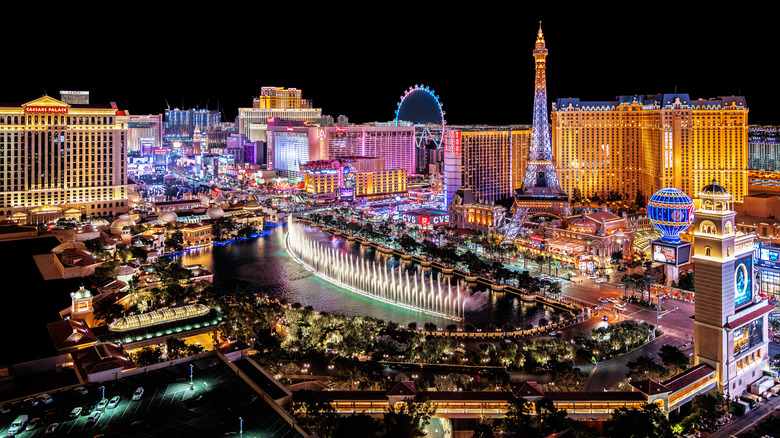 randy andy/Shutterstock
We're ending the list with one of the most iconic party and celebration destinations in the world: Nevada's very own Las Vegas. While more commonly referred to as a bachelor party destination, Sin City can certainly impress the ladies as well, and we are talking about much more than gambling and casinos.
The Neon Museum and Pinball Hall of Fame are both solid attractions for bachelorette parties, as they provide a unique look into times gone by while also ensuring guests have quite a lot of fun. Las Vegas is surrounded by some seriously gorgeous nature as well, with numerous state and national parks nearby. Something your bridal party would not soon forget is a tour by helicopter.
Another thing to consider if you are enjoying your time in Las Vegas is to go ahead and get married there. The city is known as the wedding capital of the world and if Elvis impersonators and themed weddings are your thing, a Vegas wedding could make for some truly iconic photos and memories.